Salami, Hominy, & Smoked Mozzarella Pizza
Salami, Hominy, & Smoked Mozzarella Pizza is a fun and easy dish to make! Crispy, golden dough topped with salami, hominy, and my absolute favorite cheese, smoked mozzarella! Grab a slice or two!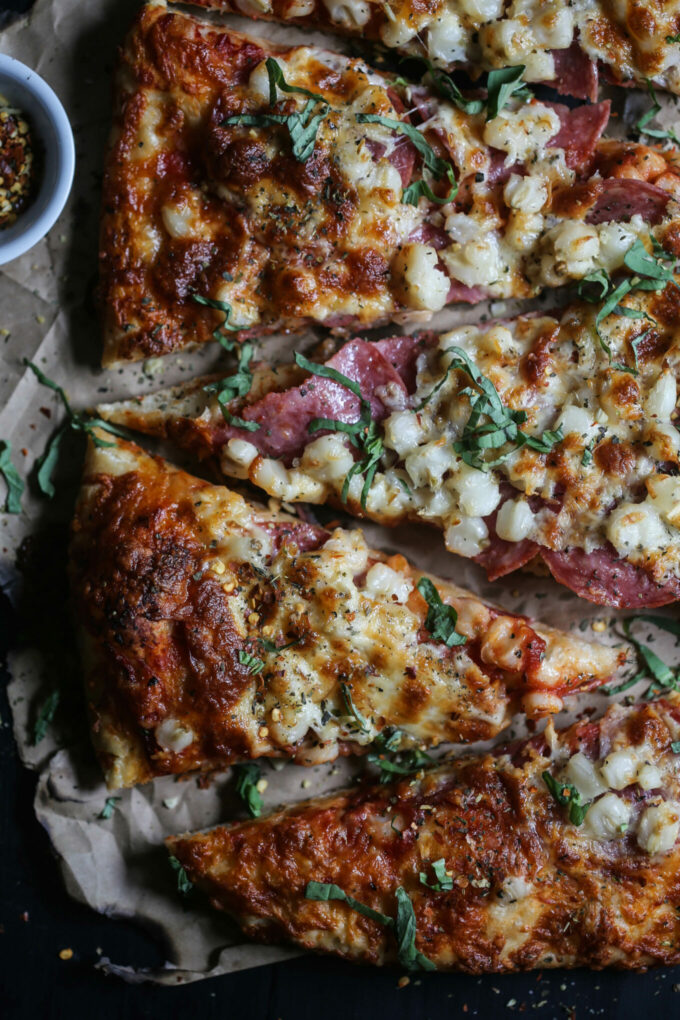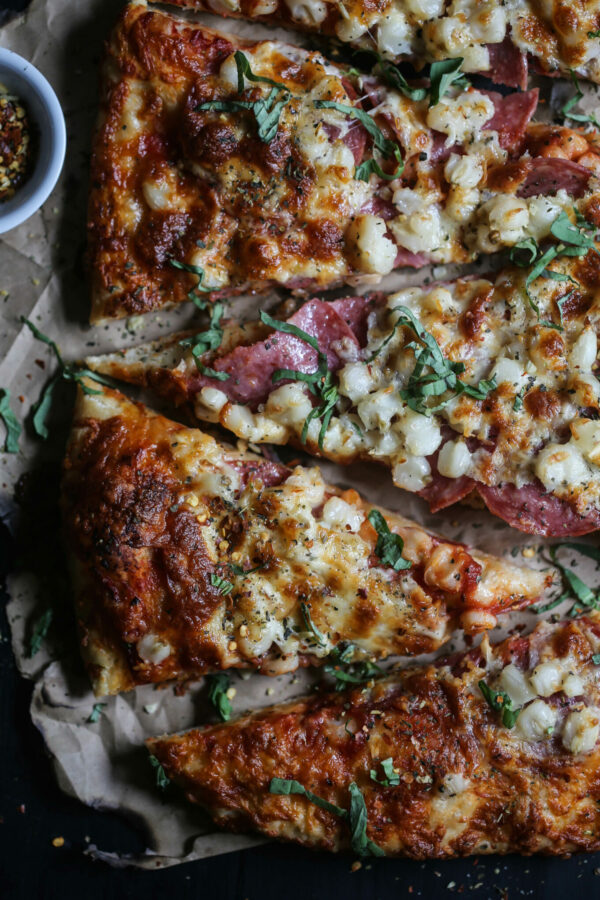 "In Pizza, We Crust."
My new life motto.
I had the pleasure of sharpening my pizza making skills last week thanks to Sprouts and the chefs at Cook Street. A few local food bloggers and I gathered at the downtown culinary hotspot to learn how to make a pizza entirely from scratch along with sauces and mozzarella!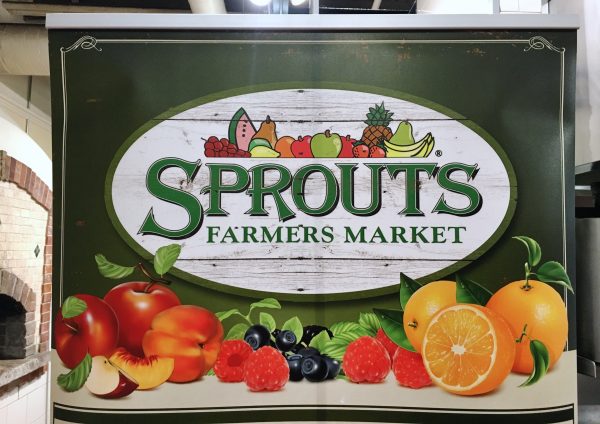 Using ingredients from Sprouts, we dove straight into preparing pizza dough. As a non-baker I am always intimidated when the words flour and yeast are a part of the ingredient list. But! With only a few ingredients and words of wisdom from the chefs like add flour to the yeast a little at time so it doesn't clump up, we were able to whip out a five-star pizza dough.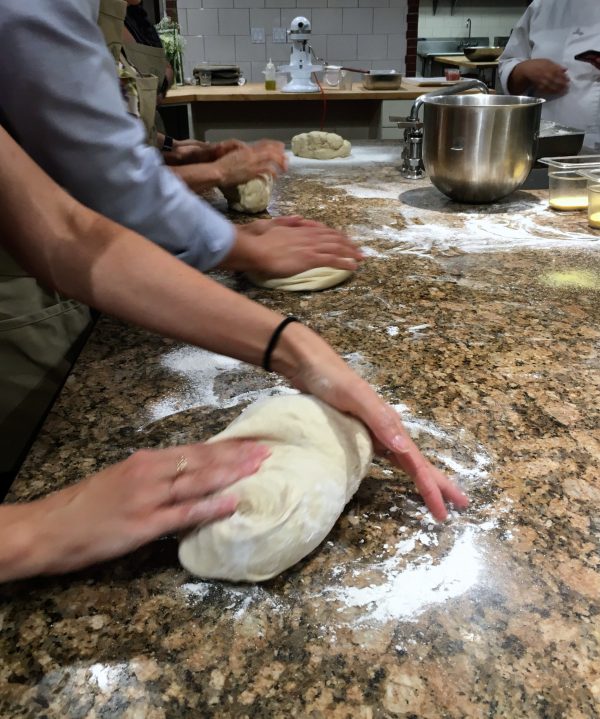 Once the dough set, it was time to get it ready for the wood fire grill. Stretching dough should be an Olympic sport because there are a lot of things that need to happen to make that perfect circle. One trick I did learn, to make stretching easier lay the dough over your fists and gently punch up and down allowing the dough to expand. Once you've stretched the dough to the right proportion, you can toss it in the air!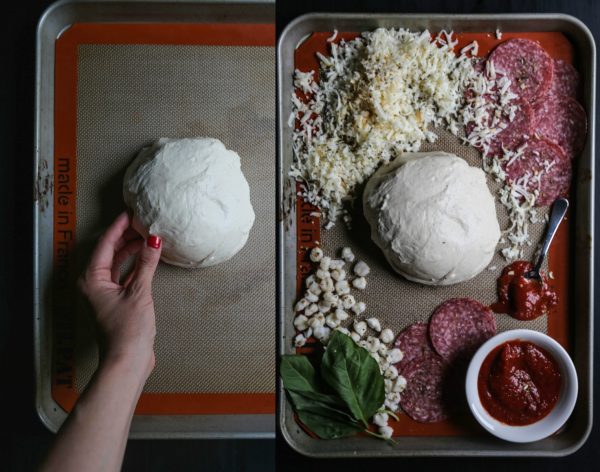 After our pizza tossing skills were perfected, we started adding our toppings. I went for the half and half approach – one side covered with a delicious almond pesto sauce with roasted garlic, golden potatoes, spinach, and onions. The other side covered in a traditional marina sauce with pepperoni and homemade mozzarella cheese, which was the inspiration behind today's recipe!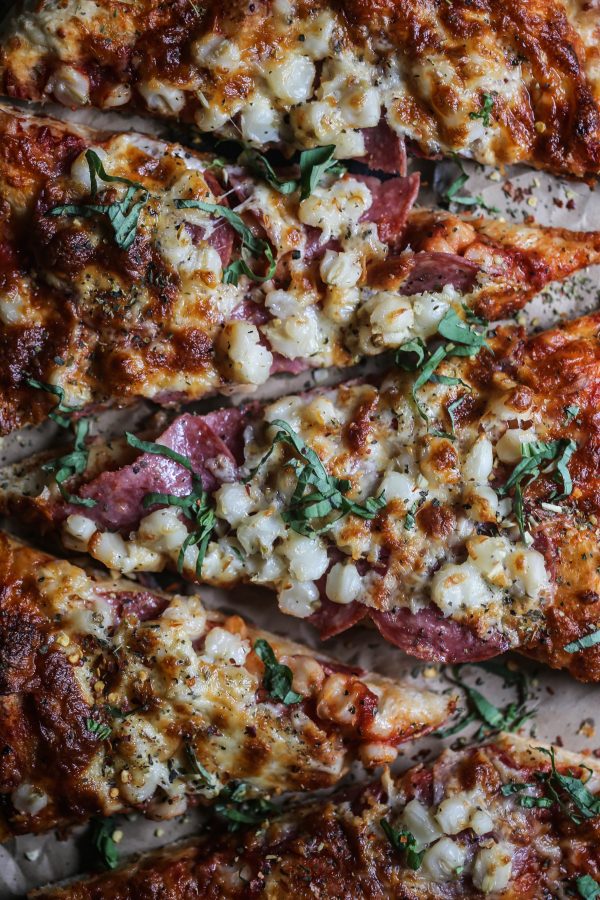 I used Sprouts prepared pizza dough to make this recipe for simplicity during the weeknight. I punched out the dough like they taught me in class, spread a thick layer of marinara over the top followed by salami (you can certainly add pepperoni) if you would like), hominy for a little texture, and smoked mozzarella. Um, can we talk about how smoked mozzarella should be on everything? Seriously, game changer.
Place the pizza in the oven and in 30 minutes you have a delicious, golden pie that is perfect for the weeknight or an impromptu pizza party!
Now, who needs a slice?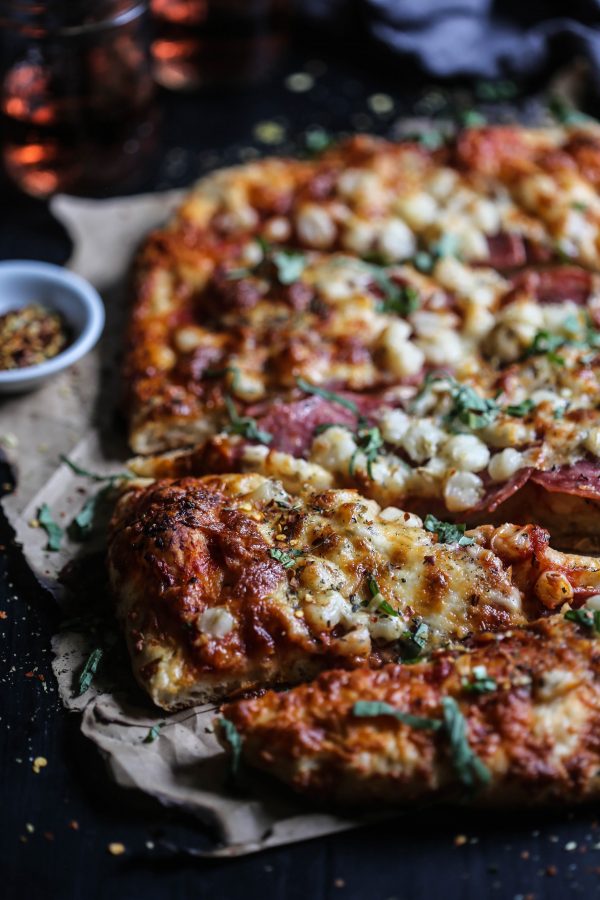 ***This post was sponsored by Sprouts. As always all opinions expressed are 100% my own.***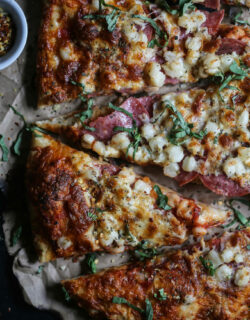 Salami, Hominy, & Smoked Mozzarella Pizza
Ingredients:
1 package Sprouts pizza dough
1 cup pizza sauce
9 slices salami
1 cup hominy, drained
2 cups smoked mozzarella, shredded
Fresh basil, garnish
Directions:
Preheat oven to 400 degrees.
Spray a baking sheet with non-stick cooking spray. Spread the pizza dough into a 9X13 rectangle. Pour the pizza sauce on top of the dough leaving a one-inch border. Next, place the salami on top followed by hominy and smoked mozzarella. Bake for about 25 minutes or until the cheese is golden brown. Remove from oven slice into 9 squares and garnish with basil.
All images and text ©