Sauteed Pears with Bacon & Blue Cheese + GIVEAWAY!
Sauteed Pears with Bacon & Blue Cheese is an easy side perfect for any occasion! 
***This post is sponsored by Harry and David. As always all opinions expressed are 100% my own.***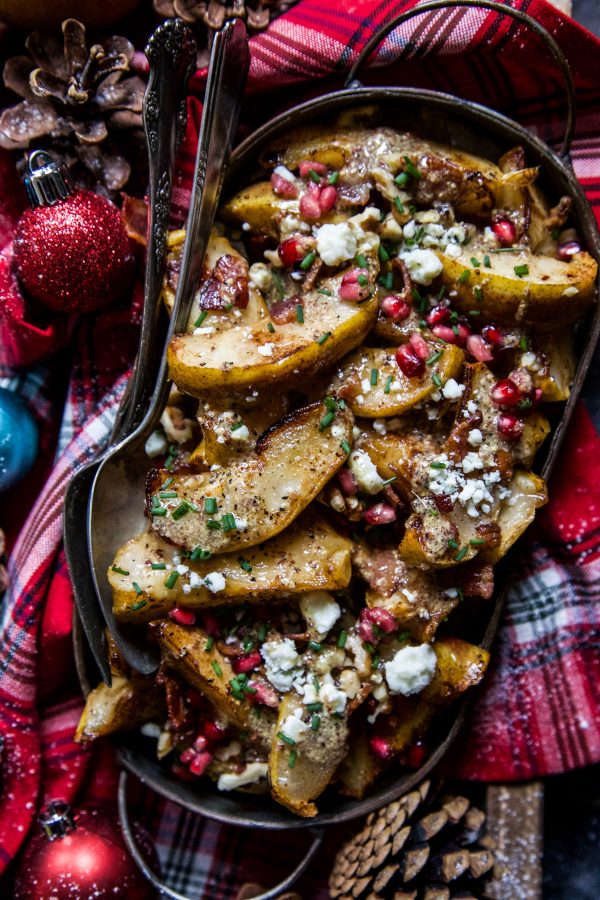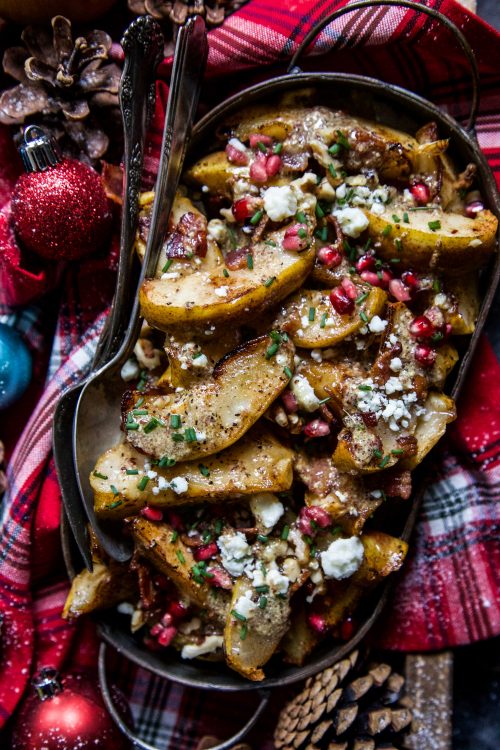 I've officially been put in charge of Christmas dinner.
Okay, okay, quit poking me….
Full disclosure: I just nominated myself to be in charge of dinner. Can one do that? I guess there's no turning back now. A part of me feels responsible as a now cookbook author that I should take on big holiday feasts. I dunno. Maybe I should just order Chinese takeout? Christmas Story anyone?
Either way, my goal for this holiday dinner is to keep it simple and delicious. Beef tenderloin might make an appearance. Believe it or not we whipped out some mean sloppy joes circa 2015 and it was actually a huge hit. For sides, I'm thinking corn pudding or a brussels sprout hash concoction.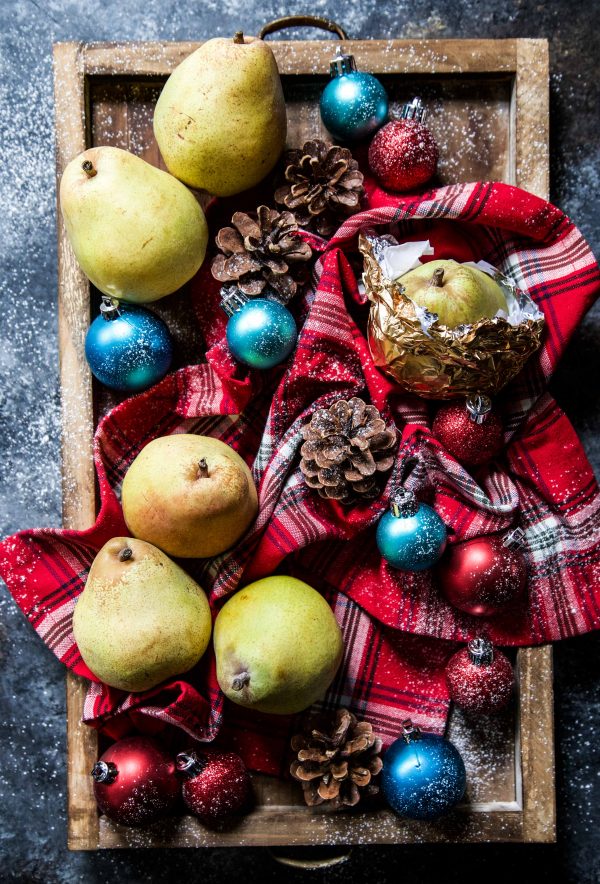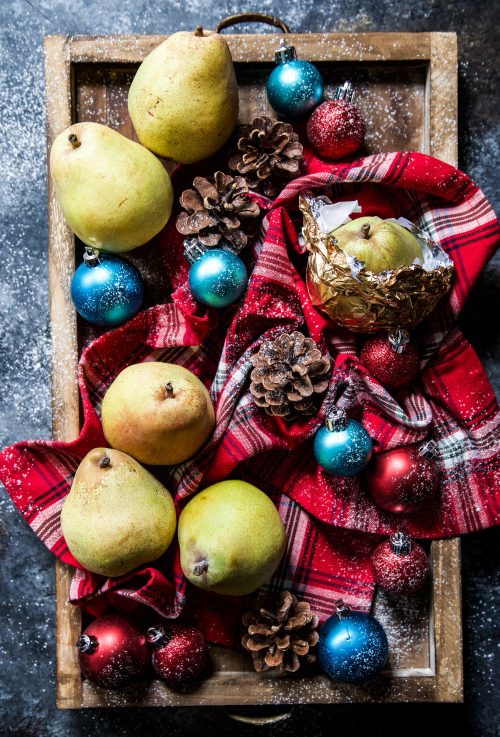 BUT! You can bet your sweet tookus that I will be making Sauteed Pears with Bacon & Blue Cheese. Can we talk for just a moment about taking pears on a savory route? Pears are typically always used as a main ingredient in pies, tarts, or salads. Which is fine, but it's the holidays, let's jazz things up.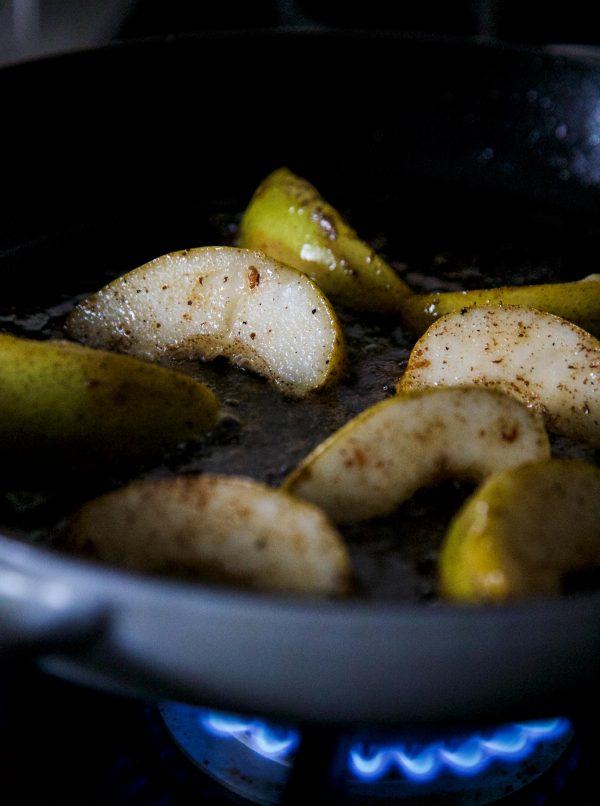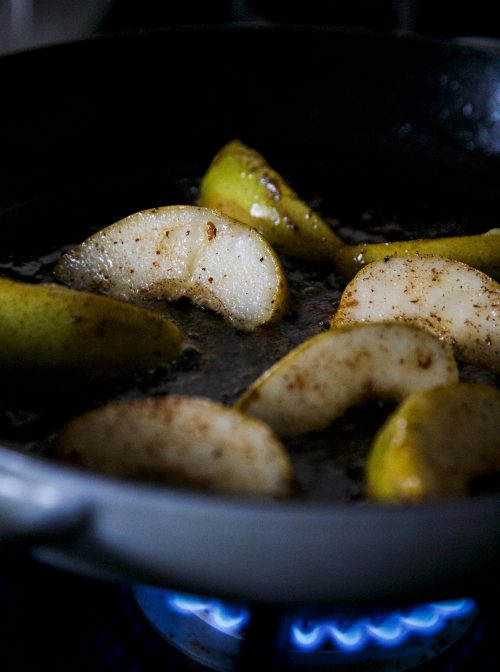 Now, if I am going to kick things up a notch, I am definitely using pears from Harry and David. And not just any pears, I'm using their Royal Riviera pears. These sweet, buttery and extremely juicy pears are in my opinion the star of the holiday season. Every pear is handpicked! So, it was only natural that I wanted to use them as the main attraction in this Sauteed Pears with Bacon & Blue Cheese.
Besides the juicy pears, what I love about this dish is it comes together in about 15 minutes. Which means you can spend time catching up with family and friends. Add in a quick mustard dressing and I guarantee you folks will want a second serving.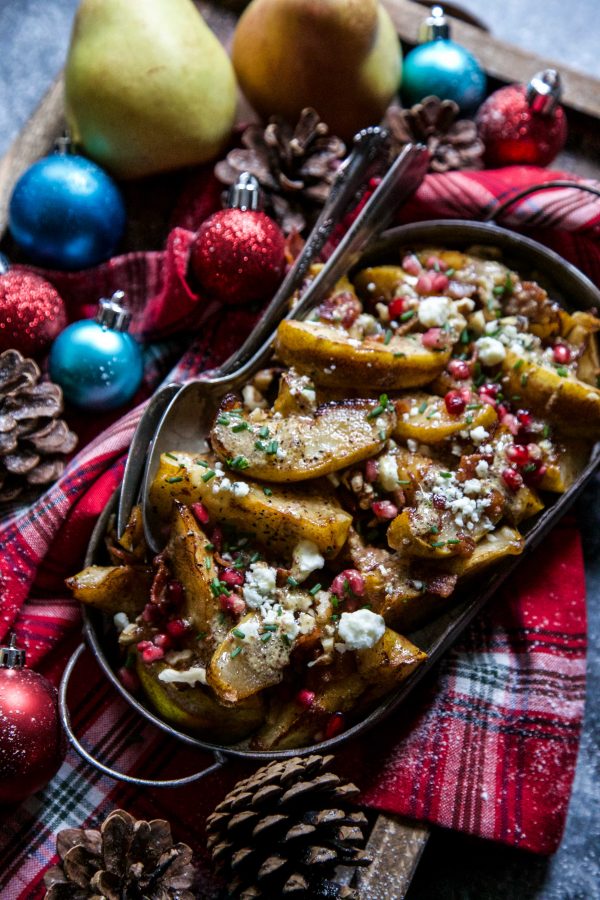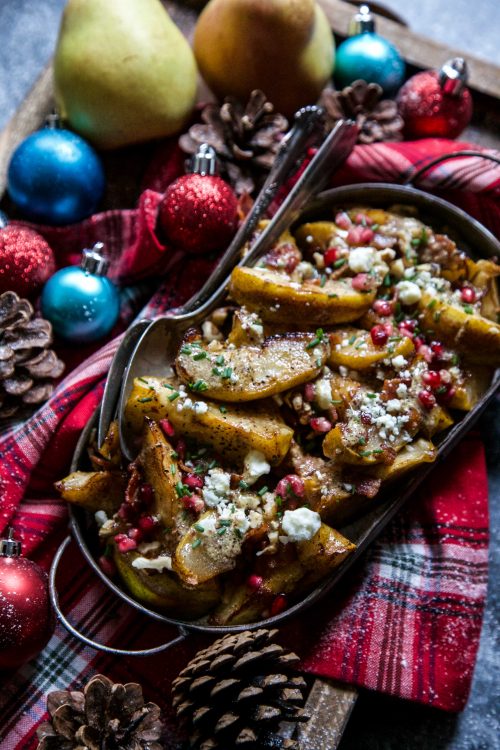 Also, if you love (or know someone who loves) Harry and David Royal Riveria Pears as much as yours truly the wonderful folks over at Harry and David are giving away –  ONE 12-month Signature Light Fruit-of-the-Month Club Collection to ONE GRAND PRIZE WINNER and TWO runner-ups will win a box of Royal Riviera Pears Christmas Crate (*or something of similar value)! To enter for chance to win, all you have to do is:
Leave a comment below telling me: What's your favorite way to enjoy a pear? 
Follow Harry and David and yours truly on Instagram and leave a comment below telling me you did so
Follow Harry and David and yours truly on Twitter and leave a comment below telling me you did so
***This giveaway IS CLOSED!!!! Giveaway is open to US residents only. I will notify the winner via email and the winner will have 24 hours to respond or another winner will be drawn.***
Good LUCK!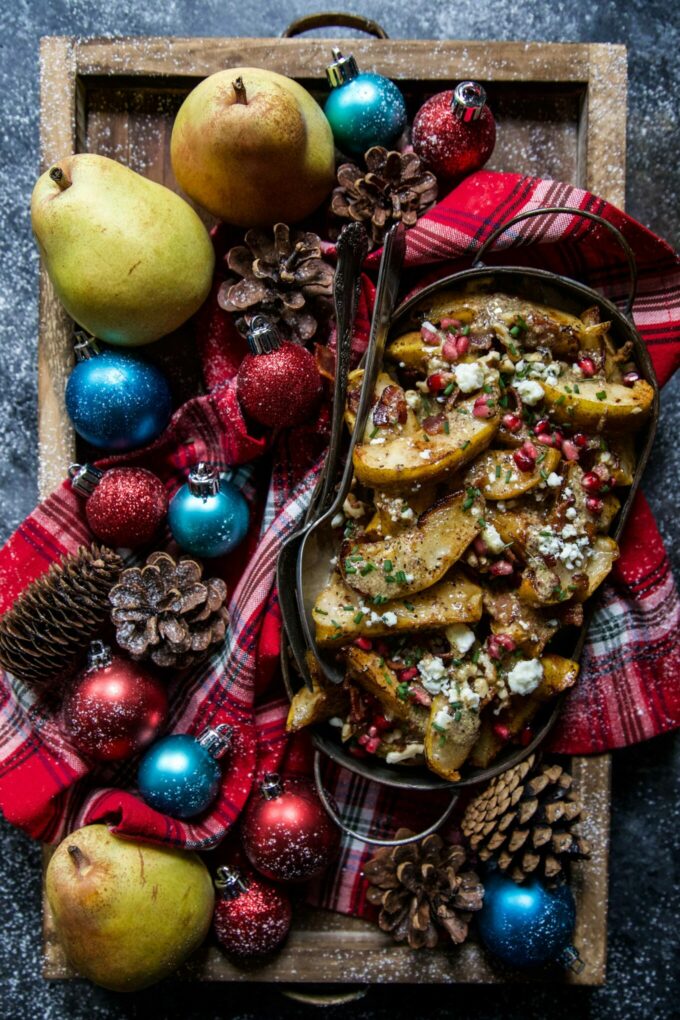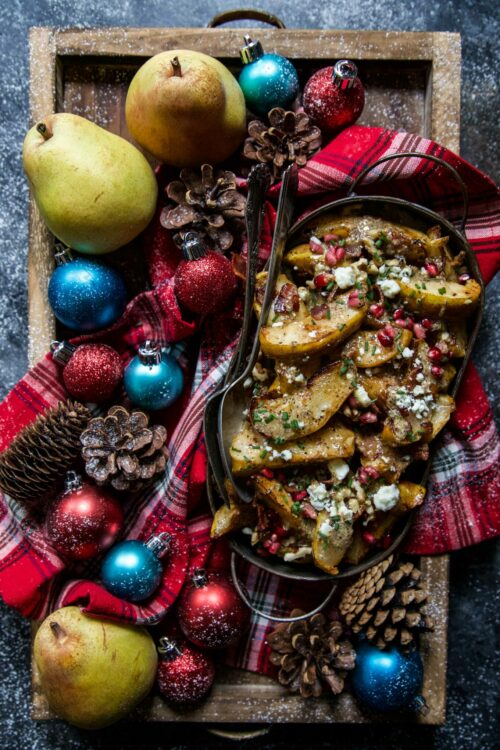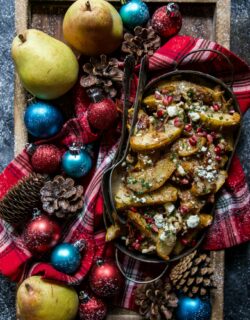 Sauteed Pears with Bacon & Blue Cheese
Ingredients:
5 slices bacon, chopped
4 Harry and David Riviera pears, quartered
3 tbsp olive oil
1 tbsp white wine vinegar
1 tbsp whole grain mustard
1/2 cup walnuts
1/4 cup blue cheese crumbles
1/3 cup pomegranate arils
Fresh chives, for garnish
Salt and pepper to taste
Directions:
In a large skillet preheated to medium-high heat, add the bacon. Cook the bacon until golden brown, about seven minutes. Using a slotted wood spoon remove the bacon and place it on a plate lined with a paper towel.
Next, in the same skillet as you cooked the bacon, add the the quartered pears. Cook the pears for about five minutes turning them occasionally so they don't burn. Remove the pears from the skillet and place on a plate to cool.
In a small bowl whisk together olive oil, vinegar, and whole grain mustard. Once the pears have cooled, place them into a serving bowl. Add the walnuts, blue cheese, and pomegranate arils on top followed by the reserved bacon. Pour the mustard dressing all over the pears. Garnish with fresh chives and serve!
All images and text ©