Persian-Style Baked Cornish Hens
Persian-Style Baked Cornish Hens are an easy, yet tasty meal to serve at any holiday dinner!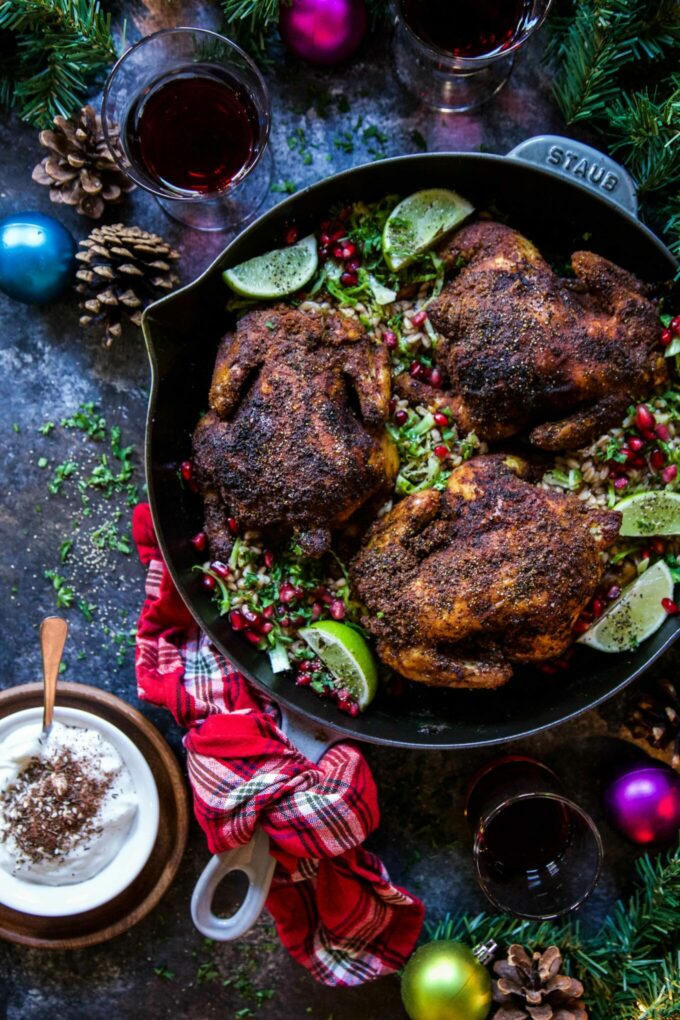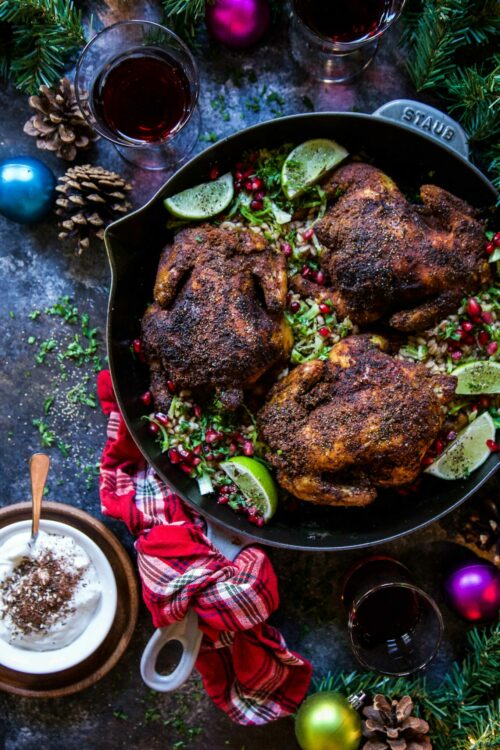 Let's chat.
How are you doing on this fine Monday morning?
Have you been watching the Hallmark Christmas channel like it's your job? Wait. Is that even a thing? Are you getting your holiday shopping done? Um, is it wrong that I haven't even started? I know, I know. I promise to get a move on it now that the cookbook has finally been released. Or….would it be rude if I gave my cookbook as a gift? Cue eye-rolls.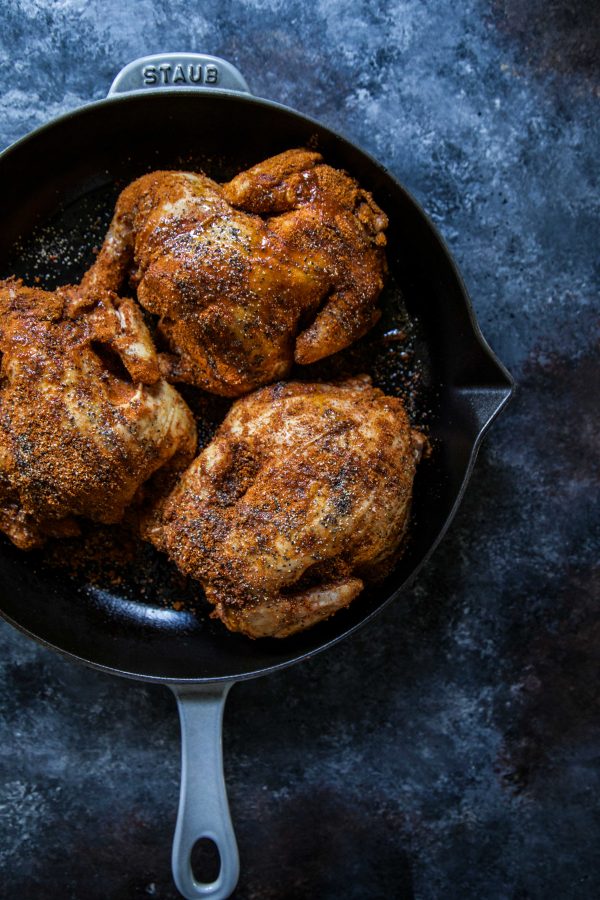 I feel like these past two weeks have been a whirlwind. From the launch party in Wichita right after Thanksgiving to back-to-back parties in Denver and Kansas City, needless to say I am ready to head to Portugal on Wednesday! BUT! I plan to do a full recap of all the parties as soon as I get back because the love for Modern Comfort Cooking has been amazing!
Okay, before I forget I need to tell you about these Persian-Style Baked Cornish Hens. My obsession with Middle Eastern food is at an all time high. After returning from Jordan in September, I've been putting hummus and labneh on everything. Now, my cravings have taken me into the holidays with this Persian-Style roasted Cornish hen.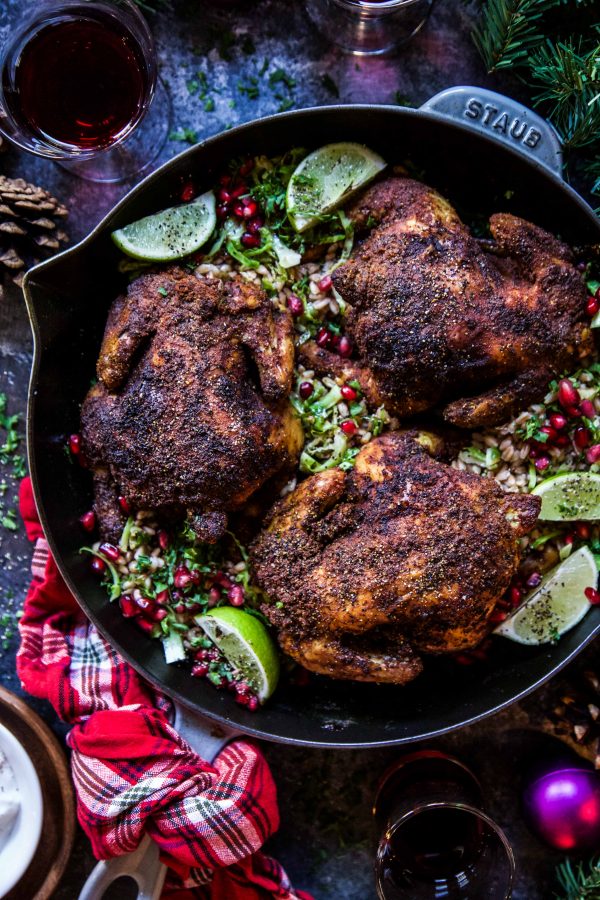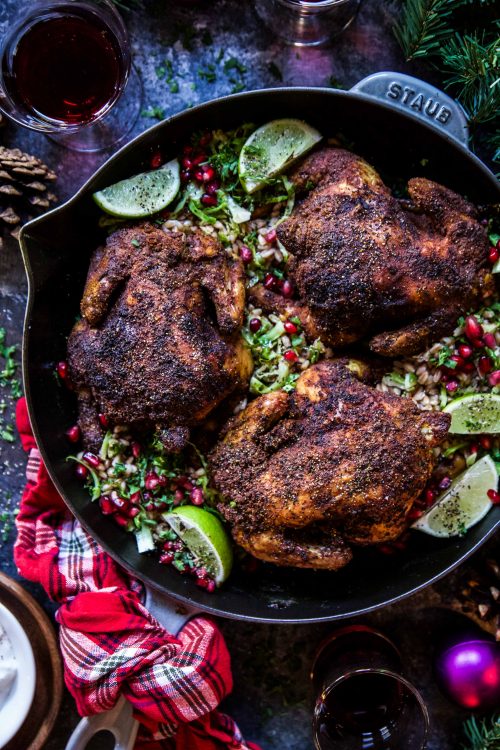 The spice mixture is super simple to make. A combination of turmeric, paprika, cumin, and garlic powder. Rub the mixture all over the hens and then roast for about an hour. Aren't Cornish hens the cutest things? I think it would be fun to serve these individually for Christmas dinner. Or to eat while watching the Hallmark channel. No judgement here (wink).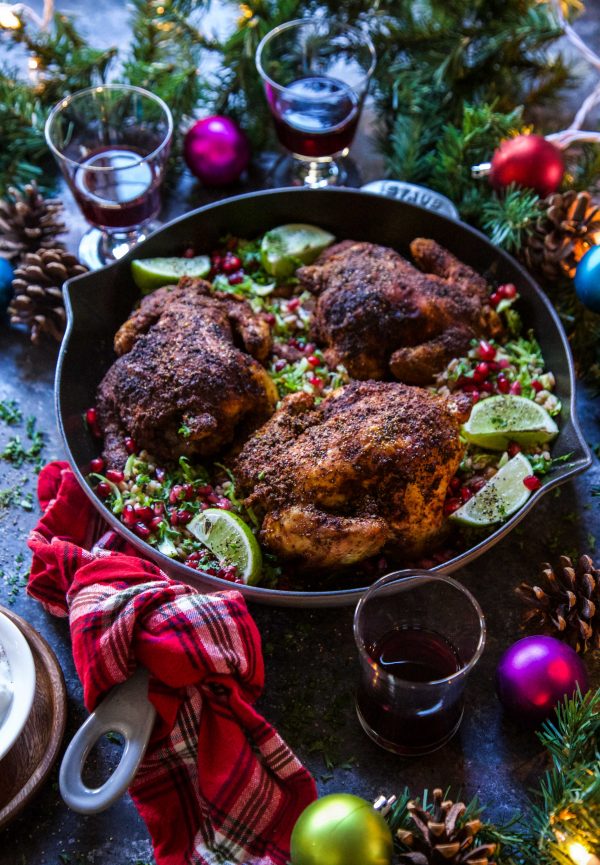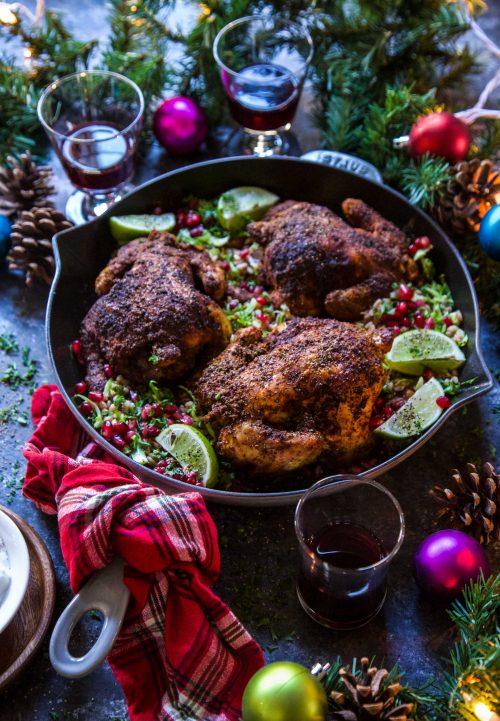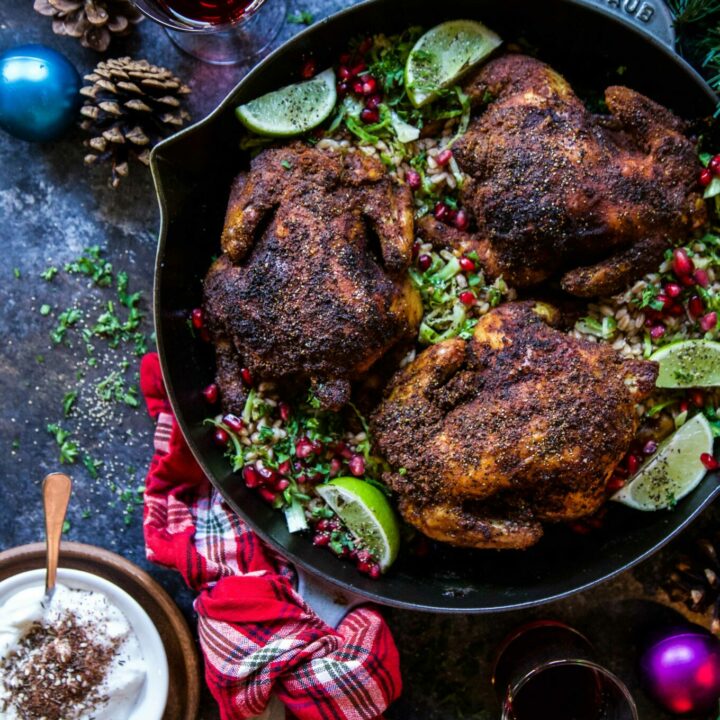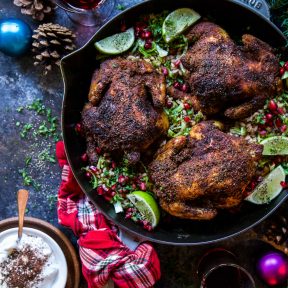 Persian-Style Baked Cornish Hens
Persian-Style Baked Cornish Hens are an easy, yet tasty meal to serve at any holiday dinner!
Ingredients
2 tbsp ground turmeric
1 tbsp + 1 tsp ground cumin, divided
1 tbsp ground paprika
1 tbsp garlic powder
3 one pound Cornish hens, rinsed, patted dry
3 tbsp olive oil
¼ cup chicken stock
2 cups pomegranate juice
½ cup pomegranate molasses
Cooked farro, for serving
Pomegranate arils, for garnish
Salt and pepper to taste
Instructions
Preheat an oven to 350 degrees.

In a small bowl combine turmeric, cumin, paprika, powder, salt and pepper.

Place the Cornish hens into a large 12-inch cast iron skillet and drizzle each hen with 1 tbsp of olive oil. 

Next, take the turmeric spice mixture and rub all over each bird until well covered. Pour the chicken stock into the bottom of the cast-iron skillet. Place the cast-iron skillet into the oven and roast for about 40 minutes.

Meanwhile, in a small saucepan bring the pomegranate juice, pomegranate molasses, and 1 tsp ground cumin to a boil. Stir to combine and then reduce the heat to medium-low to simmer for about 15 to 20 minutes until slightly thickened.

Remove the hens from the oven, and then pour the pomegranate sauce over each hen. Place the skillet back into the oven for another 20 minutes or until the internal temperature of the hen reaches 160 degrees.

Serve the hens with farro and pomegranate arils for garnish.
Did you make this recipe?
Please leave a comment below and share a photo on Instagram with the hashtag #thecuriousplate!