Sheet Pan Bacon & Peach Nachos with Basil-Lime Aioli
Sheet Pan Bacon & Peach Nachos with Basil-Lime Aioli is an easy and cheesy meal ready in 15 minutes or less! Crispy bacon, juicy peaches, and mozzarella cheese are piled high onto corn tortilla chips and then covered with a basil-lime aioli. This is the perfect late summer meal!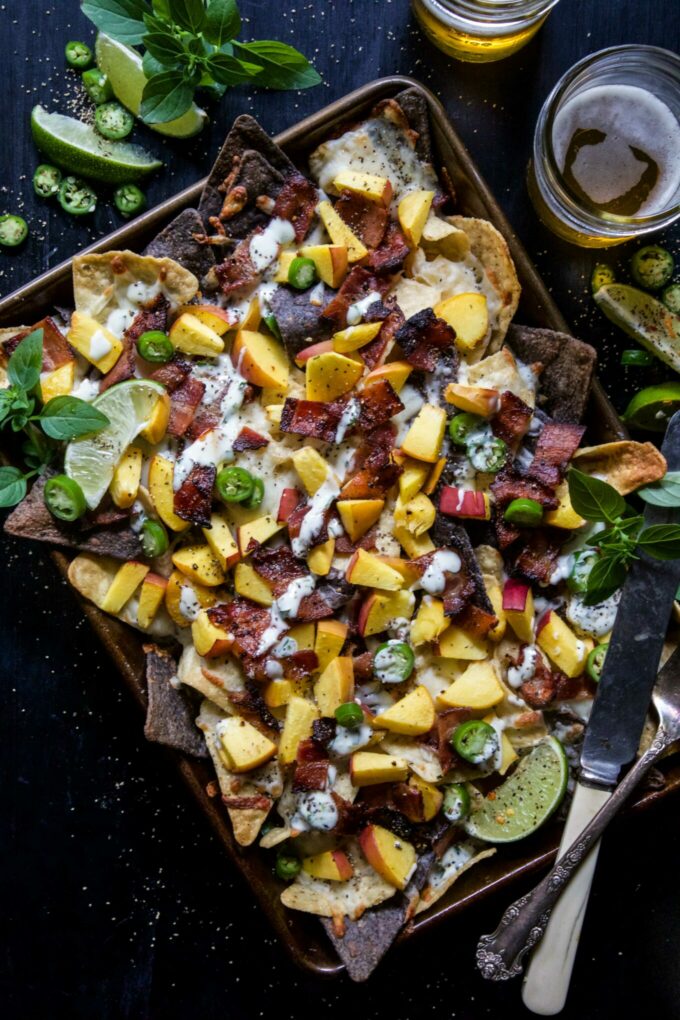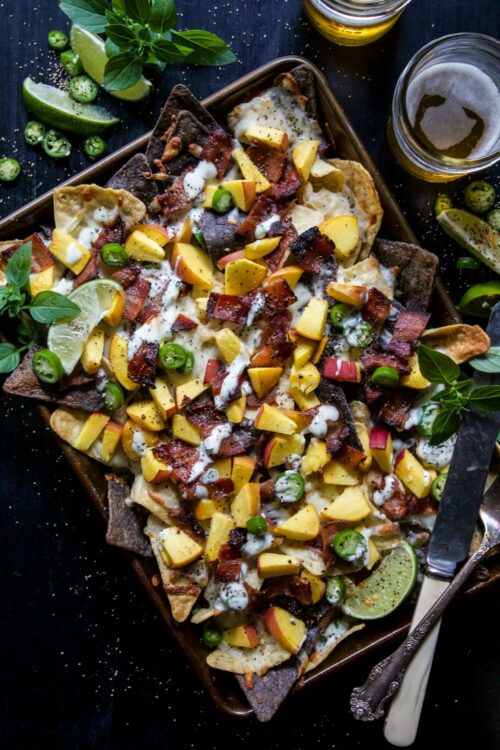 Do you want the good news or the bad news?
Whenever someone asks me this question, I always say tell me the bad news first. Because whatever said depressing news I want it over and done with. Kind of like ripping off a bandaid. None of this slow pull just rip the trucker off.
Okay, I'm going with the bad news first. And for those curious this is not someone died sort of bad news. Just so we are clear. The bad news is that I don't think our peach tree is going to produce this year. Major crocodile tears.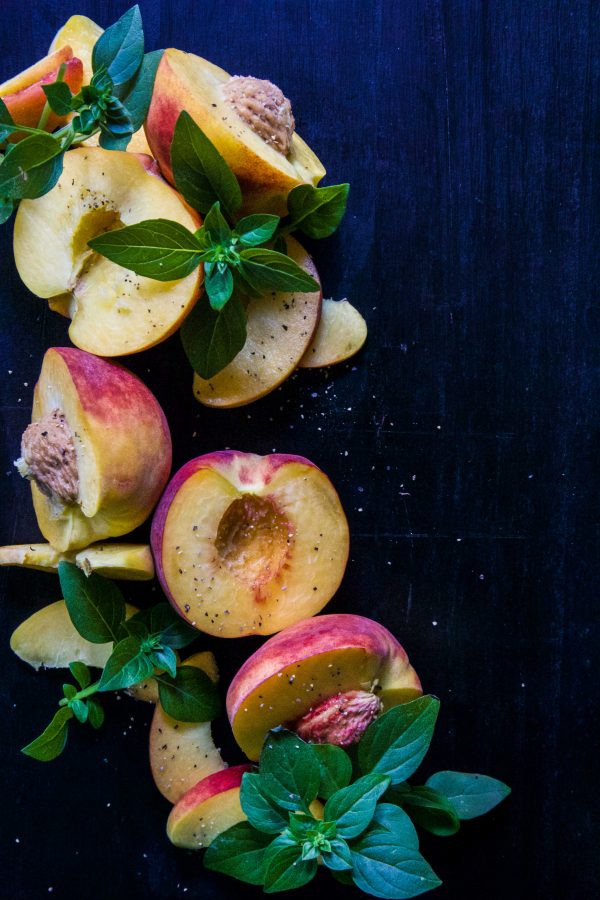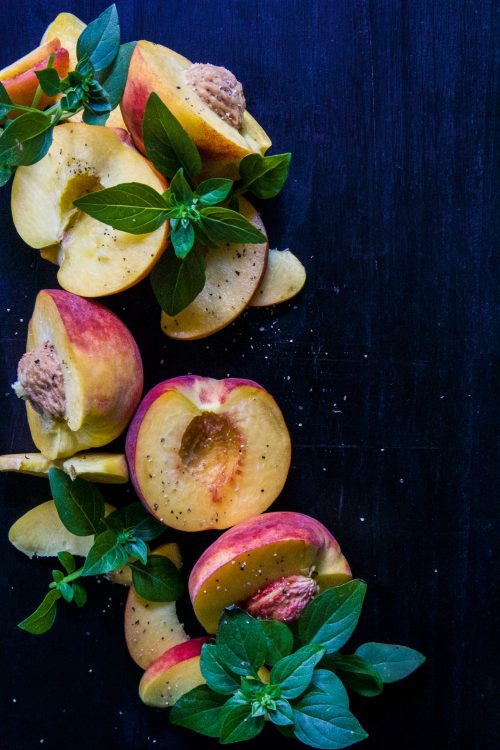 This time last year we were picking peaches like it was our job. Sadly, an early frost this year (yeah, I'm looking at you OLD MAN WINTER) definitely put the kibosh on our tree producing beautiful peaches. What can you do? It just sucks because I was really looking forward to making a shit load of recipes as well as finally becoming domesticated and canning. BUT! It will have to wait until next year.
Now, on with the good news! Drumroll…..we are approaching a three day holiday weekend! Can I get a whut-whut? There's something about the energy of Labor Day weekend that always puts a smile on my face. Everyone goes over the top whether using up summer produce, having backyard parties, soaking up those much needed rays of sunshine and watching football, of course. It's summers last hoorah and I can't wait because we will back in Manhattan, Kansas to celebrate!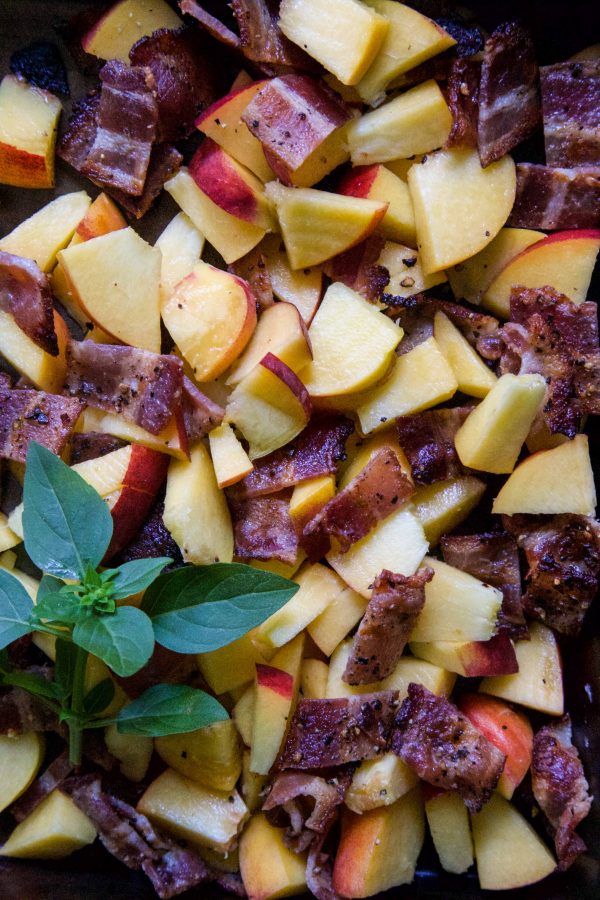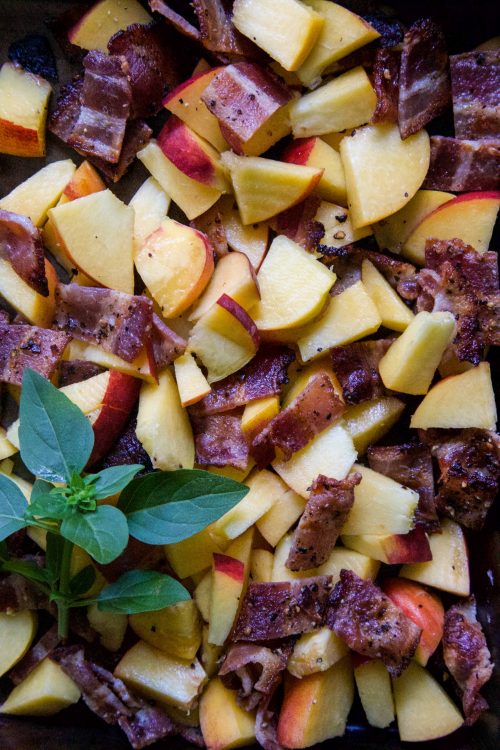 But before we jet off to the land of Manhappiness, we need to chat about these Sheet Pan Bacon & Peach Nachos with Basil-Lime Aioli. With football season upon us, I am a huge advocate of making nachos well, anytime you get the chance. Actually Mr. B and I make nachos at least once a week as a way to clean out the fridge. I digress.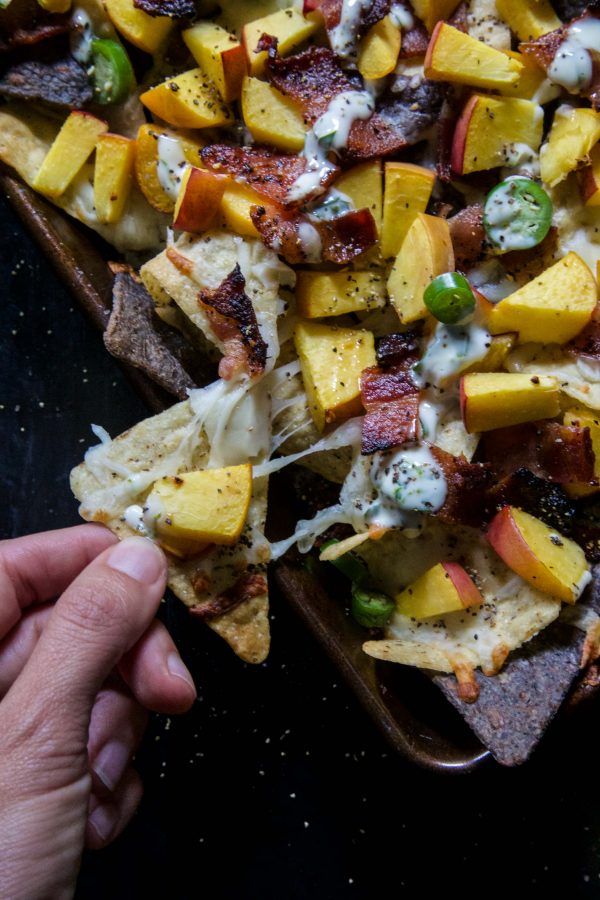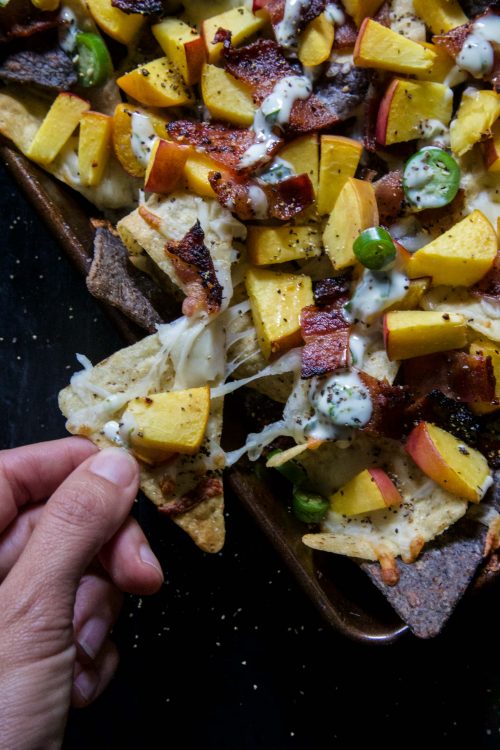 These nachos are a great way to use up end-of-summer produce which are you surprised I went with peaches? Ha! Fresh, juicy peaches pair excellent with bacon and when topped with a basil-lime aioli these are two legit to quit!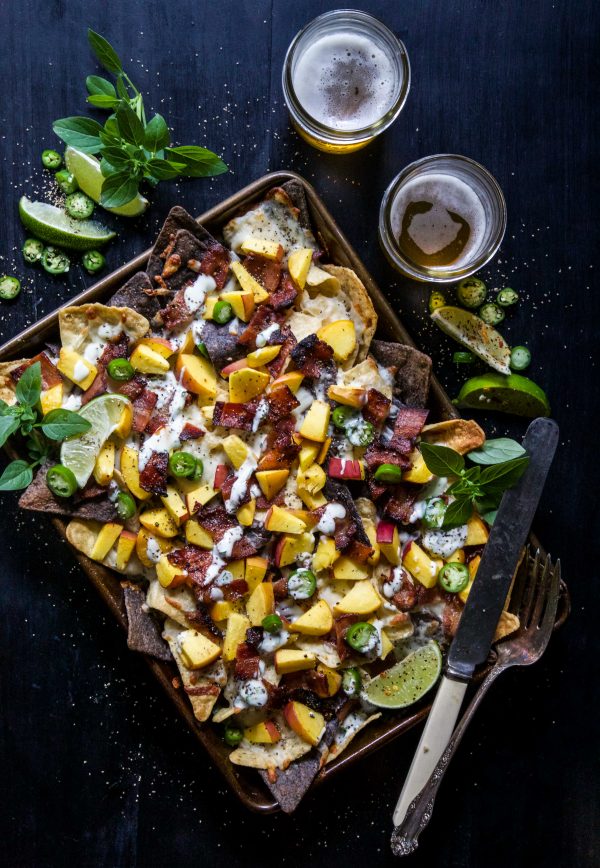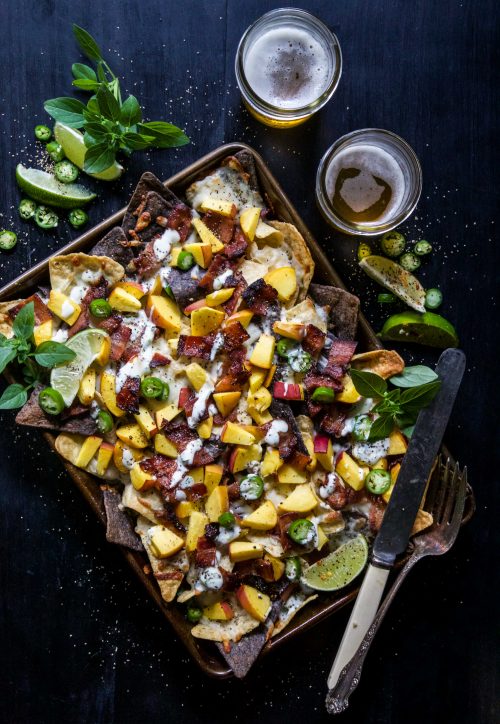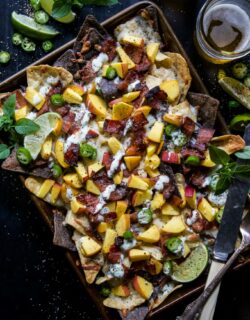 Sheet Pan Bacon & Peach Nachos with Basil-Lime Aioli
Ingredients:
5 slices uncooked thick bacon
2 cups blue corn tortilla chips
2 cups white corn tortilla chips
2 medium peaches sliced and then chopped
1 1/4 cup shredded mozzarella
1 cup mayonnaise
1 garlic clove, minced
1/4 cup fresh chopped basil + more for garnish
1 tbsp lime juice
1 tsp lime zest
Jalapeno rounds, for garnish
salt and pepper to taste
Directions:
Preheat your oven to 400 degrees.
Line a baking sheet with foil and spray with non-stick cooking spray. Cook the bacon for about 12 to 13 minutes or until crispy. Remove the bacon from the oven and place on a plate lined with a paper towel to cool and drain. Once cool enough to handle, roughly chop the bacon into bite sized pieces.
Next, remove the foil from the baking sheet and discard. Take the tortilla chips and place them on the baking sheet. Toss to combine. Take the bacon and peach and evenly distribute them on top of the tortilla chips followed by the mozzarella. Place the baking sheet back into the oven for about five minute or until the cheese has melted.
While the nachos cook, assemble the basil-lime aioli. In a small bowl combine, mayonnaise, garlic, 1/4 cup basil, lime juice, lime zest, salt, and pepper. Stir to combine. Remove the baking sheet from the oven and drizzle the top with basil-lime aioli and garnish with jalapenos.
All images and text ©