Chicken Shawarma Gnocchi Bowls
Chicken Shawarma Gnocchi Bowls are a fun and delicious meal ready in 30 minutes or less! Juicy chicken shawarma slices get piled high on top of fluffy lemon gnocchi and then finished with a dollop of cucumber tzatziki. This dish is great for back-to-school dinners!
Do you have a certain dish that you crave constantly?
I'm talking beyond the #tacotuesday affair.
Although now that I mention it, a chicken hard taco with shredded cheddar cheese, pico de gallo, guacamole and a dollop of sour cream sounds delicious right now. Is there ever a wrong time for tacos?  I think not.
Shoot. Where was I? Oh, yes, foods that we crave. It's a hard choice because nachos, burgers, and pizza are always fair game. But, if I HAD to pick, I would definitely say chicken shawarma. There is something about the spices of paprika, cardamon, cumin, and coriander, when mixed together, that create the ultimate flavor combination.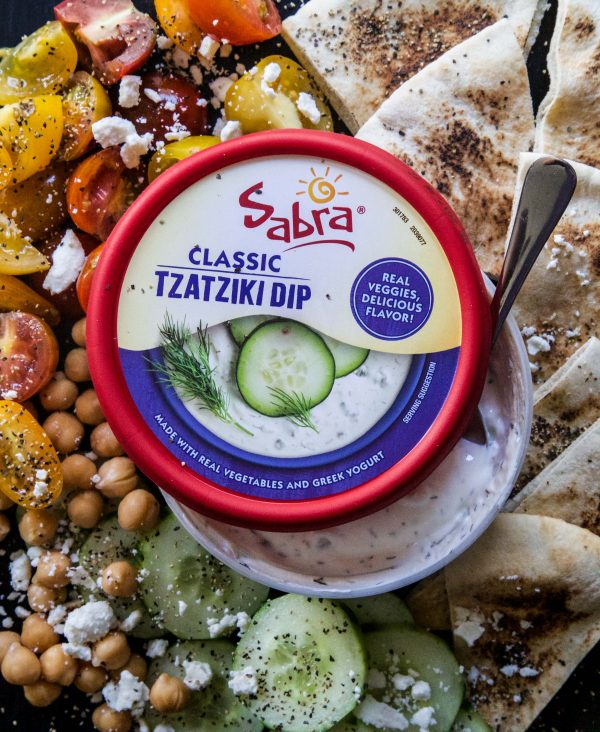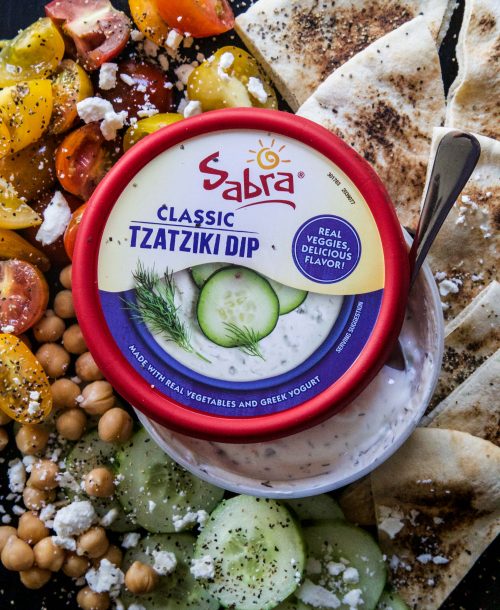 And I love how chicken shawarma is served mezze style. For a girl that used to stir her chicken, mashed potatoes, and corn together during her cafeteria days, this type of eating is a dream come true. Typically served with flatbread, cucumbers, tomatoes, hummus, and tzatziki, you can mix and match or stir everything together for heavenly bliss.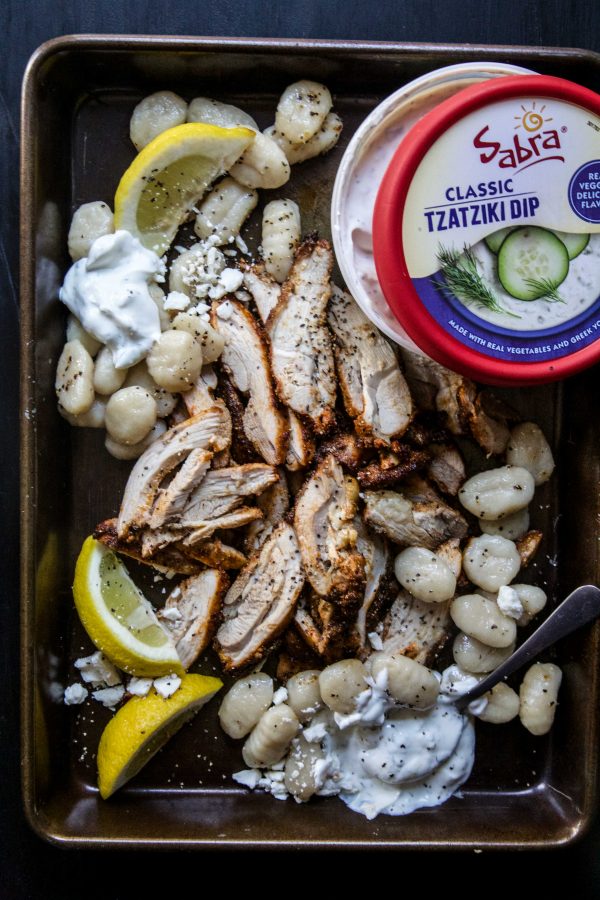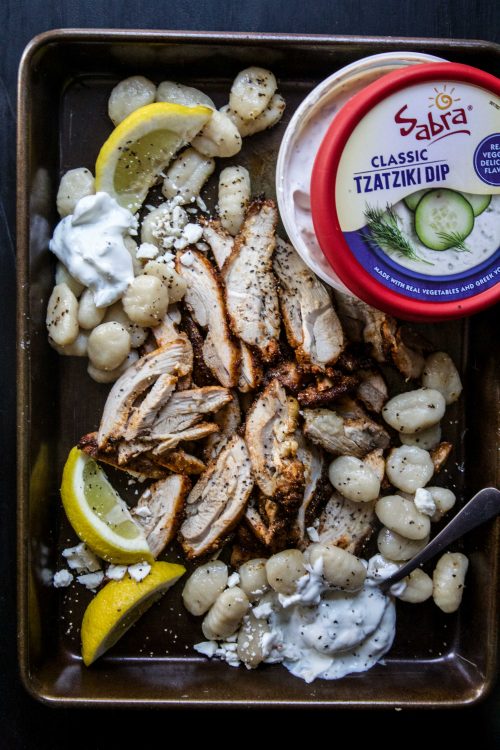 Well, speaking of stirring everything together in a bowl, today's recipe is so on point. I had a mad craving this week for chicken shawarma and thought, why not make Chicken Shawarma Gnocchi Bowls? My eight year-old self was practically jumping up and down. What I love about these bowls is that they are a  slightly different take on the traditional chicken shawarma. First, this recipe has gnocchi instead of farro or rice. I love the texture of gnocchi.
Second, what makes these bowls an 11/10 situation is the tzatziki dolloped on top. Why do I say that? Because did you know that Sabra has a FULL LINE of different kinds of tzatziki dips? GET OUT OF TOWN! Oh, yes. They range from spinach parmesan, farmer's ranch and traditional cucumber dill, which I used for this recipe.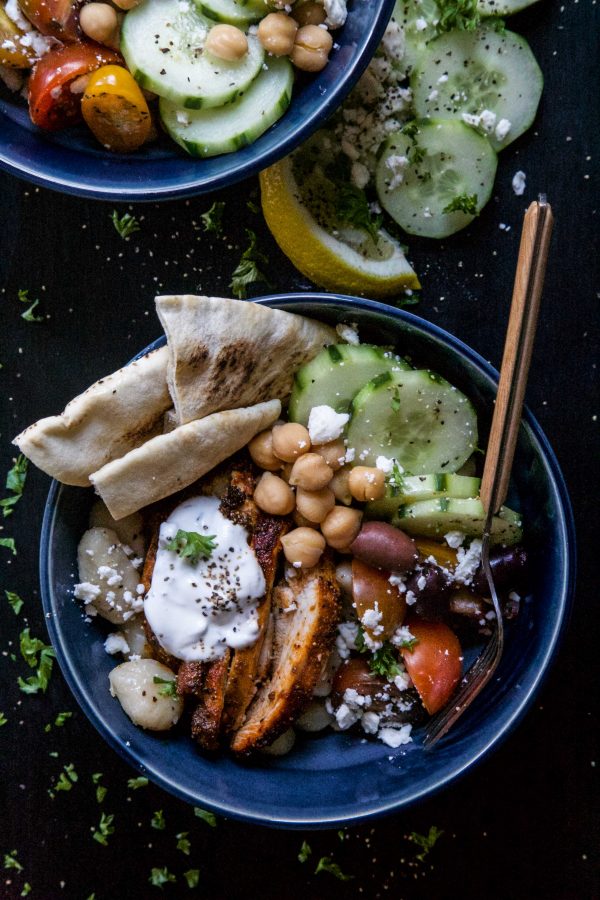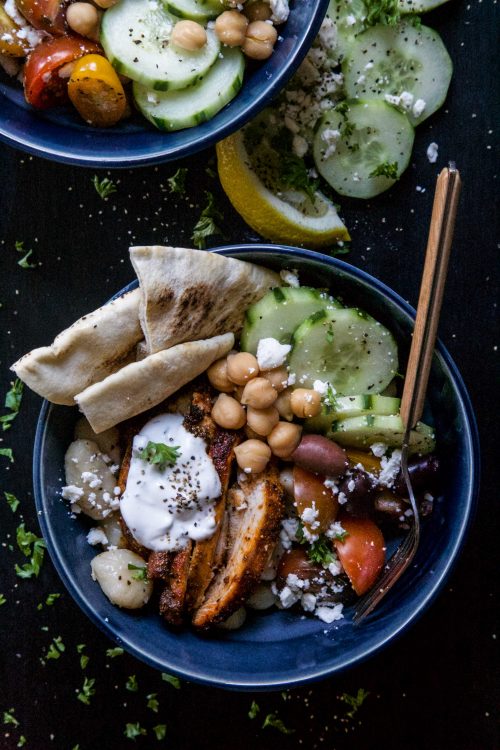 These tzatziki flavors are great as dips for veggies!  Or you can use them as a spread on sandwiches,  or as a topping on grilled meat or fish.  The possibilities are endless and delicious. Bonus part:  these Chicken Shawarma Gnocchi Bowls only take about 20 minutes to put together. Can you say winning? Also, they make or may not work as a condiment on top of tacos. But don't tell anyone I told you.
If you are looking to pick up a few of these delicious dips, make sure to check out a Sams Club near you!
***This post was sponsored by Sabra. As always, all opinions expressed are 100% my own.***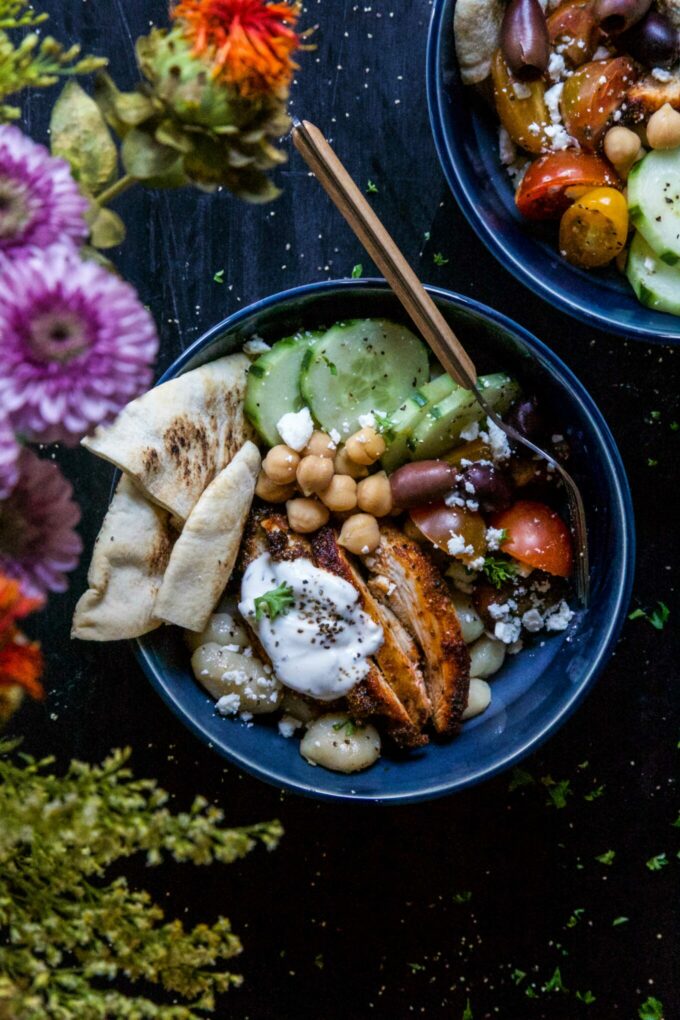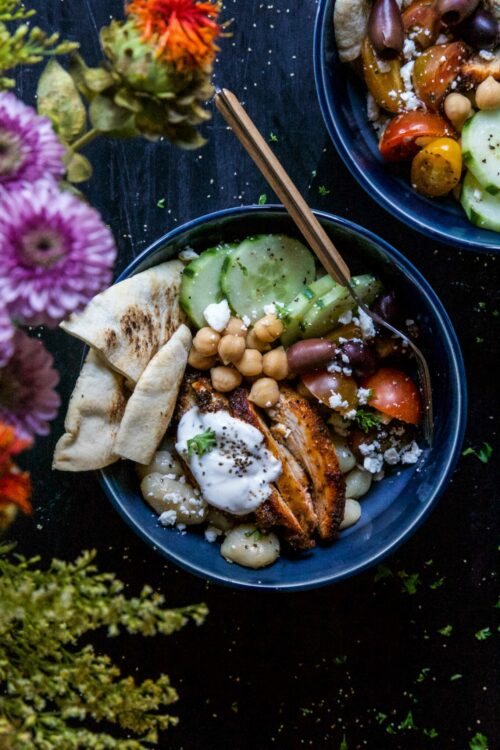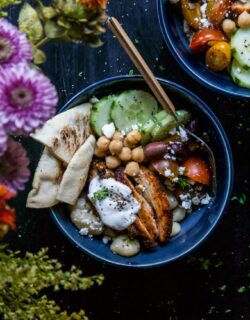 Chicken Shawarma Gnocchi Bowls
Ingredients:
1 lb boneless skinless chicken thighs
1 tsp ground cardamon
2 tsp ground paprika
1 tsp ground cumin
1 tsp ground coriander
1 tsp ground garlic powder
3 tbsp olive oil, divided
salt and pepper to taste
2 12 oz package dried gnocchi
1 tbsp lemon juice
cucumber slices, for garnish
rinsed chickpeas, for garnish
grape tomatoes, for garnish
crumbled feta, for garnish
toasted flatbread or pita, for garnish
Directions:
Preheat your oven to 400 degrees.
Line a baking sheet with foil and spray with non-stick cooking spray. In a large bowl combine chicken thighs, 1 tbsp olive oil, cardamon, paprika, cumin, coriander, garlic powder, salt, and pepper. Place the chicken thighs on a baking sheet and cook for about 20 to 25 minutes. Remove the chicken thighs from the oven and set aside.
Next, bring a large stockpot full of water to a boil. Add the gnocchi to the boiling water. Once the gnocchi float to the top, scoop them out and place into a colander to drain slightly. Then pour the gnocchi into a large bowl. Toss the gnocchi with 2 tbsp olive oil, 1 tbsp lemon juice, salt, and pepper.
To serve: place some of the gnocchi into the bottom of the bowl. Top with chicken, cucumbers, chickpeas, grape tomatoes, feta, Sabra tzatziki, and serve with toasted flatbread. Enjoy!
All images and text ©