slow cooker spiced lamb gyros with frites and mint aioli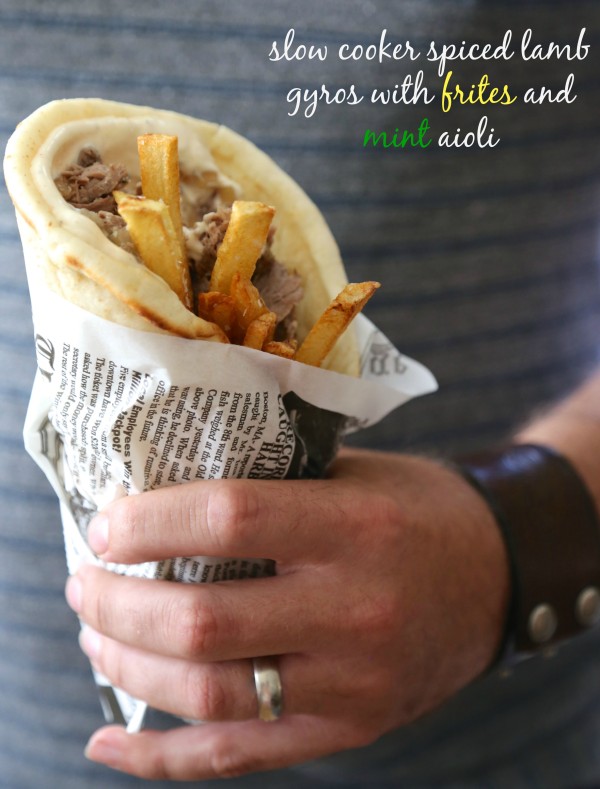 My first taste of Parisian street food came as no easy task.
After twenty plus hours of traveling, a wash cloth rinse, a cab ride to Bayonne, two beers….more like a pitcher, a bullfight, street surfing at the Fete de Bayonne, tripping on every cobble stone on the block, taking selfies with random strangers, and one licorice tasting shot, we finally found a spot to pull over.
The spot wasn't really a spot-spot. More like a slight opening among the waves of people going over, under, sideways, and byways on the bridge. The fact I was more than two arms length away from anyone was a miracle. I took that moment to breathe, regroup, and appreciate that I wasn't in Kansas anymore.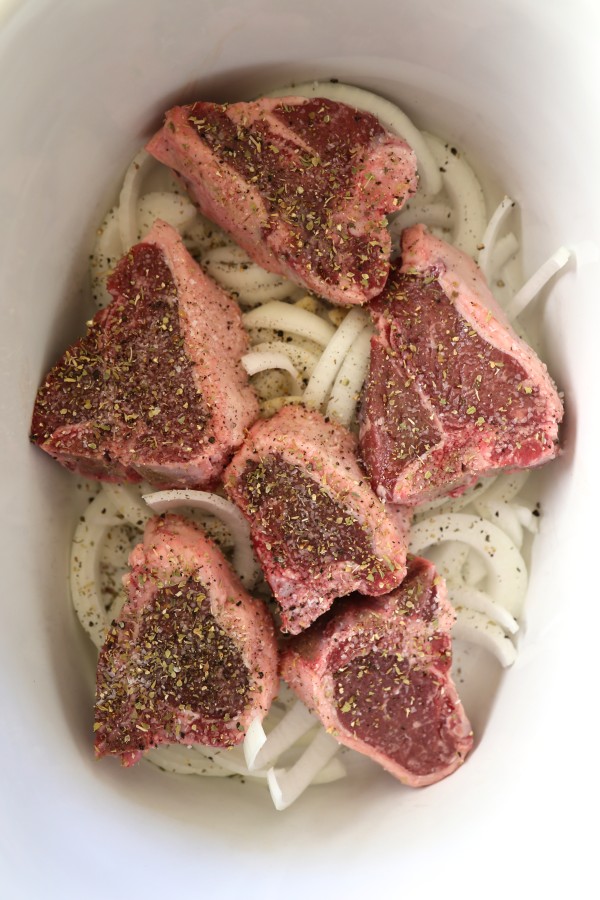 The city of Bayonne is about five miles north of Biarritz and every year, the city puts on the Fete de Bayonne (The Big Summer Festival) celebrating the Basque culture. It's a five day festival consisting of musical performances, traditional dances, parades, and fireworks. Forget what you think you know about festivals, the Fete de Bayonne takes the bull.
I've never seen 300k people in a quarter mile radius behave, yes behave, sing, dance, chug, and take pride in their culture. As I sat on the wet cobble-stone curb and gazed into the red-and-white attired crowd, I fell in love with the Basque culture.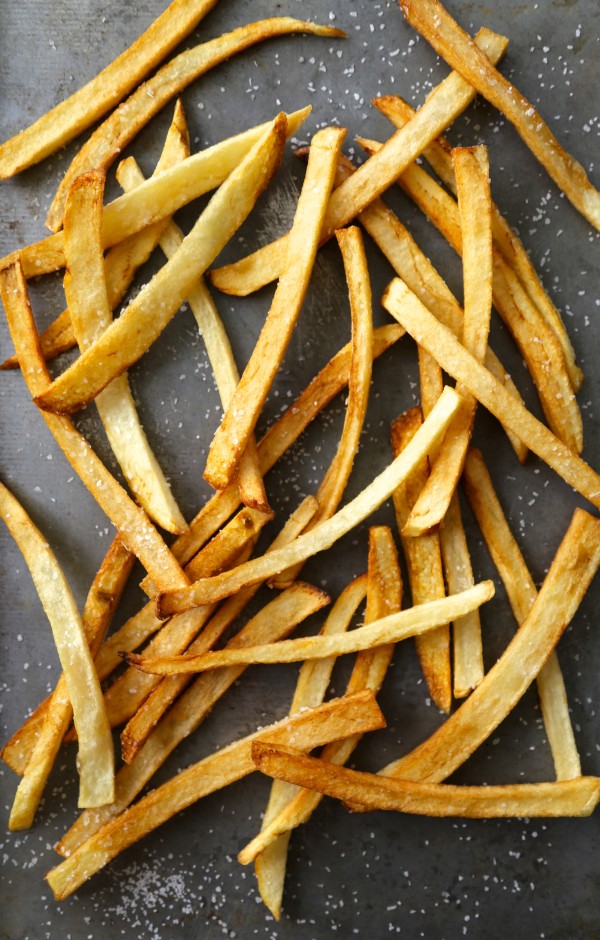 Somewhere in that moment, Mr. B handed me what looked like a bread bowl stuffed with beef and frites on top. I didn't even ask what it was, I just gobbled it down like I hadn't eaten in days. After I had finished, I had instant foodie remorse. I didn't even take a picture! GASP! Or ask if this dish had anything to do with the culture, I was trying to survive.
So, today's dish is my way of recreating that first memorable night in France. Slow cooked lamb topped with frites and a refreshing mint aioli, it's like eating street food minus the street. Or, minus the street sitting. I dunno.
Either pull up a seat, chug a beer, and toast your frites to a sans jet lag adventure.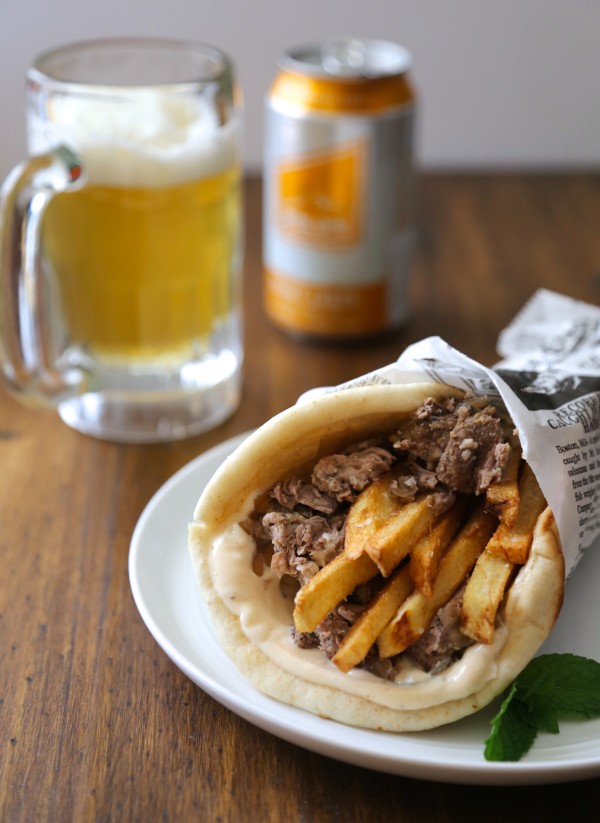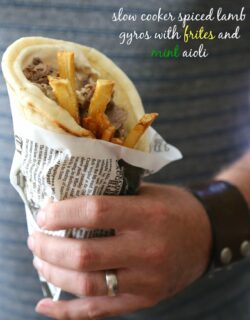 Slow Cooker Spiced Lamb Gyros with Frites and Mint Aioli
Ingredients:
for the slow cooker spiced lamb:
1 3lb lamb roast
6 garlic cloves, minced
2 tablespoons dried oregano
1 large onion, sliced
4 cups beef stock
4 large pitas
Tomato slices, garnish
Red onion slices, garnish
salt and pepper to taste
for the frites:
3 large russet potatoes
8 cups vegetable or peanut oil
salt and pepper to taste
for the mint aioli:
1 cup mayonnaise
1 garlic clove, minced
1 tablespoon lemon juice
2 tablespoons fresh mint, diced
1 teaspoon paprika
salt and pepper to taste
Directions:
for the slow cooker spiced lamb:
Place the lamb at room temperature for at least an hour for consistent cooking.
Place onions in the bottom of the slow cooker along with three chopped garlic cloves. Sprinkle lamb with oregano, salt, and pepper on both sides. Place lamb back in the slow cooker and cover with remaining garlic cloves. Add the beef stock and cook on low for 8 hours.
Remove lamb from slow cooker, let it cool slightly before shredding with a fork. To serve, stuff a pita with lamb, top with frites garnish with mint aioli, red onion, and tomatoes
for the frites:
Peel the russet potatoes leaving a few bits of skin for a rustic look. Cut into 1/4 inch slices and place them into a bowl full of water for at 2 to 24 hours. Remove from water and place frites on a towel to dry completely. Meanwhile, add oil to a Dutch oven and heat to 350 degrees. In batches fry the frites for about two to three minutes. Remove frites from Dutch oven and cool on a baking sheet lined with a paper towel. Repeat process unit all frites have fried. Next, heat oil back to 350 degrees and fry the frites again until golden. Remove from Dutch oven, place frites on a baking sheet with a paper towel and sprinkle with salt and pepper. Repeat process until all frites are fried.
for the mint aioli:
Mix all ingredients in a bowl. Refrigerate for at least 30 minutes to let the flavors combine.
All images and text ©