Smoky Cauliflower Chickpea Salad
Smoky Cauliflower Chickpea Salad is a flavorful salad full of roasted veggies and drizzled with a honey Dijon vinaigrette!
Raise your hand if you could use some greens?
**Raises fork and hand!**
After yesterday's gluttonous eating, I might need a salad every day for the rest of the week. What is it about the Super Bowl spread that makes us (maybe it's just me) say, eff it?
I have a small theory about it. The Super Bowl is always the first weekend in February which means everyone has been on the diet train for at least a month. Between the 47 dips, trays of little smoky wieners, and gallons of beer being poured, it's no wonder people are like EFF it.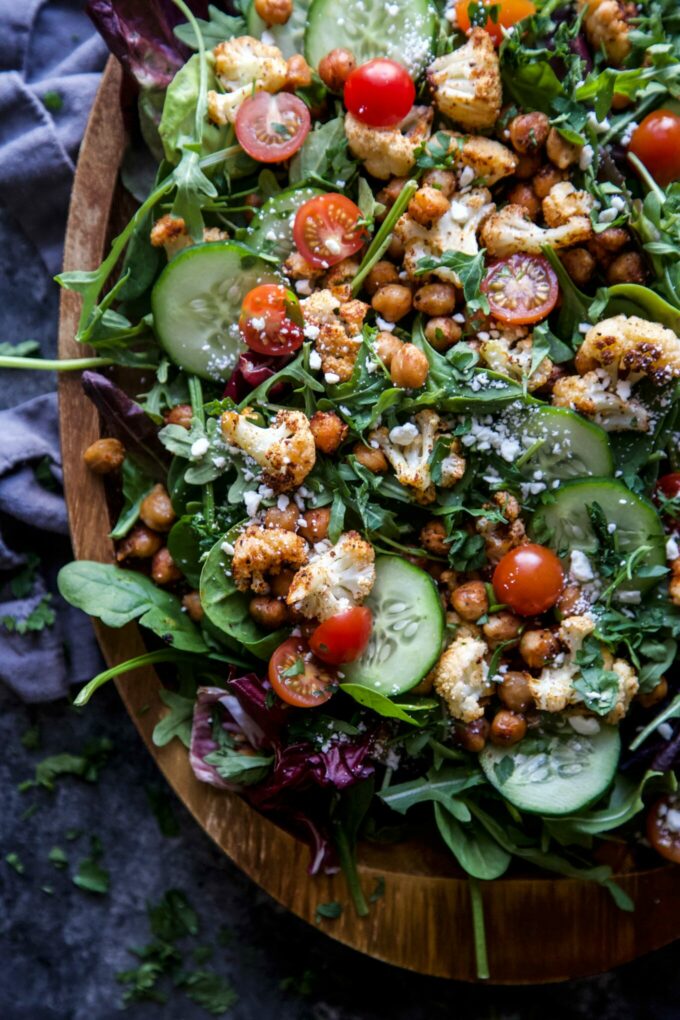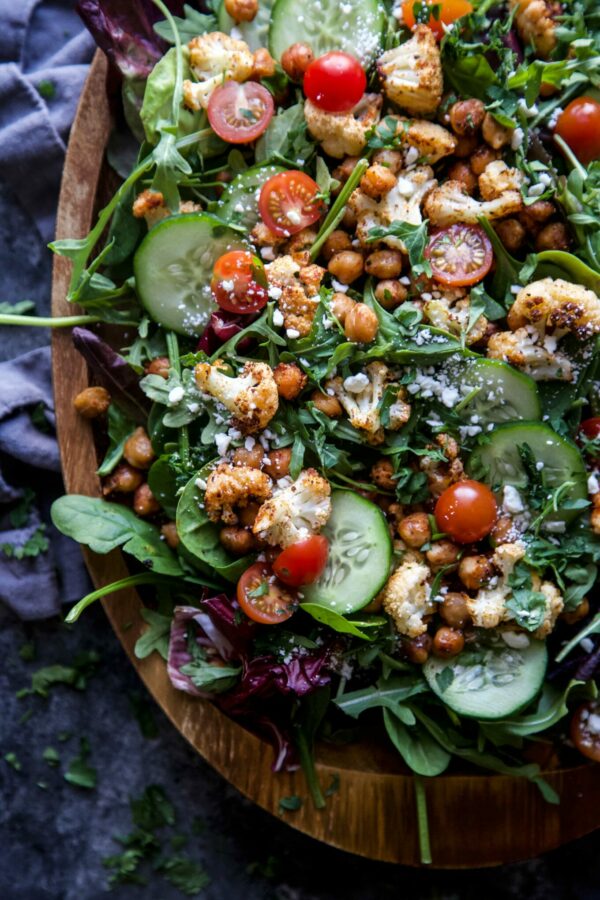 Why not splurge? Super Bowl eats are like a giant reward for surviving January. Basically it's the St. Paddy's Day of Lent. You just need one day to be naughty and throw caution to the calorie wind. Am I right?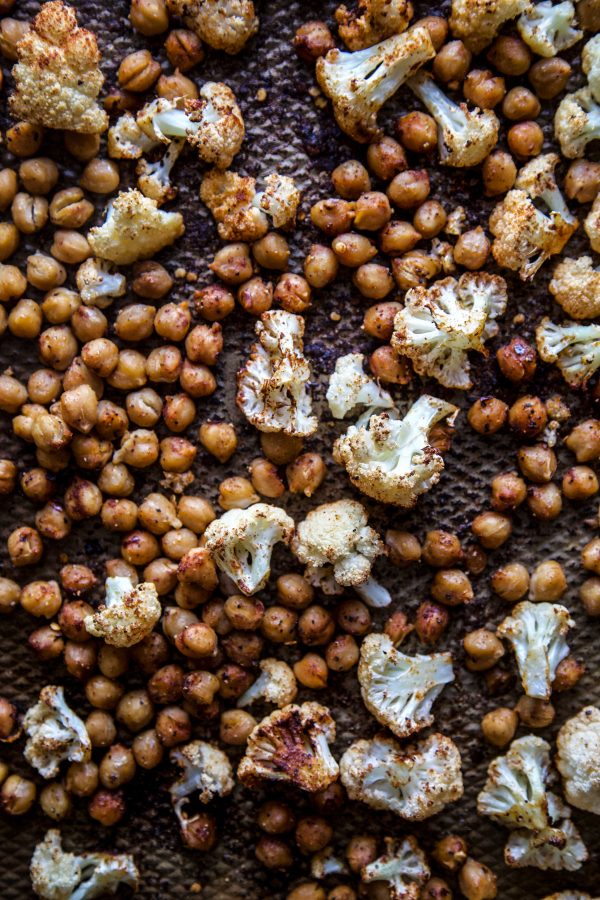 Either way, if you're looking for some delicious greens to add to a meal to counteract the bucket of queso you consumed. Or to continue on your diet this Smoky Cauliflower Chickpea Salad will cover all avenues.
Take your favorite veggies – I used chickpeas and cauliflower for this salad. Add spices and then roast said veggies. Simply put them on top of a bed of lettuce and drizzle it with some honey Dijon vinaigrette. That's it! Back on track lickety split.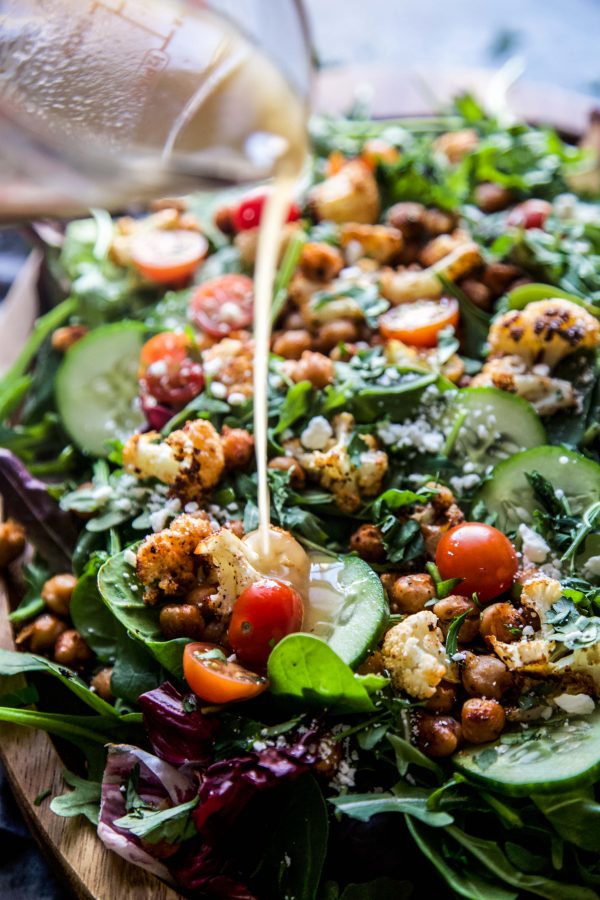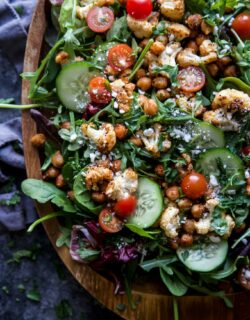 Smoky Cauliflower Chickpea Salad
Ingredients:
for the salad:
1 large head of cauliflower, cut into small florets
1 can (14 oz) chickpeas, drained
3 tbsp olive oil
1 tbsp chili power
2 tsp paprika
1/2 tsp red pepper flakes
salt and pepper to taste
5 cups mixed greens
small cucumbers, for garnish
grape tomatoes, halved, for garnish
feta crumbles, for garnish
for the dressing:
1/4 cup olive oil
2 tsp red wine vinegar
1 tsp granulated sugar
1 tsp honey
1 tsp Djion mustard
salt and pepper to tate
Directions:
for the salad:
Preheat your oven to 400 degrees. Spray a baking sheet with non-stick cooking spray.
Place the cauliflower and chickpeas on the prepared baking sheet. Drizzle the tops of the veggies with olive oil, chili powder, paprika, red pepper flakes, salt and pepper. Toss until everything is combined and evenly coated. Roast the veggies for about 20 minutes.
Place the lettuce into a large bowl. Remove the veggies from the oven and place on top of the lettuce. Add cucumbers, tomatoes, and feta. Drizzle dressing on top and toss to combine!
for the dressing:
In a small bowl, whisk together all the ingredients.
All images and text ©