Pickleback Baked Chicken Wings
Pickleback Baked Chicken Wings are a delicious party appetizer perfect for the Super Bowl!
Are you ready?
For the Super Bowl that is.
As a Kansas City Chiefs fan, I am so freaking pumped for Sunday. I will actually be traveling back to Denver on Sunday (thankfully before the game) from Kansas City. It will be fun to see KC a buzz with all the Super Bowl excitement.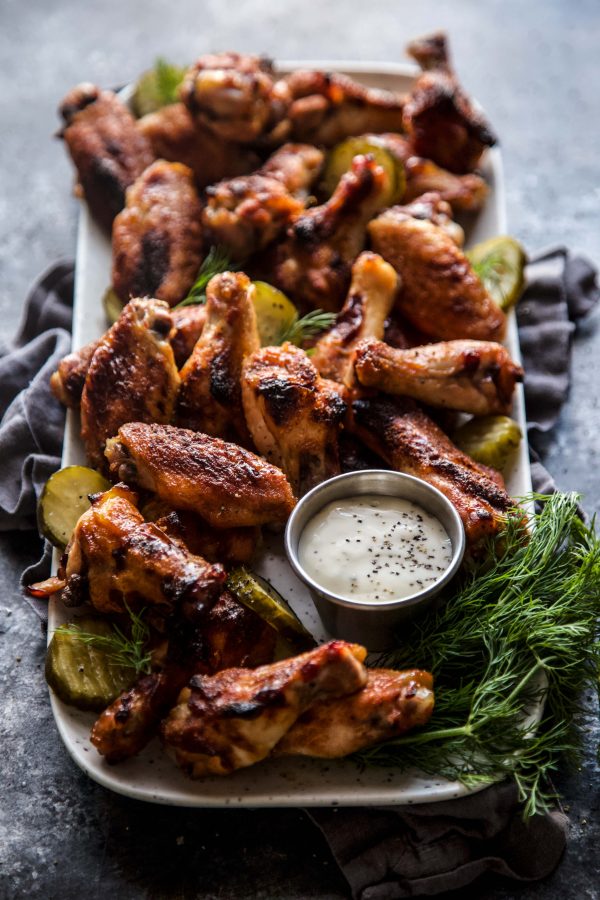 Which reminds me I need to get Charlie a Chiefs onesie to wear. I'm hoping to duck into a store to grab one while I'm back home, but I feel like it might be slim pickings. KC peeps, thoughts on where I should grab one?
Now, you can't talk about the Super Bowl without chatting about food. What's your go-to dish when prepping for the big game? I do love a good dip or a plate piled-high with nachos. However, wings are always a good idea.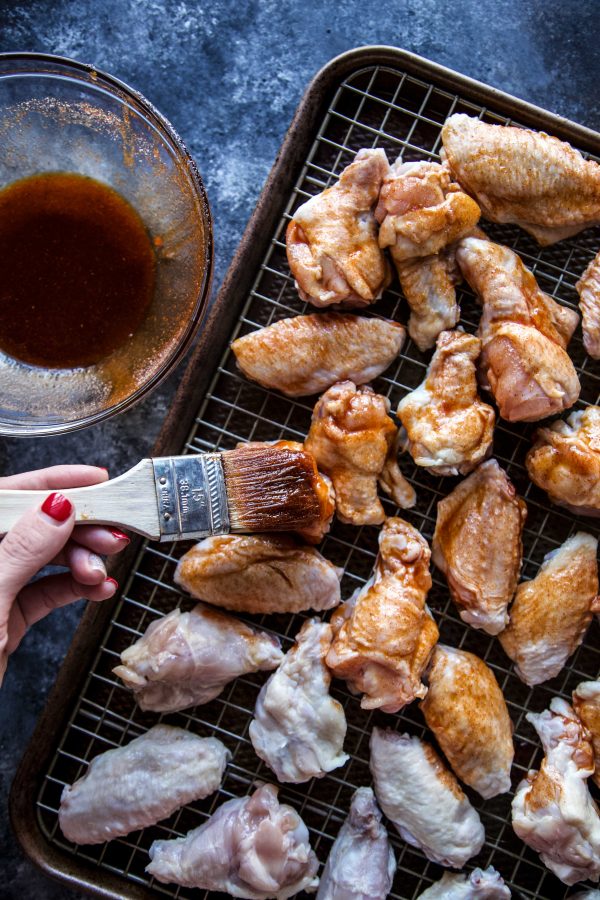 You can do the standard buffalo style. BUT! I say we kick it up a notch and make these Pickleback Baked Chicken Wings. If you are a pickle lover these are your new best friend. Literally all you do is brine the chicken wings in some pickle juice for at least a few hours. Whisk together the sauce and bake the wings. That's it! As an alternative you could make these in the slow cooker.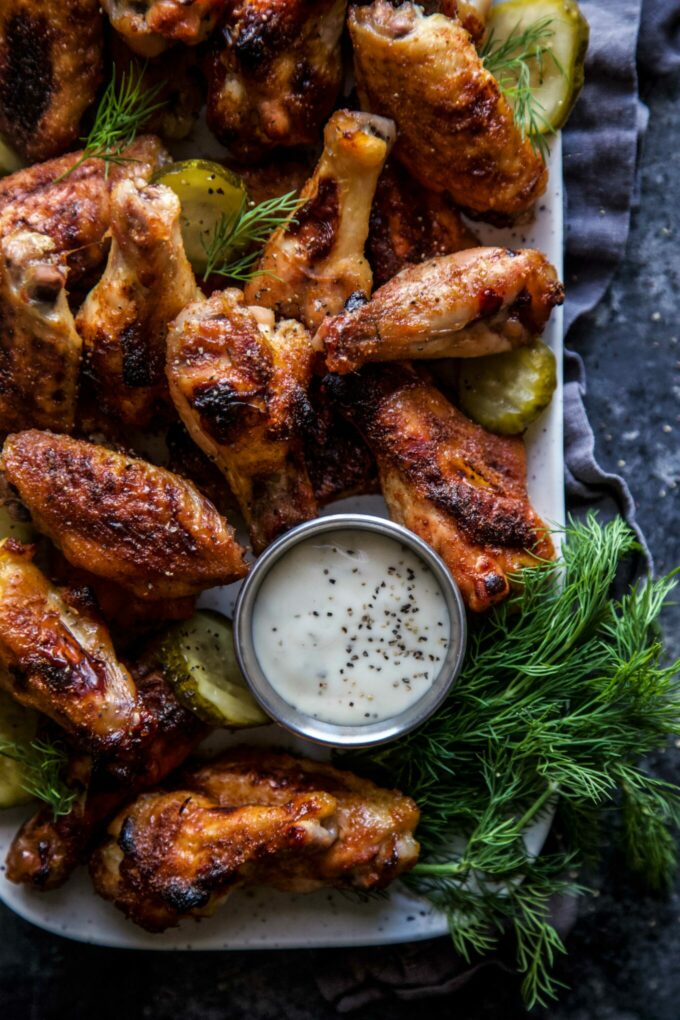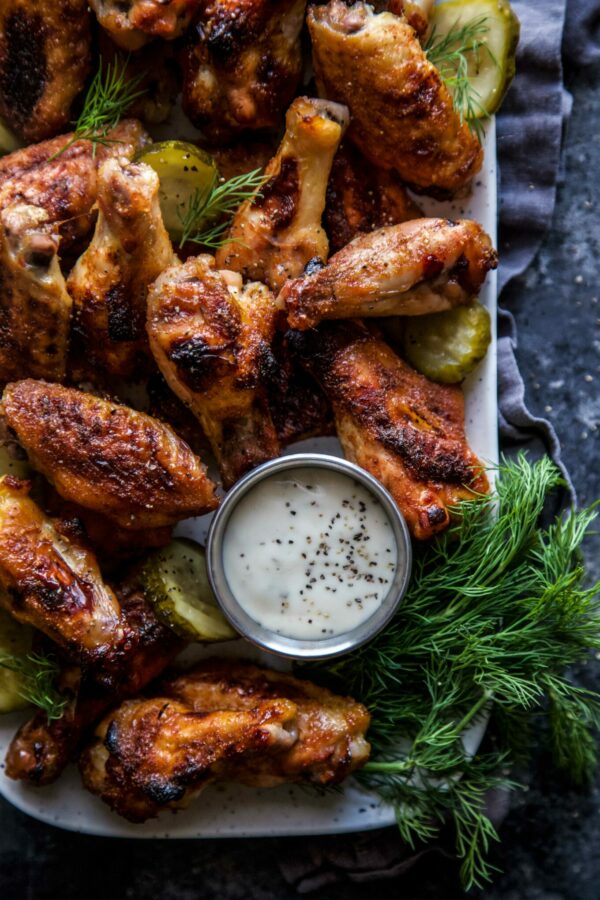 Serve these up on a big platter with copious amounts of ranch dipping sauce. And if you're feeling fancy some fresh dill. GO CHIEFS!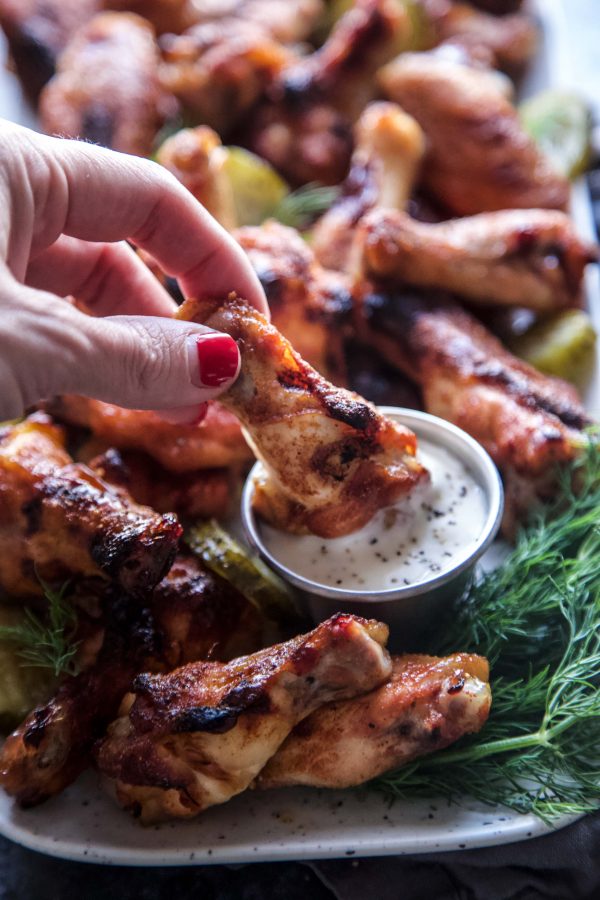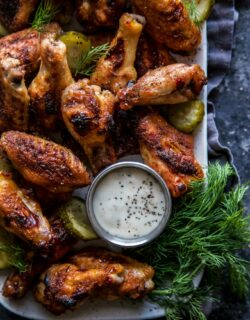 Pickleback Baked Chicken Wings
Ingredients:
3 lbs chicken party wings
1 cup pickle juice
2 tbsp favorite bourbon
2 tbsp honey
1 tbsp brown sugar
1/2 tsp onion powder
1/2 tsp paprika
1/4 tsp cayenne pepper
salt and pepper to taste
2 tbsp fresh chopped dill
1 cup sliced pickles, for garnish
1 cup ranch dressing, for dipping
Directions:
In a large Ziploc bag, add the chicken wings and pickle juice. Place the bag into the fridge for at least an one hour and up to four hours. Drain the wings and pat them dry.
Next, preheat your oven to 400 degrees. Take a baking sheet and place a metal rack on top of it. Spray the metal rack with non-stick cooking spray.
In a small mixing bowl, combine bourbon, honey, brown sugar, onion powder, paprika, cayenne, salt and pepper. Place the wings on the metal wrack. Using a pastry brush, brush the bourbon-honey mixture all over the wings.
Bake the wings until crispy about 50 minutes. Transfer the wings to a platter and sprinkle with fresh dill. Serves with pickles and ranch dressing.
All images and text ©