sourdough pancakes with fresh ricotta & mustard-maple glaze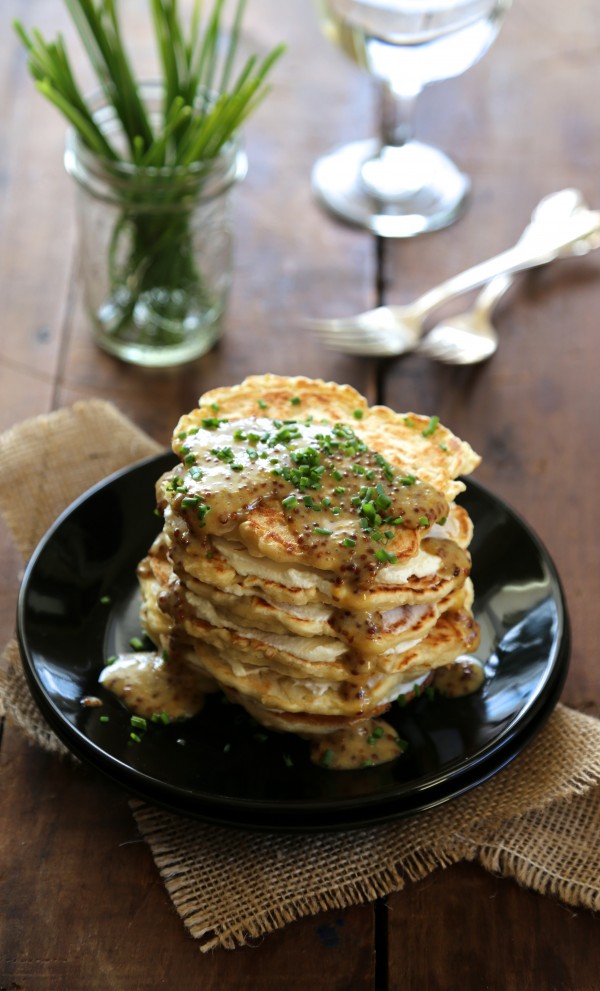 Do you remember slumber parties?
My home girls and me played the weirdest games. Like, can we totally play light as a feather/stiff as a board again? You know it totally works. Then we would wake up the next morning after three hours of sleep to a giant stack of chocolate chip pancakes drizzled with maple syrup. Life was good.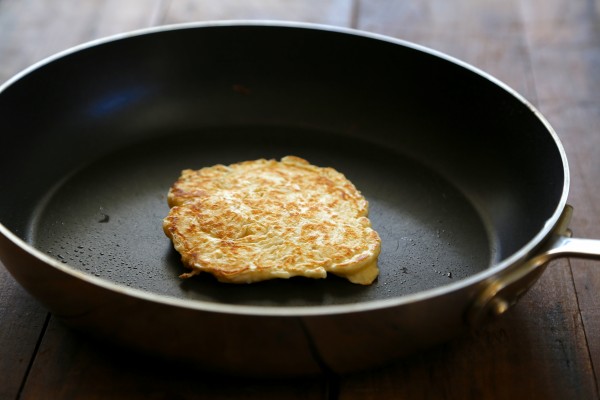 However, now my pancake comfort zone lies between extra cheesy and spicy, with a splash of sweet mixed somewhere in between. What can I say, I bat for Team Savory all the way. Which is WHY I am going to convert or at least red-rover some of you over to the savory pancake side!
I actually found this recipe when I was searching the inter webs, and I was starving. Note to self: do not grocery shop when you are hungry or look at food websites without a full meal in the 'ol belly or you will punch a puppy. Anyways, I was super excited when I found a recipe for a savory pancake because they need love too.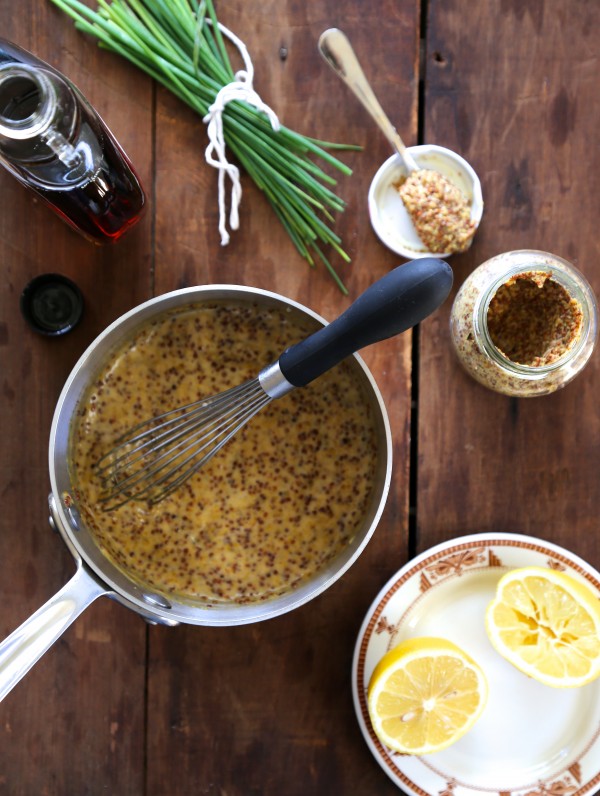 Not only are these pancakes super easy to whip up, but can we please talk about this mustard-maple glaze. Like where has this been all of my life? Possibly Canada. I dunno. Anyways, I am obsessed with the reduction and mixture of two kinds of mustard: Dijon and whole grain. By the way, whole grain and Dijon are my totally besties, and haven't let me down yet.
So, Red-Rover-Red-Rover, send your savory pancake palate right over!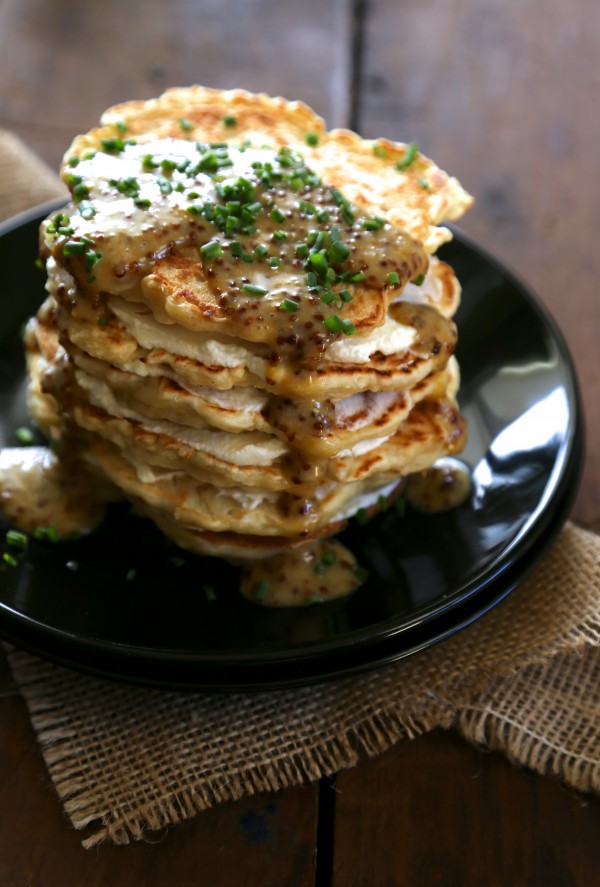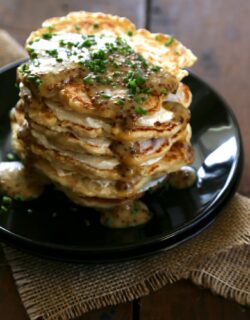 Sourdough Pancakes with Fresh Ricotta & Mustard-Maple Glaze
Ingredients:
for the pancakes:
1 large egg
2/3 cup water
1 cup all-purpose flour
1 1/2 teaspoons kosher salt
1/2 teaspoon baking powder
1 1/2 cups sauerkraut, drained
1 cup Parmesan, grated
3 tablespoons unsalted butter
1 cup whole milk ricotta
Chives, garnish
salt and pepper to taste
for the mustard glaze:
1/4 cup maple syrup
3 tablespoons grainy mustard
2 tablespoons Djion
1 tablespoon mayonnaise
1 tablespoon lemon juice
Directions:
for the pancakes:
Mix the egg and water in a small bowl. In another large bowl, combine flour, salt, and baking powder. Combine the wet and dry ingredients in batches. Cover bowl with plastic wrap, place dough in fridge to chill at least 30 minutes. Once chilled, add the sauerkraut and Parmesan. Stir to combine.
Preheat a non-stick skillet to medium heat. Add one tablespoon of butter and let it melt. Ladle about a 1/4 cup of the batter into the skillet. Cook for about a minute or two on the first side or until it starts to bubble on top. Flip, and cook for one minute or until golden brown. Repeat until all batter has been used.
to serve: place pancake on plate, spread top with ricotta, add another pancake, spread top with ricotta, and layer final pancake and spread top with ricotta. Top with mustard-maple glaze & chives
for the mustard-maple glaze:
Add maple syrup and whole grain mustard to a small saucepan. Stir to combine. Bring mixture to a boil and then a simmer until thickened about 5 minutes. Remove the saucepan from the heat and stir in Dijon, mayo, and lemon juice. If thick, stir in a little warmed chicken stock.
All images and text ©