Spiced Beef Meatloaf Muffins with Feta
Spiced Beef Meatloaf Muffins with Feta are a delicious meal made in a muffin pan that's ready in 30 minutes!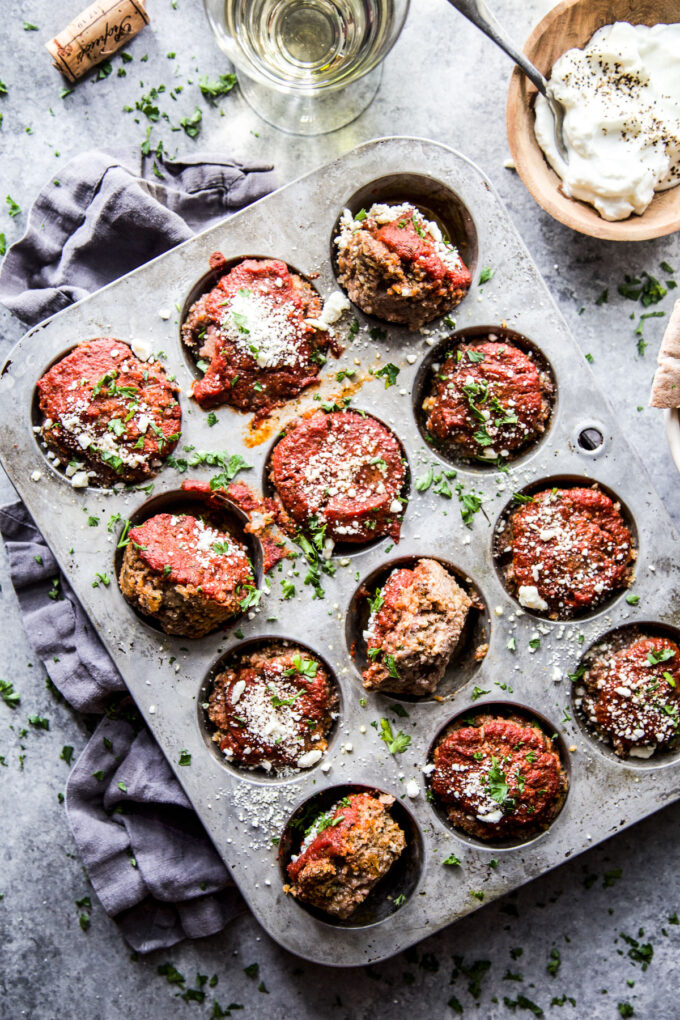 Meatloaf was a hot dinner commodity growing up in our house.
I always thought my mom would slave away in the kitchen for hours assembling meatloaf. Little did I know that meatloaf is super easy to make. Traditionally all the ingredients are mixed in one bowl and then pressed into a loaf pan to bake for about an hour.
Well, these Spiced Beef Meatloaf Muffins with Feta still have that same nostalgic flavors, but with a little twist. Plus, I'm cutting down the cooking time to ensure y'all have a tasty meal in less than 30 minutes.
Ready to fire things up?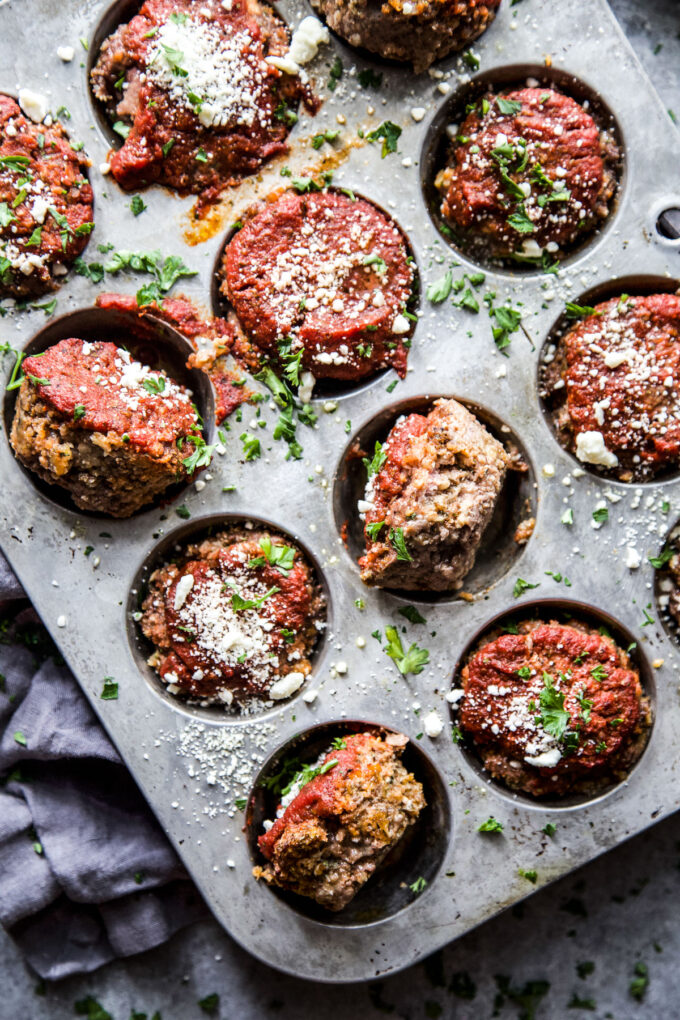 What are in these Spiced Beef Meatloaf Muffins with Feta?
I remember as a little girl my mom making a giant meatloaf for our family for dinner. The aroma of spices and marinara filled the house and like I mentioned above we rarely had leftovers. This muffin version still packs the same flavor, but takes half the time to cook. You will need:
Egg
Panko breadcrumbs
Yellow onion
Garlic
Ground beef
Favorite marinara
Crumbled feta
Spice mixture: cumin, paprika, cayenne, oregano, sumac, cilantro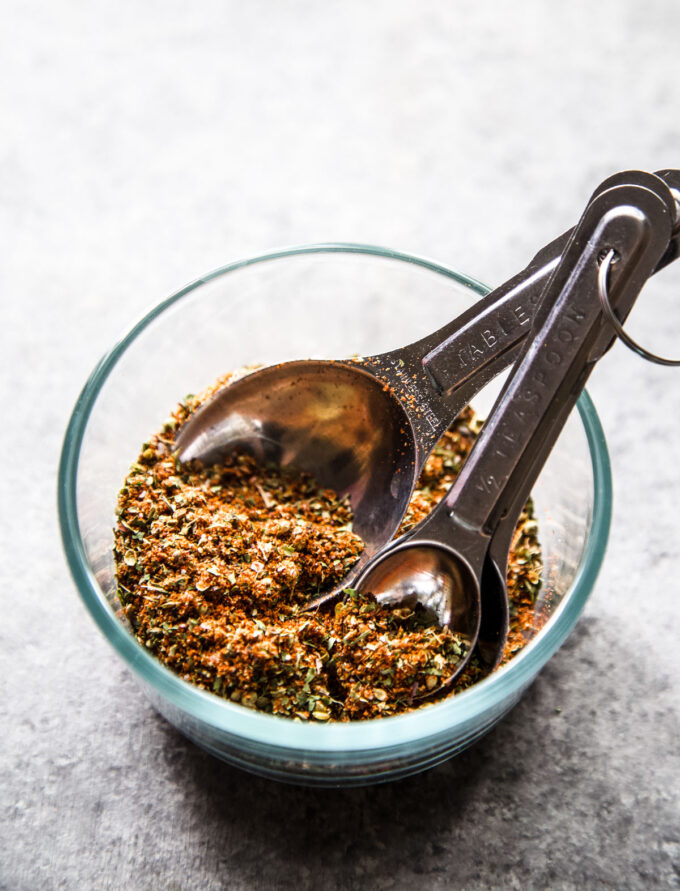 Tips for Making Spiced Beef Meatloaf Muffins with Feta:
Beef. Make sure your beef comes to room temperature before mixing it with the rest of the ingredients. Ideally, you want to add the ground beef last to make sure it doesn't get overmixed!
Panko. This is a type of Japanese breadcrumb that is light and fluffy. You can certainly substitute it for regular breadcrumbs if you can't find panko at the grocery store.
Marinara. Since you will be adding spices to the meatloaf mixture you want the jarred marinara to not be super bold. I would suggest just a basic sauce versus one that has a lot of garlic and heat.
Feta. If you don't like feta you could certainly substitute it with shredded mozzarella!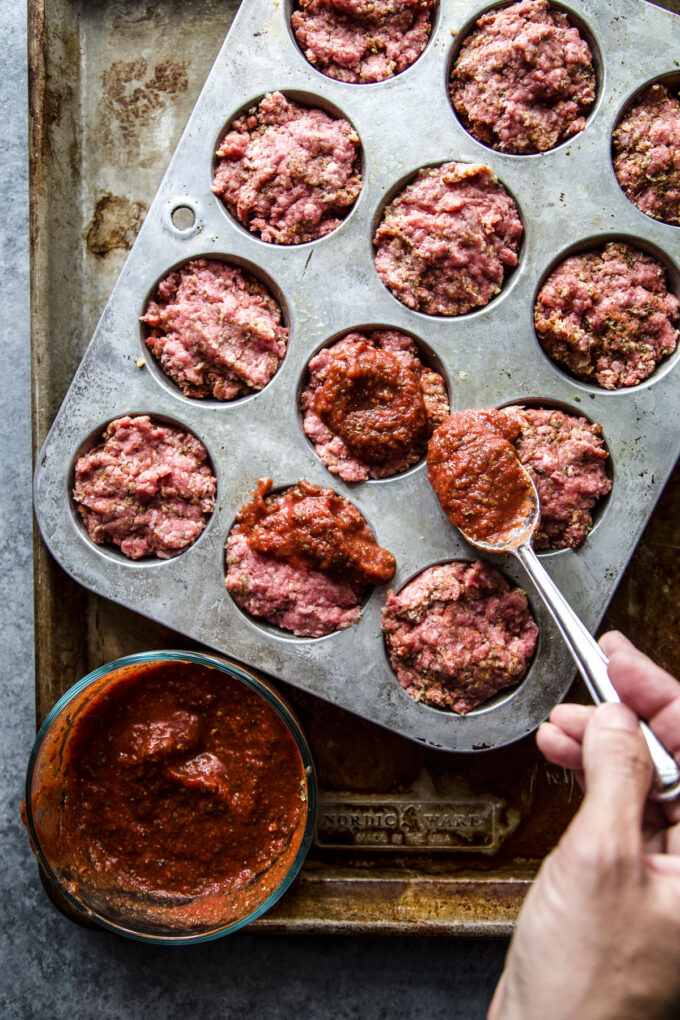 Frequently Asked Questions:
Can you make this recipe gluten free?
Yes! You can find gluten free panko or regular breadcrumbs at the grocery store. Also, almond meal would work as well.
Can I swap out the protein? Not a fan of beef.
You bet! Ground turkey, pork, or chicken would a great substitute for beef.
How long do the meatloaf muffins keep in the fridge?
Typically the meatloaf muffins will keep up to 3 to 4 days. If you want to freeze them then you will need to put them into an airtight container and will keep up to a month.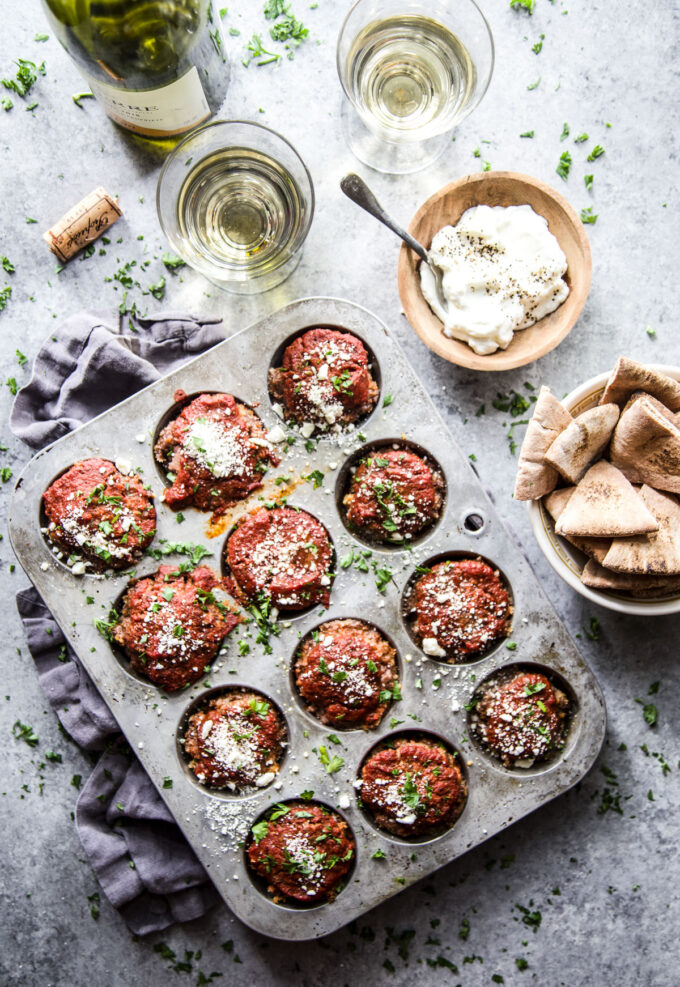 More Delicious Beef Recipes to Enjoy: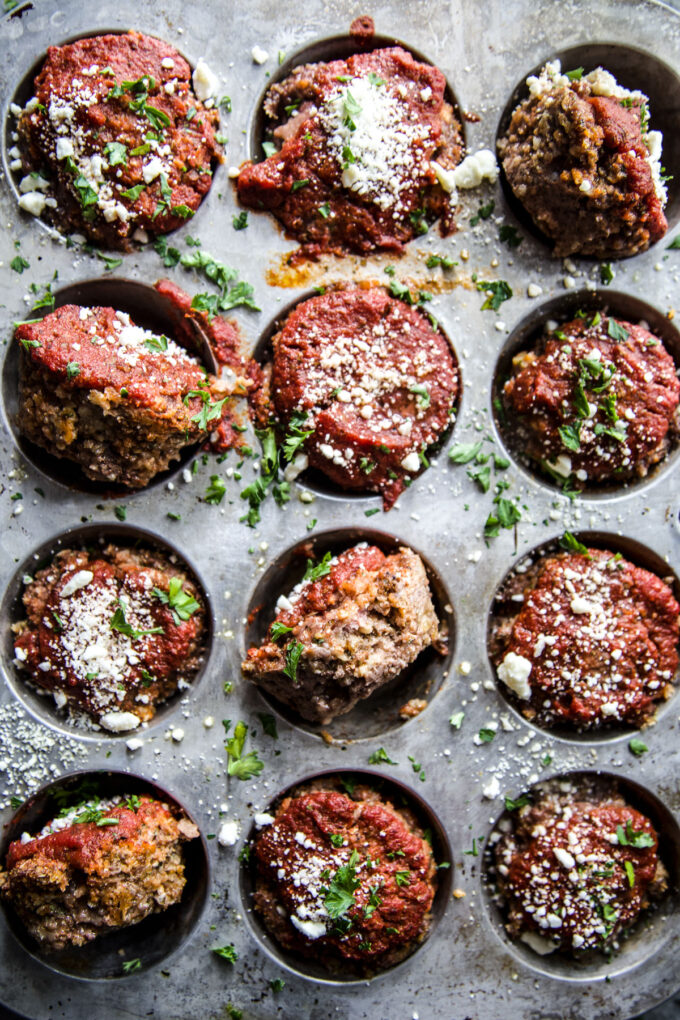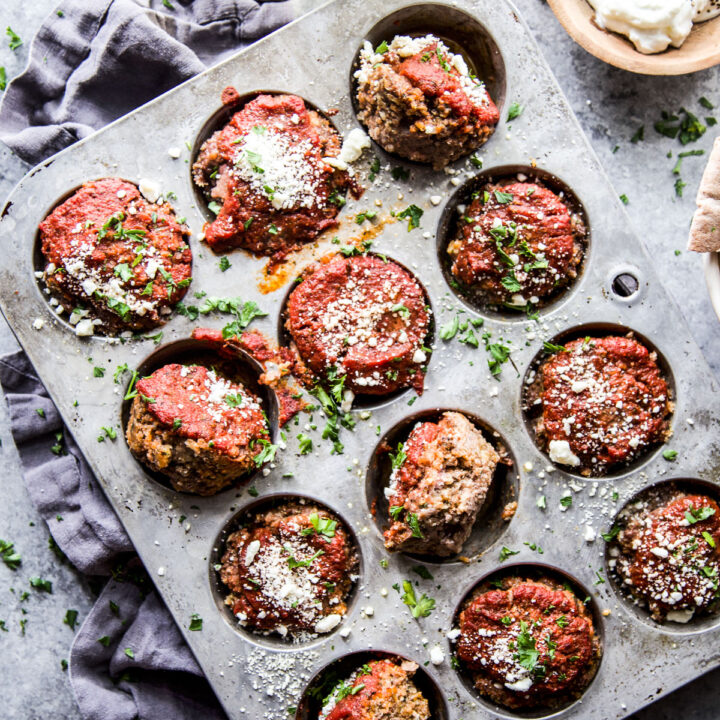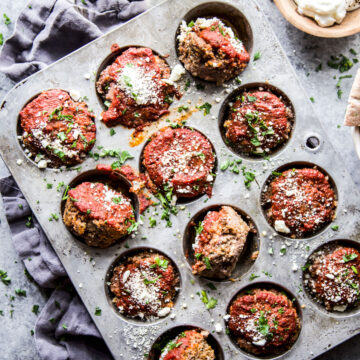 Spiced Beef Meatloaf Muffins with Feta
Spiced Beef Meatloaf Muffins with Feta are a delicious meal made in a muffin pan that's ready in 30 minutes!
Ingredients
1 large Egg, lightly beaten
2/3 cup Panko breadcrumbs
3 Garlic cloves, minced
1/4 cup Yellow onion, shredded
1.5 lbs Ground beef
1/2 cup Favorite jarred marinara sauce
1.5 tsp ground cumin
1.5 tsp ground paprika
1/4 tsp cayenne
1.5 tsp dried oregano
1.5 tsp dried cilantro
1/2 tsp ground sumac
salt and pepper to taste
Feta crumbles, for garnish
Instructions
Preheat your oven to 400 degrees. Spray a regular-sized muffin pan with non-stick cooking spray and set aside.

In a large mixing bowl combine the egg, panko, garlic, onion, cumin, cayenne, oregano, cilantro, sumac, salt, and pepper.

Next, add the ground beef to the mixing bowl, using your hands gently incorporate the beef. Be careful to not overmix so the beef doesn't become dry.

Lightly press the spiced meatloaf mixture into each of the 12 muffin cups. Top the meatloaf muffins with 1/2 cup of marinara, dividing evenly amongst the 12 portions. Place the muffin pan on a rimmed baking sheet and bake for about 15 to 20 minutes or until internal temperature reaches 165 degrees.

Remove the muffin pan from the oven and garnish each meatloaf muffin with the crumbled feta. Serve and enjoy!
Did you make this recipe?
Please leave a comment below and share a photo on Instagram with the hashtag #thecuriousplate!