Spiced Lamb Tamale Bowls
Spiced Lamb Tamale Bowls are a delicious and easy dish to make that will spice up your dinner routine!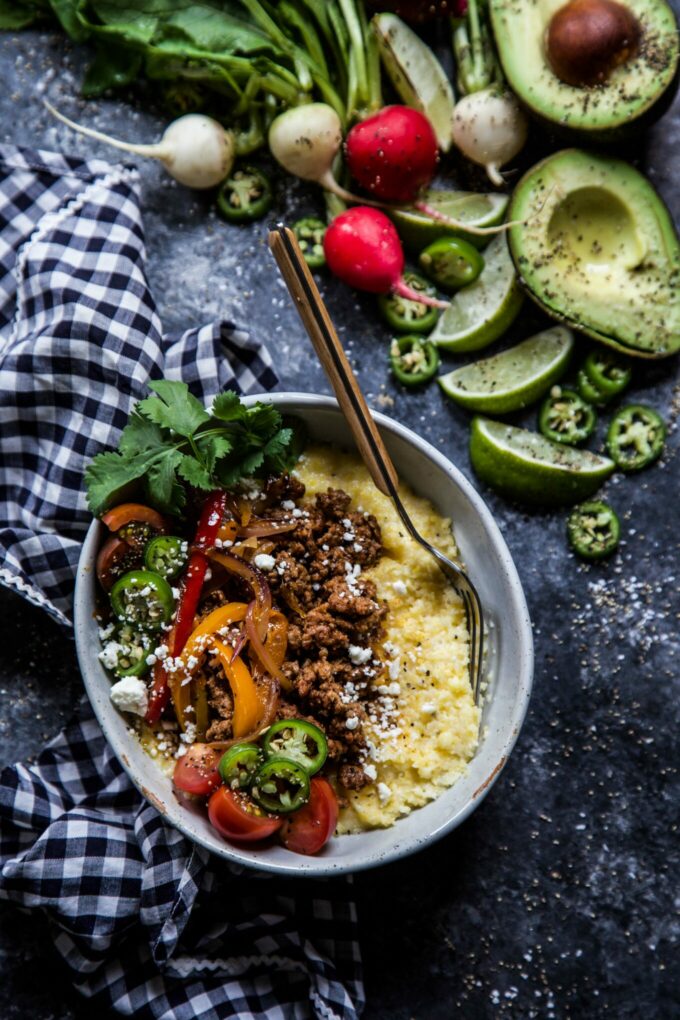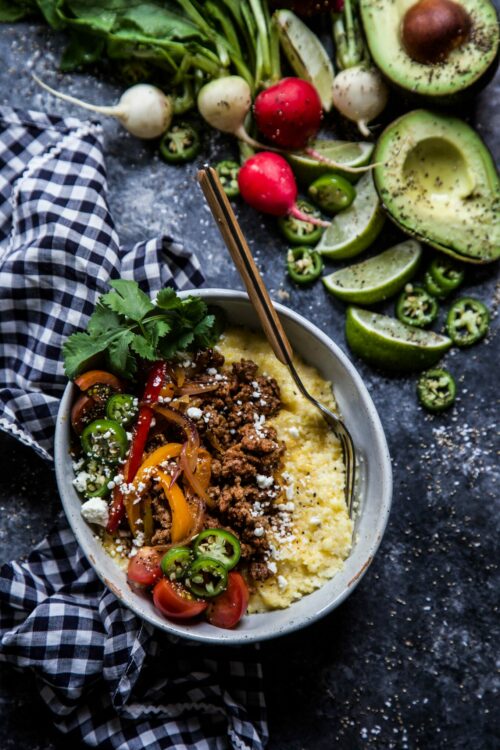 Date night.
What's your M-O?
A night out on the town? Date night with friends? Or simply, Netflix and chill?
Mr. B and I are more of the latter. We like to stay at home because we like to cook together. Did I ever tell you that Mr. B actually taught me how to cook? Yep, yep. For the longest time he was the one making dinner while yours truly was assigned to water boiling duty.
Thankfully I paid attention to his chopping, sauteing, and baking skills because now we both cook! One of our favorite things to do is play "whatcha got?" We simply open the fridge, take a look at what ingredients are available and create a dish using those ingredients.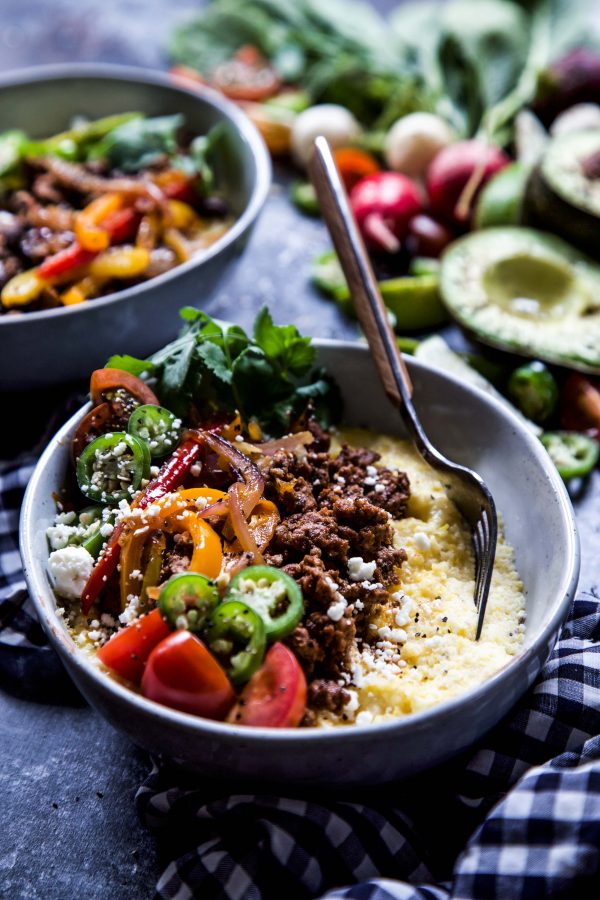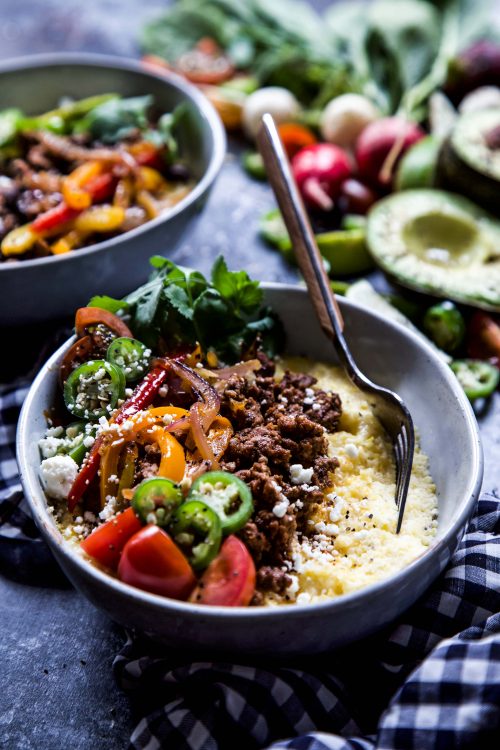 If you haven't played this game it's a blast and a great way to clean out the fridge too. The other night we had a date night in and ended up making these Spiced Lamb Tamale Bowls. We always have some kind of protein and peppers in our fridge. This week I had some ground lamb on hand because it's Lamb Lover's Month and figured we needed to spice things up for date night.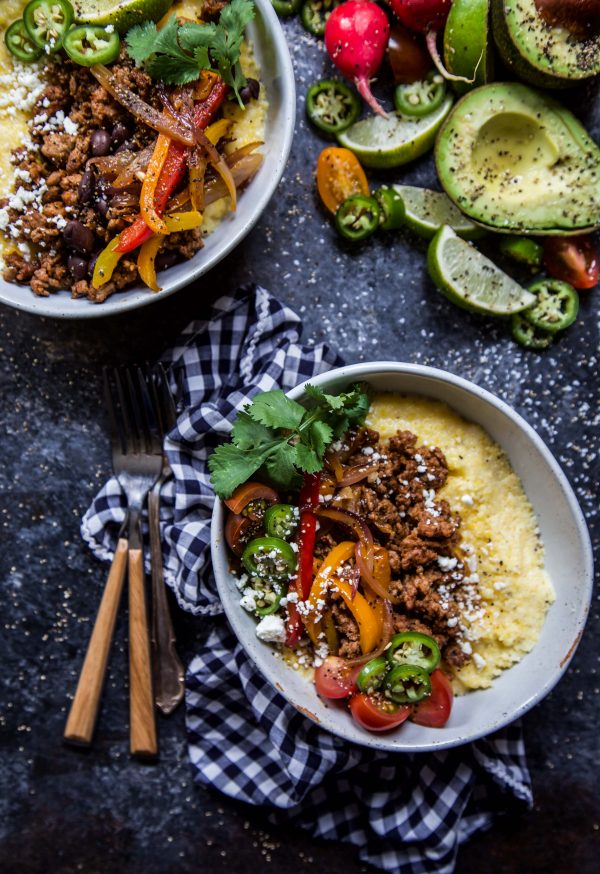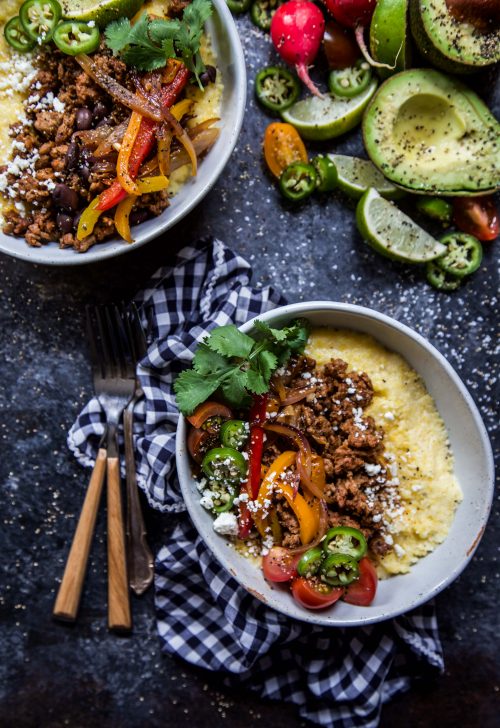 Instead of standard tacos, why not make a tamale bowl using polenta? Genius. Saute some peppers, add in Mexican-spiced ground lamb followed by all the toppings. YOU GUYS! These Spiced Lamb Tamale Bowls will seriously take date night from drab to fab.
BUT! Can I let you in on a little secret? You could enter for a chance to win:
****$1,000 In Delicious Date Night Prizes*****
To celebrate Lamb Lovers month, the folks at the American Lamb Board are spreading the love by giving away $1,000 in prizes that include:
– a 12 month Date Night In subscription
– $100 worth of American Lamb Racks
– $200 to Bouqs
– $200 to Nordstrom
– $100 wool blanket
To enter, all you have to do is complete a form here: http://www.americanlamb.com/delicious-date-night/
The winner will picked tomorrow February 22nd so don't delay!! GOOD LUCK!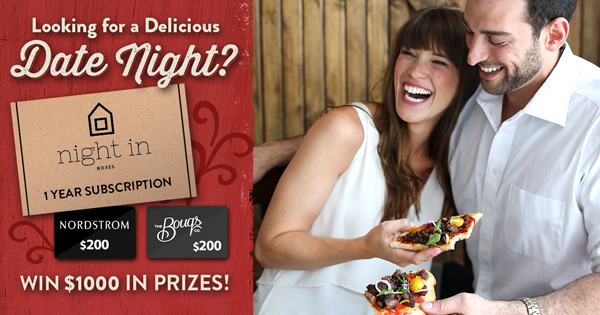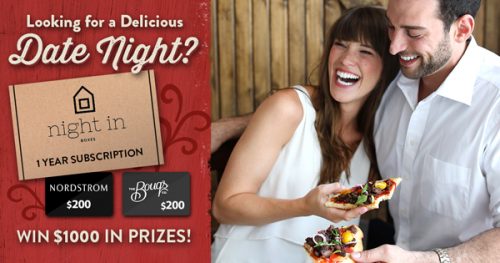 ***This post is sponsored by the American Lamb Board. As always, all opinions are 100% my own!***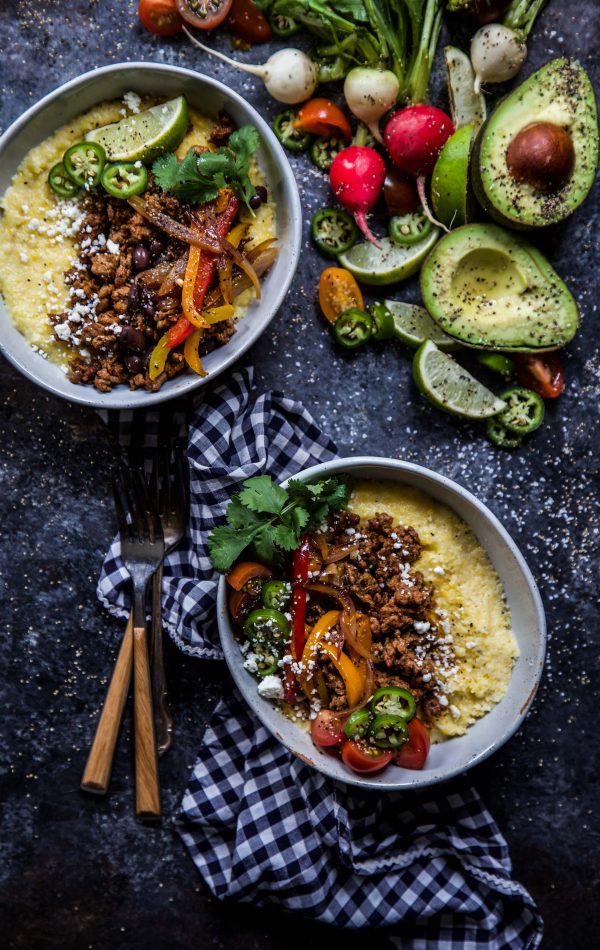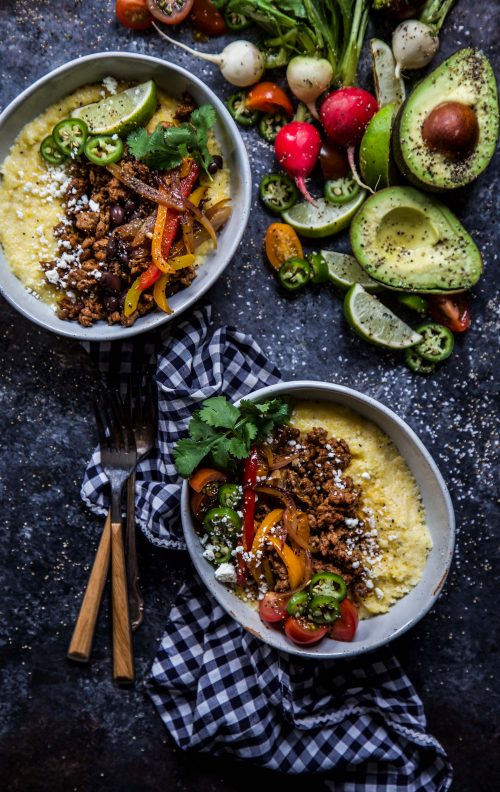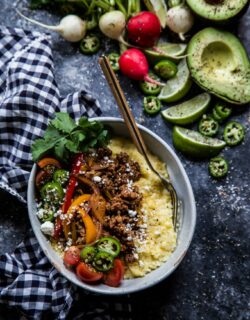 Spiced Lamb Tamale Bowls
Ingredients:
for the lamb:
2 tbsp ground chili powder
2 tsp ground cumin
2 tsp ground coriander
2 tsp ground paprika
2 tsp garlic powder
1  lb ground lamb
3 tbsp olive oil, divided
1/2 red pepper, sliced thinly
1/2 orange pepper, sliced thinly
1/2 yellow pepper, sliced thinly
1/2 red onion, sliced thinly
salt and pepper to taste
for the polenta: 
3 cups water
1 cup quick cooking polenta
1 tbsp unsalted butter
1/4 cup whipping cream
1/2 cup shredded white cheddar cheese
salt and pepper to taste
for the toppings:
crumbled feta
avocado slices
radish slices
cilantro
sliced jalapenos
sliced grape tomatoes
Directions:
for the lamb:
In a mixing bowl combine chili powder, cumin, coriander, paprika, garlic powder, ground lamb, 1 tbsp olive oil, salt and pepper. Next, preheat a skillet to medium-high heat. Add 1 tbsp olive oil to the skillet followed by ground lamb. Saute the lamb breaking it up with a wooden spoon until no longer pink; about five minutes
Remove the lamb from the skillet and set aside. In the same skillet add 1 tbsp olive oil along with the peppers and red onion. Saute the veggies until softened about seven minutes. Remove the skillet from the heat and set aside.
for the polenta:
Add water to a large stock pot and bring to a boil. Pour the polenta into the stock pot and stir to combine. Continue to stir until the polenta has absorbed the water and is nice and thick. Turn off the heat and stir in the butter, cream, cheese, salt, and pepper.
To serve: divide the polenta among four bowls followed by the lamb, peppers, and assortment of toppings. Enjoy!
All images and text ©