spicy asian chicken puff pastry bites with hoisin peanut sauce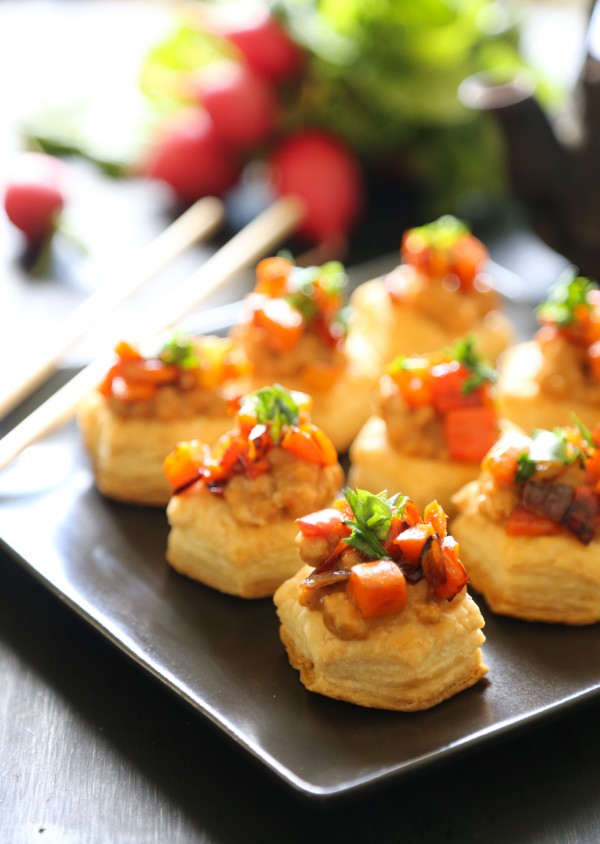 Today is a special day!
……and I hope you came HANGRY.
Grab a seat, pour yourself some giggle or non-giggle juice because we are celebrating Michelle, author of the delicious blog, Healthy Recipe Ecstasy and her new baby boy, Alexander. Michelle is a gem and super sweet. And from her updates, motherhood looks good on her!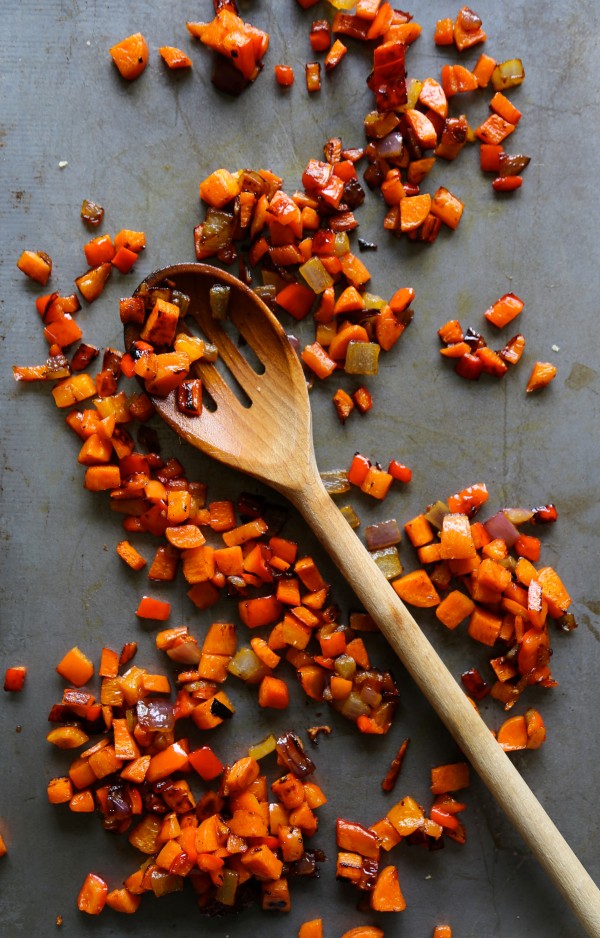 Not only is Michelle a wonderful friend, wife, and mother, her recipes are too! Like Buckweat Crepes with Greek Salad, Dark Chocolate Cherry Protein Bars, and if you are are new mom she has your back….check out her round-up of 10 Easy Meals for New Moms!
Even though I'm not a mom, but have tons of nieces and nephews, I can imagine making a recipe for a friends baby shower or even for yourself can be a challenge sometimes. So, I decided to create a recipe that ANYONE can whip up in 2.2 seconds thanks to some puff pasty friends. These little puff pastry bites are stuffed with spicy asian chicken tossed with a hoisin peanut sauce.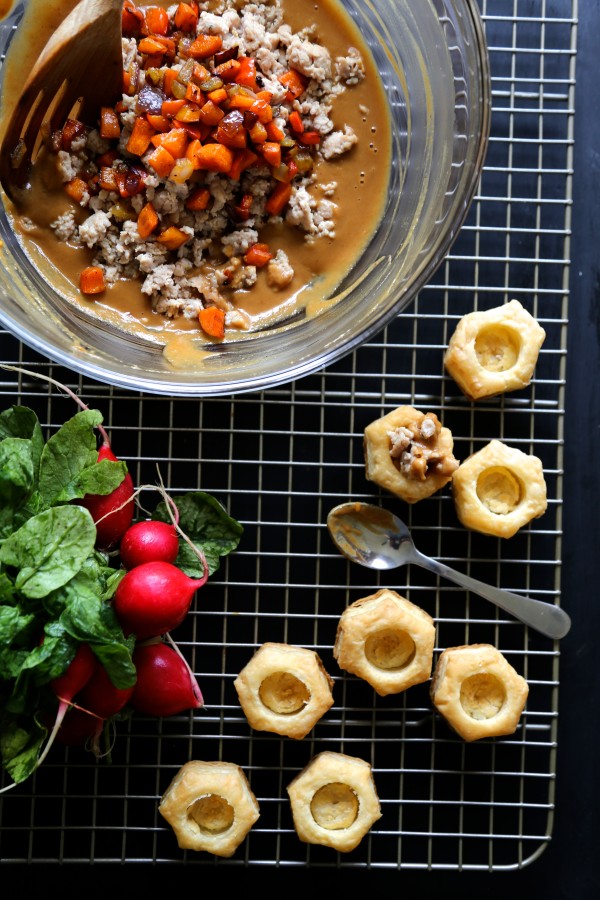 Once you stuff these bites, top the chicken with roasted veggies and garnish with some parsley. It's instant pretty food fit for a village.
Make sure to check out the rest of the catering crew and their wonderful recipes!
Appetizers

Entrees

Sides

Salads

Desserts
Also, don't forget to enter our fabulous giveaway! You could win a Kitchen Aid 5-Speed Diamond Blender! Holla! Just enter your information in the Rafflecopter below:
Enter to Win!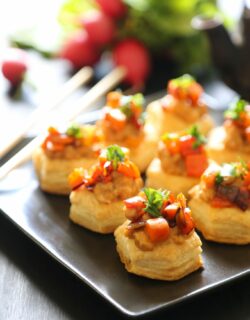 Spicy Asian Chicken Puff Pastry Bites with Hoisin Peanut Sauce
Ingredients:
for the chicken:
1/2 pound ground chicken
1 tablespoon olive
1 red pepper, diced
1 small red onion, diced
1 small carrot, diced
24 puff pasty bites, baked according to package instructions
Parsley, garnish
Radish slices, garnish
salt and pepper to taste
for the hoisin peanut sauce:
1 teaspoon olive oil
1/3 cup water
2 tablespoons peanut butter
4 teaspoons hoisin sauce
pinch of red pepper flakes
1 tablespoon lime juice
pinch of black pepper
Directions:
for the chicken:
In a large skillet preheated to medium high heat, add the olive oil, chicken, and s&p. Cook chicken until no longer pink. Remove chicken skillet and set aside in a bowl. Next, add the carrot, red pepper, and onion to the same skillet with a little more olive oil. Saute veggies until softened about seven minutes. Remove skillet from heat. Toss the hoisin peanut mixture with the chicken. Next, take a puff pastry bite and fill each bite with chicken and top with veggies and garnish with parsley. Repeat until all the mixtures have been used. Enjoy!
for the hoisin peanut sauce:
In a large bowl, combine all the ingredients.
hoisin peanut sauce adapted from Cooking Light
All images and text ©