Spicy Basil Chicken Flatbread with Thai Salsa
Spicy Basil Chicken Flatbread with Thai Salsa is a sassy dish to make for dinner! Simple sauteed chicken piled-high on a golden crust. This will be your new weeknight go-to!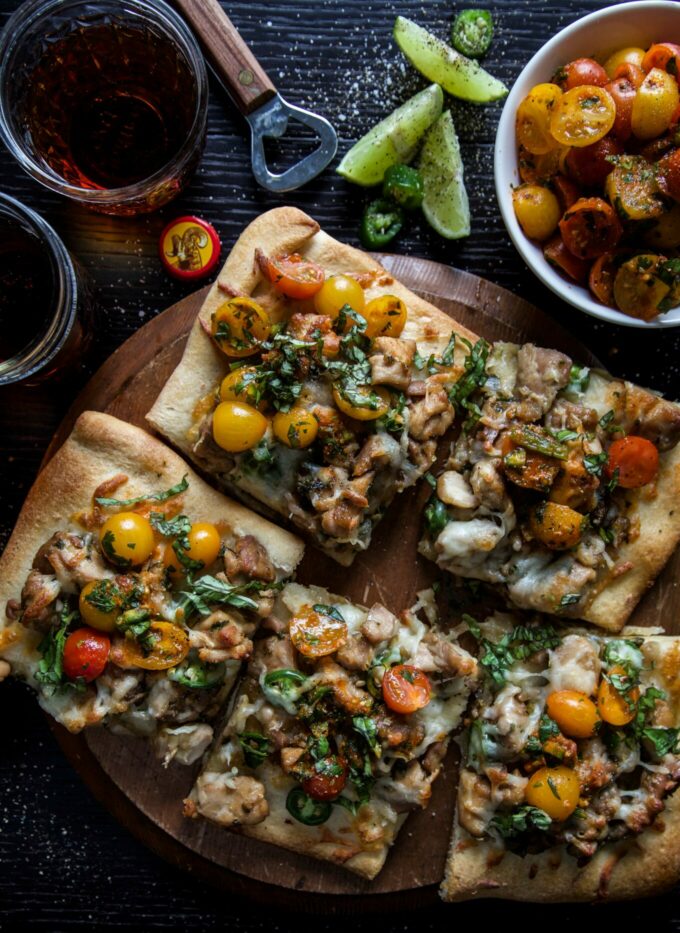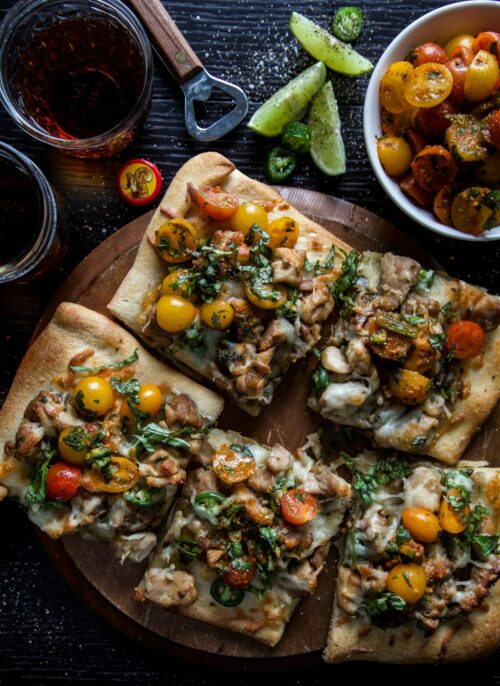 I finally watched it.
Why I waited so long, I haven't a clue.
Are you slow to watch movies, too? I swear I am a year behind at least if not more. Maybe it's because I don't ever go to an actual movie theater. I always wait until Amazon cues up the $5.99 HD rental and then I just binge watch. BUT! By the time I watch last years movies it's time for the Oscar's again.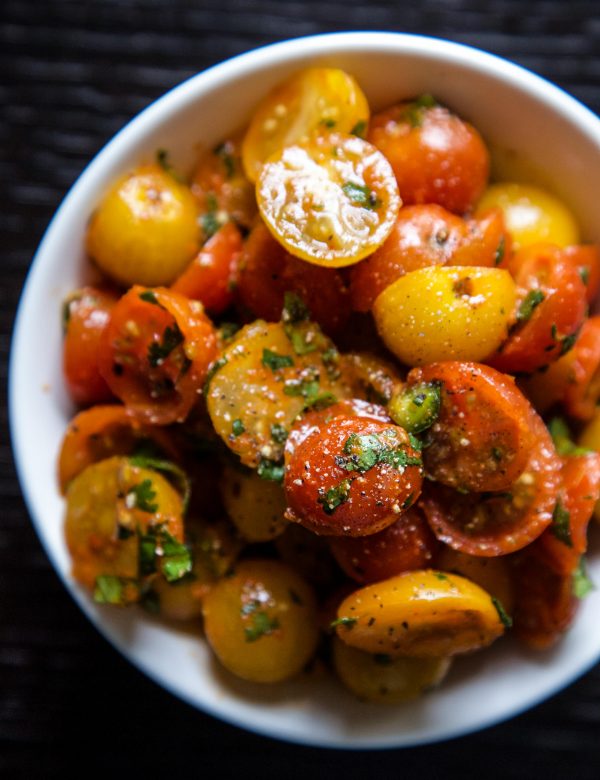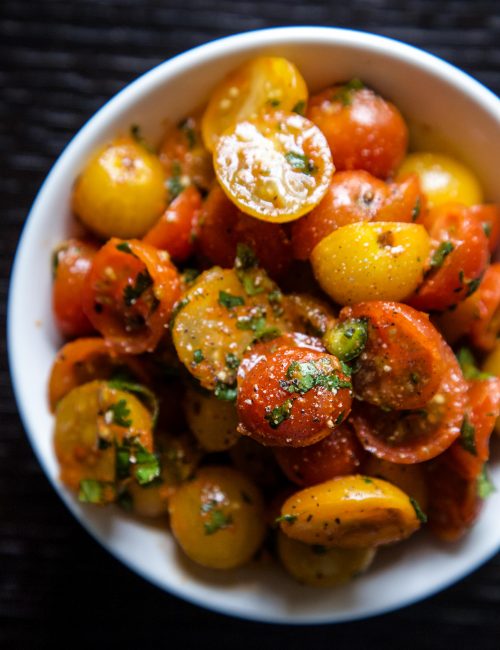 Clearly this is not a life or death situation. I was just curious if I am the only one that waits FOR-EVER to watch movies. LMK. Anyway, the movie that I finally watched was I, Tonya. Dear sweet baby Jesus it was amazing! Isn't Margo Robbie the best thing ever? I want to be her best friend!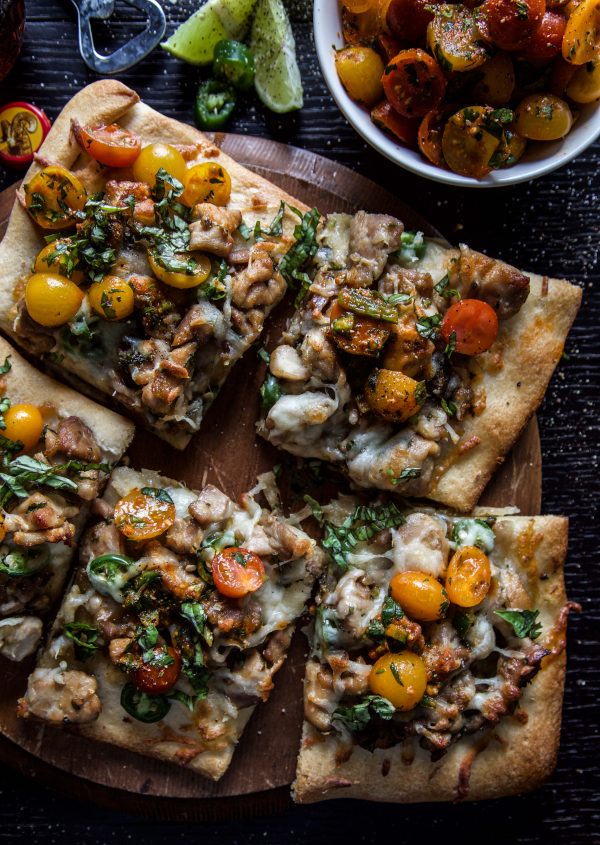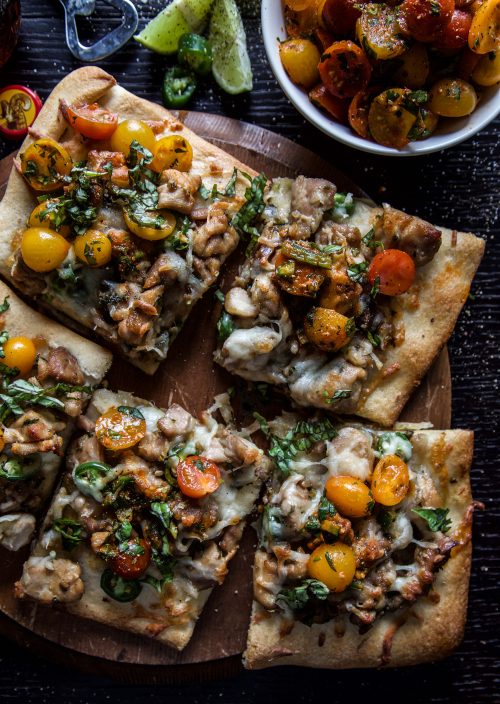 Also, Allison Janney as Tonya's mom is effing brilliant. Her on the couch with the bird on her shoulder was some of my favorite scenes. Now I know why she won the best supporting actress. She played crazy so well!
Okay, before I go on and on about how good this movie is, let' chat real quick about today's recipe: Spicy Basil Chicken Flatbread with Thai Salsa. This recipe has two parts – 1) spicy basil chicken which might be my new favorite way to make chicken. Boneless chicken thighs tossed with chilies, garlic, shallots, basil and a sauce that is to die for. Saute everything together and pile it high on pizza dough.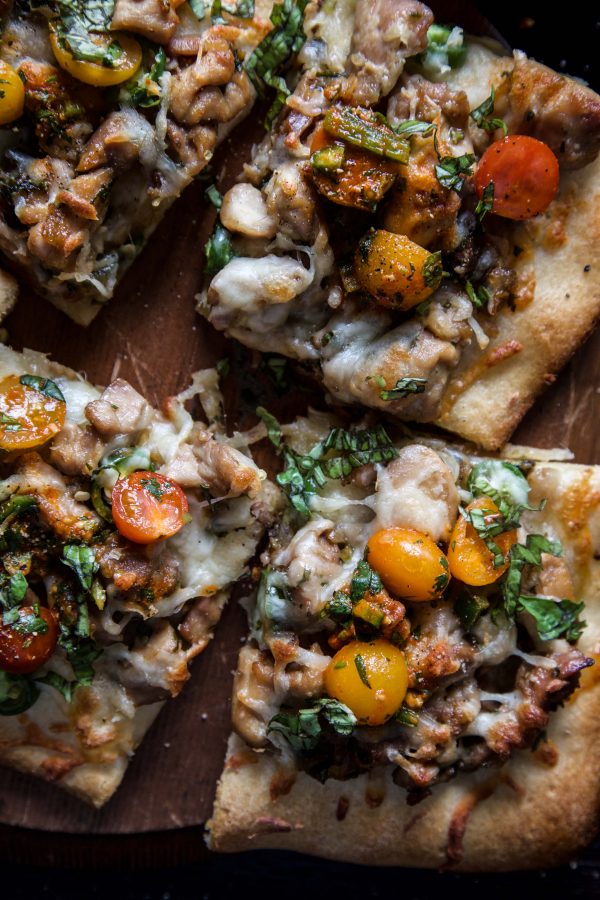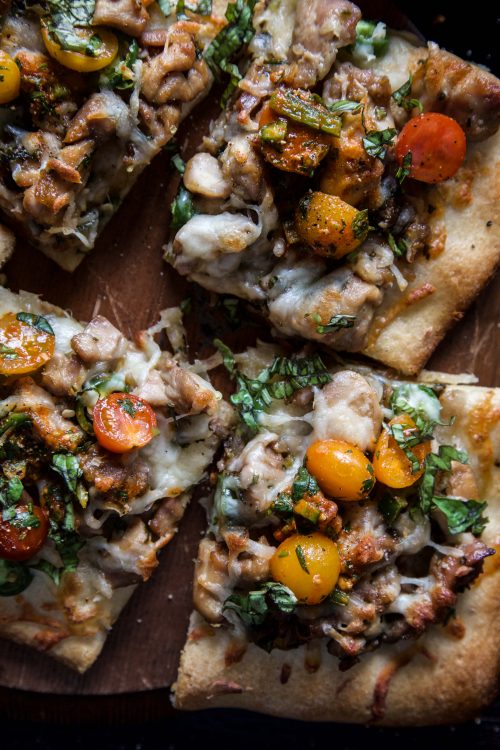 The second part to this recipe is the Thai salsa. It has a kick to it, but I love how the flavors really highlight the basil chicken. You can certainly dive into this salsa on it's own. Great for snacking! Other than the spicy flavor this dish comes together quickly which means more time to re-watch I, Tonya!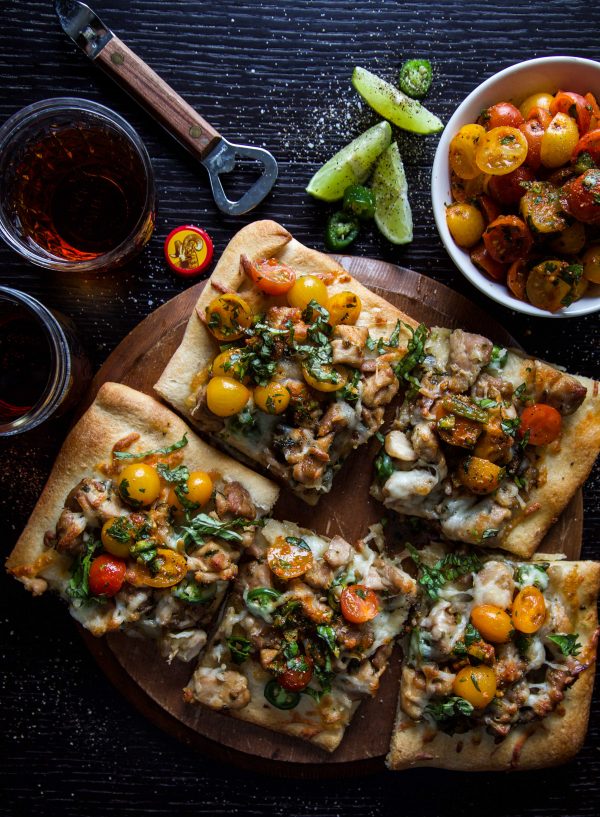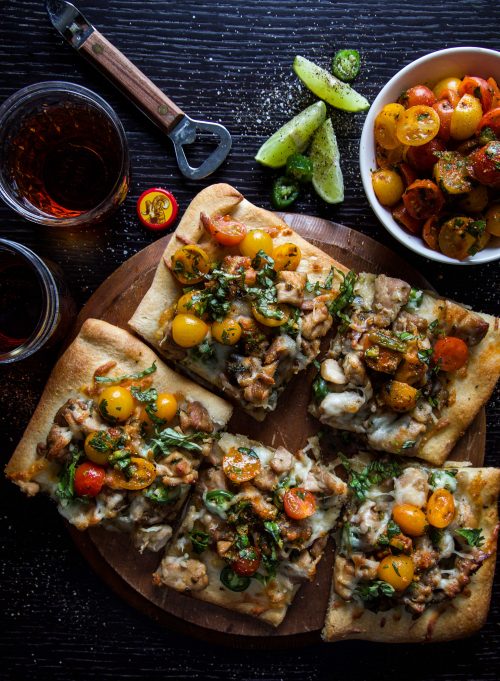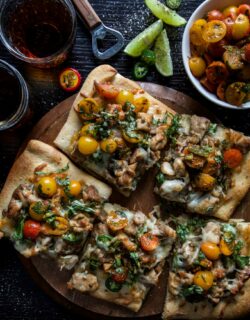 Spicy Basil Chicken Flatbread with Thai Salsa
Ingredients:
for the pizza:
1/3 cup chicken stock
1 1tbsp oyster sauce
1 tbsp soy sauce
2 tsp fish sauce
1 tsp granulated sugar
1 tsp brown sugar
2 tbsp olive oil
1 lb skinless, boneless chicken thighs, chopped into small cubes
1/4 cup diced shallots
4 garlic cloves, minced
1 small jalapeno, seeds removed, finely chopped
1/2 cup chopped fresh basil
1 pkg store-bought pizza dough
1/2 cup shredded mozzarella
for the thai salsa:
1 1/2 tbsp lime juice
2 tsp red curry paste
1 tsp toasted sesame oil
1/4 tsp kosher salt
1 cup halved grape tomatoes
1/2 jalapeno, seeds removed, minced
2 tbsp chopped cilantro
Directions:
for the pizza:
Preheat an oven t0 400 degrees. Spray a baking sheet with non-stick cooking spray and set aside.
In a small bowl combine chicken broth, oyster sauce, soy sauce, fish sauce, white sugar and brown sugar.
Next, preheat a large skillet to medium-high heat and add the olive oil and chicken. Cook for a few minutes and then stir in the shallots, garlic, and jalapeno. Continue to cook on high for for a few more minutes.
Next, add the sauce to the skillet and stir to combine. Continue to cook until the everything is golden brown and the sauce has slightly reduced. Stir in the fresh basil.
Take the pizza dough and roll it out into a 9 X 13 rectangle. Next, take the chicken mixture and spread it on top of the pizza dough into an even layer. Top with shredded mozzarella.
Bake the pizza for about 15 to 20 minutes or until golden brown.
Remove the pizza from the oven. Top with the thai salsa. Slice and serve.
for the thai salsa:
In a medium bowl combine all the ingredients.
All images and text ©