spicy reuben chowder with brown butter rye croutons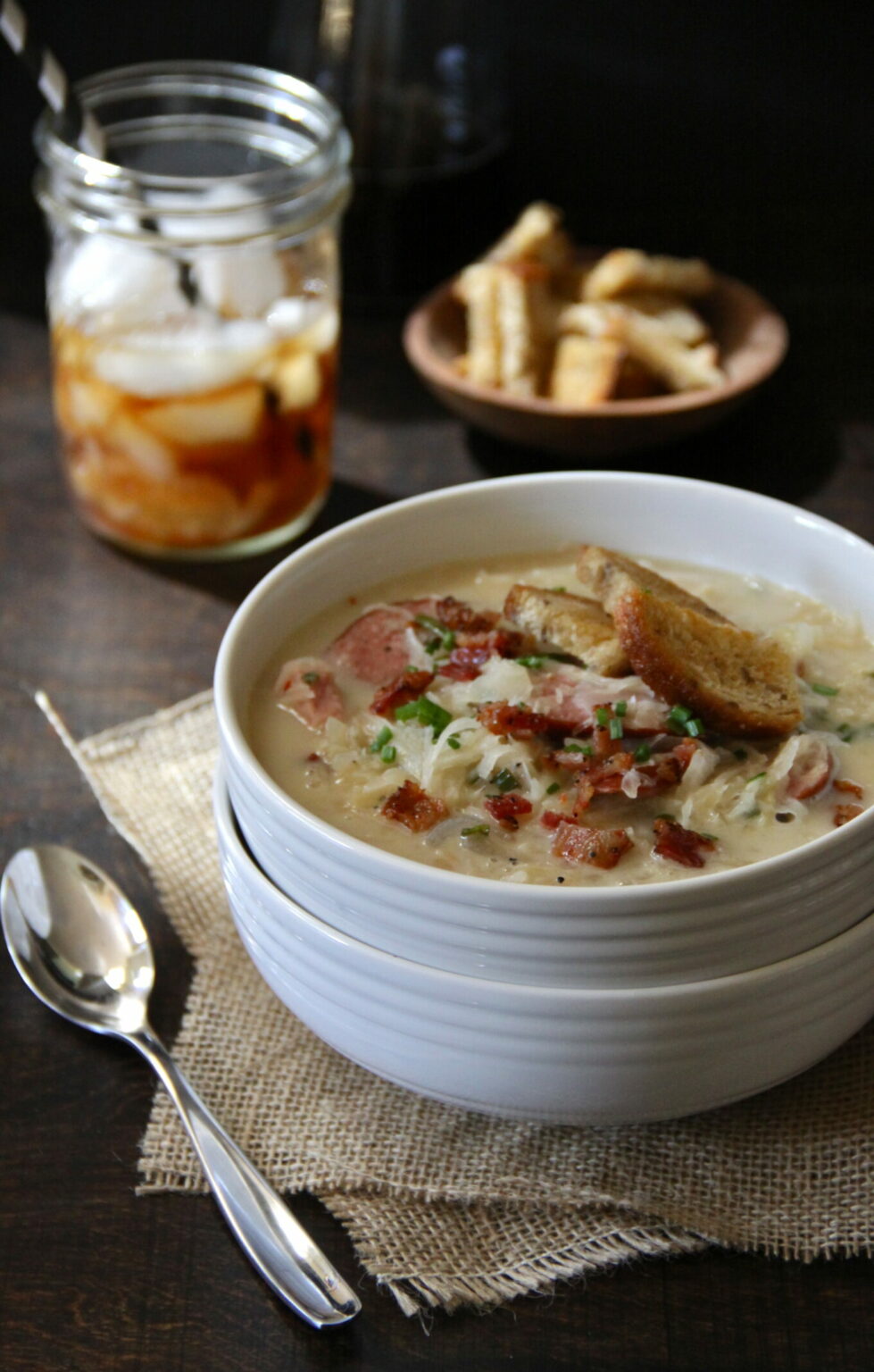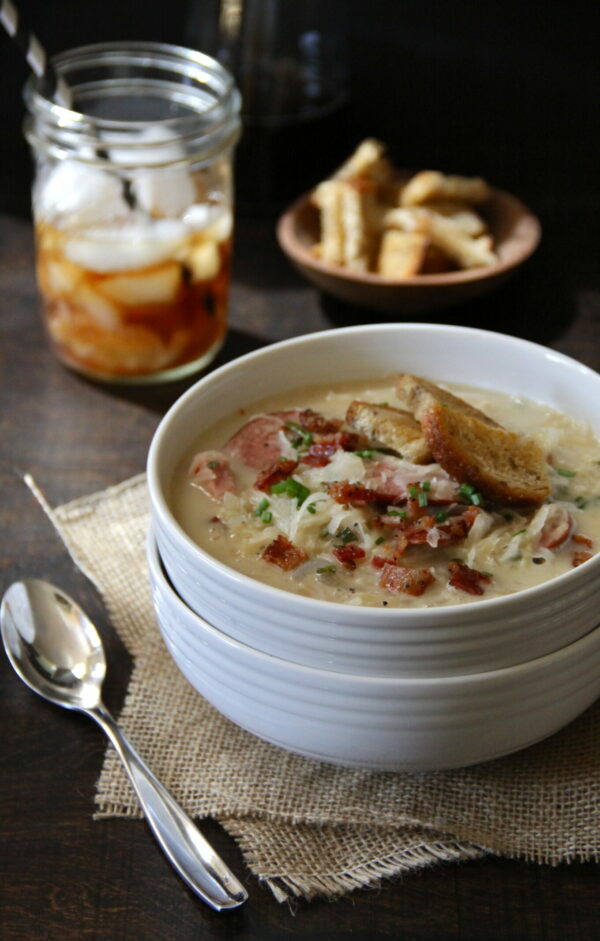 Do you ever get flare-ups?
I'm not talking flare-ups of the hemorrhoid kind. Wouldn't that be an awkward, but yet, slightly funny conversation to have a on a food blog. Sooooo, today on Climbing Grier Mountain, we're discussing ways to smooth out the bumps and sit pain free! I can't wait to share this oatmeal recipe with you that might blow Preparation H out of the tube and reduce those flare-ups! Do wha? Probably should leave the hoid-talk to Dr. Oz.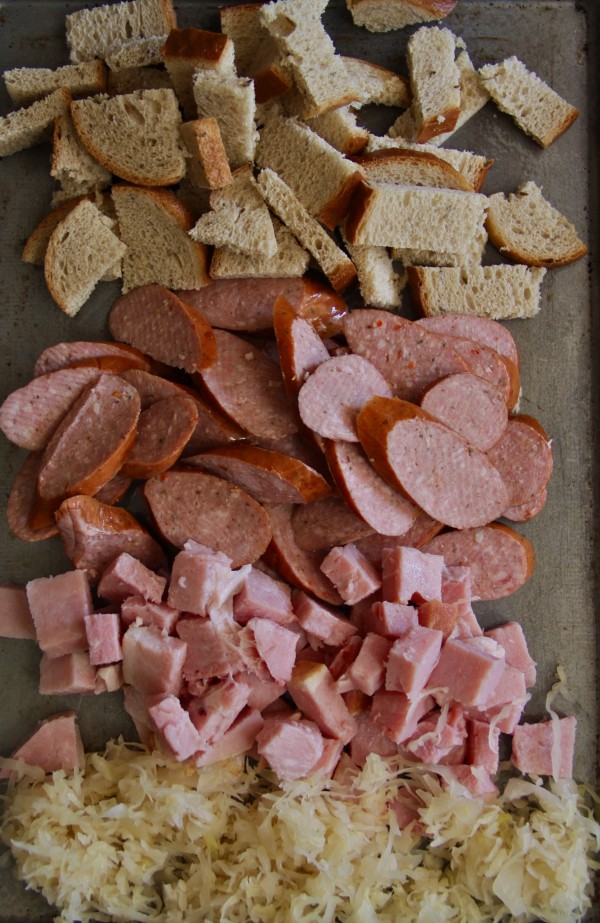 Okay, really what I talking about are certain food flare-ups. Maybe craving, obsession, or addicted are better words? I dunno. Every couple of months I get severe, zombie brain addicted cravings for Louisiana influenced dishes. Even though I've never been to NOLA and have zero Southern DNA in my body, I crave red beans and rice, beignets, andouille, and GUMBO.
I have zero diagnosis as to why these flare-ups occur. All I know is that when I do turn into the andouille Hulk, there's nothing else I can eat. My brain, body, and taste buds want 47, 678 different ways to eat Cajun inspired dishes. So, seeing as Denver lacks the adequate Southern Louisiana cuisine, I took matters into my own hands.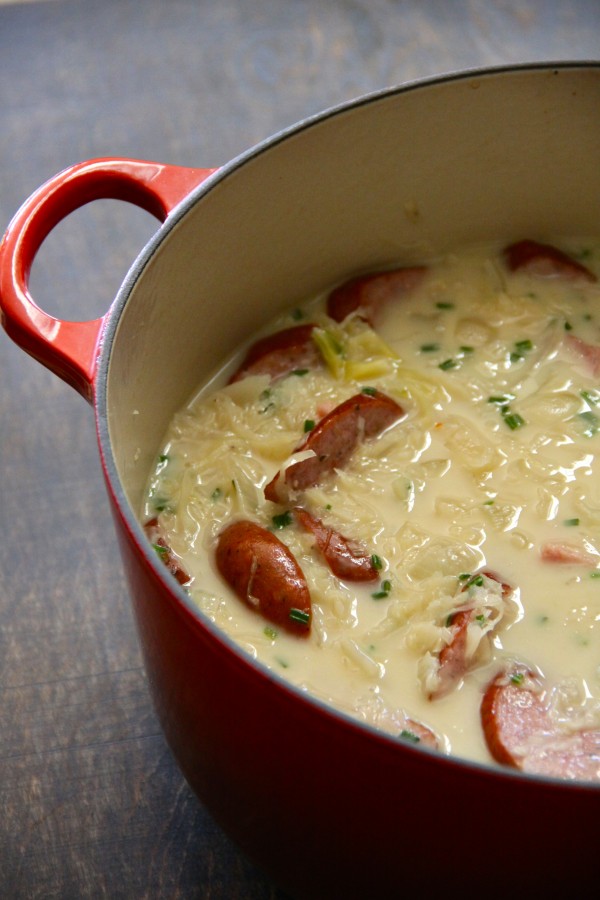 Now, I realize a Reuben is not traditionally from the south, but sometimes you have to combine worlds when your hubby loves a good Reuben sammie. Hence why this Reuben chowder came to fruition. It has a little Southern Louisiana flare with andouille that keeps yours truly going all Walking Dead on people. But! It keeps the hubby happy with lots of sauerkraut, bacon, and brown butter croutons. This chowder is the UN of chowders. It represents all flavor parties.
So, if you have a case of Louisina-Dish-Hoid, make this dish and calm those flare-ups!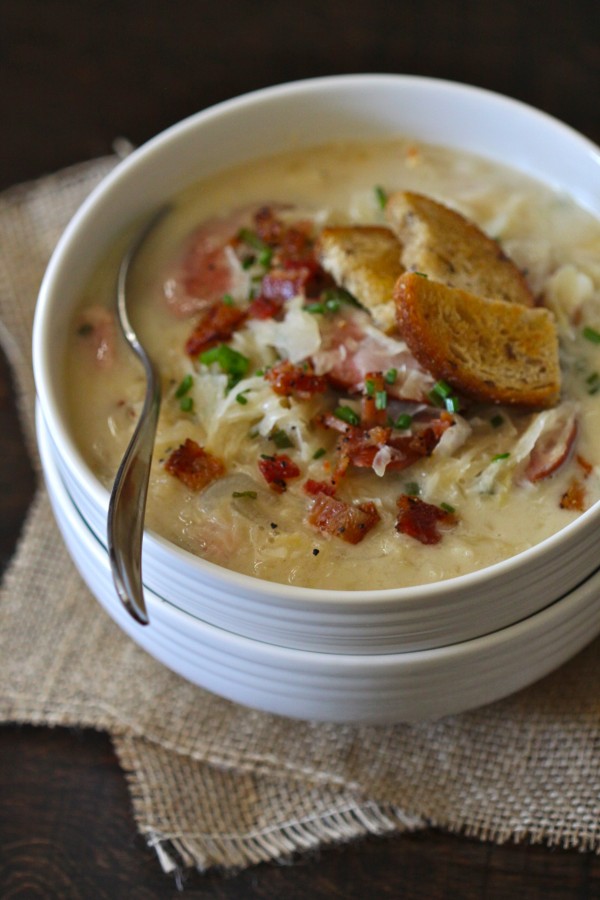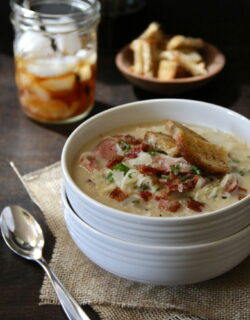 Spicy Reuben Chowder with Brown Butter Rye Croutons
Ingredients:
for the chowder:
2 tablespoons unsalted butter
2 cups andioulle sausage, sliced
1 1/2 cups ham, diced
1 yellow onion, diced
1 1/2 tablespoons all-purpose flour
3 cups chicken stock (*add more if needed)
1 1/2 cups sauerkraut, drained, patted dry
1/4 cup creme fraiche
1/4 cup chives, diced (+more for garnish)
Crispy bacon, garnish
Tabasco, garnish
for the brown butter rye croutons:
4 slices rye bread cut into cubes
2 tablespoons olive oil
pinch of salt and pepper
1 stick unsalted butter
Directions:
for the chowder:
In a large dutch oven, melt butter over medium-high heat. Add the onion and let it cook for a couple of minutes until softened. Then add the andouille sausage and ham and brown for a few more minutes. Add the flour along with a little s&p and stir. Let the flour cook out for a few minutes. Add the chicken stock and sauerkraut to pot and bring everything to a boil. Then reduce the heat to a simmer and let marinate for about 20 minutes. When you are about ready to serve, stir in chives and creme fraiche. Serve in bowls and top with fresh chives, crispy bacon, Tabasco, and brown butter rye croutons!!!
for the brown butter rye croutons:
Preheat oven to 400 degrees. Spray a baking sheet with non-stick cooking spray. Place rye cubes on baking sheet. Pour olive oil over bread along with a pinch of salt and pepper. Bake for about 10 minutes or until golden brown. Set aside to cool.
Meanwhile, in a small saucepan, melt butter over medium-low heat. Stir the butter occasionally so it doesn't burn. It will take about 5 minutes for the butter to brown. You will know when it's done because it will smell nutty. Remove from heat and let it cool slightly. Put croutons in a bowl and pour about a couple tablespoons of the brown butter over the croutons. You will have some brown butter let over.
recipe adapted from Food and Wine Magazine
All images and text ©