surf n' turf pimento burger with cajun remoulade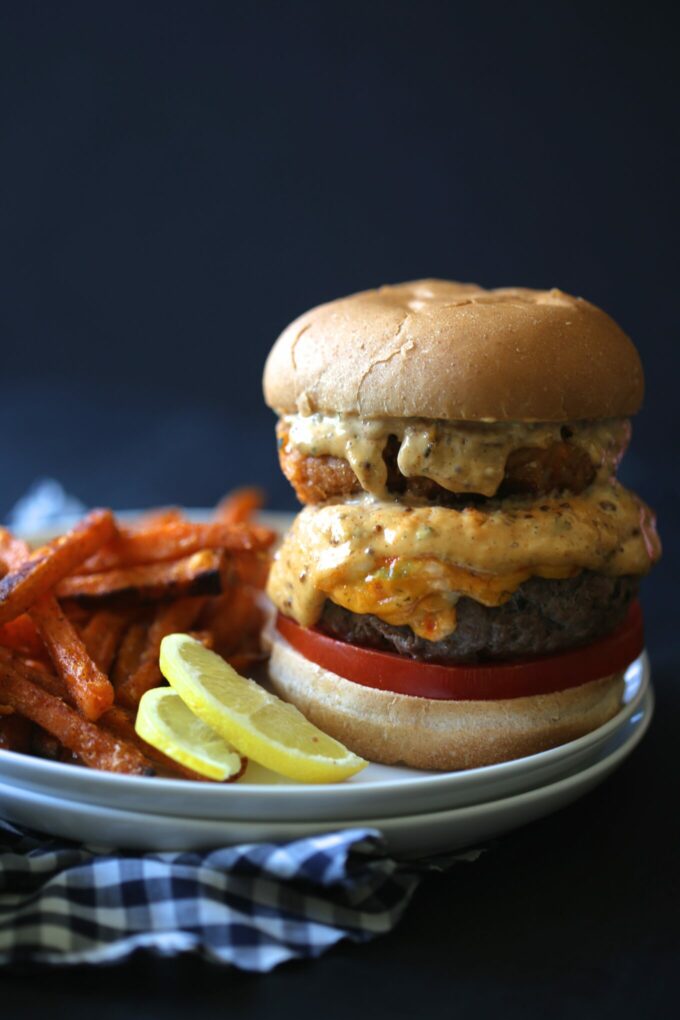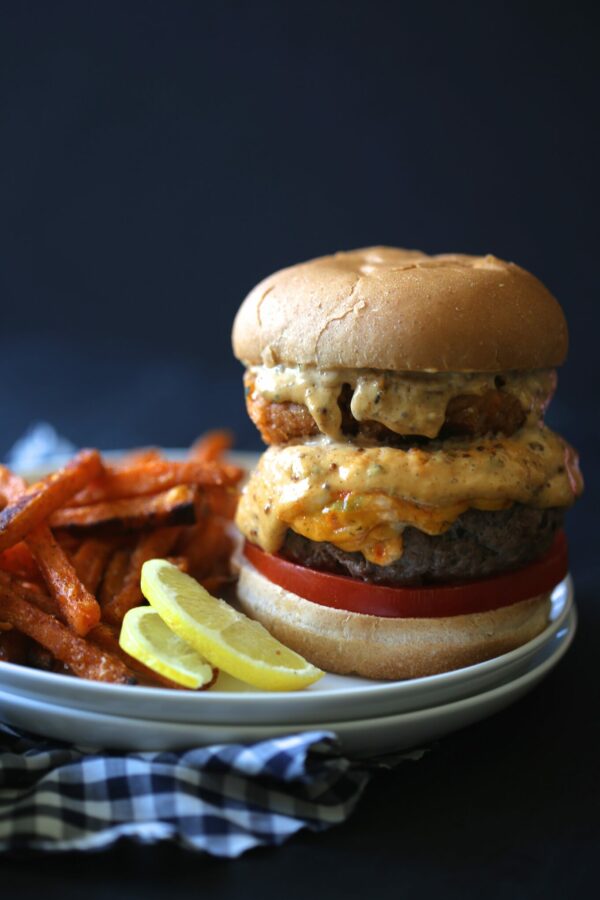 As if you didn't see this coming.
I have been waiting. Patiently.
Once we returned home from Charleston a few weeks back, I knew I had to make this burger. It was like a sign from above when I visited Poe's Tavern on Sullivan's Island. This burger cried out to me and said, "Nevermore." Shoot. That's not right.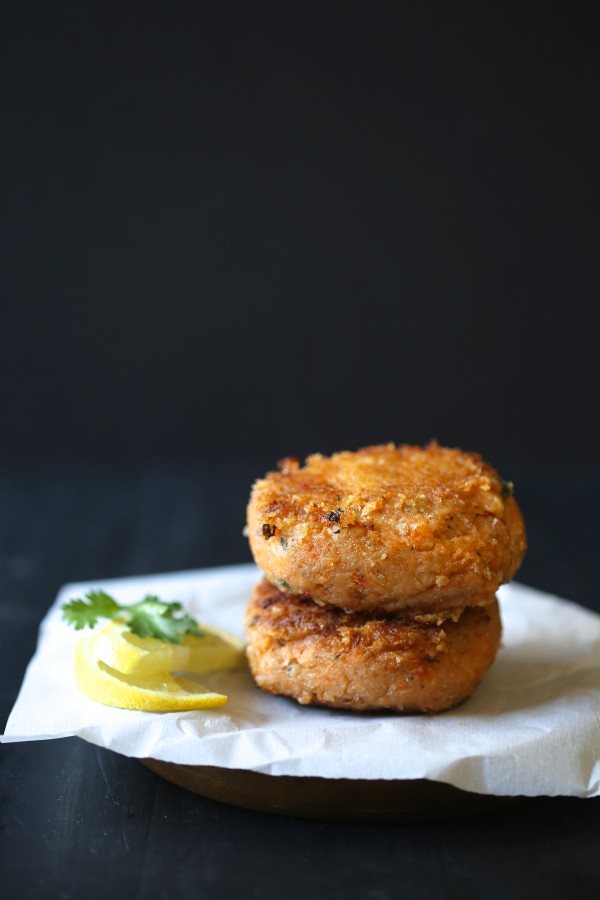 Fun little history factoid for you, Edgar Allen Poe attended The University of Virginia. From there, he enlisted in the US Army under a secret name, Edgar Allan Perry and was stationed at Fort Moultrie for thirteen months. His time while on the island inspired his story, "The Gold Bug", which I have never read.
Anyways, the burger. I didn't order just any ol' burger, oh, no. I ordered the famous Annabel Lee – Charleston Crabcake on top of a burger with Fresh Vegetable Remoulade sauce and a side of salty, crispy fries. My stomach is grumbling just thinking about this bad boy.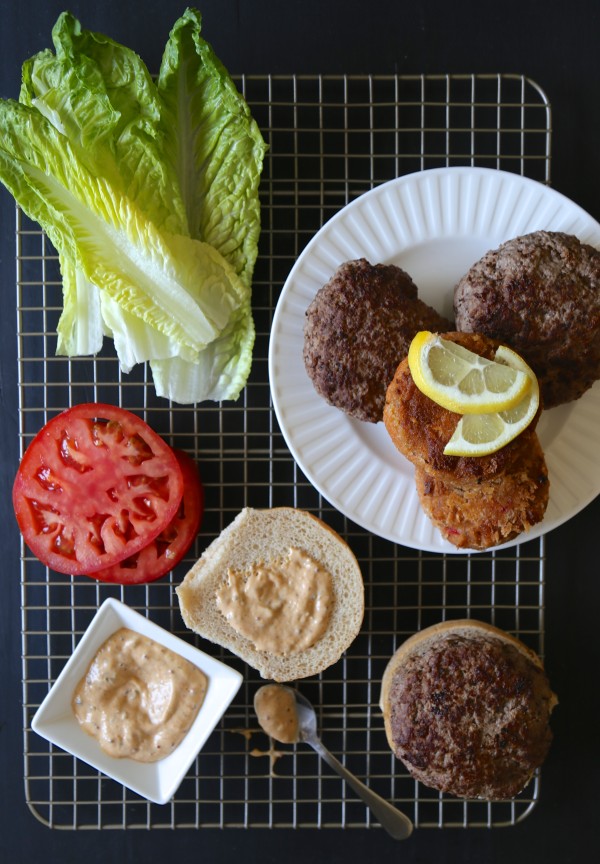 So, to keep me from eating my left arm at the moment, thankfully, I made my own version of this over-the-top burger. Basically I took the same ingredients, but added a must – pimento cheese. If I could bathe in pimento cheese and it not be awkward, I would. Also, I went with a spicier remoulade because you can never go wrong with Cajun flavors, am I right?
I would like to think this burger would be Poe approved.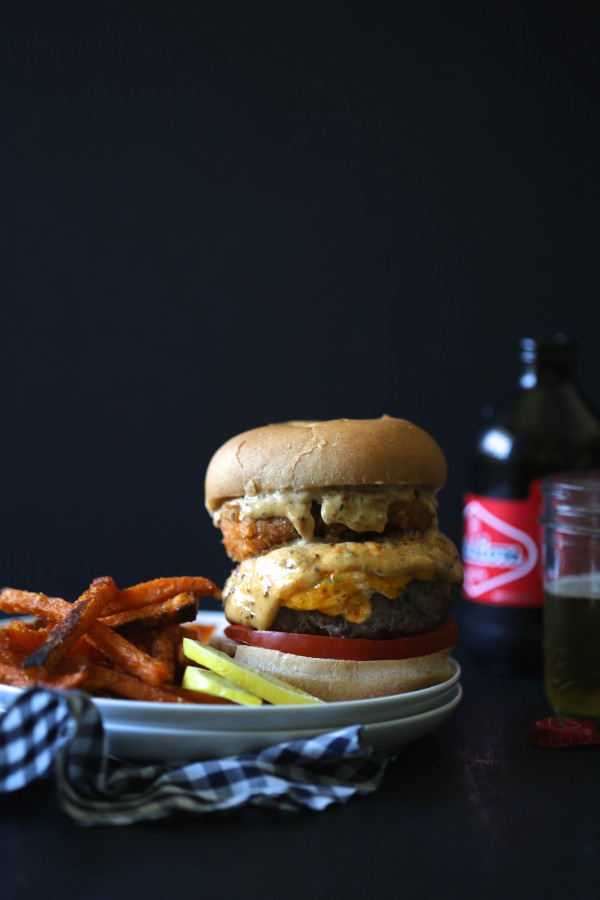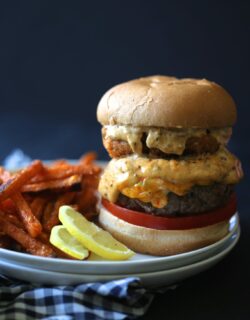 Surf n' Turf Pimento Burger with Cajun Remoulade
Ingredients:
for the crab cakes:
1/3 cup panko
2 tablespoons green onions, minced
1 teaspoon garlic powder
2 tablespoons mayonnaise
1 teaspoon lemon juice
1 teaspoon Dijon mustard
1 teaspoon Old Bay seasoning
1/2 teaspoon Worcestershire sauce
1 large egg, beaten
1 cup fresh crabmeat
2 tablespoon olive oil
salt and pepper to taste
for the burger:
1.5 lbs ground beef
1 teaspoon Tabasco
salt and pepper to taste
for the cajun remoulade:
1/2 cup mayonnaise
1/4 cup Dijon
1 tablespoon Cajun seasoning
salt and pepper
Directions:
for the crab cakes:
In a large bowl, combine the first ten ingredients. Take the crab mixture and form into four medium-sized patties. Preheat a skillet to medium-high heat and add the olive oil. Place the patties in the skillet and cook for about three to four minutes on the first side, flip, and cook for additional two minutes. Remove from skillet and place on a plate.
for the cajun remoulade:
In a bowl, combine all ingredients.
for the burgers:
Preheat grill to medium-high heat. In a large bowl, combine beef, Tabasco, salt and pepper. Form beef into two large patties. Place beef patties on the grill and cook for about 5 minutes on the first side. Flip, and cook for additional three minutes on the other. Remove patties from grill and set aside to rest before serving.
To serve: place hamburger patty on top of the bottom brioche bun. top the burger with a tablespoon pimento cheese. place the crab cake on top of the burger followed by a dollop of the cajun remoulade. place the top of the brioche on the remoulade and serve. Repeat process for remaining burger.
All images and text ©