trip recap: biarritz, france – part one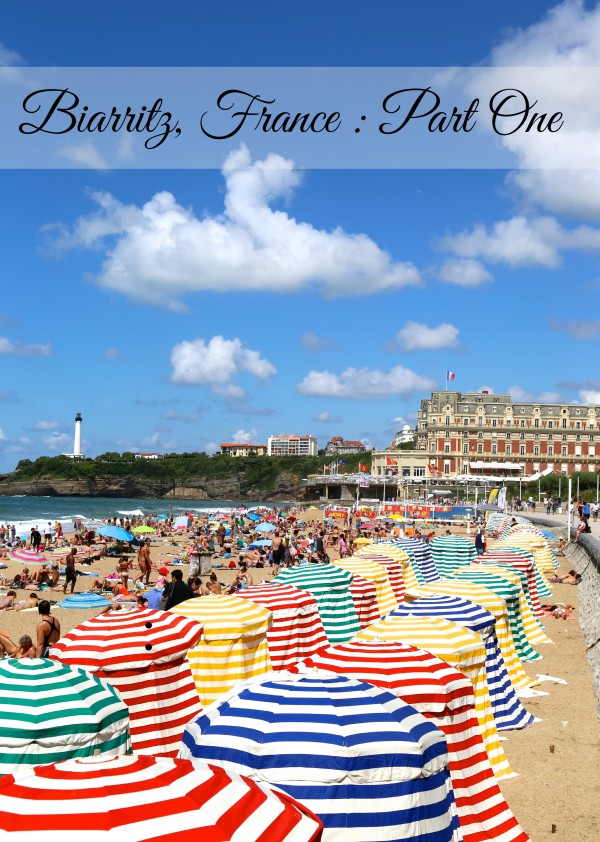 Biarritz, France.
Tucked along the pristine coastline of the Bay of Biscay and a stone's throw away from the Spanish border, lies a centuries old city steeped in history, elegance, and a certain charm beloved by families.
Biarrtiz has long been a vacation destination for Parisians, including aristocrats during the summer months. Empress Eugenie, wife of Napoleon III, fell in love with the beauty of what was then a whaling town, and decided to build her summer palace right on the Grand Plage. Still standing today, the Hotel du Palasis is complete with crystal chandeliers, five star services, and a peek into royalty past.
But somewhere in between the glitz and glamour of Biarritz, is a diverse culture filled with laid-back surfers, fine art enthusiasts, foodie coinsurers, and a Basque heritage that captures the true essence of this city.
And that's where our story begins.
After traveling from Denver to Chicago to Paris to Biarrtiz, we landed and hit the ground running. With a quick sink wash, a change into proper red and white attire, a shot of Jet Fuel that tasted like black licorice, my uncle Michael, Mr. B, and I headed deep into the heart of Bayonne. Bayonne is four miles northwest of Biarritz and is the center of the largest festival in France, Fete de Bayonne (The Big Summer Festival).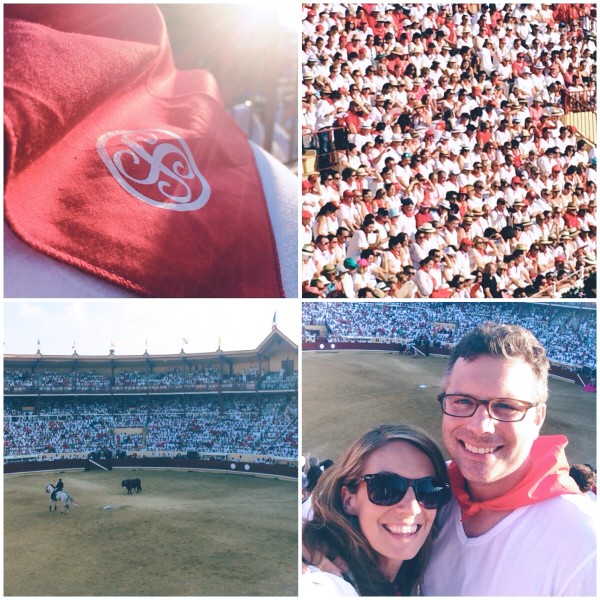 Imagine an old world town with narrow streets, uneven cobblestone roads filled with young and old dressed in red and white apparel reveling into the wee hours of the night. The festivities included carnival rides, parades, fireworks, dancing, street food, music performances, and a bullfight. Yes, a bullfight.
Mr. B and I didn't know quite what to expect. I realize this subject is controversial, given the outcome for the animals. However, after sitting in a 100 year old stadium, watching the crowd, the ceremony, the finesse of the bullfighters, I realized that every culture has unique traditions. That day, I simply appreciated the event for what it was – a sport.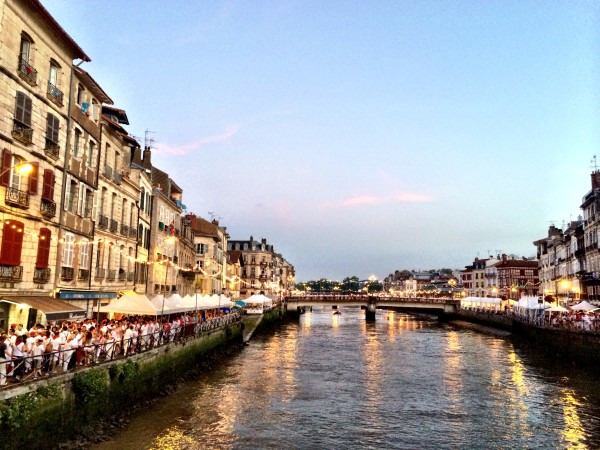 Once the bullfight concluded, things got sporty. We walked to the center of Bayonne to witness what happens when a normal size burg of swells to 300,000 people. Well, between random selfies with strangers, crowd surfing, more shots chased with Pop Rocks, gyros with frites, and a concert where a man played a tuba with no pants, it was an interesting introduction into the Basque culture to say the least.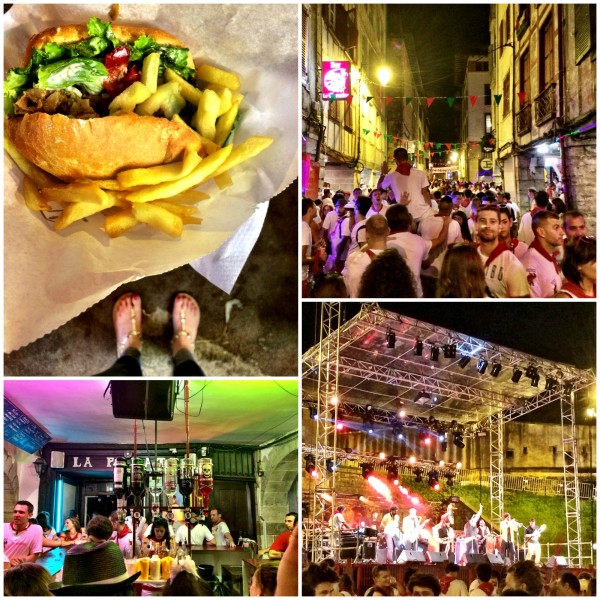 The morning of day two was a little a fuzzy. Jet lag had a firm grip on me. So, the best way to combat the possibility of falling asleep while you're standing up, is of course – hitting the beach. My uncles' apartment is set in the center of town which made for easy access to walk to shops, restaurants, ice cream stands, and the beach.
Biarritz has several beaches that are smaller in comparison to Florida beaches. The Grand Plage is the main beach in Biarritz, and as I mentioned above, it's where the Hotel du Palasis is located. We walked down the boardwalk, people watched, grabbed a few ham and fromage sandwiches from a street vendor, drooled over the major cuteness of the stripped umbrellas, and eventually setup on the beach.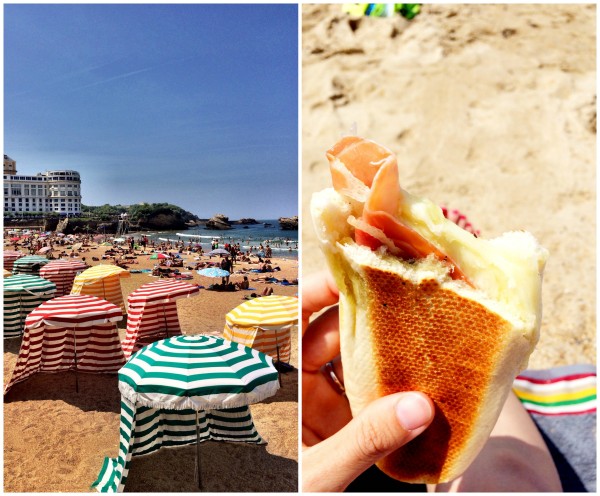 If you want to escape the crowds, just on the other side of the Hotel du Palasis is Miramar beach. The lighthouse is located on the cliff to the right with turquoise blue water all around. Beachcomers have to be careful because sometimes the tide will come in quickly!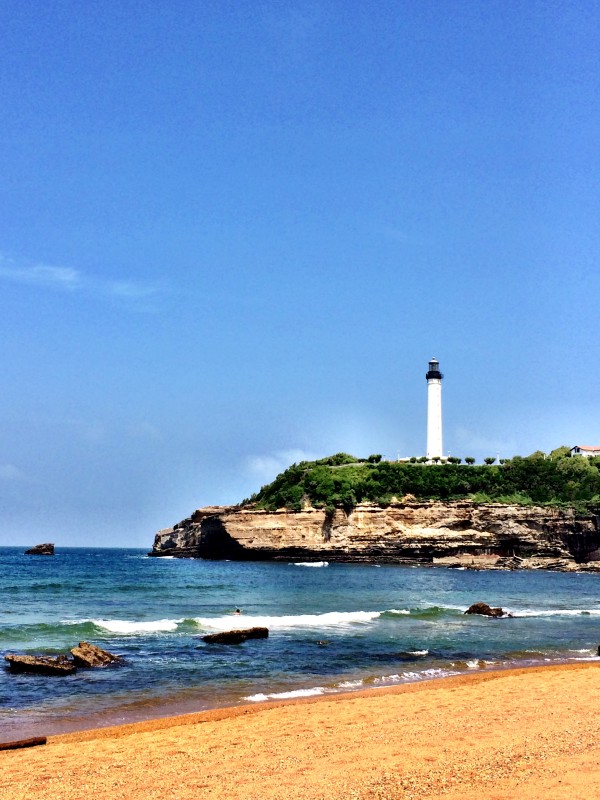 After a playful day in the water, we walked back to the apartment to change for dinner. One of my uncles' friend, Palo, has a house just a few miles south of town in an apartment with the most stunning coastal view I have ever seen. A little aperitif before dinner, and I started to tell myself I may never leave.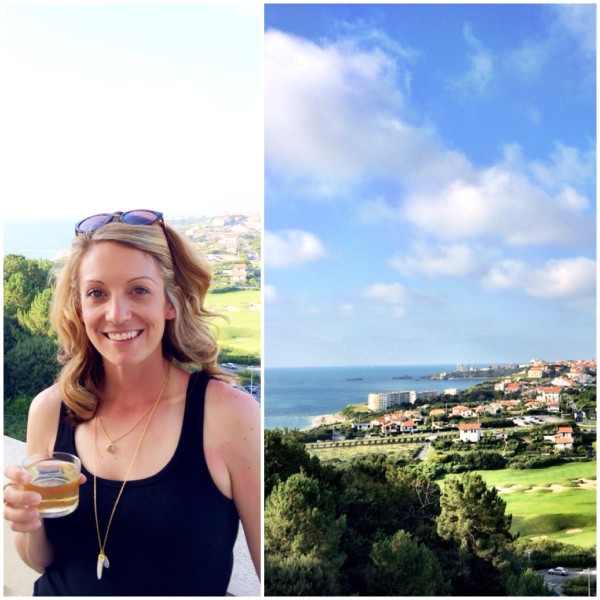 Dinner was set at Le Sin, which is a restaurant located inside Cite de l'Ocean et du Surf museum. Cite de l'Ocean et du Surf, is designed to look like a giant wave, and was created by Steven Holl who also designed the Bloch Addition to the Nelson-Atkins Museum in Kansas City (small world!). We sat outside to watch the sunset, sipped Bourdox red wine, and dined on ceviche, monkfish, and an obligatory chocolate éclair.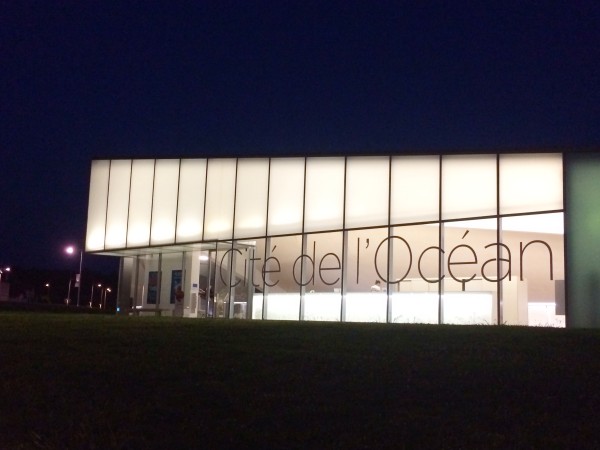 The next day, I felt like I was finally beating jet leg so we hit the city streets. Biarritz only has 30,000 year round residents. So, when the Parisians flock south for the summer, that's when the merchants and shop owners make most of their money for the year.
First stop, the Grand Halles for coffee and pastries. OMG! Grand Halles is a huge market filled with fresh seafood, produce, meats, breads, and little side restaurants with delights to nibble on.  I could have sat in the market all day while ooooohhhing and aaaaahing over every single thing, even the cracked-out looking fish heads.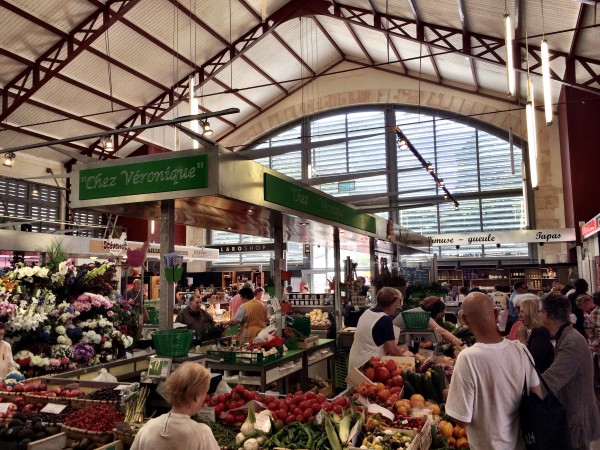 Since the French don't eat what Americans consider a traditional breakfast, we ate buttery croissants in the morning and had late lunch in the afternoon. Once could get used to this lifestyle. But! If you are dying for a stack of pancakes, there is one place in Biarritz called Milwaukee Café that will serve you some flapjacks. I'll let you guess where the owner is from.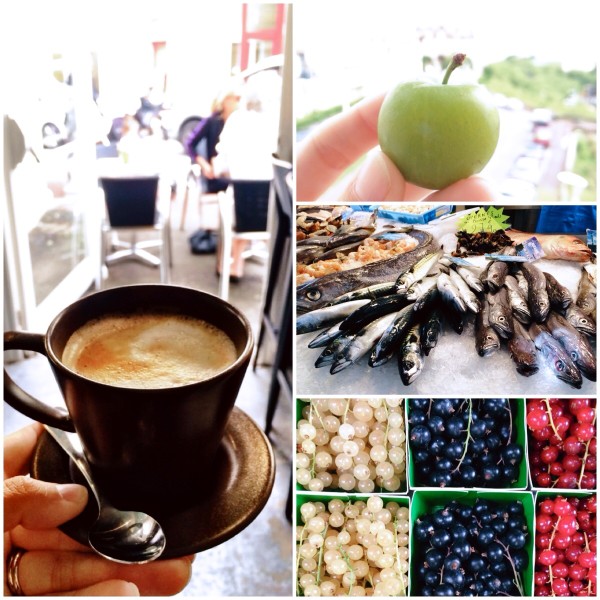 With my uncles' spending almost every summer in Biarrtiz for the past ten years, it was like having our own personal tour guides. I think we walked every inch of Biarritz discovering secret gems like the 1001 cheese shop where glace is the real deal.
We also were able to tap into the fine arts scene with stops at the Belgium art exhibit and attending the opening night of the International Piano Performances at the Gare du Midi (Opera House).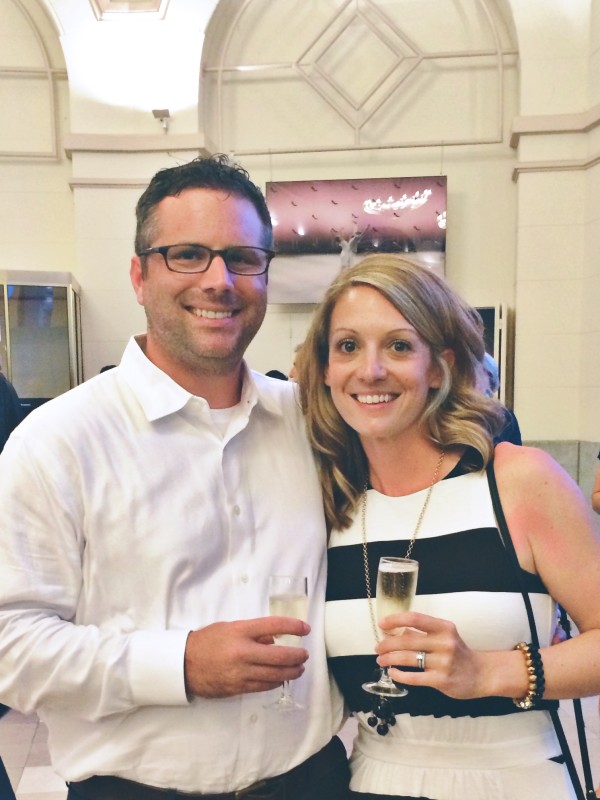 After all the sightseeing and a piano performance (where I may or may not have fallen asleep because the inside of Opera House was nursing home hot) it was time to wine and dine.
One of the things I love about the Basque region is the blend of French and Spanish food. Pinxtos (or tapas) are everywhere! Plus, to able to wash all of the chorizo, anchovy, and cheese tapas down with some really old Bourdeaux, I was truly living a dream.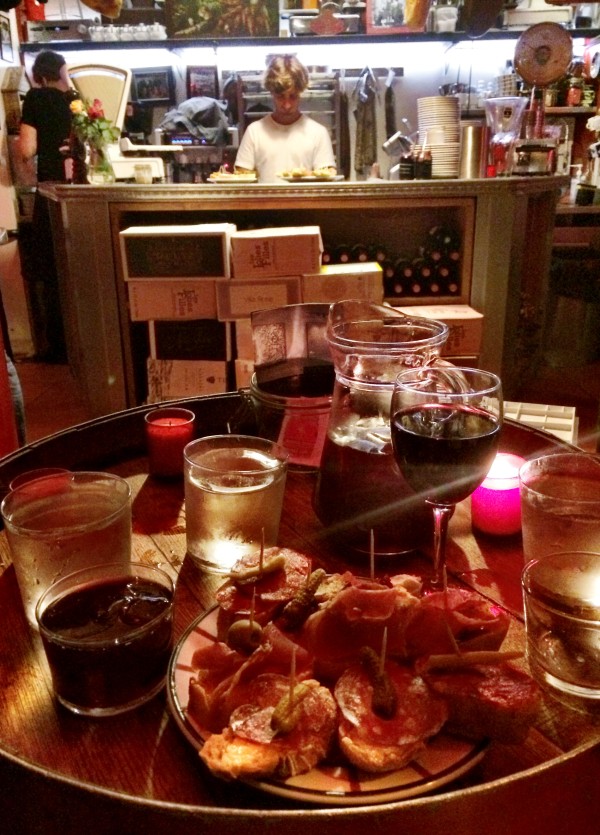 However, it wasn't until we stopped after midnight at the Belgium waffle stand that I truly experienced bliss. Golden waffles topped with chocolate and chantelly cream, I was completely smitten.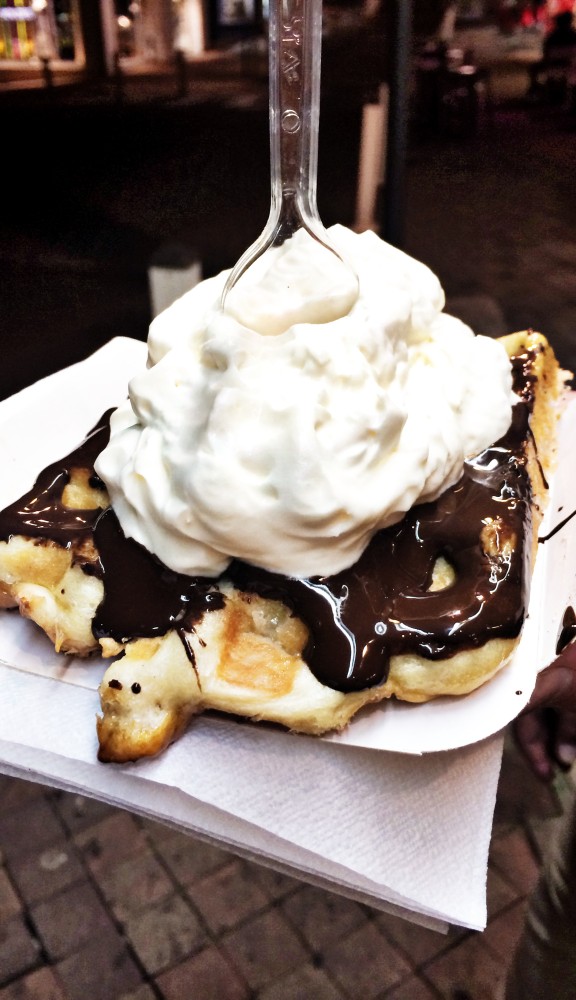 More to come! Beaches, markets, and a scooter adventure…stay tuned, you don't want to miss part two!