trip recap: tokyo, japan > day two
Welcome to day two of our tour of Tokyo.
If you are just joining this series, I highly recommend reading my musings about day one. It will help give you the lay of the land on how best to start a fun-filled tour of Tokyo. Now, on with the show.
By day two, I was completely smitten with Tokyo. In 24 hours, I was ready to pack my bags and literally move to Japan. As I mentioned in day one, there is something mesmerizing about Japanese culture. Everything they do, think, and feel has a purpose. I can't put my finger on it but maybe it comes down to sheer simplicity. Or, perhaps they have a zero bull-shit policy I don't know about? Either way, I am captivated by everything they do.
I woke up excited and energized for day two. The goal for the day was to get our arms around the world famous Tsukiji Fist Market located near Ginza. First, a quick overview of Ginza – it's one the biggest luxury shopping and entertainment neighborhoods in Japan. Think Park Avenue, New York, but bigger and more $$$.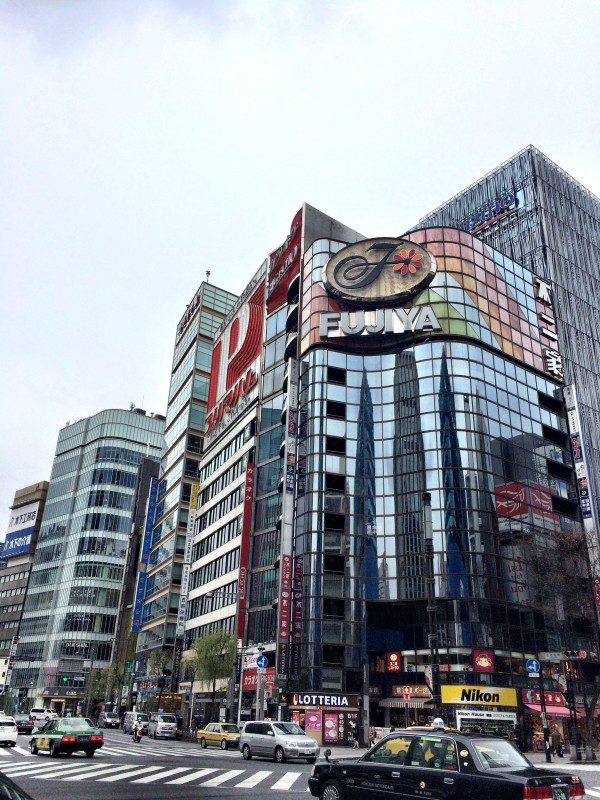 Ginza is home to a fabulous nightlife with bars, lounges, and nightclubs. If you are more into the shopping scene they close traffic on the weekends to make it more like a outside mall. There are a few department stores worth checking out – Mikimoto Boutique (they cultured the pearl), Ginza Wako, Sony Building (cool to see all their new products), and Matsuya. Also, you'll find a handful of Michelin star restaurants including the world famous Sukiyabashi Jiro where President Obama ate sushi.
Ginza is defined as the ultimate in luxury; however, just down a few stops on the train, you'll enter Tsukiji Fish Market where there are zero Hermes to be found. When you arrive at the fish market you will notice that it doesn't smell. That's because the Japanese are extremely clean, but also beneath the floors of the fish market is salt water to keep the fishy smell out. Genius, right?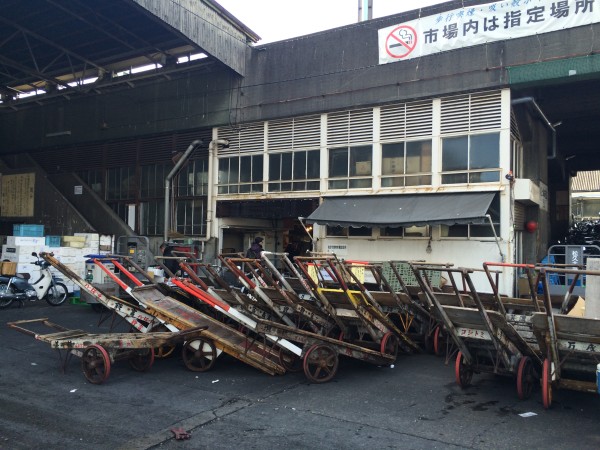 I talk more about the fish market below, along with our sushi class, and one of the best and fun dinners Mr. B and I have ever had! Also, if anything, you MUST have a drink in the Golden Gai. It's like you step back in time and see Tokyo through her eyes.
____________________________________________
SECOND DAY GEMS:
Breakfast at Keio Plaza (Shinjuku): I truly thought I would miss a traditional American breakfast – coffee, bacon, eggs, and toast while in Japan. This was not the case whatsoever. I mentioned in day one that queuing is a thing in Japan and while waiting for breakfast in the hotel you experience long wait lines. Thankfully the Japanese are so nice and efficient, especially to people who haven't had their coffee yet.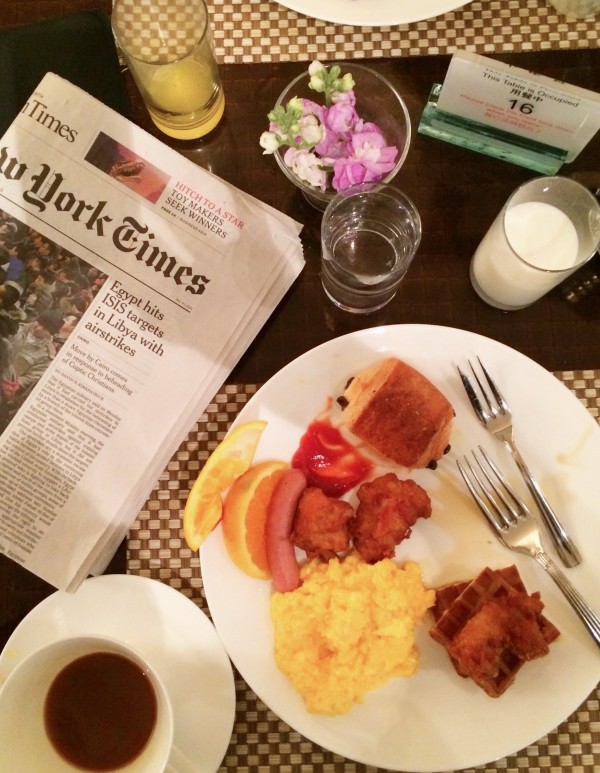 You have a choice between three breakfast buffets. – American, American/Japanese, and Japanese. We started with the American because we didn't know any better, but eventually graduated to the American/Japanese because they served fried chicken! Apparently fried chicken and coffee is also a thing in Japan. But it's not what you think (no KFC style). Fried chicken is served in bite-size portions and it's the best thing I've ever tasted. Sure I piled some scrambled eggs on top, but every day I had an assortment of fried chicken, miso soup, fruit, and a pastry. It's vacation folks, so calories don't count!
Tsukiji Fist Market (Ginza): Otherwise known as my food mecca! I was so flipping excited to tour this market. Tsukiji Market is the largest fish market in the world. It sells about 3,000 tons of seafood A DAY! This gigantic warehouse, which is roughly the size of 44 football fields, is home to the world famous tuna auction. In order to see this auction take place you have to arrive at 4am (doors don't open until 5am) and they only admit 60 people. But if you don't want to wake up that early like yours truly, head to the market around 8am and you will still be able to see all the hustle bustle and check out all the creatures like eel, squid, tuna, puffer fish, roe, etc. But be careful, there are forklifts driving around that have no desire to stop if people are in the way. Once you have finished at the fish market walk through the vegetable market to check out ginger and carrots the size of your head! Also, make sure to stop by grab some sushi at one of the many vendors. It's some of the best in the world!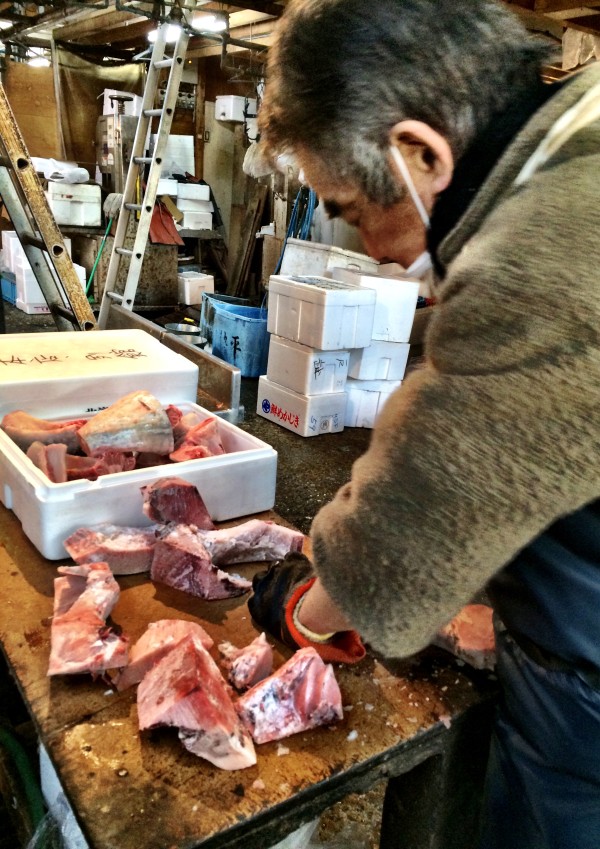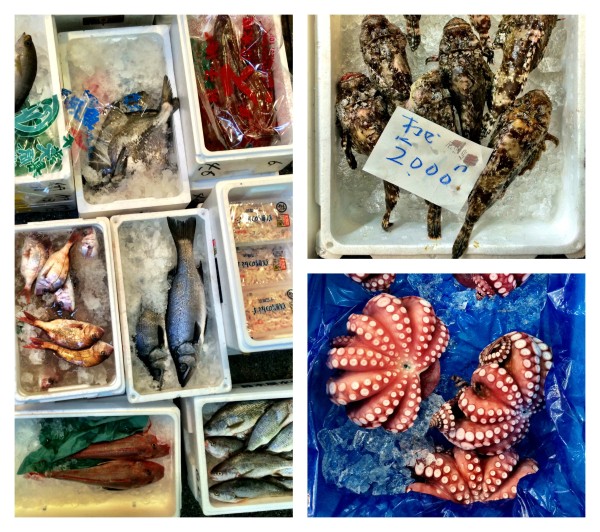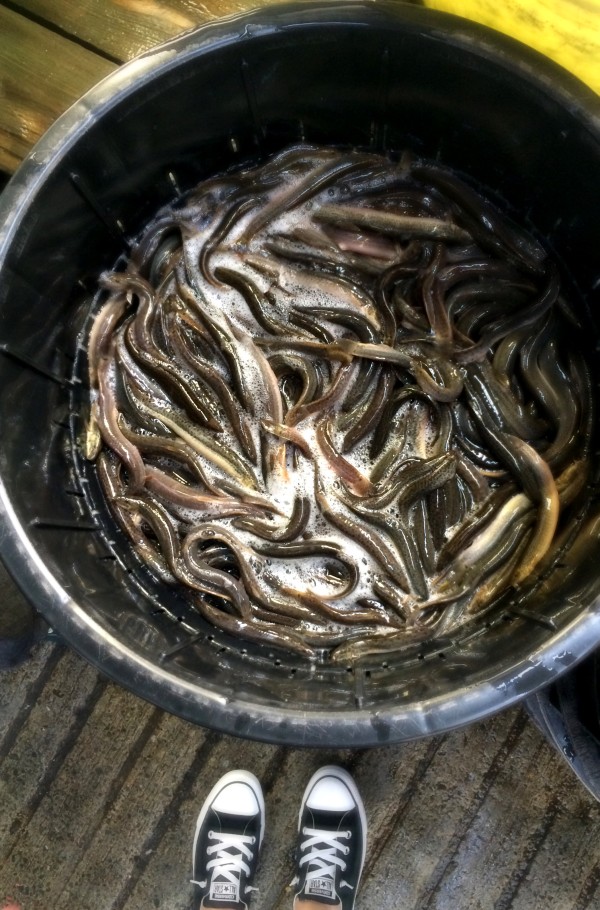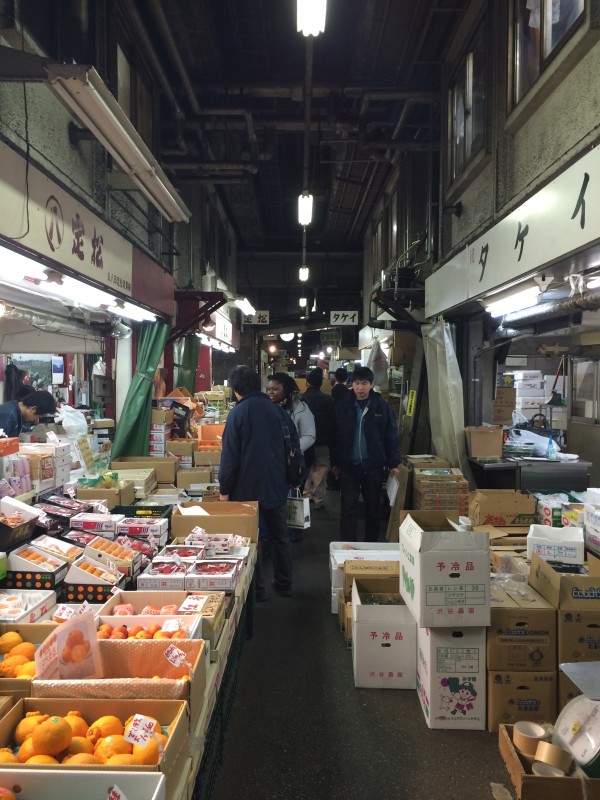 Sushi Making Class – Inside Japan Tour (Ginza): After our big fish market tour, our guide escorted us to our sushi making class. This was another tour I set up through Inside Japan Tour that was super fun and relaxing. Mr. B and I learned how to properly make sticky rice, make nori, sashami, and rolls. The funny thing, besides seeing Mr. B in a pink apron rolling sushi, was the fact the chef said Mr. B was a natural. It had to be the luck of the beard.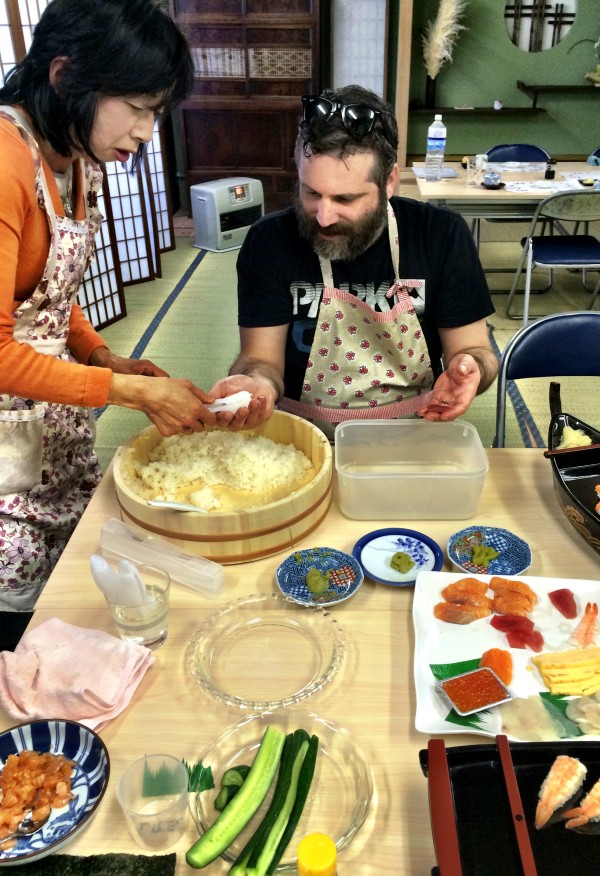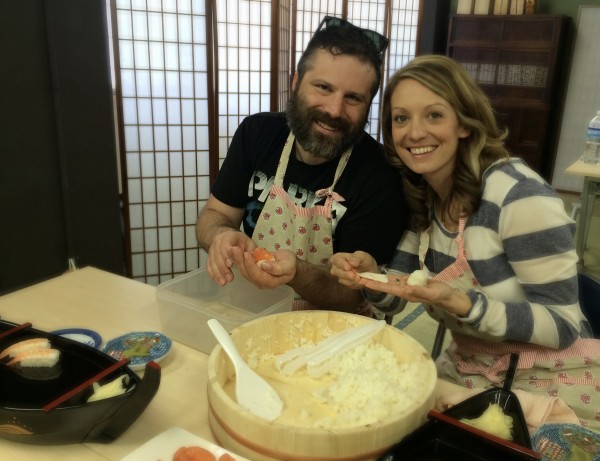 Tapas Molecular at Mandarin Hotel (Nihonbashi Business District): If you couldn't tell, day two was all about food. So, to end our foodie day, I made reservations at the Mandarian Hotel for their Tapas Molecular dinner. There are only six seats at the table with dinner times at 6pm and 8pm. This bite-size sixteen course meal was the ultimate gourmet experience. We ate frozen crab with a mini shovel, pork roll that looked like a cigar, Eggs Benedict with poached papaya egg, and a chocolate mint meringue covered in liquid nitrogen! Also worth mentioning, the chefs speak English and are a hoot. Plus, the views from the top are breathtaking at night.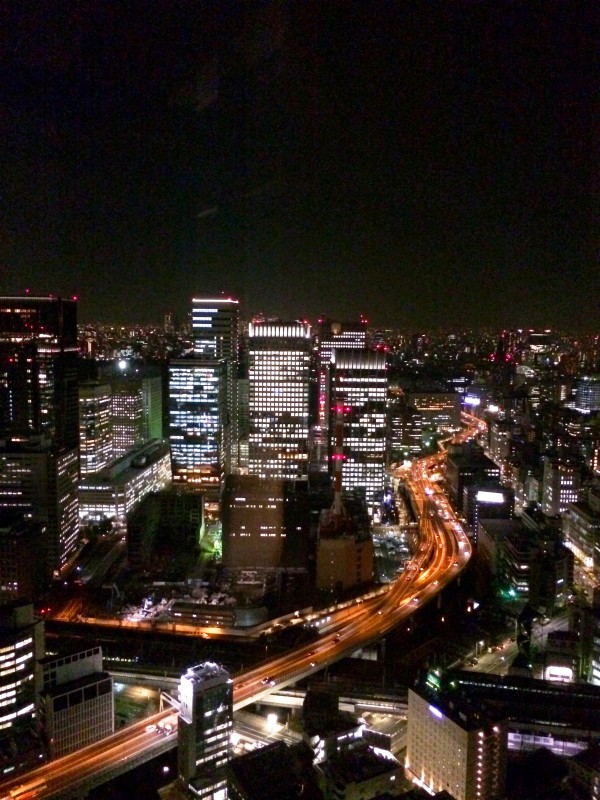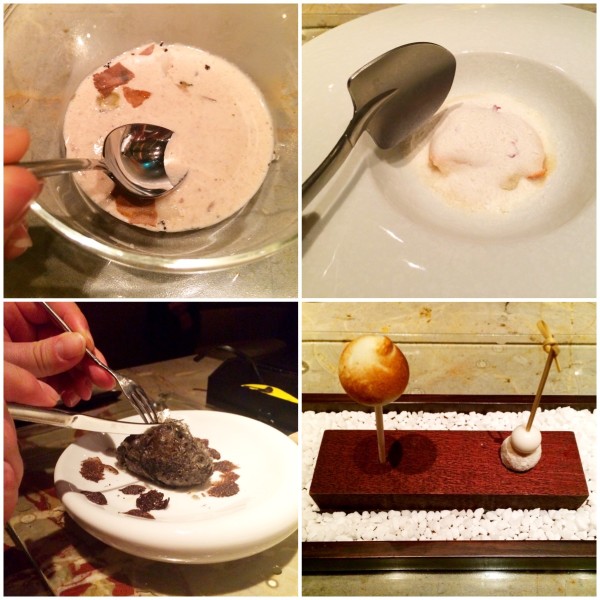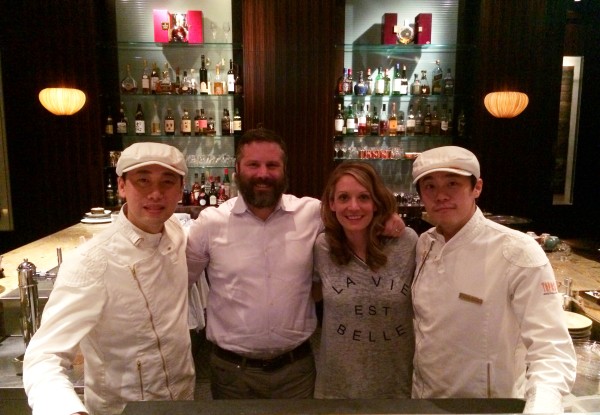 Golden Gai  (Shinjuku): To cap off our foodie adventure, we headed to the Golden Gai district, which is a ten minute walk from our hotel. This historic bar area is what Tokyo used to look like before the bombings of WWII. Narrow alleys and tiny buildings make you feel like you stepped into a time machine. You will quickly notice there is only room for three to five people to sit at a bar., But be forewarned because they charge an entry fee even if you just order a beer. Also, if you are feeling risky, head down between the alleys because you will find random entrances where Japanese movie/rock stars hide out.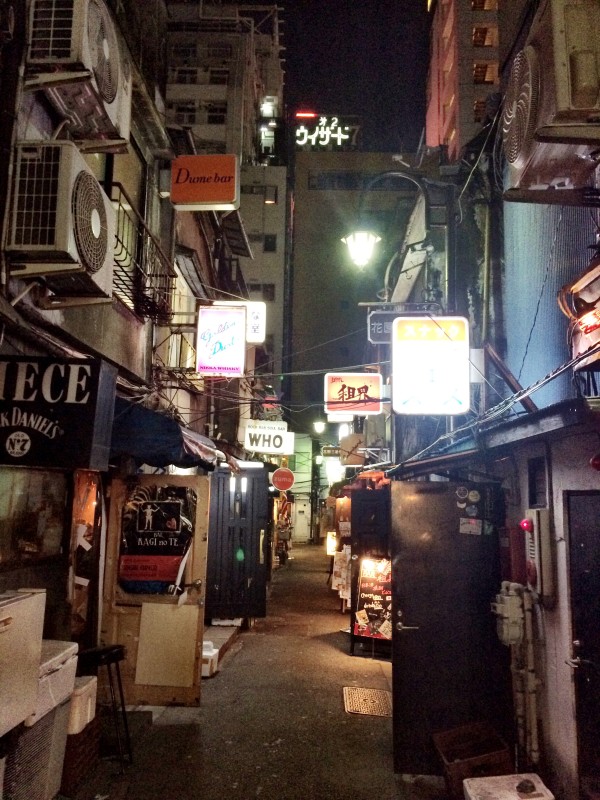 ____________________________________________
RANDOM TIPS: 
– When you are at the Fish Market, some of the vendors don't want their picture taken, so get permission to take a picture of them cutting tuna or any of their seafood.
– Buy a bag of biento flakes. They are super cheap compared to the grocery stores.
– Make sure to try a traditional Japanese dango while at the market. I think you can get three for a yen. Also, the chocolate is wayyyy better than the original.
– To eat at the Mandarin make your reservation at least a month in advance if you want Friday or Saturday.
– In Golden Gai, everyone smokes cigarettes in the bar. I thought I would be fine, but after 30 minutes, I was ready to bounce.
Stay tuned for day three! I'm talking about conveyor belt sushi, Shibuya Crossing, Isetan department store, and our food/pub tour you don't want to miss!