chickpea baked beans with barbecue bacon hummus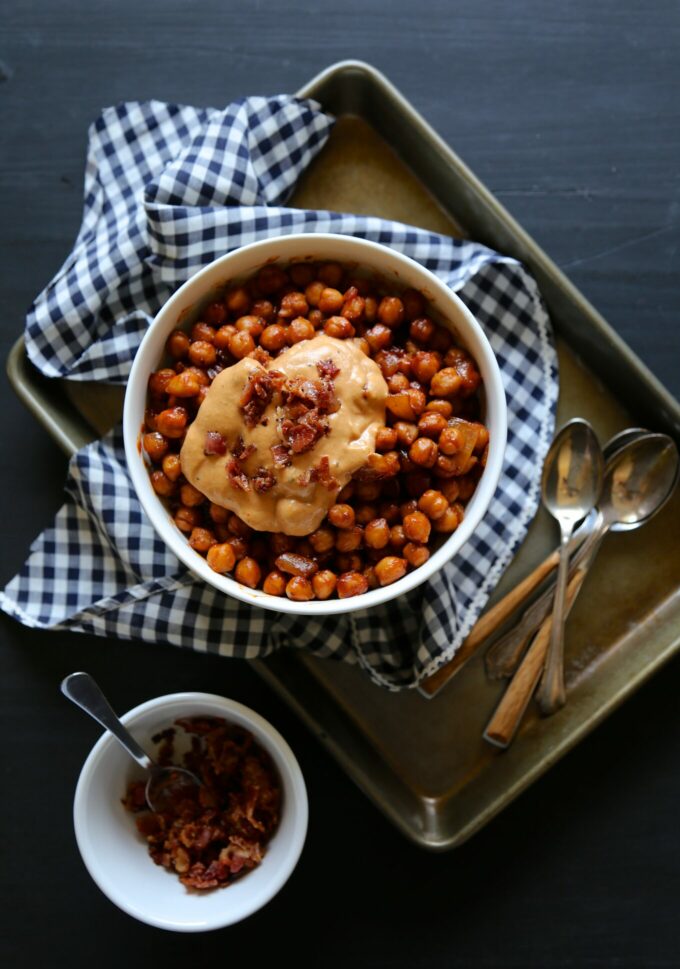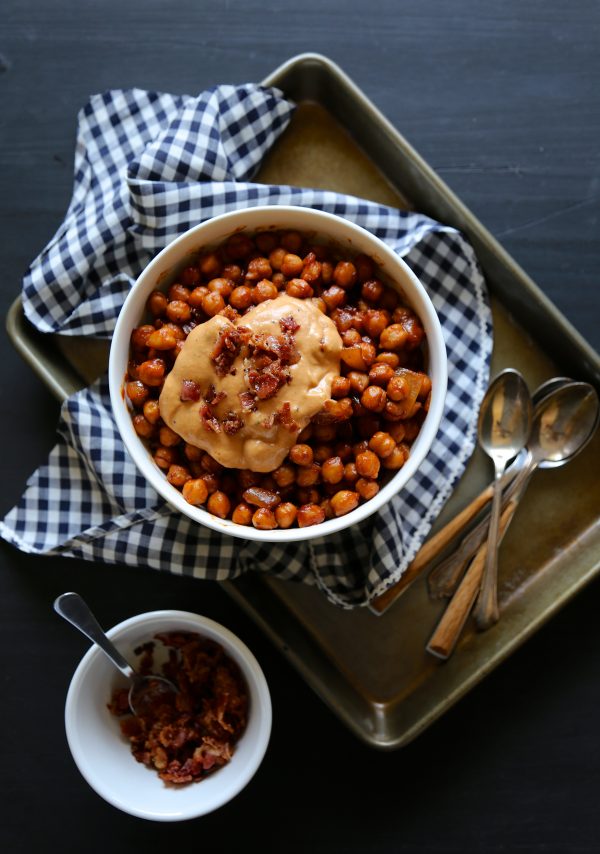 Summer.
Here we are in the thick of it.
Or at least I think we are in the thick of it? With all of this rain in Colorado over the past month and a half, you'd think it was the beginning of spring. Sigh. Maybe I shouldn't complain because once Fourth of July arrives, BAM! 112 degrees of brutal, consistent HAWT heat.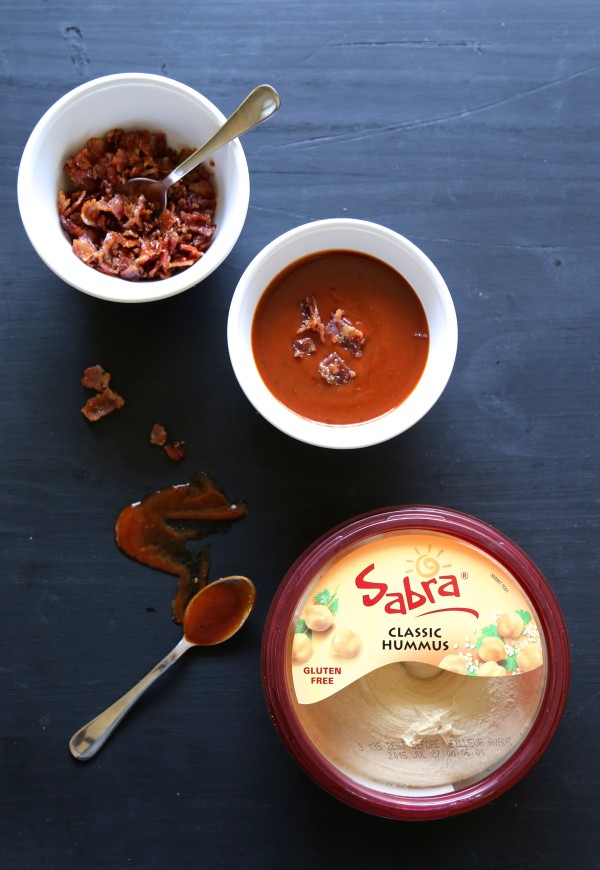 Oh! And speaking of the fourth, which is like in five minutes, what are y'all up to? Traveling? Staying put? Hosting a backyard barbecue? Mr. B and I are planning on escaping to Steamboat for the weekend for a little mountain adventure. I love the beach, but there's something magical about breathing in the fresh pine air and watching the sun dip behind the peaks.
Besides getting away, can we pa-lease talk about the most important part of any holiday, what we will be eating. A couple of weeks ago, I had the pleasure of visiting the Sabra factory located in Richmond, Virginia. A bunch of rad food bloggers and I got the in's and out's of what makes Sabra hummus experts.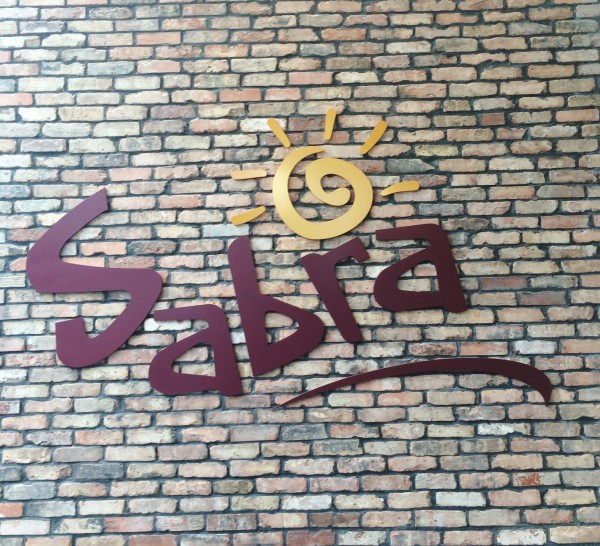 First, can I please just say how cool Sabra's office/kitchen/conference rooms are? Plus, I love all of their positive signage. I mean, no one wants to eat hummus next to a Debbie downer, right?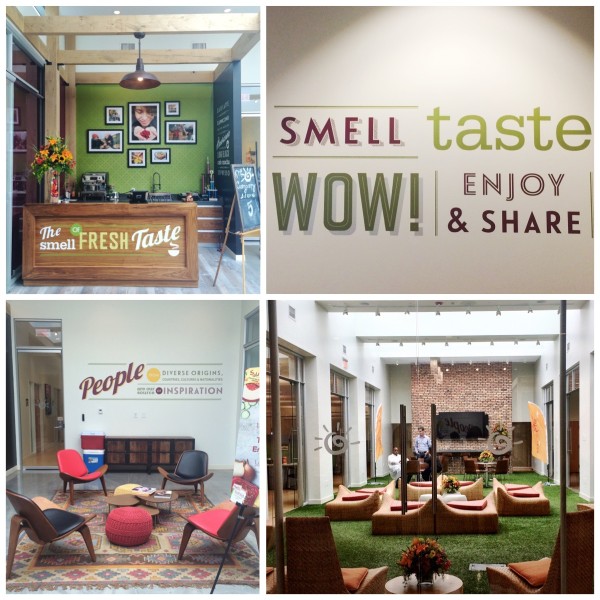 Inside the research kitchen, we got the 411 from Executive Chef Mark Dawn Wright about texture of hummus and what she calls the nipple on the hill. Open a up fresh container of hummus and you'll know what she is talking about. If there isn't a nice distinction between the flat part of the hummus to the nipple hill, it gets tossed.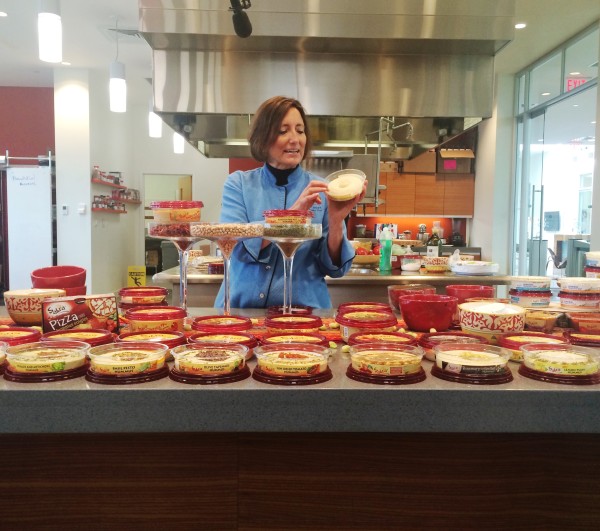 Next, we watched Chef Pete Taylor prepare some recipes from Sabra's Pop-Up Hummus Restaurant in Georgetown. That's right. A hummus restaurant! Pete showed us one of the popular dishes they served – hummus with edamame, crystallized ginger, soy sauce. The flavor combo sounds weird, but it rocked!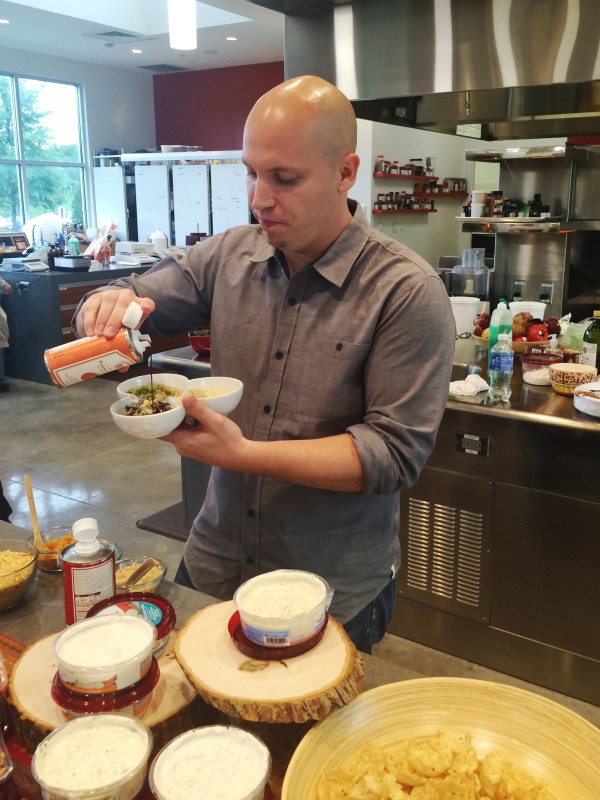 We also sampled some new flavors that will be coming to a store near you – Rosemary with Sea Salt, Pizza, and Caramelized Onion. GET. EXCITED.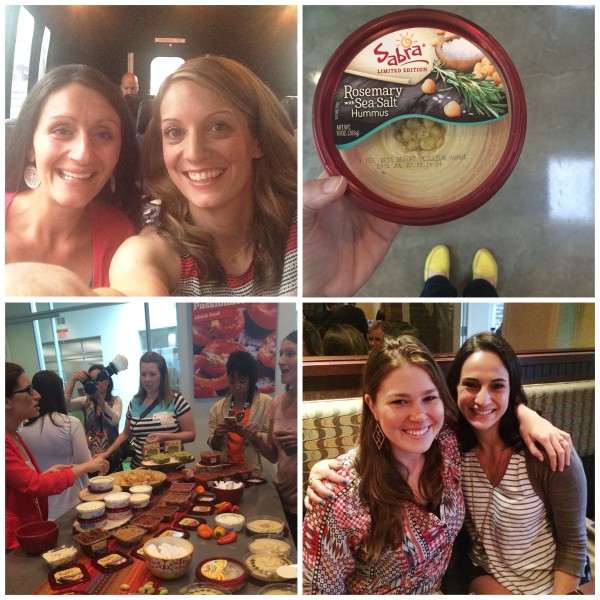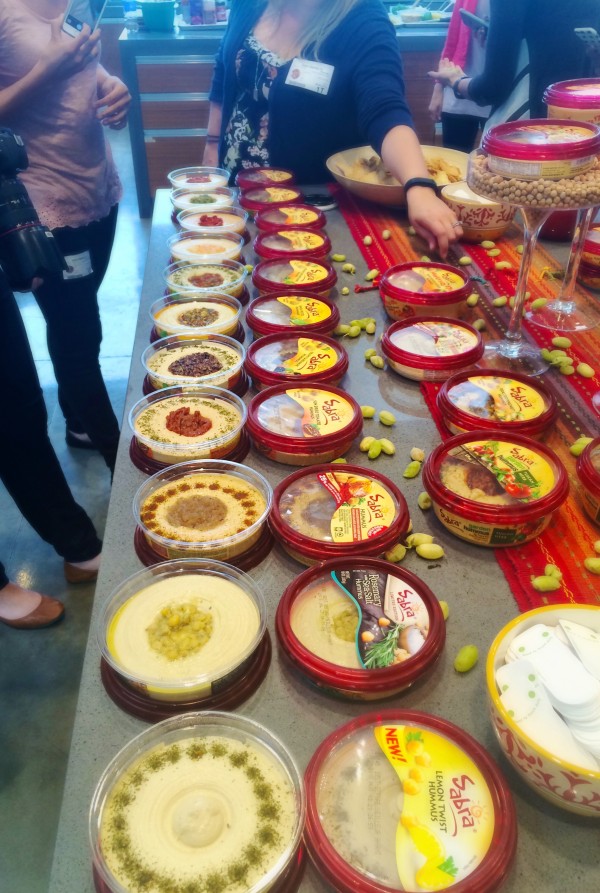 Not only is Sabra a wonderful community of folks, they are all truly and deeply committed to spreading the love about hummus. Here are a few little factoids that I thought you might find interesting:
– Sabra started back in 1986!
– 2007 Frito-Lay purchases 50% of Sabra; Sabra becomes a market leader
– Sabra is the #1 national brand of hummus with over 64% of the market share
– Over 9 salsa flavors with the restaurant style being the most popular
– 2 Guacamole flavors, 6 Greek Yogurt Dips, and 13 Hummus Flavors with Pine Nut being the most popular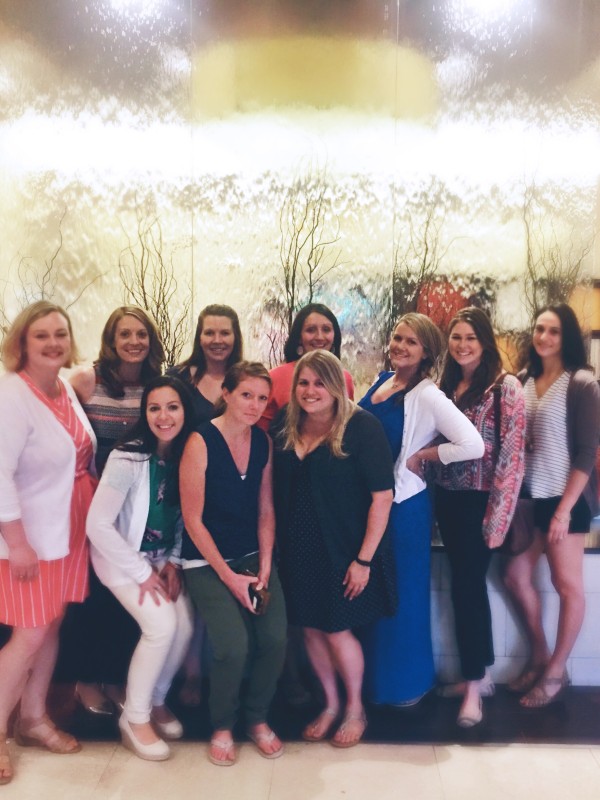 All this talk about hummus has got me HANGRY. Well, with the fourth a hop, skip, and jump away, I wanted to play around with a chickpea. This Chickpea Baked Beans with Barbecue Bacon Hummus is a spin on your classic baked beans. Instead of using navy beans, swap them for chickpeas. Simmer the chickpeas in your favorite barbecue sauce, pour them into a serving dish, and top with these most incredible hummus ever – barbecue bacon hummus.
Alright, now summer can officially begin! Cue the sun.
***This post was sponsored by Sabra. As always, all opinions expressed are 100% my own.***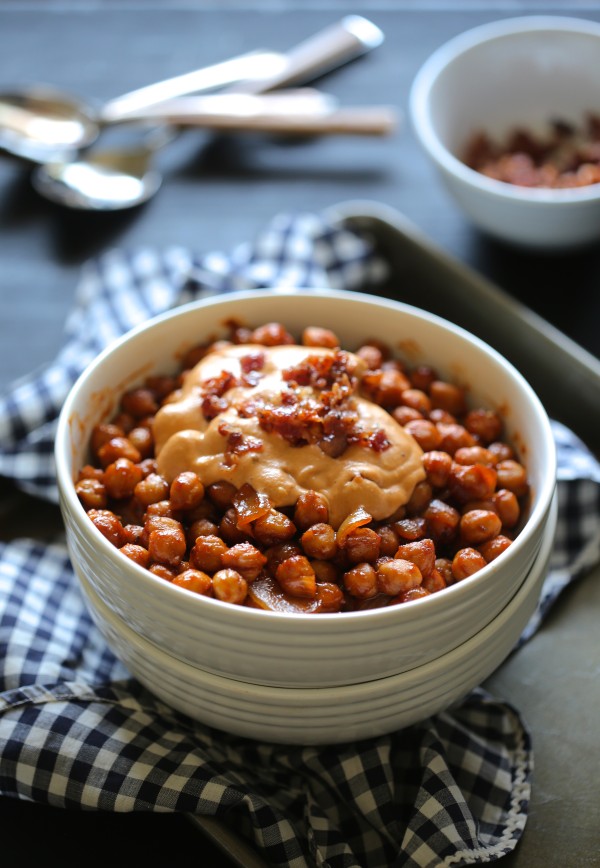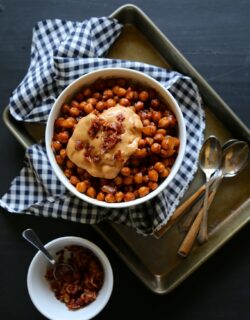 Chickpea Baked Beans with Barbecue Bacon Hummus
Ingredients:
for the baked chickpeas:
2 15 oz cans chickpeas, drained, rinsed
1/4 cup barbecue sauce
1/4 cup ketchup
2 tablespoons brown sugar
1 tablespoon tomato paste
1 tablespoon molasses
1 teaspoon Worcestershire sauce
1 teaspoon garlic powder
1 teaspoon cumin
1 teaspoon chili powder
3 tablespoons unsalted butter
1 yellow onion, diced
1 garlic clove, diced
salt and pepper to taste
for the barbecue bacon hummus:
1 cup Sabra plain hummus
1/2 cup barbecue sauce
4 tablespoons cooked bacon, diced
Directions:
for the baked chickpeas:
In a large pot preheated to medium heat, melt the butter. Add the onion, garlic clove, salt and pepper. Saute until softened about four minutes. Add the first 10 ingredients to the pot and stir to combine. Bring to a boil and reduce sauce to simmer. Add the chickpeas and continue to simmer for about 15 minutes. Remove from heat. Pour into a serving bowl. Top with barbecue bacon hummus.
for the barbecue bacon hummus:
In a large bow, combine all ingredients.
All images and text ©