trip recap: yurtcation at tennessee pass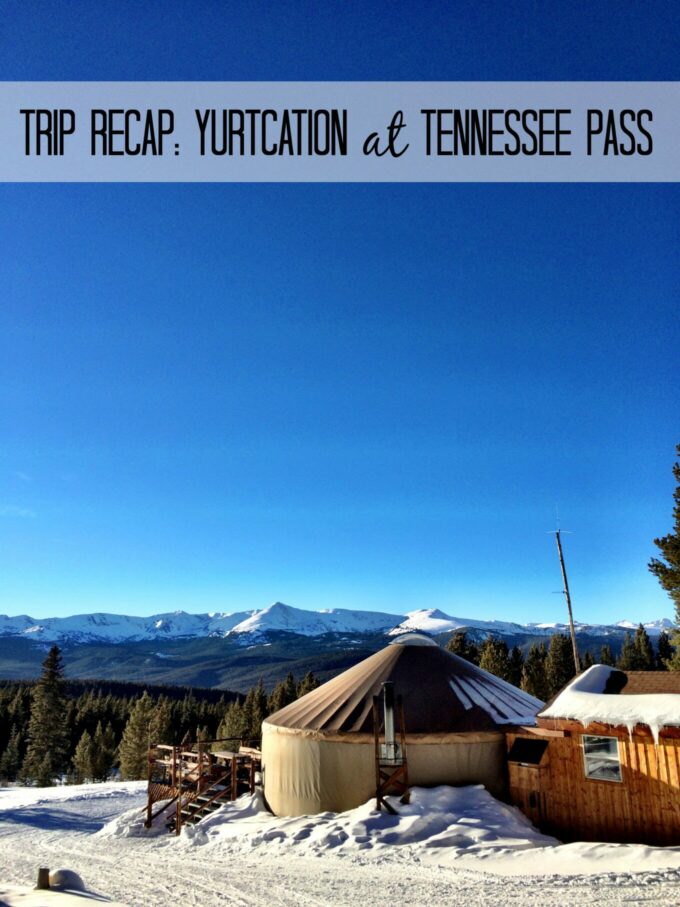 Yurtcation.
As in, spending the night in a snowy national forest inside a large, round hut-thingy.
One could call a yurtcation a version of camping, but let's be realz, yours truly doesn't camp. I'm not the slightest turned on by sleeping in a tent, dealing with bugs, globs of mud in my unmentionables, bears, smelly armpits, snakes, did I mention bears?
So, this yurtcation was more like luxury camping, if you will. I think Nordic skiing to get to a yurt with five of your mates, siting around a wood-burning stove telling stories, making a gourmet dinner, sipping wine at sunset, witnessing a shooting star all at 11,000 feet a little more than camping. Am I right?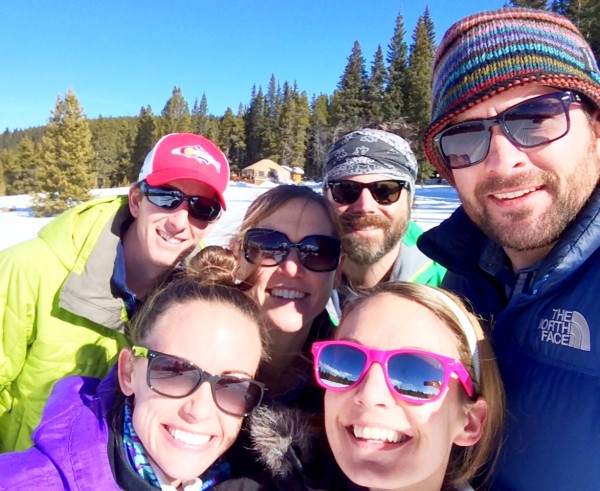 Our weekend adventure began with three couples (The Yorks, The Resers, The Griers), four pairs of Nordic skis, an apre ski spread, a pound of pasta, bourbon, wine, a little more wine, and an outhouse.
Meet the yurt!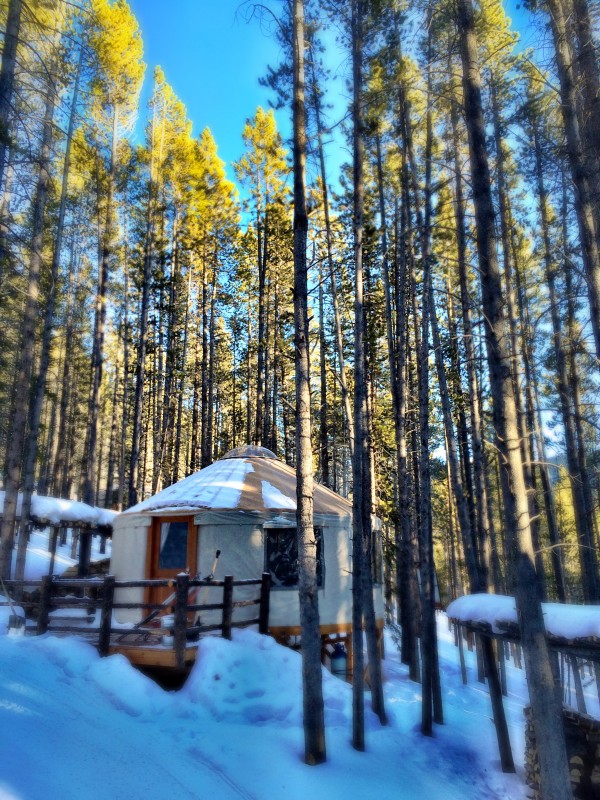 This magnificent yurt would be our home for the next 17 hours. Nestled on top of Tennessee Pass just up the hill from Ski Cooper is a true rocky mountain oasis. Pine trees as far as the eye can see, jagged mountain peaks in the distance, and snow that looked like cumulus clouds.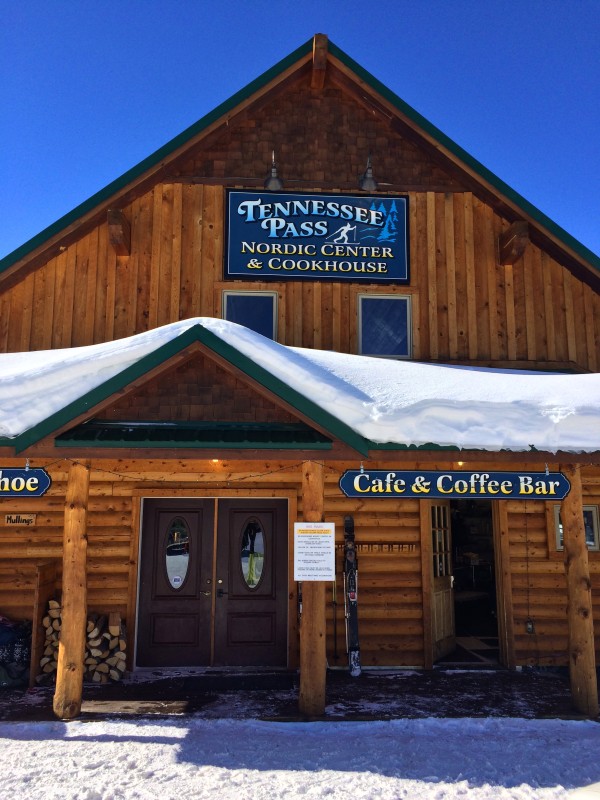 Tennessee Pass is home to the famous 10th Mountain Division and lies along the Continental Divide. What was once part of a training ground for Army skiers during WWII is now a culinary, rustic dining hot spot called the Tennessee Cookhouse.
Now, to get to the yurt you can hike, snowshoe, or put on your big girl panties and Nordic ski about a mile and a quarter from the base of the Nordic Center. Two gents decided to watch the debacle unfold and hike, while the four us – Katie, Megan, Mr. B and I channeled the 10th Mountain division spirit and slapped on the skis.
We ventured up the trail with visions of yurt-ing in our heads. Truth: I felt like a bear on a tricycle. Somehow I managed to keep all of my ligaments attached while skiing. I think the Norwegians would have given my Nordic skiing style at least a three out of ten for effort.
After 34 and 1.238494949 minutes, we arrived at the yurt. Let's take a peek inside. This yurt had the availability to sleep six comfortably – one full bed and a set of full bunk beds all with cozy down comforters to boot.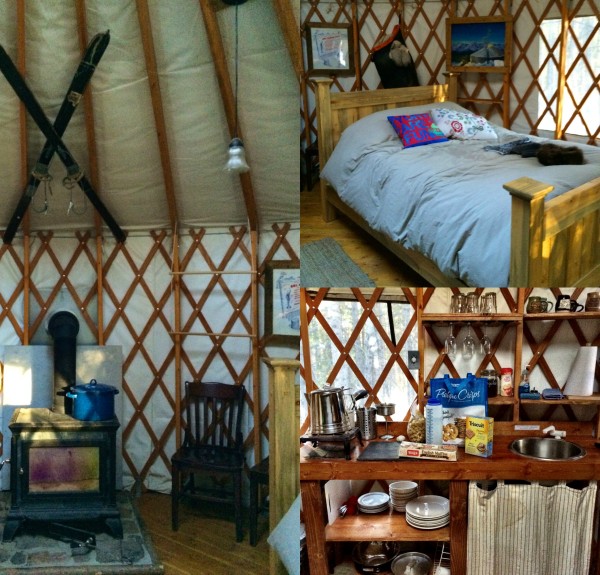 There is a super cute, quaint kitchen with a small burner for boiling water and cooking. They stock the yurt with pots, pans, coffee, snow booties, Kleenex, games, firewood, etc, to make your stay as comfortable as possible. In case you are wondering, there was "running water." Really just giant jugs of water hooked up to a dispenser, but hey, at least I could brush the fur off my teeth the next day.
The most important piece inside the yurt was the wood-burning stove. We were all a little worried about freezing, but this fellow kept us warm. The only down side is you have to keep it stocked, which means at 2am someone who has had the most giggle juice to drink that night should refill the stove with wood. I kid. Maybe. But really, if you keep the wood going there is zero chance of snotsicles forming.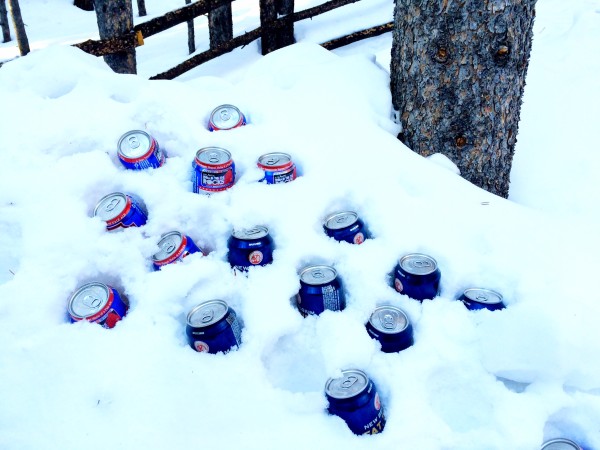 Once beds were claimed, beer was nestled into a natural cooler, wine bottles (errrrr boxes) opened, and an apre ski spread of veggies, cheese, hummus, crackers, prosciutto were nibbled on, we headed to cookhouse deck to watch the sunset over the mountains.
Isn't yurt-ing the best? Look at that view!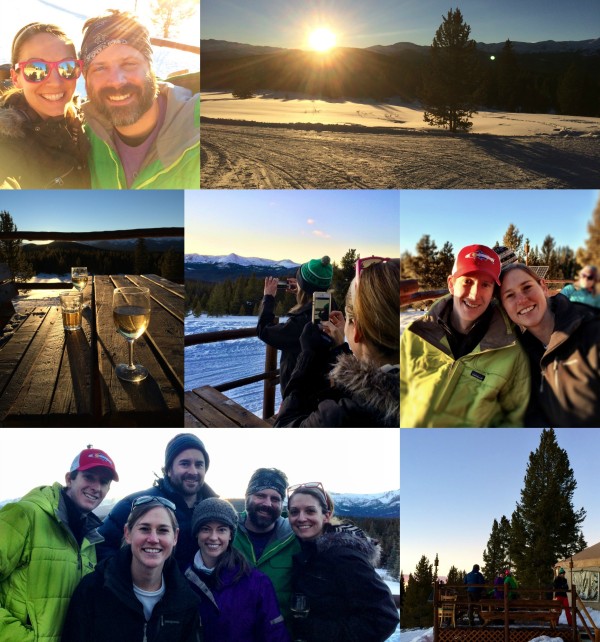 After 4,956 pictures were taken, we boogied backed to yurt, which for point of reference is about a quarter mile away from the cookhouse. With a quick pit stop at the outhouse (aka the poopsicle) before the bears woke up and decided to have us for dinner. This is why I made Mr. B go with me every time I had to tinkle. Well, 1) to hold my coat, 2) to light the way with his head lamp, and 3) because we needed the quality time.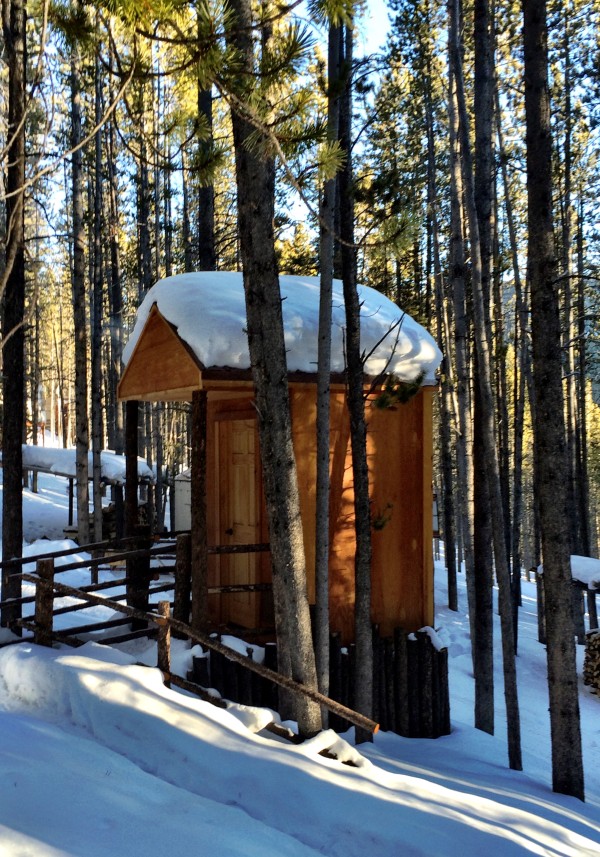 Ben was our chef for the evening. I'm not sure how he whipped up two kinds of pasta – one pesto and the other a red sauce with venison on a single burner. Can you say Top Chef material? We all carbo loaded to keep us full and satisfied for a long winters nap.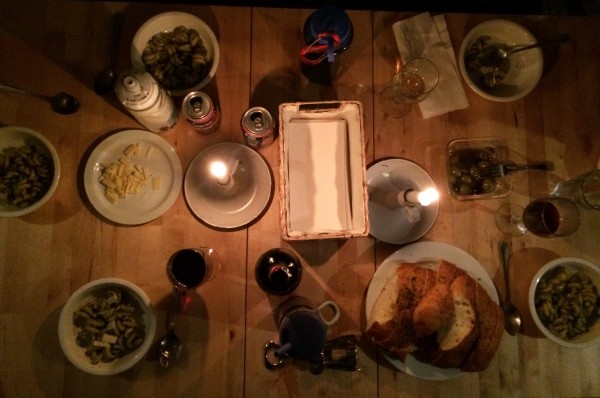 After dinner we shared embarrassing childhood stories, sipped more wine, actioned a game of chess, our yurt was the place to be in the national forest. But! With the clear sky full of shining bright stars, we all got a sudden burst of motivation for a late night excursion to the clearing down the road. I have never seen stars this close and bright in my entire 31 years.  To top it off, we even witnessed a shooting star.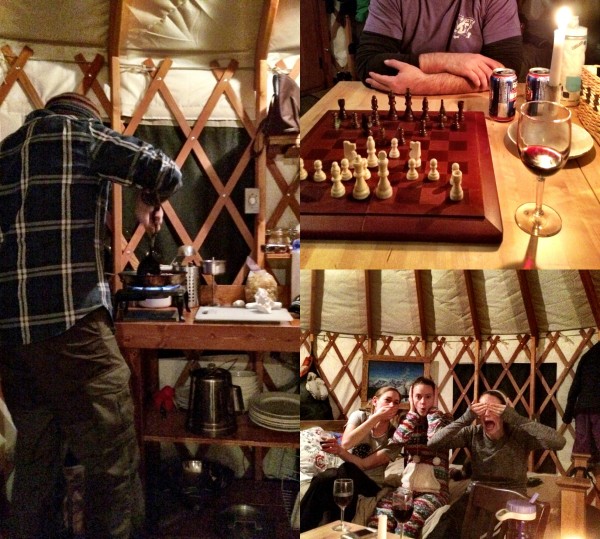 The next morning we were all delighted to have survived the night. Or was that just me? Coffee anyone? Seriously, how cute are these mugs?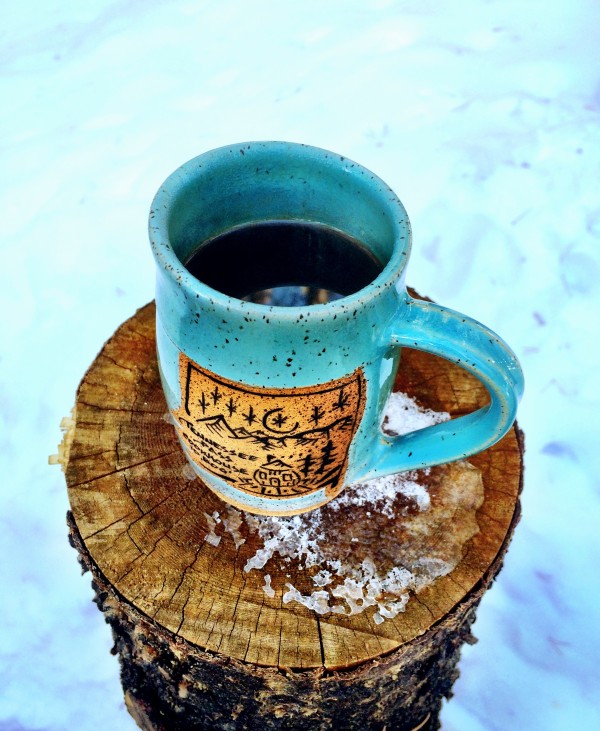 With a quick brush of the teeth and change of clothes, we said goodbye to our trusty yurt (and outhouse) and headed to the cookhouse for lunch. But not first without some action shots of jumping into the snow!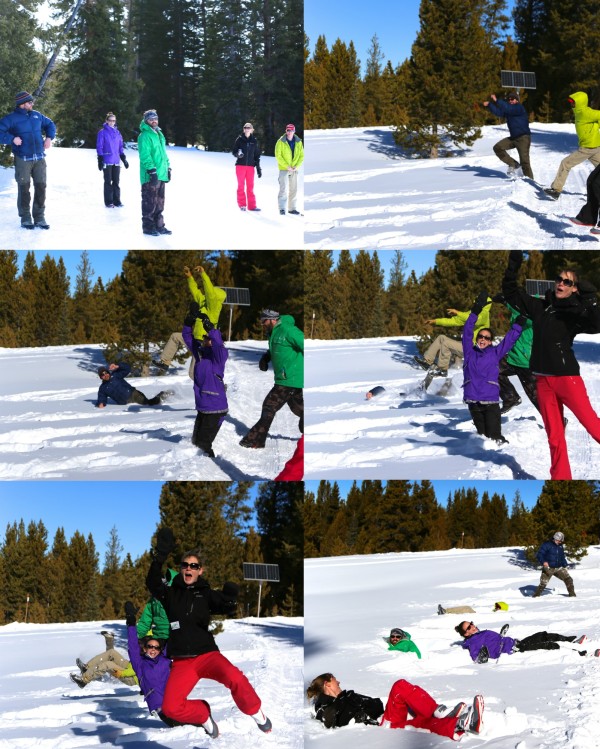 Lunch at the cookhouse hit the spot…rustic dining at it's best! We sipped bubbles and ate bison burger with fresh veggies and roasted potatoes. I highly recommend making a reservation for dinner here because the ambiance is amazing – think wood-burning stove, candlelight, wine, and decadent food. I'm telling you it's a must do in Colorado!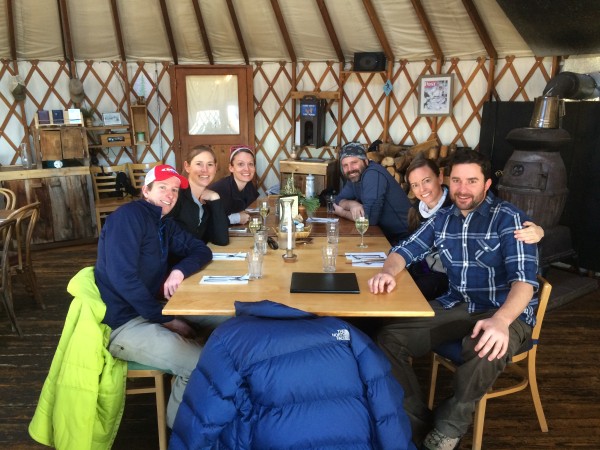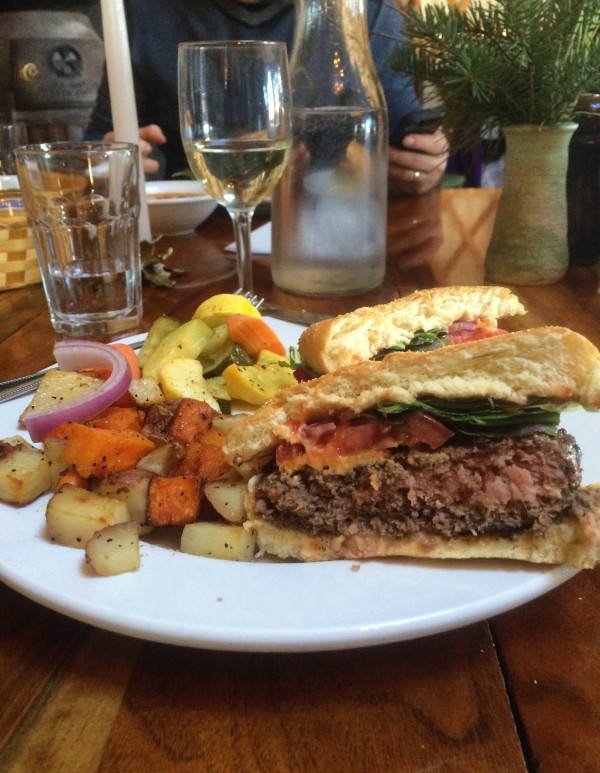 And just like that, our yurtcation came to an end. If you are looking for something fun to do that is a little off the beaten path during the winter definitely check out the Tennessee Cookhouse. And! If you are feeling a little nature sporty, stay overnight at one of the yurts!
Until next time, Tennessee Pass!
**I was not compensated for this post. I just wanted y'all to know about this little yurtcation. If you want more information check our their website!***