twice baked chicken pot pie potatoes with crispy bacon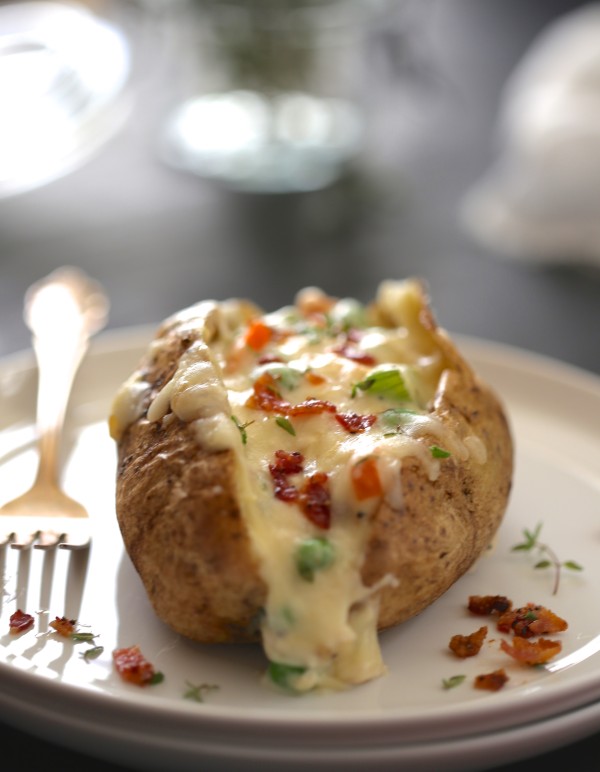 I'm not the biggest fan.
Let's be real…french fries, smashed taters, breakfast potatoes, potato chips, curly fries, mashed potatoes, scalloped potatoes, and TATER TOTS are worthy potato eats. Am I right?
There is a part of me that wishes I had some tragic experience with a baked potato that would provide a rational reason as to why I am so "meh" about it. I mean the baked potato hasn't done anything personally to me. Well, if you count a potato gun, but that's a whole different story altogether.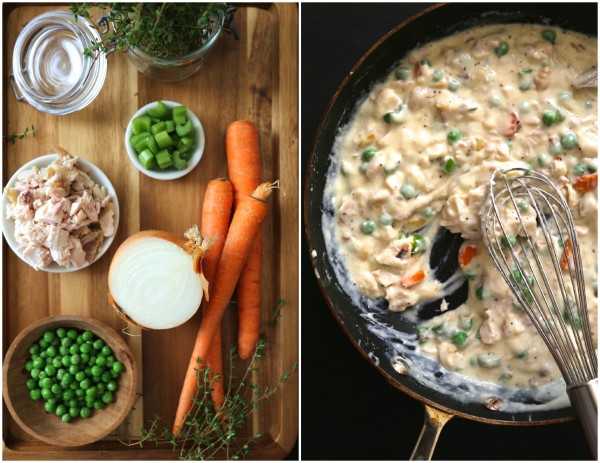 Growing up, I remember my mom fixing a lot baked potatoes. Maybe that's it? I was baked potato overloaded as a child. I remember my seven year-old self trying to cover it's "meh-ness" by drowning it in sour cream, shredded cheese, butter, and chives, but nothing worked. So, I would sit at the dinner table like a New York Times food critic, eat only the toppings, and b&%ching to my dolls about how 1990 this dish was.
But! Like I said earlier, it's not the potatoes fault. So rather than keep pushing my grocery cart past the russet aisle, I figured they could use a little a makeover. Baked Potato meet Chicken Pot Pie. Chicken Pot Pie meet Baked Potato. Let's mingle.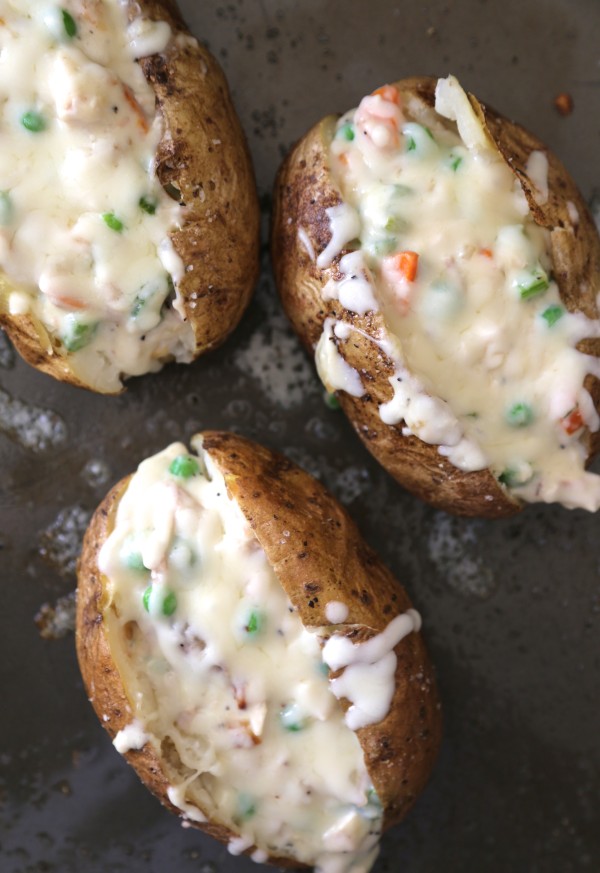 With comfort food hitting the stoves now that the cooler temperatures have steadied, I thought, why not stuff the standard russet with one of my all-time favorite comfort foods? I could eat chicken pot pie all year-round. A flaky, golden pie stuffed with veggies, chicken and a cheese sauce, what's not to like?
For this chicken pot pie version, I used the baked potato as the pie vehicle. Let me tell you, it's comfort food baked at an insane level of deliciousness. Top it with a little more cheese, bacon….there's nothing "meh" about it.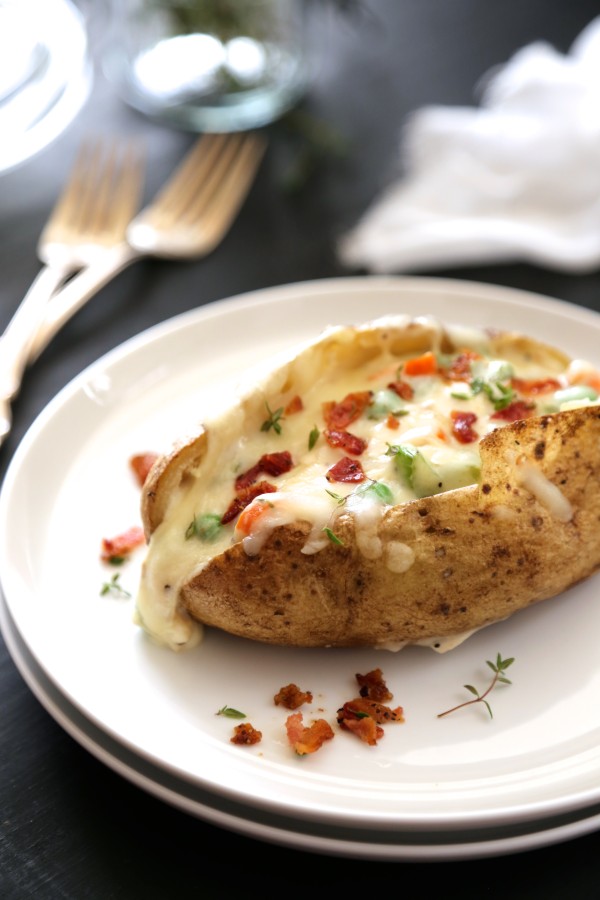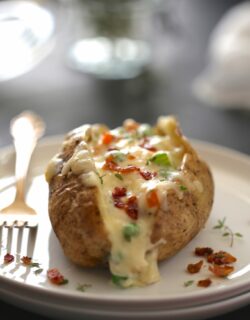 Twice Baked Chicken Pot Pie Potatoes with Crispy Bacon
Ingredients:
4 russet potatoes
2 tablespoons olive oil
2 cups rotisserie chicken, chopped
1/2 cup celery, chopped
2 medium carrots, chopped
1/2 yellow onion, chopped
1 tablespoon fresh thyme
3 tablespoons unsalted butter
3 tablespoons all-purpose flour
1 cup whole milk
1 1/2 cups mozzarella cheese, shredded
1/2 cup bacon, cooked, chopped
salt and pepper to taste
Directions:
Preheat oven to 400 degrees.
Spray a baking sheet with non-stick cooking spray. Take a fork and poke a couple of holes around each potato. Place the potatoes on the baking sheet. Drizzle tops with 1 tablespoon olive oil, s&p. Bake for about 50 minutes or until soften. Remove from oven to cool.
Meanwhile, in a medium skillet preheated to medium-high heat, add the remaining olive oil, celery, carrots, onion, thyme, and s&p. Saute veggies until softened about 7 minutes. Turn the heat back to medium, add butter to skillet and melt. Sprinkle the flour over the veggies and stir to combine. Next, pour the milk over the veggies and continue to stir creating a thickened sauce about 2 to 3 minutes. Remove skillet from heat, stir in chicken, 1/2 cup mozzarella, & a dash of s&p.
Once the potatoes have cooled, slice the tops open lengthwise and scoop out some of the potato. Pour some of the chicken pot pie mixture into the baked potato. Top the potatoes with 1/4 cup of the mozzarella. Place baking sheet back in the oven for five minutes or until the cheese has melted. Remove from oven, garnish with bacon, and serve immediately!
All images and text ©