vanilla gelato with peach-berry compote & honey whipped cream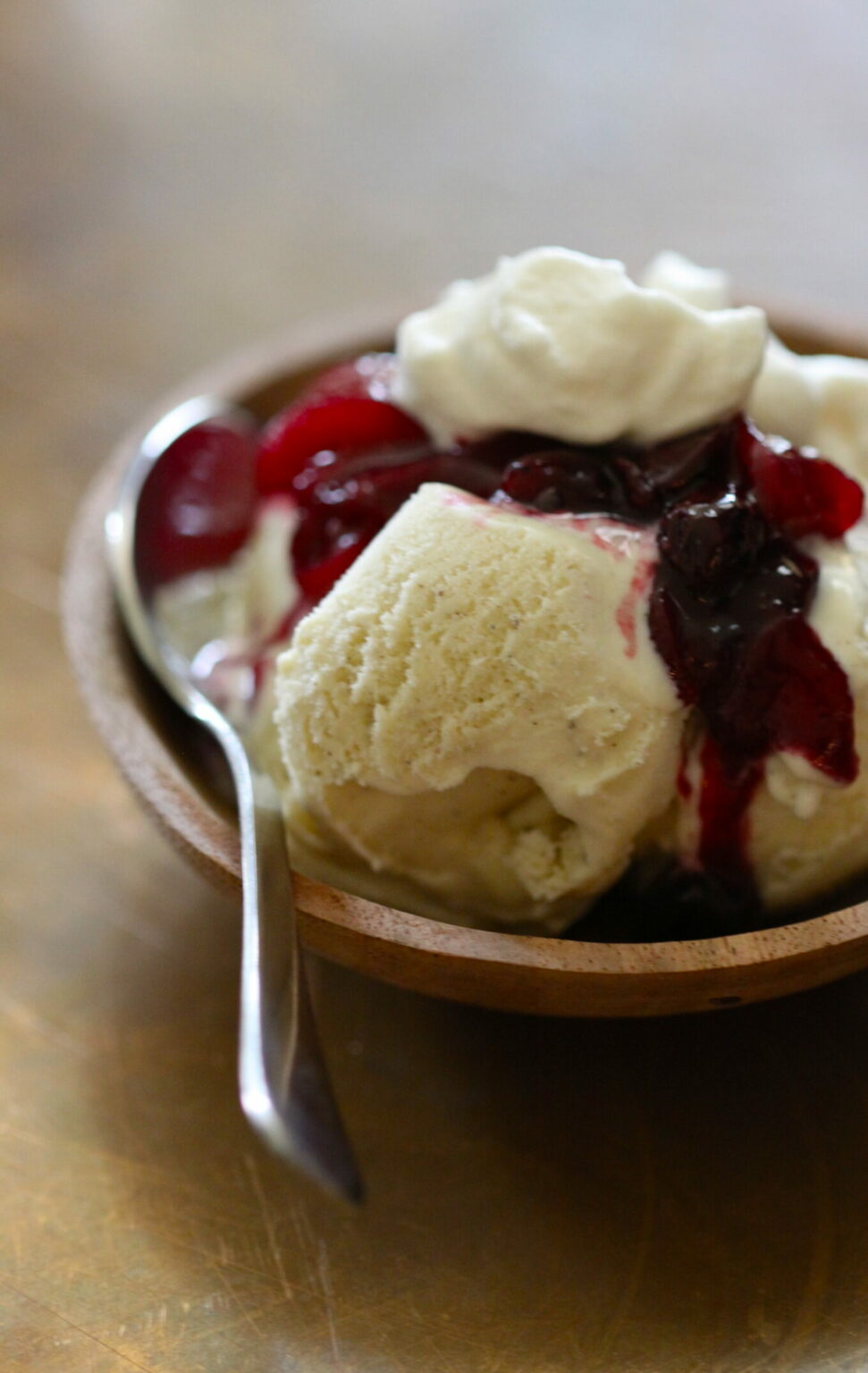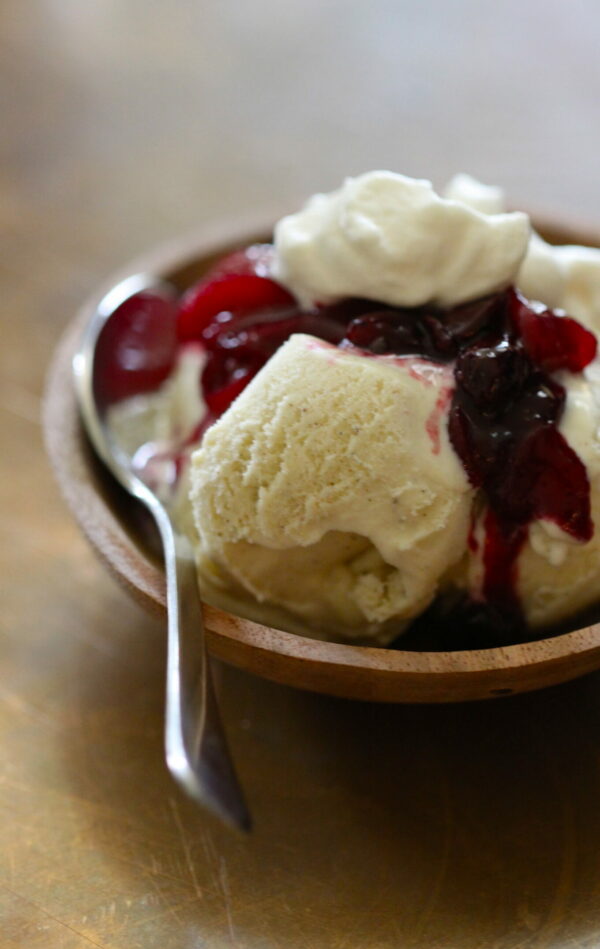 Summer.
Well, here we are in the thick of it.
I don't know about you, but my sweaty tookus has had just about enough of the 100+ sweltering days of heat. Why does sweltering just sound unattractive? Oh, wait. Probably because the literal definition means oppressively hot. Der! And speaking of unattractive words, what about the word "moist"? Moist is definitely one of those words that makes the hair on the back of my neck crawl.
I wonder who came up with the word, moist. Do you think some guy was sitting on a front porch in the 1800's during the middle of a heat wave and politely turned to his wife and said, "Gee, honey, I feel rather moist." You know his wife rolled her eyes, looked right back at him, smiled, and totally said, "try being a woman in a wool dress."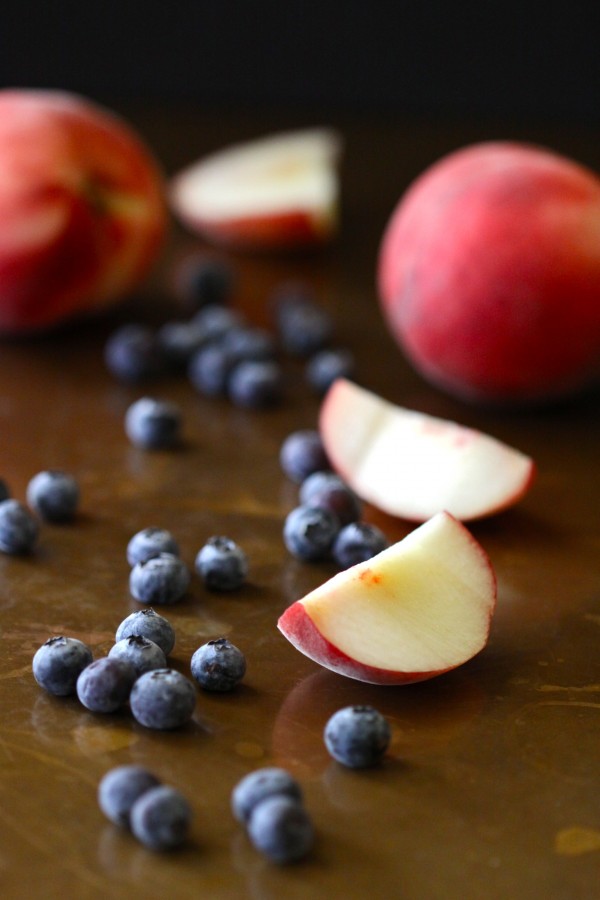 Anyways, I probably should talk about this crazy, fun-tastic, berry week we have going on! Yep, yep! If you are just now joining us, twelve food bloggers and I are mixing and mashing all things berry. That's right. We are leaving no container unopened and no berry overlooked.
During the summer months, I try and keep things simple when cooking or baking. Summer allows us to keep things simple with fresh veggies and fruits at our disposal. Slices of tomatoes with fresh mozzarella and sprinkle of salt and pepper is the perfect way to enjoy an easy salad. One of my favorite desserts is fresh strawberries with whipped cream and a drizzle of honey. But sometimes it's fun to mix things up. I'll go ahead and get this out of the way, I am not the biggest fan of ice cream. GASP! Give me a big ol' bowl of queso and chips and I am one happy camper.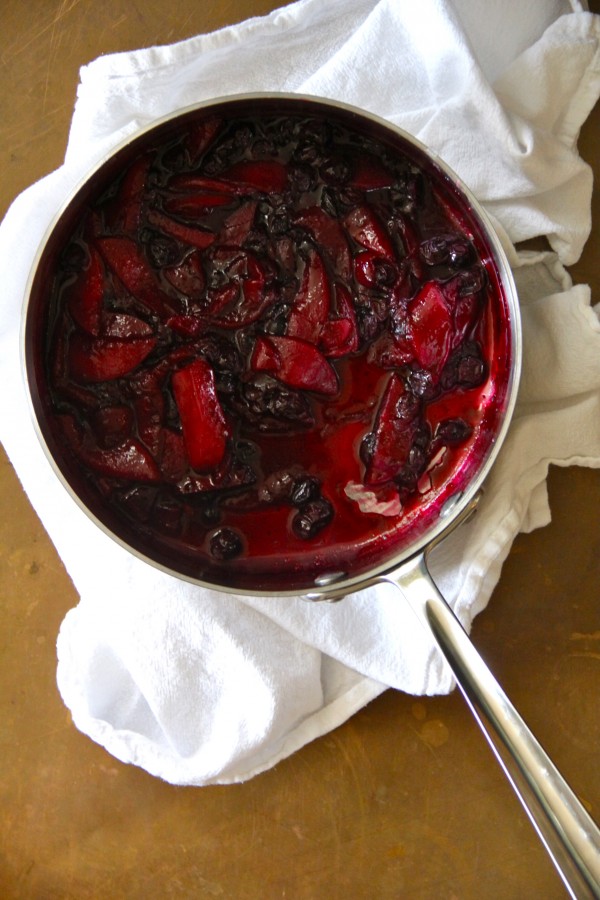 So, I figured why not marry plain Jane vanilla ice cream and plop some berry compote on top. Can I get a wha-wha? This compote is one of my new dessert favs because it combines peaches and blueberries – a combo I never thought would go together. Sprinkle a little honey whipped cream on top and you just went to an 11/10 berry situation.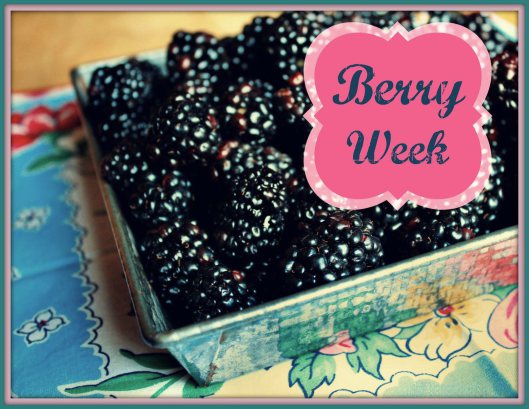 Make sure and check out the other sweet ladies of berry week:
Monday: Comfortably Domestic-Fresh Strawberry Pie / La Petite Pancake-Berry Sangria
Tuesday: Inside NanaBread's Head-Annie's Blackberry Cake / From My Sweet Heart-Summer Berry Terrine with Mascarpone Whipped Cream
Wednesday: Climbing Grier Mountain-Vanilla Gelato with Peach-Blueberry Compote & Honey Whipped Cream / Tenaciously Yours-Strawberry Smash
Thursday: Country Cleaver-Berry Sorbet Float / The Girly Girl Cooks-Strawberry-Rhubarb Stuffed French Toast / The Grommom-A Lightened-Up Berry Crisp
Friday: Buffy and George-Black Raspberry & Cherry Pie with a Gluten-Free Crust / My Kvetchin' Kitchen-Berry Earl Grey Cocktail
Saturday: Munchin' in the Mitten-Cherry Clafoutis / Decadent Philistines Save the World-Raspberry Marshmallows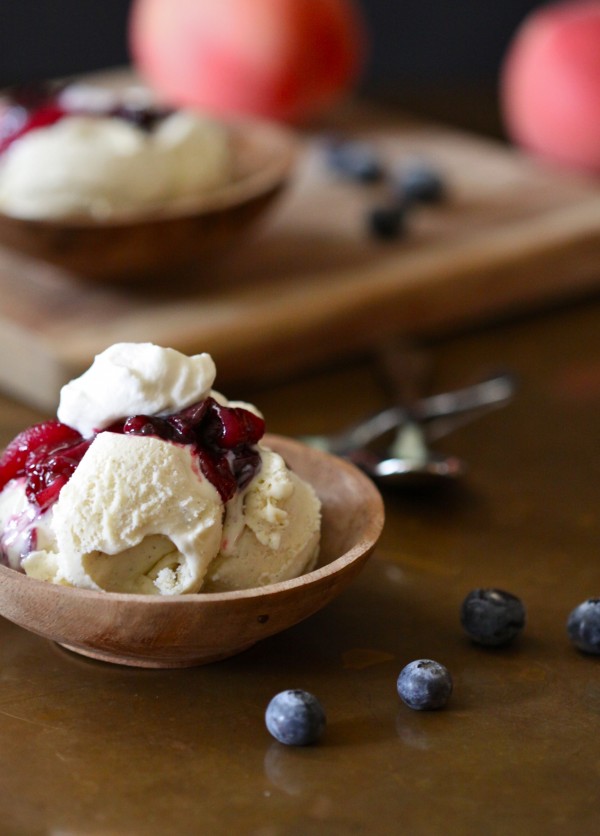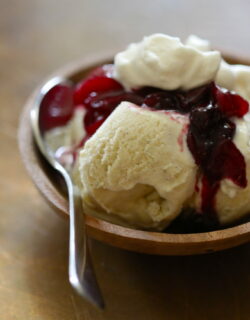 Vanilla Gelato with Peach-Berry Compote & Honey Whipped Cream
Ingredients:
for the compote:
4 small peaches, peeled, diced
2 cups fresh blueberries
1 small nub of fresh ginger
1/4 cup granulated sugar
1.5 tablespoons lemon juice
pinch of kosher salt
for the honey whipped cream:
1 cup heavy whipping cream
3 tablespoons honey
1 pint vanilla gelato
Directions:
for the compote:
In a medium saucepan, add peaches, blueberries, ginger, salt, sugar, and lemon juice. Bring to a boil. Simmer over low heat until the compote has thickened and lookin' purdy! Probably about 10 minutes. Before serving, let it cool and remove ginger nub.
for the honey whipped cream:
In a stand fitted with a whisk attachment, whisk the heavy cream on high. Slowly add the honey. Whisk until soft peaks form. Set aside until ready to top berry dish!
to serve: put two scoops of vanilla gelato into a small shallow dish. Top gelato with a scoop of peach-berry compote. Garnish with a dollop of honey whipped cream. Serve immediately.
recipe adapted from Food and Wine Magazine
All images and text ©