winter squash tamale pie with harissa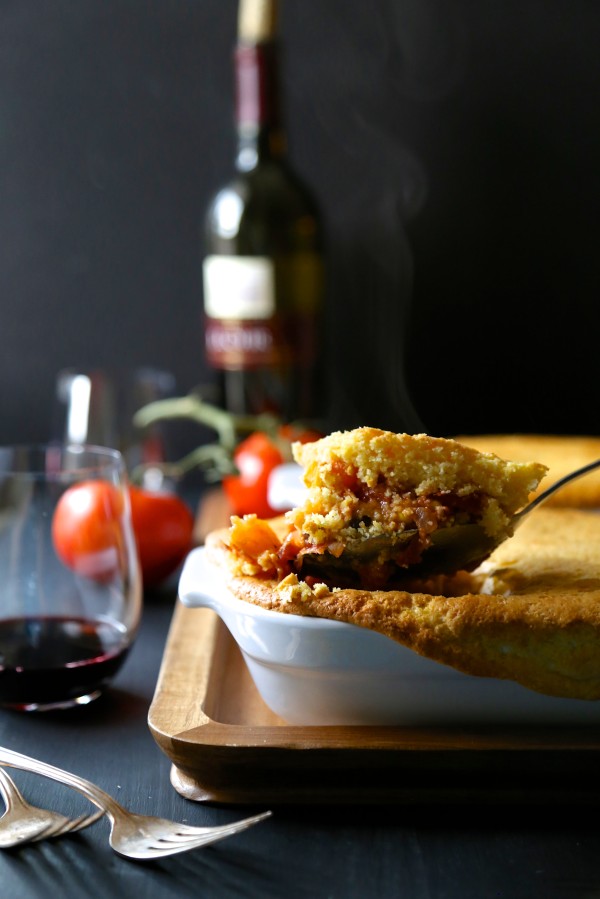 Winter food often tastes bland and looks rather one-dimensional.
That is unless you are one of those peeps that own a three-dimensional printer. Please, COME forward and state thy name. Here's a fun little factoid for you. While listening to my "NPR's" on the way home from work the other day, I learned there were over 100,000 3D printers sold this year in the US. Which is totally cool and very tech progressive, but the only thing I could think of, "who the hell is answering the tech support line?" Yikes.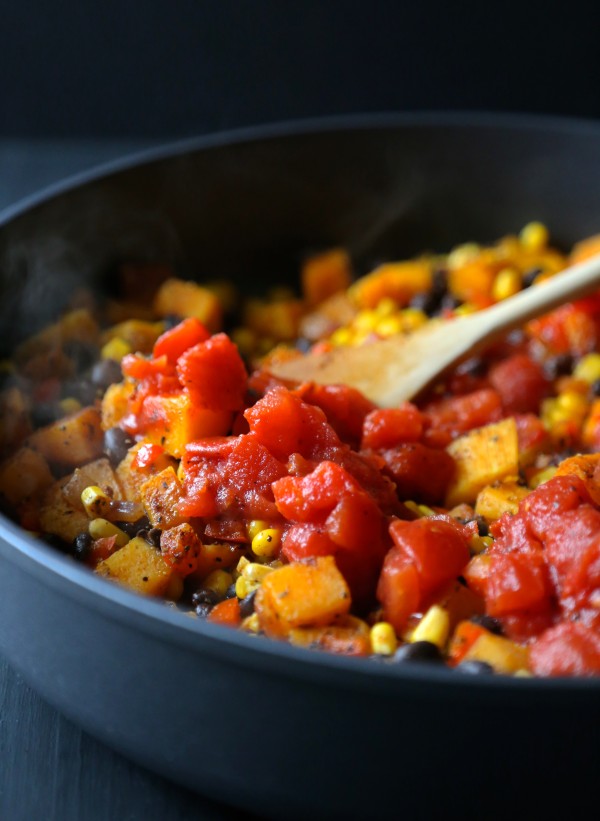 "Um, yeah, this Frank and my MarkerBot Replicator isn't producing the yellow microfibers at the recommend speed. So, my, um, T-REX model now looks like a deranged panda. How do I fix this?" Tech support, "the sounds of crickets chirping."  Frank, "Um, yeah, I don't think crickets will help, sir."
So, rather than spend money on a three-dimensional printer (with the possibility of talking to crickets) and be bored watching cable TV while eating plain winter food, I have a suggestion.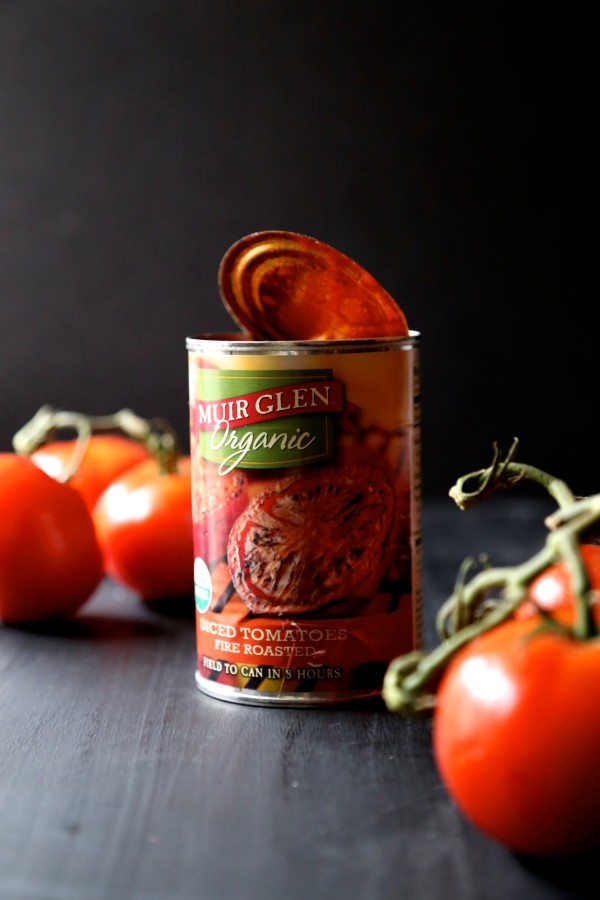 Take your super star, seasonal winter squash – Sir Butternut – and saute it with some harissa, peppers, black beans, onions, corn, and my favorite, Muir Glen fire roasted tomatoes. If you have not fancied these fired roasted tomatoes, runnnnnnn to the nearest grocery store and give 'em a test drive. I use these boys to add flavor and dimension to many meals during the winter months. Plus, Muir Glen has tons of other options to kick the flavor up a notch with marinara sauces, stewed tomatoes, and even salsas!
Once you have everything sauteed, stir in the cheese, pour into a casserole, layer the top with cornbread mix, and bake away. Pull the casserole out just as the cornbread turns a golden hue. Your table will have a zesty, seasonal, Rob Lowe-approved tamale pie.
Eat Seasonal Series:
My talented and fantastic friend, Becky, author of The Vintage Mixer, and her husband Josh, are showing us that eating seasonally can be fun! Each month they will provide a Seasonal Produce Guide, which you can save on your iPhone or desktop so you can get in the seasonal eating spirit.
Not only do they provide a beautiful illustration each month like the one above, you can also join me and a few fabulous food bloggers who are serving up seasonally inspired recipes. Follow us on Instagram and tag your photos with the #eatseasonal hashtag!
Sweet Potato Kale Coconut Curry Soup by Kitchen Confidante
Brussels with Candied Nuts by Oh Sweet Basil
Pomegranate Martini by Foodie Crush
Kale and Collard Green Gratin by Vintage Mixer
Orange Cranberry Bread by Two Peas and Their Pod
Brussels Sprouts and Gruyere Quiche by Completely Delicious
Roasted Butternut Squash Dip by Cafe Johnsonia
Butternut Squash Casserole with Sausage and Sage Breadcrumbs by The Law Student's Wife
Dixie Salad with Pomegranates by Bless the Mess
Balsamic Glazed Butternut Squash & Endive Salad by Project Domestication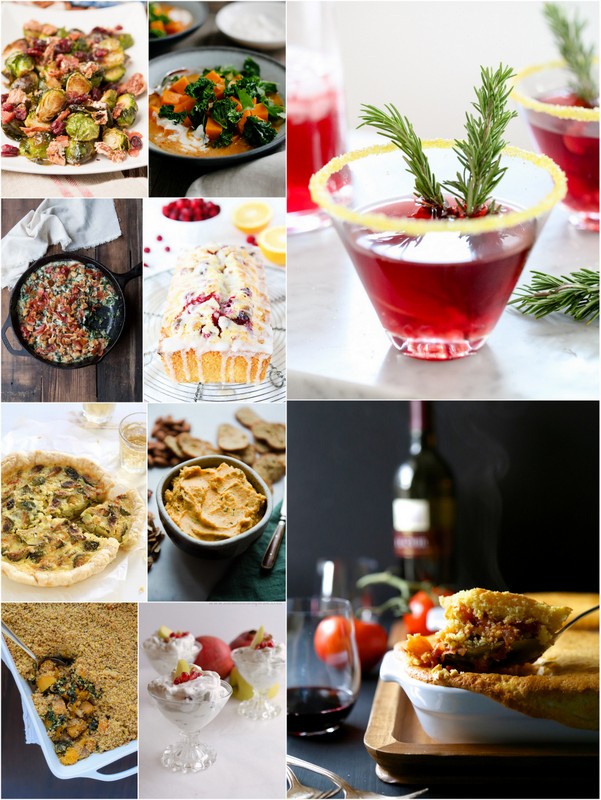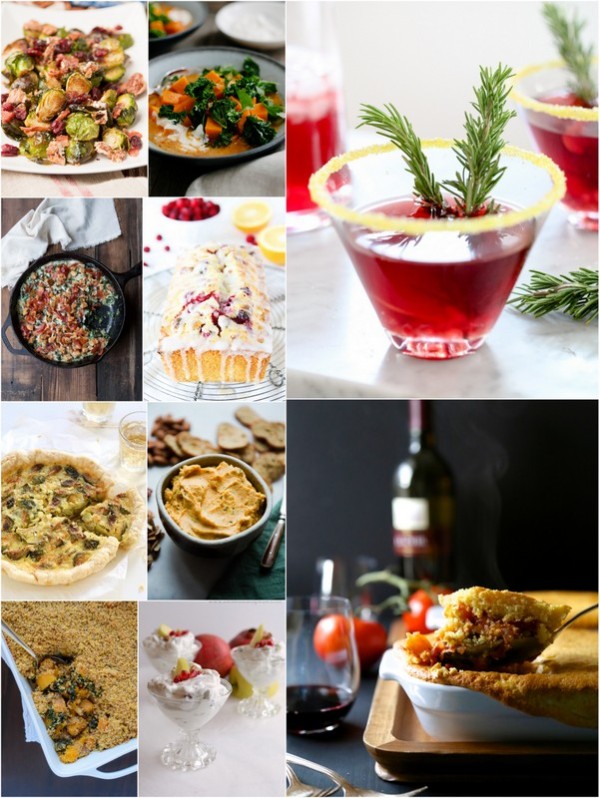 Winter Squash Tamale Pie with Harissa
Ingredients:
2 tablespoons olive oil
1 cup butternut squash, cubed
1 yellow onion, diced
1 15oz can black beans, rinsed, drained
1 15oz can corn, drained
1 15oz can Muir Glen fire roasted tomatoes
1/4 cup harissa
1 green pepper, diced
1 tablespoon chili powder
1 teaspoon cumin
1 teaspoon coriander
1 teaspoon paprika
1 teaspoon garlic powder
1 cup Monterrey Jack cheese, shredded
1 box cornbread mix prepared
salt and pepper to taste
Directions:
Preheat oven to 375 degrees.
Spray a 9X13 casserole dish with non-stick cooking spray. Preheat a large skillet to medium-high heat and add the olive oil, butternut squash, and s&p. Saute the squash for about 7 minutes until softened. Then add onion, green pepper, black beans, corn, tomatoes, harissa, chili powder, cumin, coriander, paprika, and garlic powder. Give it a good stir and cook for another 7 minutes and then stir in the cheese. Next, pour the butternut squash mixture into the casserole and cover the top with the prepared cornbread mixture. Bake for about 30 to 40 minutes or until the cornbread mixture on top is nice and golden brown. Cool slightly before serving. Enjoy!
All images and text ©