15-Minute Greek Feta Salad
The 15-Minute Greek Feta Salad is a simple yet delicious dish, combining feta, cucumbers, bell peppers, tomatoes, and oregano. It offers a quick, refreshing, and flavorful salad option for those seeking a speedy but satisfying meal.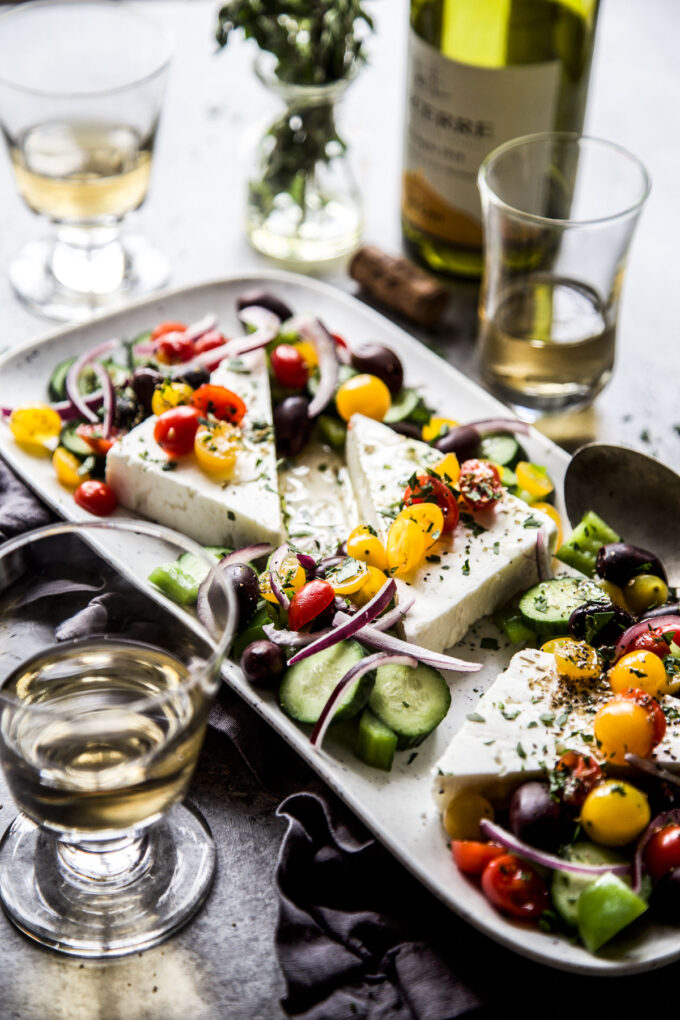 Once the weather starts to warm up the last thing I want to do is turn on the stove.
Enter, no-bake, no-fuss sides and appetizers.
Thankfully mother nature is on our side when it comes to warm temperatures because the amount of fresh produce within arms reach is a game changer.
Now, I'm all about pouring myself a glass of wine and having a mezze of appetizers for dinner. If you are in the same boat, let me show you a game changer recipe: 15-Minute Greek Feta Salad.
Simply chop up a few of your favorite veggies, slice a wedge of feta, and drizzle the tops with a quick vinaigrette. This will be your go-to all summer long! Let's dive in and see what the fuss is about!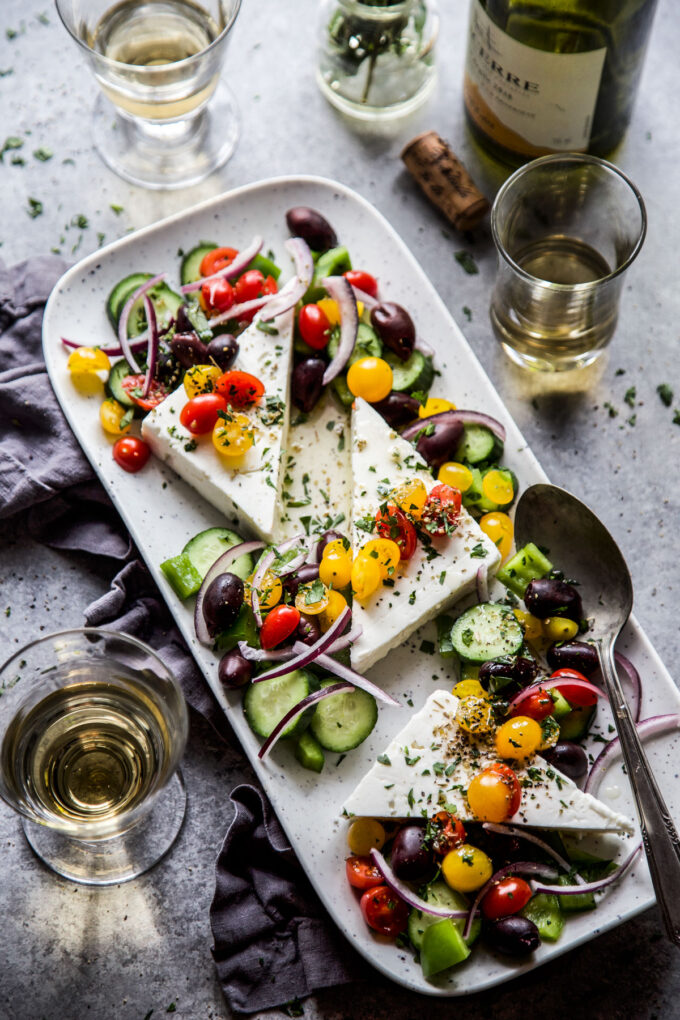 What's in this 15-Minute Greek Feta Salad?
When it comes to making this Greek salad you want to use the freshest ingredients as possible. You'll need:
Feta block
Green pepper
Olives
Tomatoes
Cucumbers
Red Onion
Red Wine Vinegar
Olive Oil
Oregano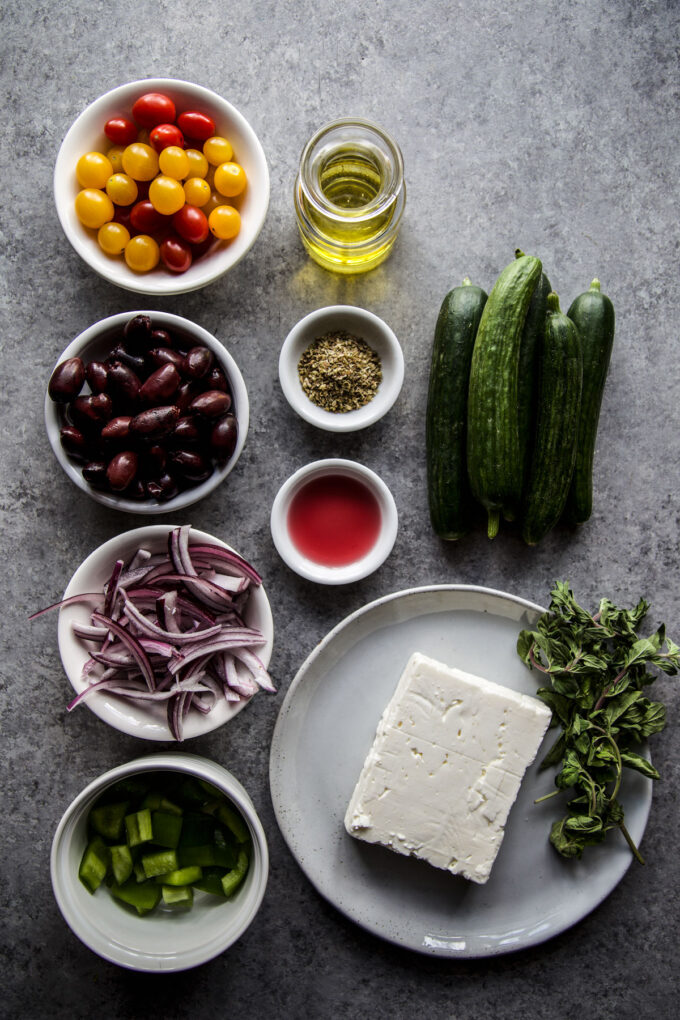 Tips for Making this 15-Minute Greek Feta Salad:
Feta. Buy the feta in blocks and keep in the fridge until you need to slice in half. This way the feta will remain cold and easier to cut.
Olives. I have a minor obsession with olives so I could add kind. However, use what tastes good to you!!
Cucumbers. I find that the small cucumbers used for pickling are better suited for this fresh salad recipe. If you have a regular cucumber I would peel the waxy skin off.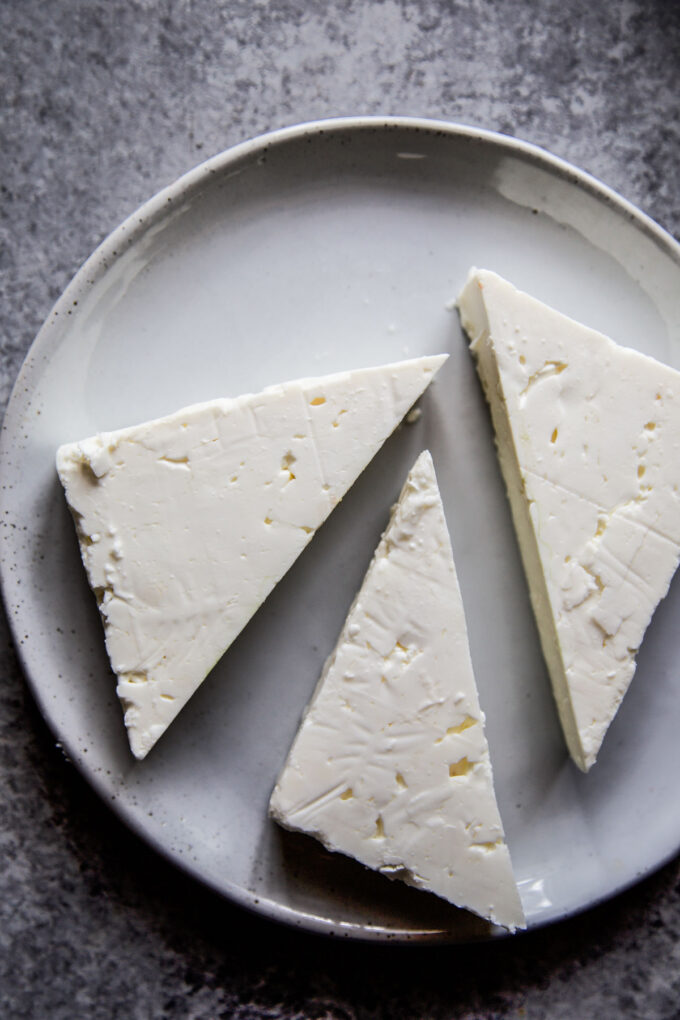 Frequently Asked Questions:
If you aren't a fan of feta, what other kind of cheese do you recommend?
Feta can be a tough, tart cheese to like sometimes so if that isn't your jam you could try goat cheese or even whipped ricotta.
Can I make this salad ahead of time?
You can prep all the ingredients ahead of time including the dressing. However, I would assemble 5 minutes prior to consuming so all the ingredients taste fresh. 
Can I mix up the veggies that are used in this salad?
Yes! You can add whatever kind of veggies you'd like to this salad.
Can I add a protein to this salad to make it an entree?
Absolutely. Grilled chicken or fish would be a lovely addition to this salad.
More Greek Recipes to Enjoy: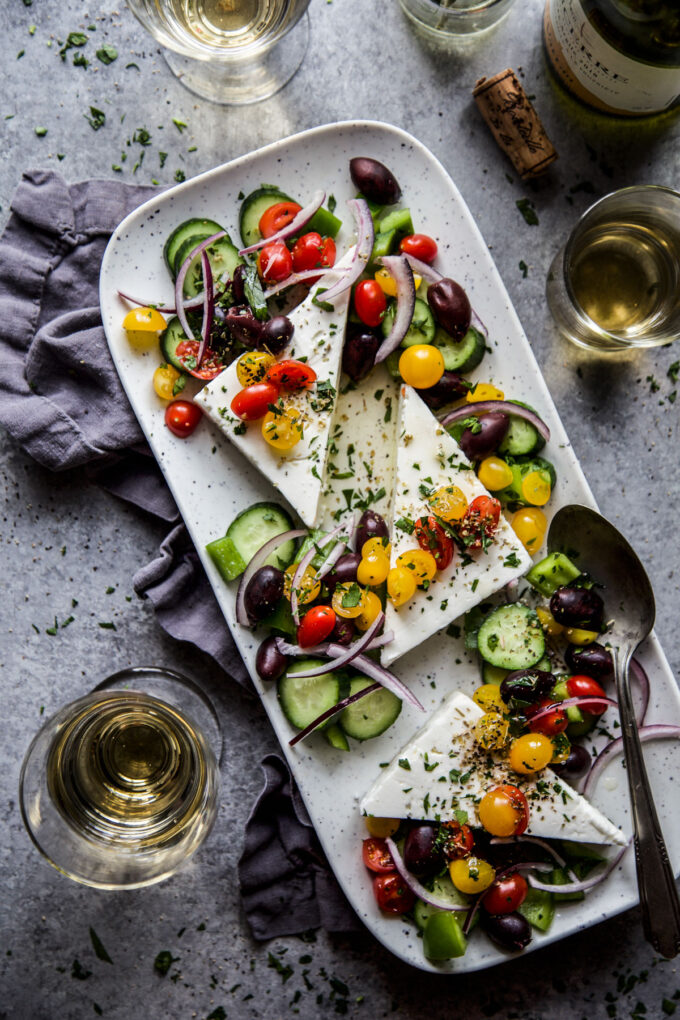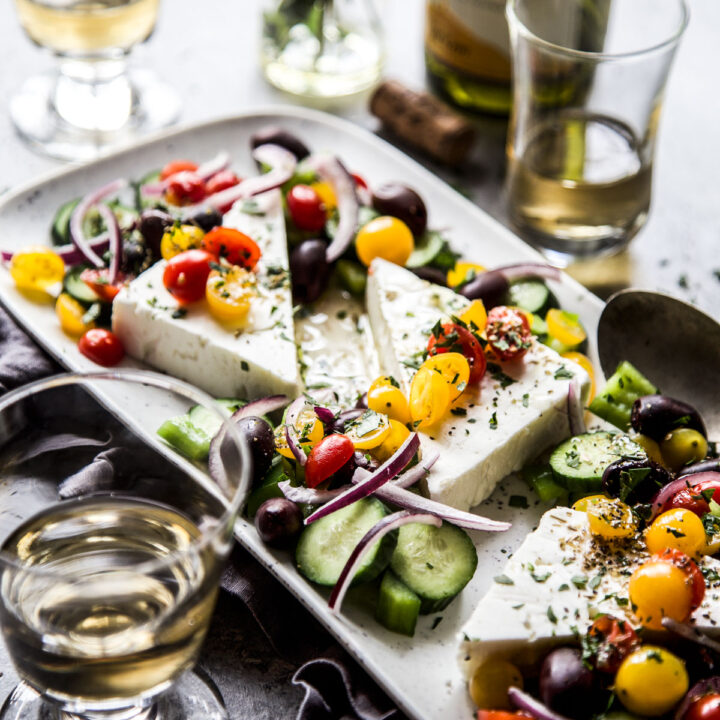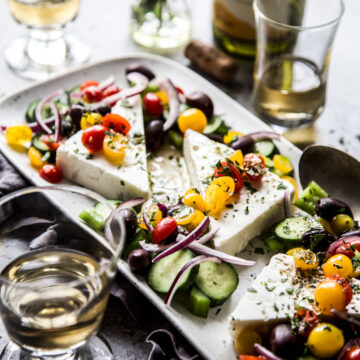 15-Minute Greek Feta Salad
15-Minute Greek Feta Salad is a delicious and simple salad made with feta, cucumbers, bell peppers, tomatoes, and oregano. 
Ingredients
6 ounces Grape tomatoes, sliced in half
2 small Cucumbers, sliced into rounds
1 medium Green bell pepper, chopped
1/2 medium Red onion, sliced thinly
1/3 cup Kalamata olives
3 4 ounce Feta blocks, sliced in half
2 tbsp Olive oil
2 tbsp Red wine vinegar
1/2 tsp Dried oregano
salt and pepper to taste
Instructions
In a large bowl, combine tomatoes, cucumber, green bell pepper, red onion, and kalamata olives.

Place the feta wedges on a serving platter. Top the feta with the mixed veggies. Drizzle the olive oil and red vinegar over the veggies and cheese.

Sprinkle with oregano and salt, and pepper.
Did you make this recipe?
Please leave a comment below and share a photo on Instagram with the hashtag #thecuriousplate!