BBQ CHICKEN BAGUETTE PIZZA WITH SMOKED MOZZARELLA

"Transform toasted baguette loaves into Barbecue Chicken Pizza, ideal for weeknights, game days, and movie nights. Skip delivery, craft your own cheesy BBQ chicken pizza at home in under 30 minutes!"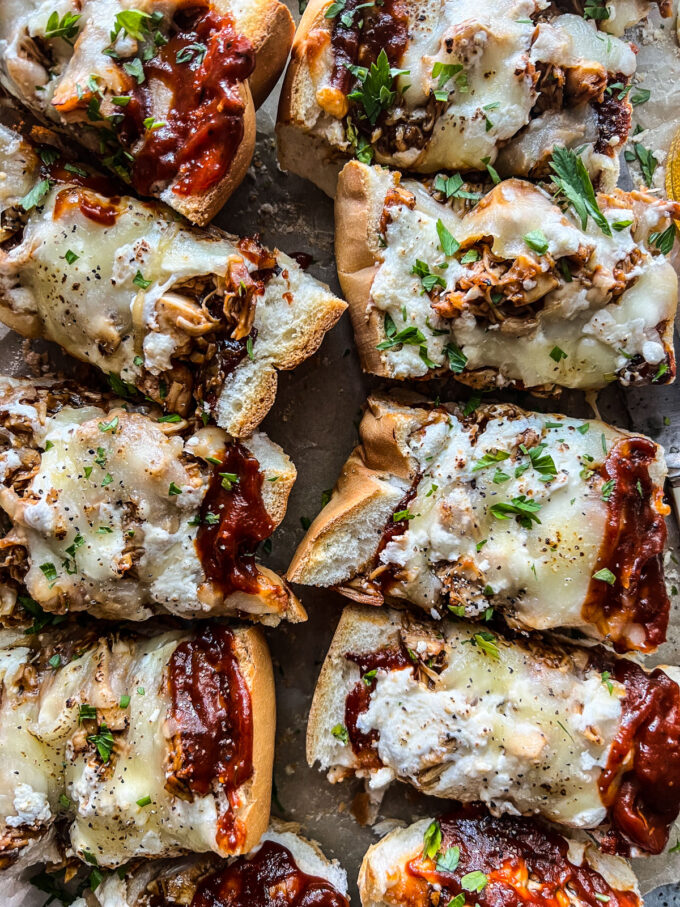 A loaf of French baguette may be perfect for making my Cajun Chicken Bruschetta and Banh Mi Bruschetta, I also found out that they are also an ideal alternative for pizza dough! Soft and fluffy sliced baguettes make the perfect bed for any pizza topping, but most especially for BBQ-flavored chicken, caramelized onions, and two types of cheese! These Pizza Baguettes are so easy to make and deliver better flavors than those boxed pizzas; you will never have to worry about getting a quick fix for those midnight pizza cravings ever again!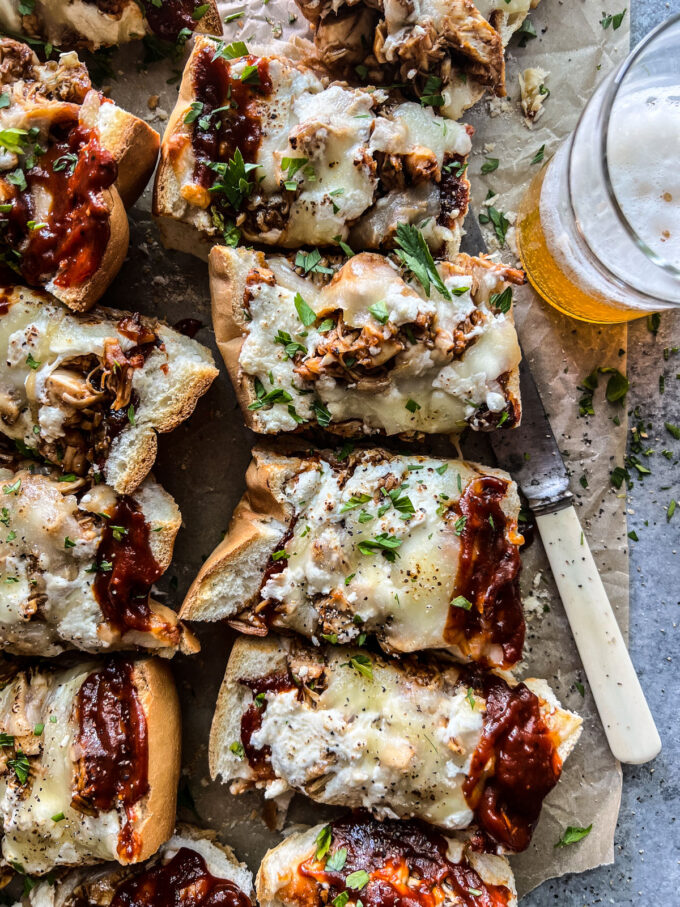 Ingredients Needed
Making pizza from scratch does not require much, and this recipe calls for even less by using a baguette instead of making pizza dough. And you know what makes it even better? You do not need to pay for extra toppings or more cheese- you make it exactly how you like it!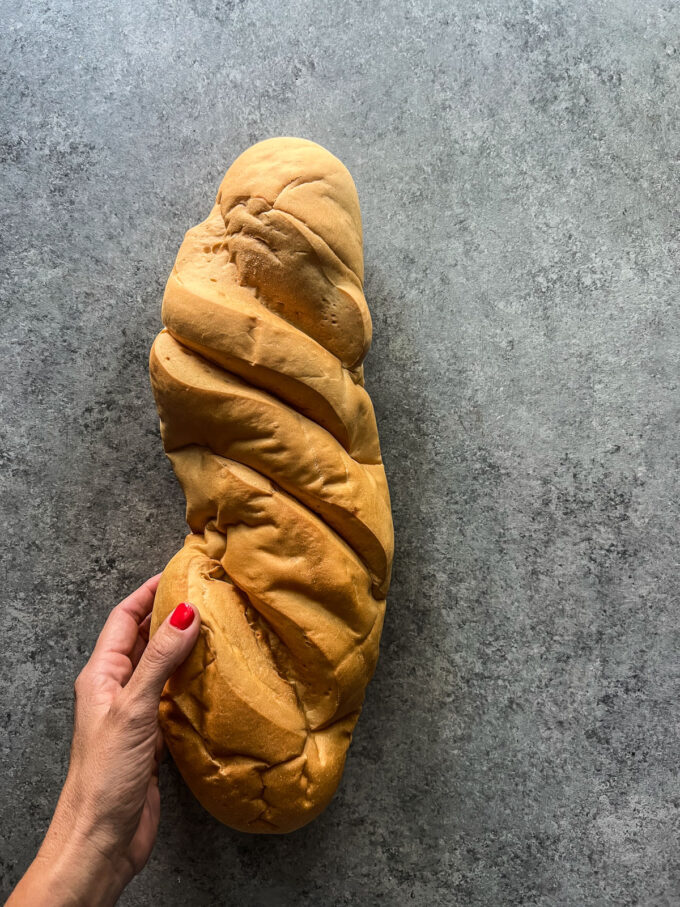 Baguette- I used about 12 to 14 inches of soft French loaf. You can use other types of loaf bread too.
Chicken- this recipe is a great way to use up leftover rotisserie chicken shredded into chunky strips.
Cheese- I used both provolone and smoked mozzarella for a melty, gooey topping! Other types of melty cheese like cheddar, gouda, goat cheese, Colby-Jack, or Gruyere.
Barbecue sauce- you can use any type of BBQ sauce you love or have at hand. It can be sweet, smoky, mildly tangy, and as savory as you like.
Onion- caramelized to give the pizza baguette a sweeter flavor and mild crunchiness.
Garlic- I rubbed this on the toasted loaves because garlic-flavored loaves are always better!
Olive oil- for sautéing.
Parsley- for garnishing.
Kosher salt and freshly ground- to taste.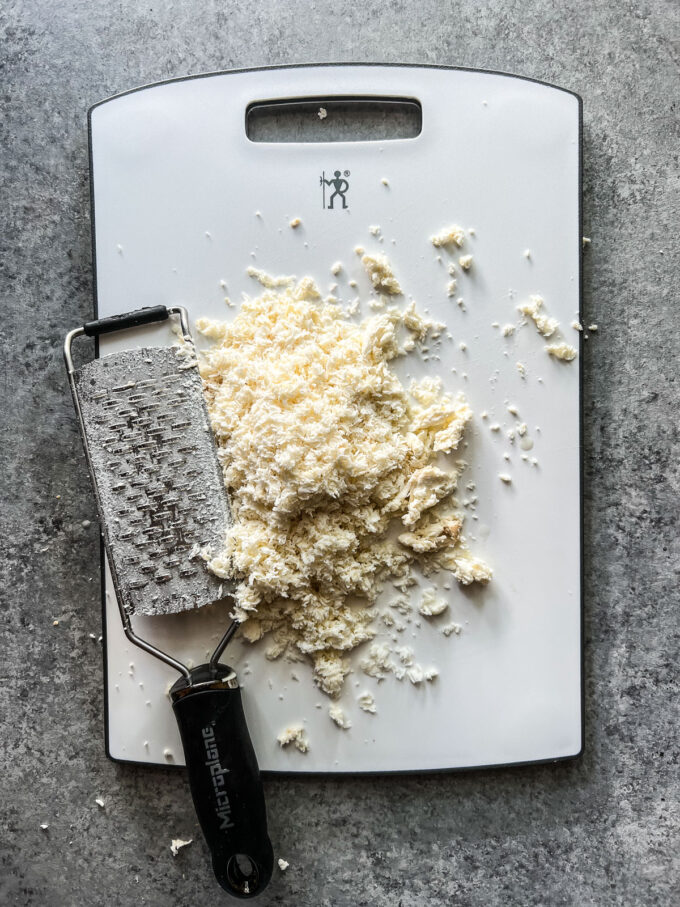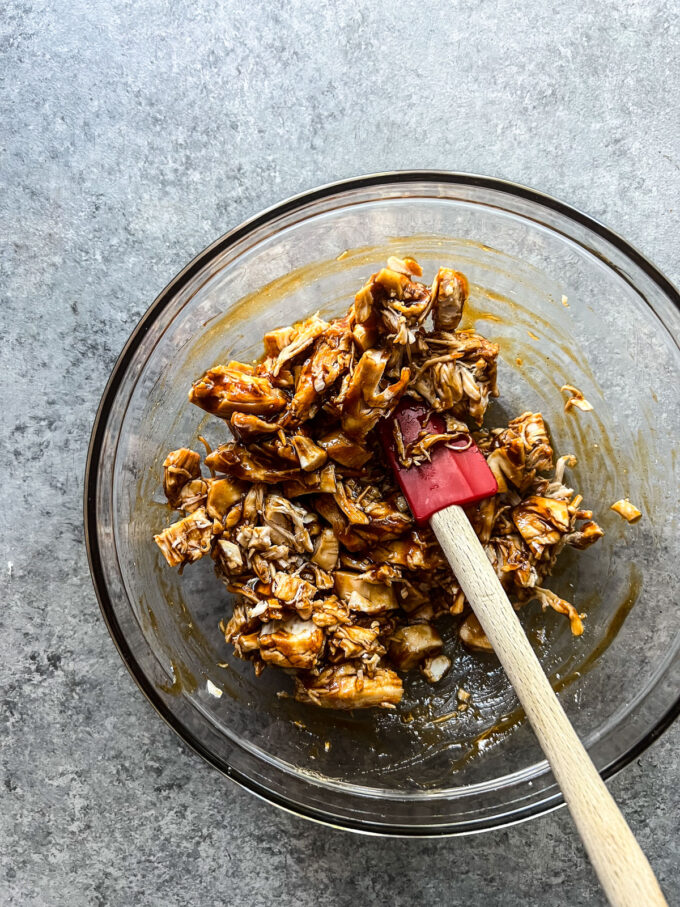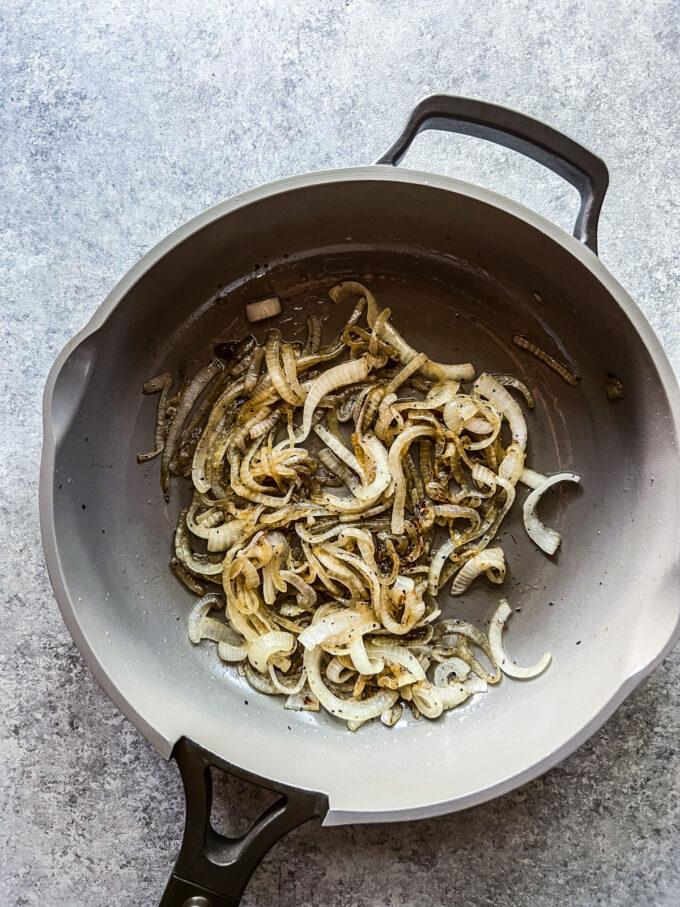 Possible Add-ons
There is nothing stopping you from piling your baguette pizza up with more toppings! Here are some ideas that you can explore.
Mushrooms
Olives
Bell peppers
Tomatoes
Fresh red onions
Basil or Arugula
Jalapeno or chili flakes
Bacon bits
How to Make BBQ Chicken Baguette Pizza
It might be easier to just get a pizza delivered, but nothing beats homemade ones that you can top to your heart's content! All you have to do is toast the bread, sautee the onions, make the toppings, assemble and bake. Making it won't take longer than waiting for the delivery man to arrive.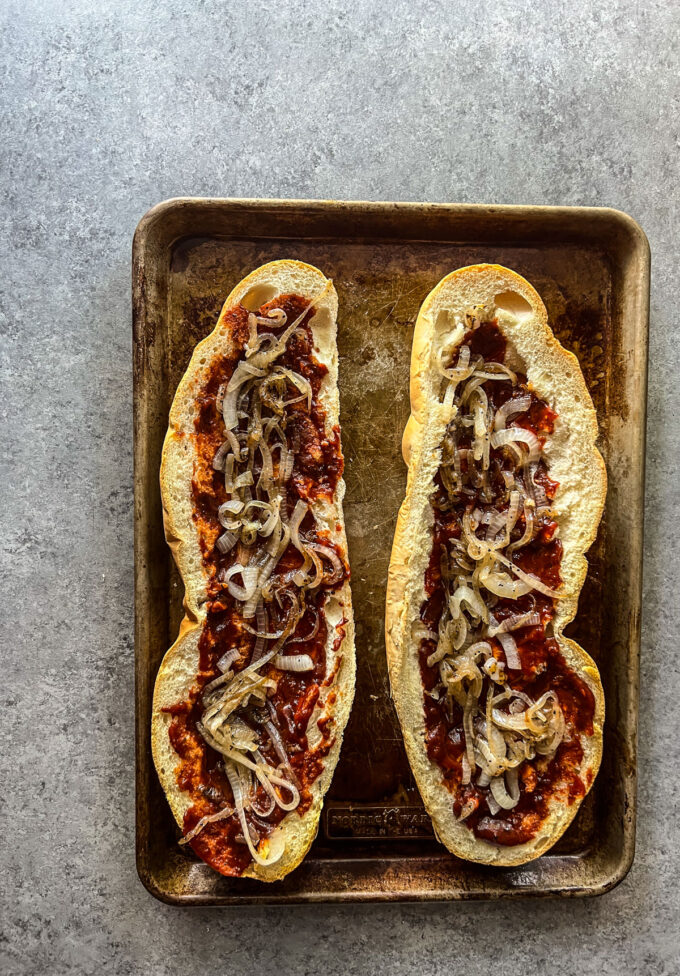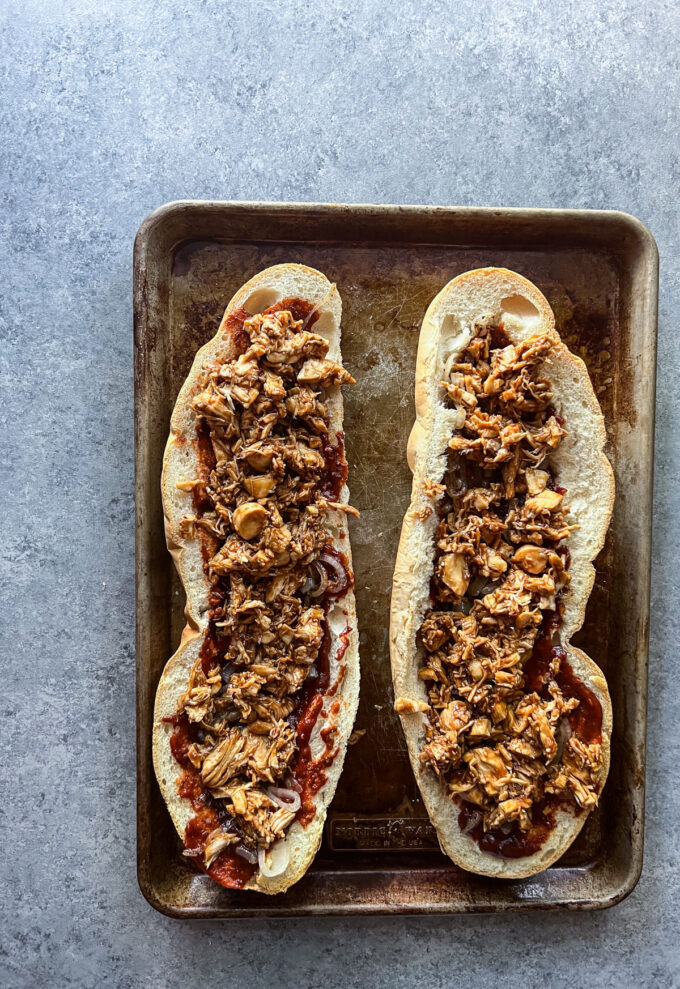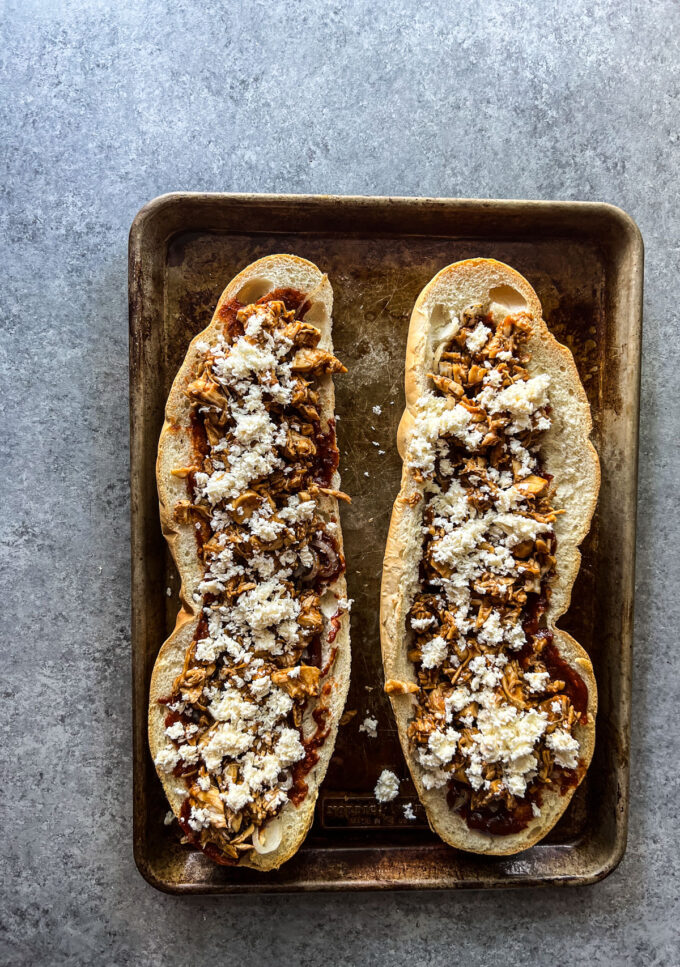 Preparations:
Preheat the oven to 425 degrees.
Spray a large baking sheet with nonstick cooking spray
Slice the baguettes in half lengthwise
Shred the chicken into chunky strips.
Steps:
Saute the onions. In a large nonstick skillet preheated to medium heat, add the olive oil and onions. Cook until the onions for about 7 to 10 minutes, or until they are softened and the edges are golden. Set aside.
Toast the baguettes. Place the halved loaves on the prepared baking sheet cut side up for a few minutes in the oven. Once the surfaces are crisp, remove them from the oven and rub them with sliced garlic.
Make the BBQ chicken topping. Mix the chicken shreds in a medium bowl with about ¼ cup of barbecue sauce. Make sure all the strips are coated well.
Assemble. Slather the remaining barbecue sauce on top of the toasted bread. Then, layer it with the caramelized onions, followed by the chicken, smoked mozzarella, and provolone.
Bake! Bake until the cheese is melted and golden brown, about 10 minutes. Garnish with fresh parsley and enjoy.
"Essential Tips for Perfect Barbecue Chicken Pizza."
Toasting the baguette first ensures that it will have a crispier crust and will not become soggy once the sauce is added on top.
You will be tempted to smother the loaves with toppings, but make sure you do not overdo it! Too much meat and cheese will just spill over during baking and will just create a mess.
If you are in a hurry, you can skip sautéing the onions and just add them fresh before baking.
If you like to make a spicy version of this recipe, you can use a spicy BBQ sauce or add chili flakes or jalapeno rounds to the pizza.
Let the BBQ Chicken Baguette Pizza cool down for a few minutes before serving. I like to slice them into smaller pieces because it is easier to eat them that way. Less messy too!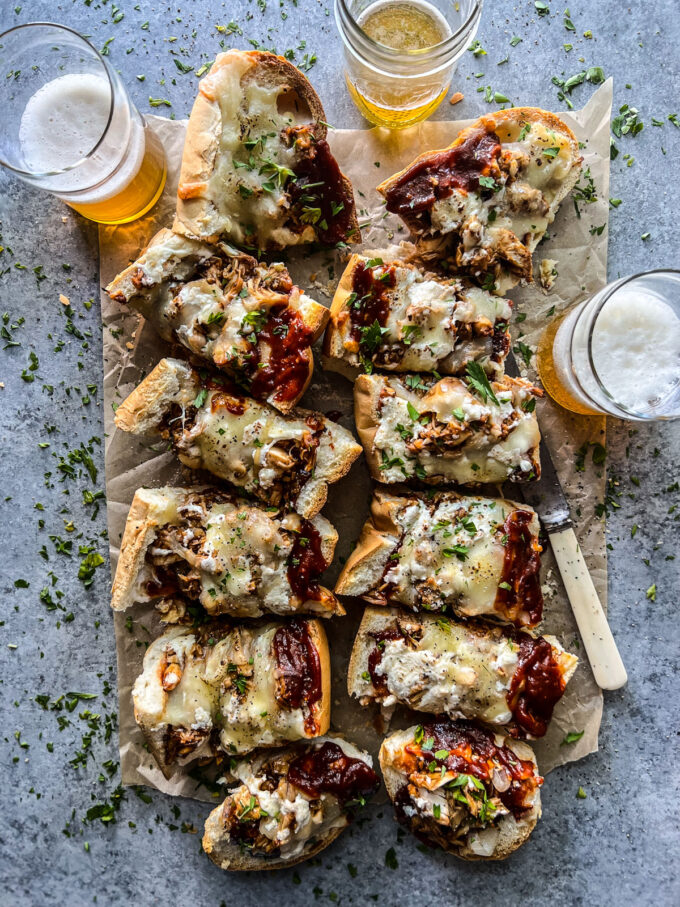 Frequently Asked Questions
Barbecue Chicken Pizza
Can I use other types of meat? Yes, you can. Instead of rotisserie chicken, you can use pulled pork, ground beef, sausages, or shredded turkey meat.
Can I use this recipe with pre-made pizza dough? Absolutely, if that is what you have. Just follow the package instructions on how to bake it.
How do I make this vegetarian? Instead of using chicken, you can use sliced shiitake or portobello mushrooms instead. You will still get a meaty texture, and the mushrooms will absorb the BBQ sauce well, keeping them flavorful!
Make Ahead and Storage
You can assemble the baguette pizza ahead of time and keep it in the fridge until you are ready to bake. Do not leave it too long, though, as the bread may become too chewy or soggy from the sauce. If you have leftovers, place them in an airtight container and keep them chilled for up to three days.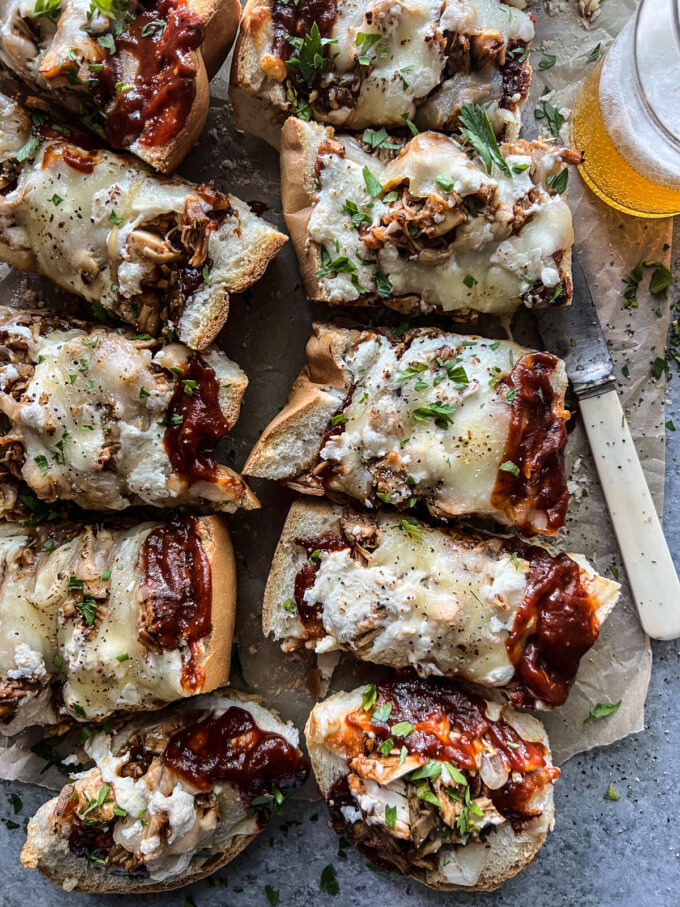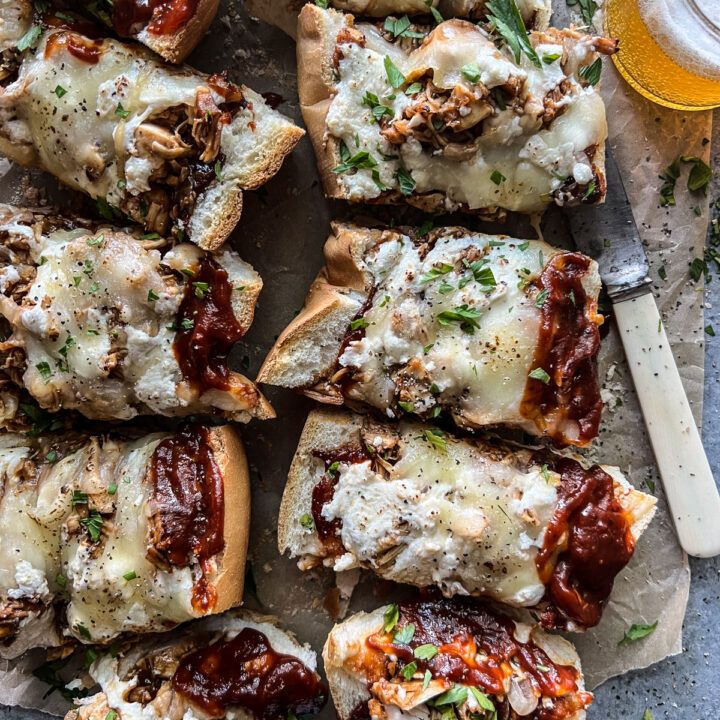 BBQ Chicken Baguette Pizza with Smoked Mozzarella
Toasted  Baguette loaves piled with shredded chicken BBQ, caramelized onions, and ooey- gooey cheese- this homemade pizza is perfect for weeknight dinners, game days, and movie nights. Forget the delivery and make your own cheese-loaded chicken BBQ pizza right home in less than 30 minutes!
Ingredients
2 tbsp Olive oil
1 large Yellow onion, thinly sliced
1 12-14 inch Soft loaf baguette, split in half lengthwise
2 cloves Garlic, cut in half
2 cups Shredded rotisserie chicken
1/2 cups Favorite barbecue sauce + 2 tbsp, dvided
1 cup Shredded mozzarella cheese
1 cup Shredded provolone or mozzarella cheese
3 tbsp Fresh chopped parsley
kosher salt and pepper to taste
Instructions
Preheat an oven to 425 degrees. In a large nonstick skillet preheated to medium heat add the olive oil and onions. Cook the onions until softened, about 7 to 10 minutes. Set aside.

Spray a large baking sheet with non-stick cooking spray and place the bread cut side up. Toast the bread for a few minutes in the oven. Remove the bread and rub with sliced garlic. 

In a medium mixing bowl combine the chicken with about ¼ cup of barbecue sauce. Take the remaining 6 tbsp of barbecue sauce and slather it on top of the bread. Take the cooked onions and place them on the barbecue sauce followed by the chicken, smoked mozzarella, and provolone. 

Bake until the cheese is melted and golden brown, about 10 minutes. Garnish with fresh parsley.
Did you make this recipe?
Please leave a comment below and share a photo on Instagram with the hashtag #thecuriousplate!