Cherry Party Cake with Bourbon Marshmallow Frosting
This Cherry Party Cake with Bourbon Marshmallow Frosting is the perfect dessert for any occasion. Fluffy white cake topped with a bourbon marshmallow frosting and fresh cherries! Easy to make, but bursting with flavor!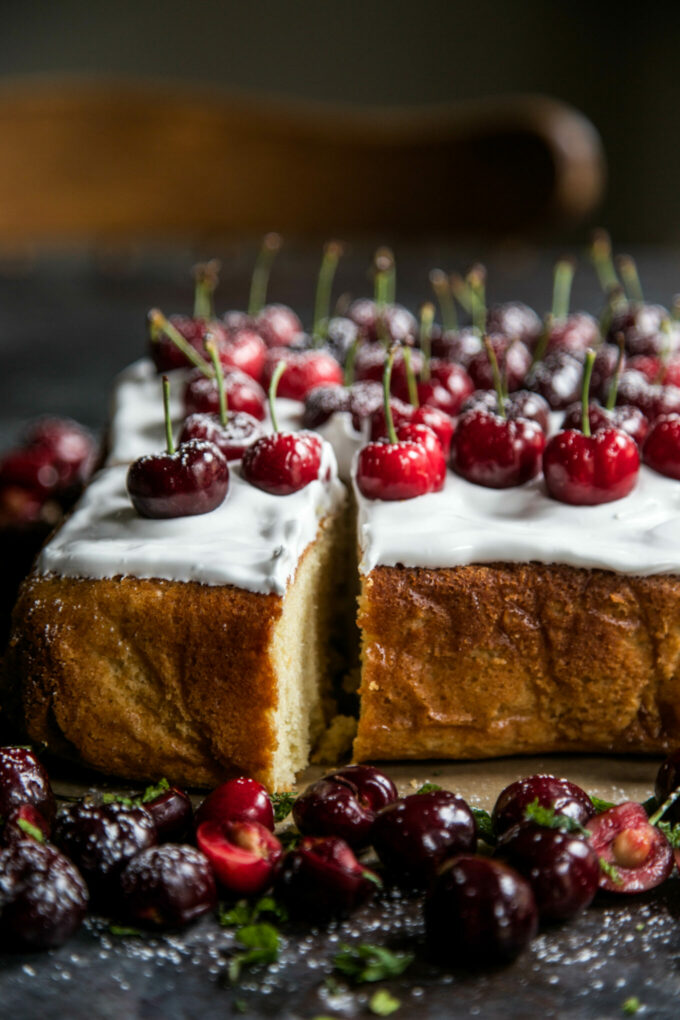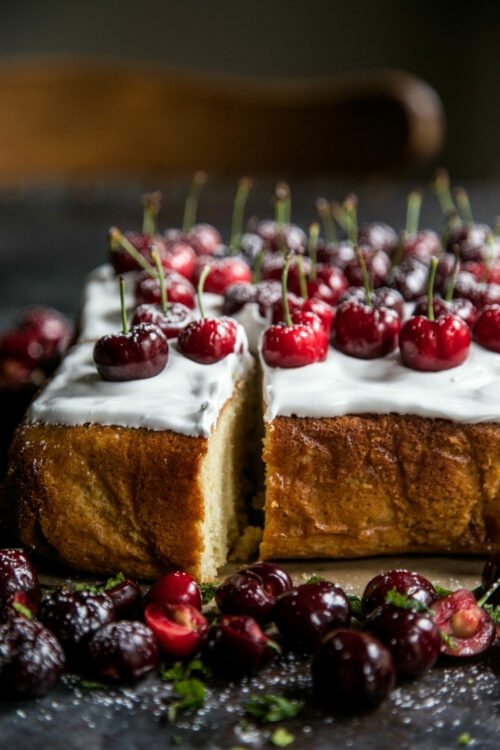 I've been debating.
Debating between Snapchat and InstaStories.
The first world struggle is real.
Although, can I be honest? I think this shouldn't be a debate at all. I was a Snapchat user long before InstaStories came along so my loyalty still belongs to Mr. Snapchat. BUT! With everyone jumping ship to InstaStories, I feel like the person left on the side of the road while a van full of my favorite people peels out and hits the open road. What's a girl to do?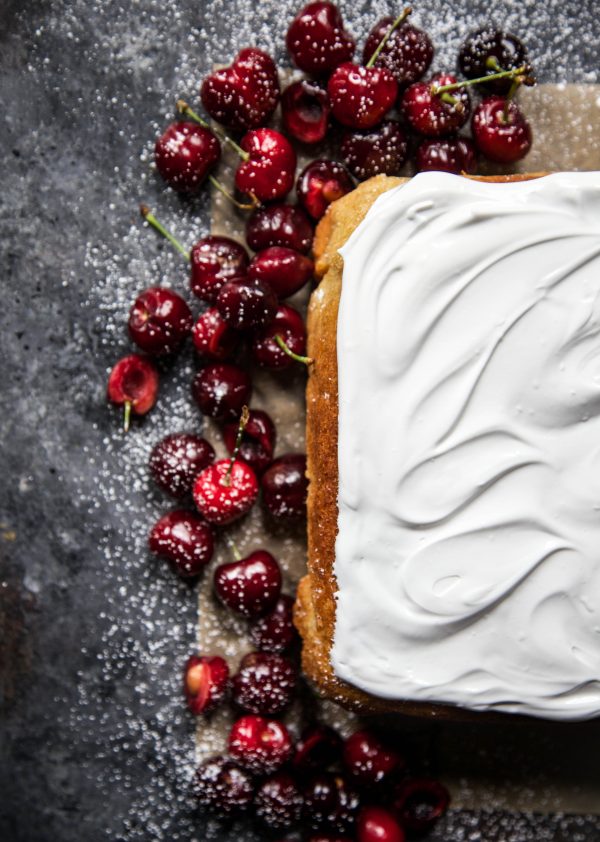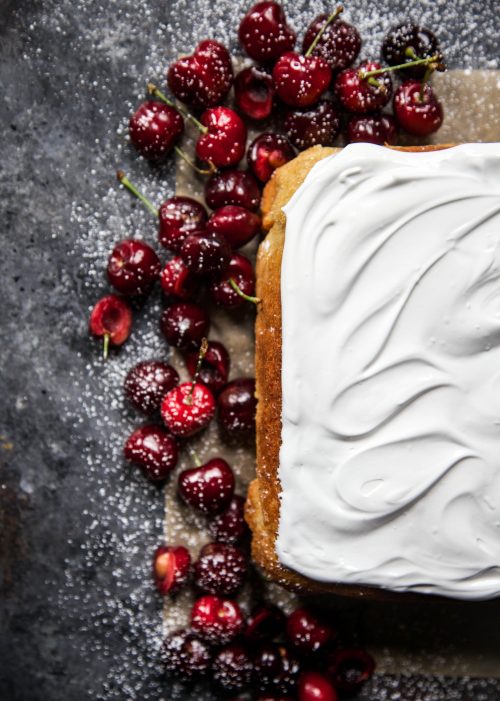 The real reason I bring this up is because right now two gents from the U.S. are climbing Mount Everest with no oxygen and are documenting the entire journey on Snapchat. Currently, they are at 21,000 ft and getting ready for their big push to the summit. Folks from all around the world are watching and witnessing something that only 200 people or less a year get to do.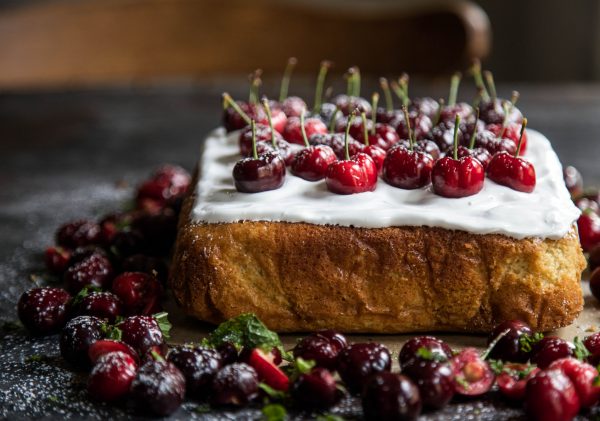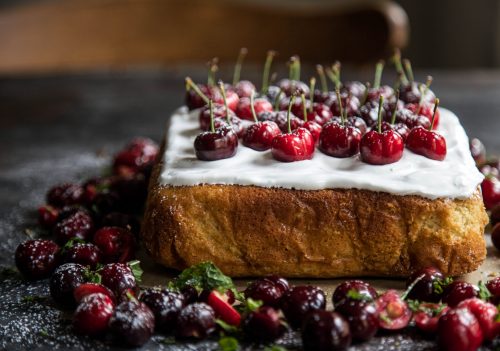 Anyway, they do a brilliant job showcasing what you have to do in order to prepare for such a climb. Oh, and their Snapchat user name is: EverestNoFilter. I HIGHLY recommend (if you don't already have Snapchat go download it immediately!) watching these dudes summit because you don't want to miss a real glimpse of what the world looks like at 29,000 ft!!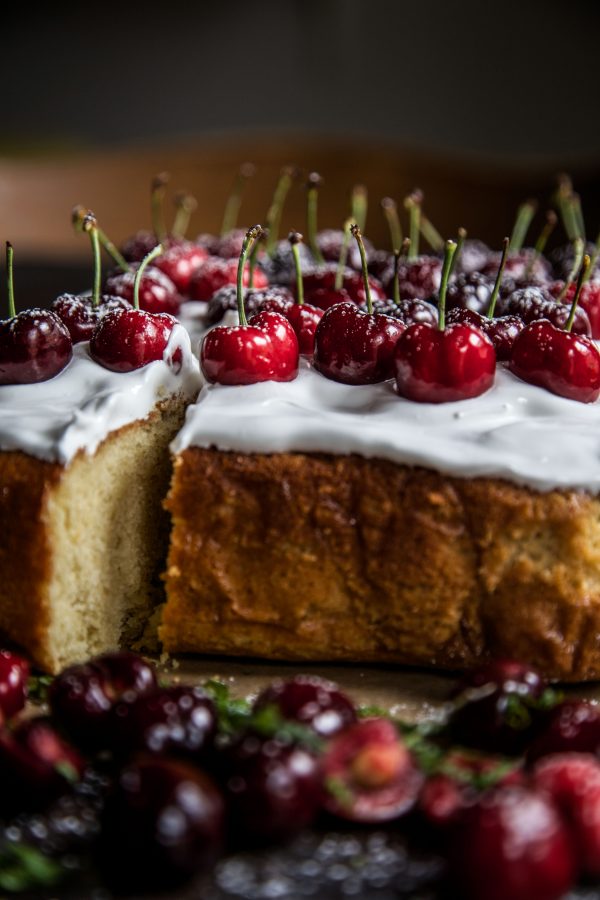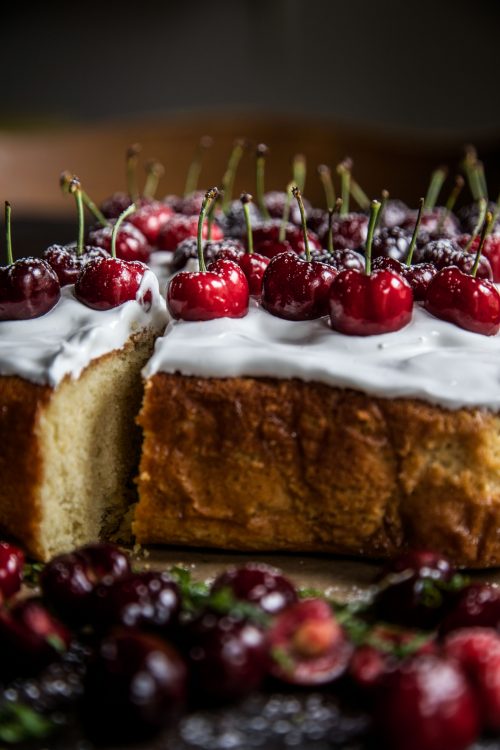 As the debate continues over which platform to use, I'm just going to be over here getting excited for Memorial Weekend by eating this Cherry Party Cake with Bourbon Marshmallow Frosting. YOU GUYS! This cake is going to be in my dessert arsenal kit for the rest of my life. Because it only has seven ingredients and can be burped up in an hour or less! #winning
Oh shoot! Well, besides the cake itself the bourbon marshmallow frosting deserves a place in the kit as well. I could eat marshmallow frosting for dessert all day long. I feel like it's my dessert spirit animal (if there is such thing. I dunno). Slather this boozy marshmallow frosting all of over that simple, fluffy cake. Top with cherries and let the PAR-TAY begin.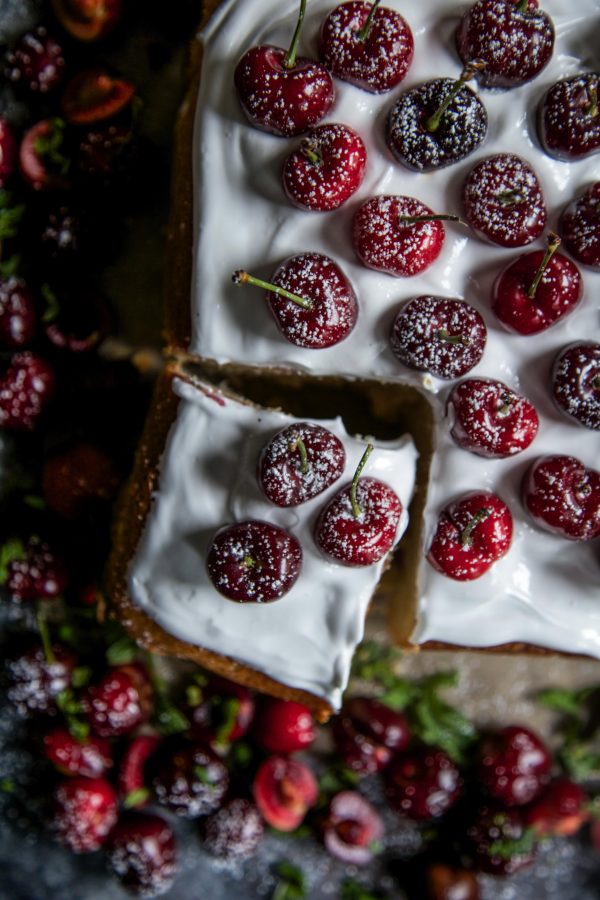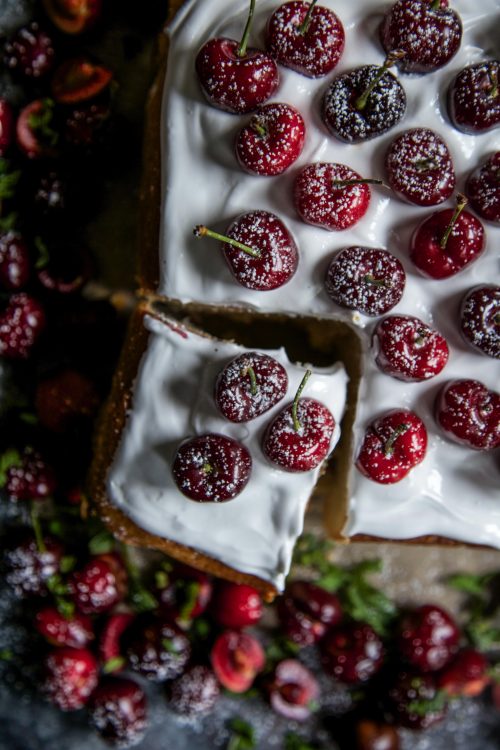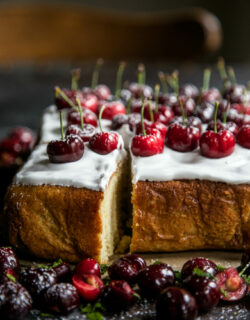 Cherry Party Cake with Bourbon Marshmallow Frosting
Ingredients:
for the cake:
2 3/4 cups all-purpose flour
1 1/4 cups granulated sugar
1 tbsp baking powder
1/2 tsp kosher salt
1 1/2 sticks unsalted butter at room temperature
3/4 cup whole milk
3 large eggs
2 tsp pure vanilla extract
Sweet cherries for garnish
for the bourbon marshmallow frosting:
2 egg whites
1/4 tsp kosher salt
1/4 cup granulated sugar
3/4 cup corn syrup
1 tsp vanilla extract
1 tbsp bourbon
Directions:
for the cake:
Preheat an oven to 350 degrees. Line a 9 x 9 baking pan with foil and spray the foil with non-stick cooking spray.
In a mixer fitted with a paddle attachment add the flour, granulated sugar, baking powder, and kosher salt. On low whisk everything together for a few seconds. Next, add in the butter. I found it easier to cube the butter and then place it into the mixer. Once the butter is mixed add in the eggs one at a time until well incorporated. The batter will feel dry but that's okay. Next, add in the milk and vanilla extract. Keep mixing the batter until smooth for about a minute.
Pour the batter into the prepared baking dish. Place the dish into the oven and bake for about 40 to 45 minutes or when a toothpick is stuck in the center and runs clean. Remove the cake from the oven and allow to cool completely before frosting about an hour.
Once the cake has cooled, take some of the bourbon marshmallow frosting and spread it over the cake. Top with cherries and enjoy!
for the bourbon marshmallow frosting:
n a stand mixer with a whisk attachment, beat 2 egg whites with salt until frothy. Gradually add sugar, beating until soft peaks form. Heat syrup in a glass microwaveable dish until it boils. Pour syrup in thin stream over egg white mixture, a little at a time. Beating on high speed until harder peaks form. Add vanilla and bourbon. Beat until glossy!
All images and text ©