Chipotle Chickpea Spaghetti
Chipotle Chickpea Spaghetti is a tasty and healthy, vegetarian meal that is made with plant-based pasta and packs tons of flavor!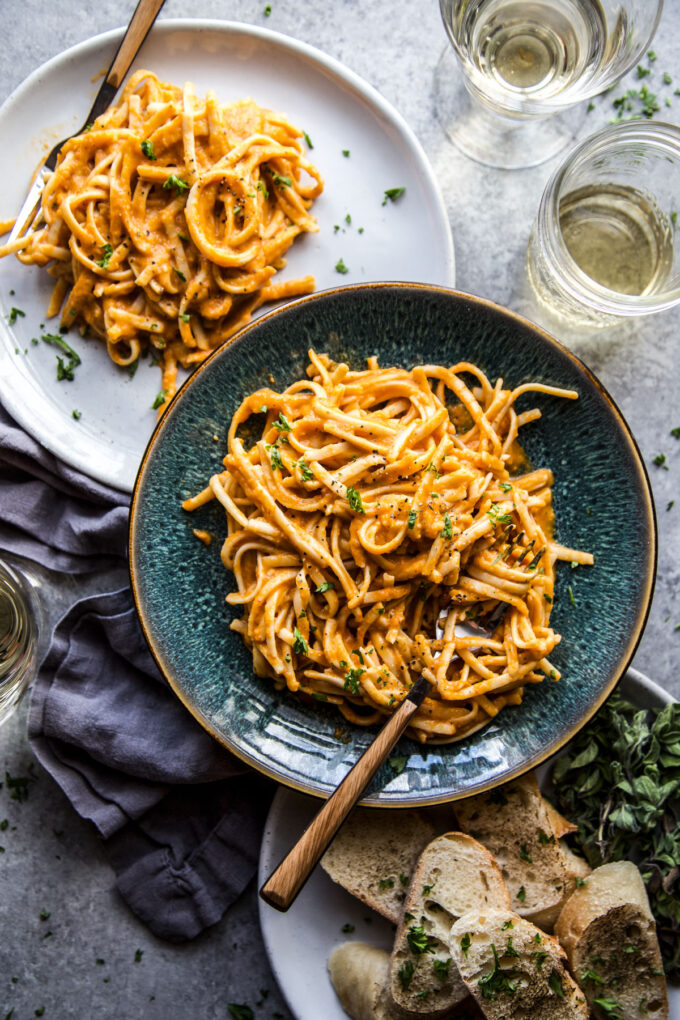 Growing up my mom would make spaghetti for dinner once a week.
It was always a hit in our household because the house would smell of homemade marinara sauce, spicy Italian sausage, and buttery noodles.
Like many classic homemade meals these dishes have evolved into a more modern space. Enter this updated version of classic spaghetti: Chipotle Chickpea Spaghetti. Made with chickpea pasta, a delightful vegetable sauce, and spiced with a simple chipotle adobo pepper.
This Chipotle Chickpea Spaghetti will take your weeknight dinner routine from drab to fab. Ready to see what all the fuss is about?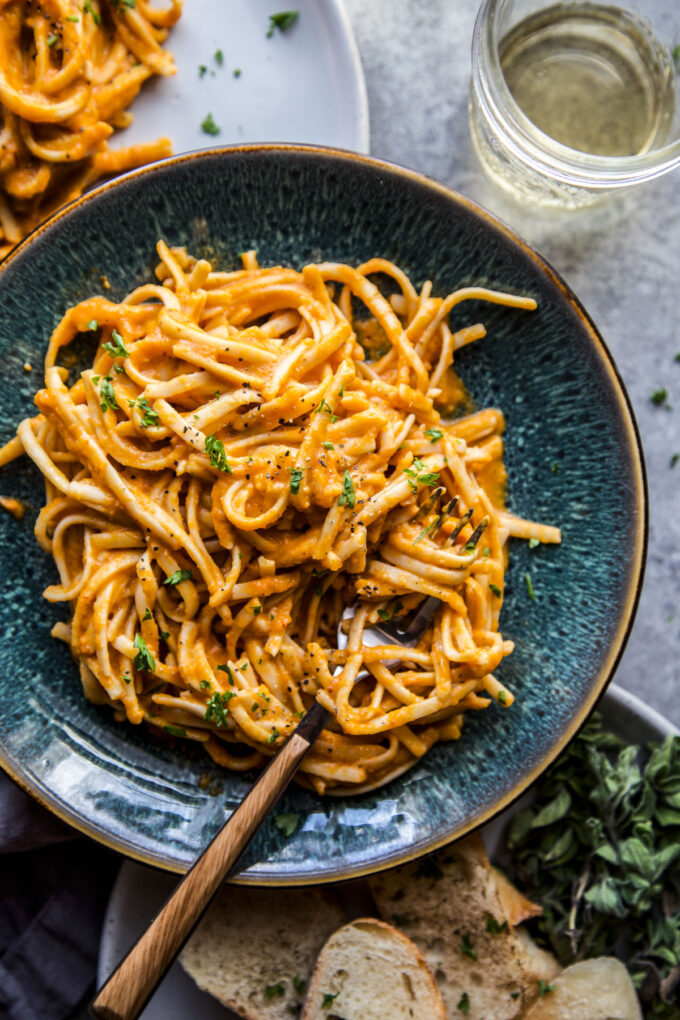 What's in this Chipotle Chickpea Spaghetti?
During the weeknights I like to keep dinner simple. You really only need a few simple ingredients to make a tasty and flavorful meal. For this recipe you will need:
Chickpea spaghetti
Chipotle adobo peppers + sauce
Carrots
Celery
Onion
Cream
Tomatoes
Garlic
Parmesan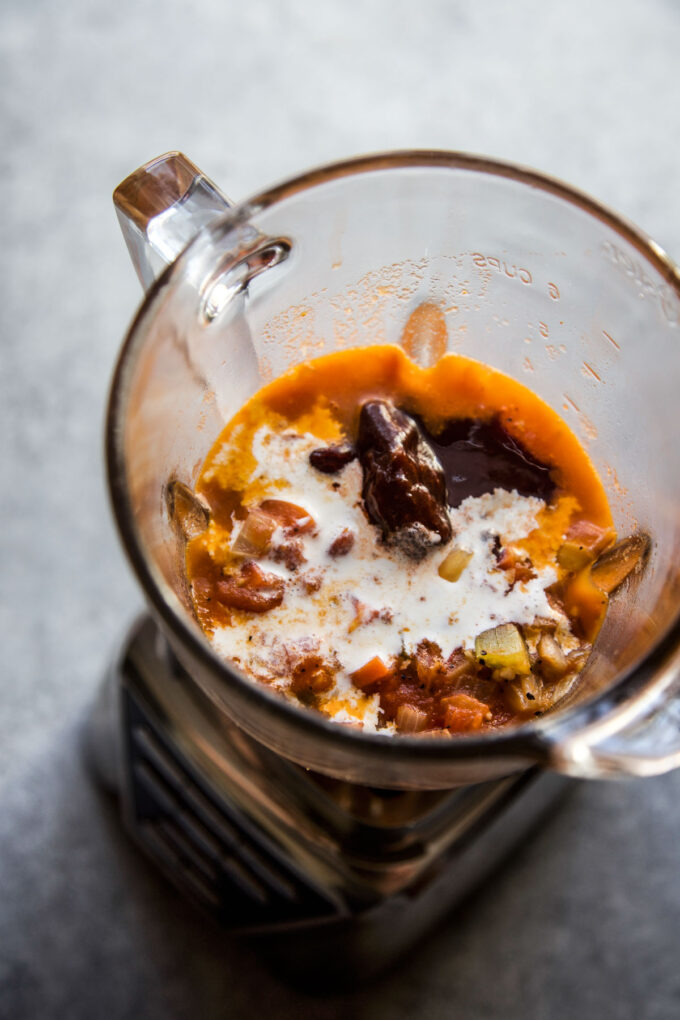 Tips for Making this Chipotle Chickpea Spaghetti:
Spaghetti. This recipe calls for chickpea spaghetti which means the pasta is made of chickpea flour. It's a wonderful gluten-free substitute, but you can certainly use any type of box or fresh pasta you have in the pantry.

Chipotle. I like heat which means I might even add extra peppers to my sauce. Start with a half or just one pepper in the sauce if you don't like spicy food. The brand of adobo that I like to use is called Embasa.

Cream. If you want to keep this dairy free you could certainly substitute with a plant-based milk product.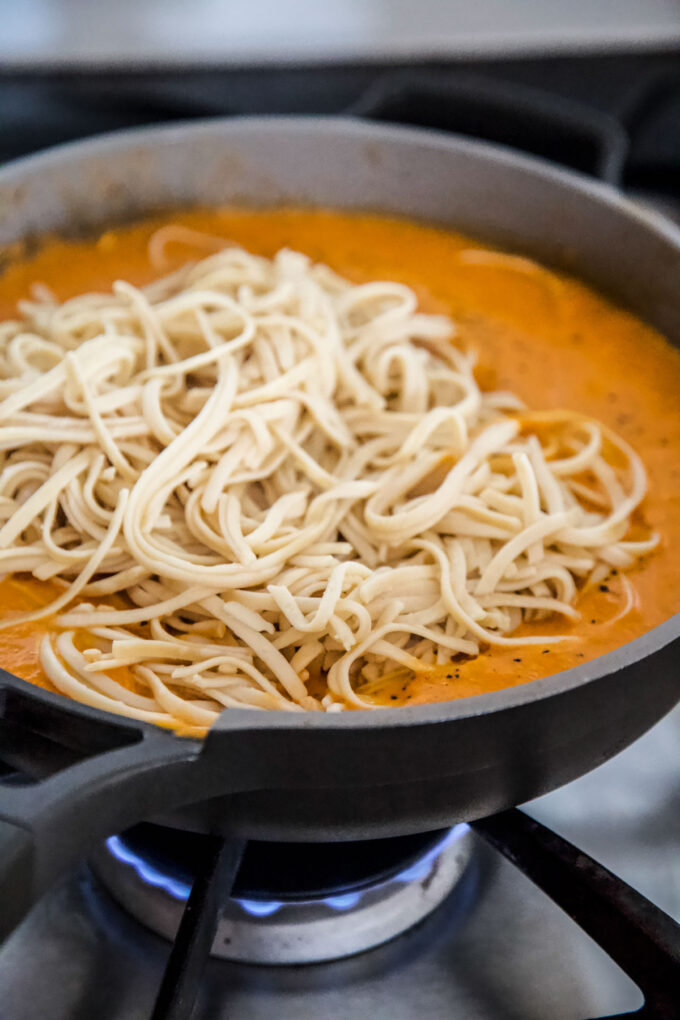 Frequently Asked Questions:
Can I use regular pasta instead of chickpea pasta?
You bet! Any kind of pasta will work. Another personal favorite of mine is shells or penne.
Can I add meat protein to this spaghetti?
Absolutely! If I was going to make this more meat eater friendly I would add in Italian sausage or even chorizo. 
How long will leftovers keep in the fridge?
This dish will keep up to four days in the fridge in an airtight container.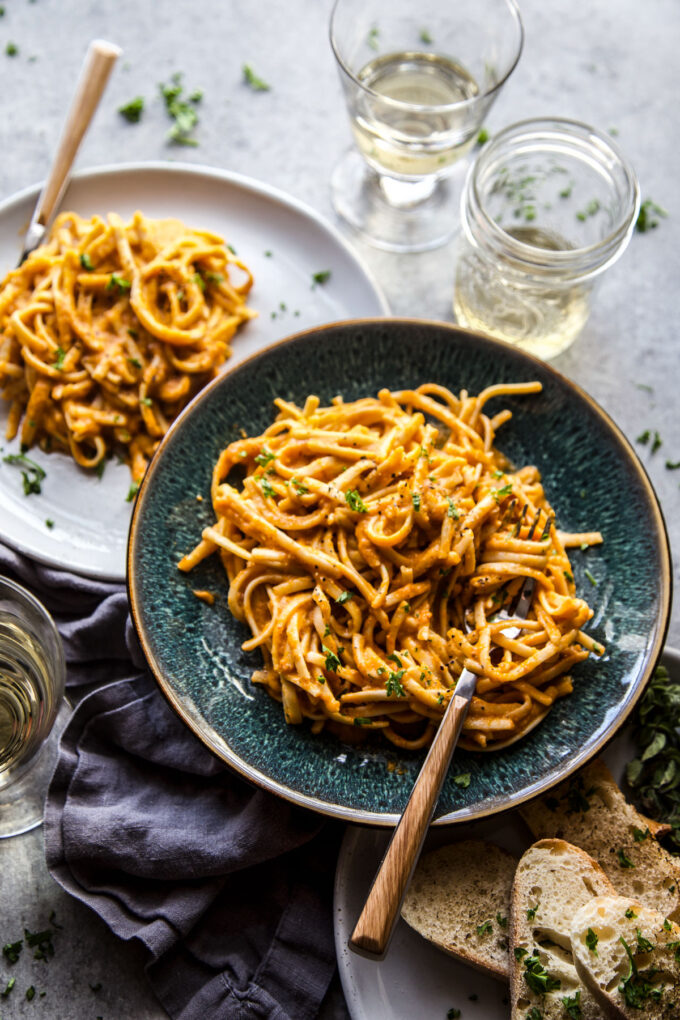 More Delicious Chickpea Recipes to Make: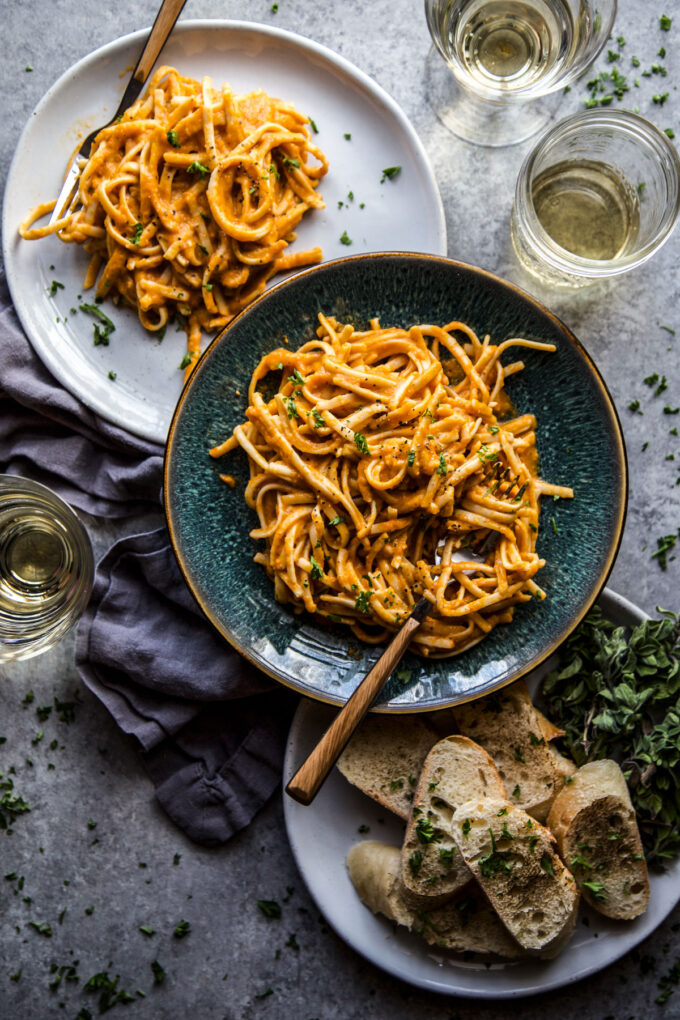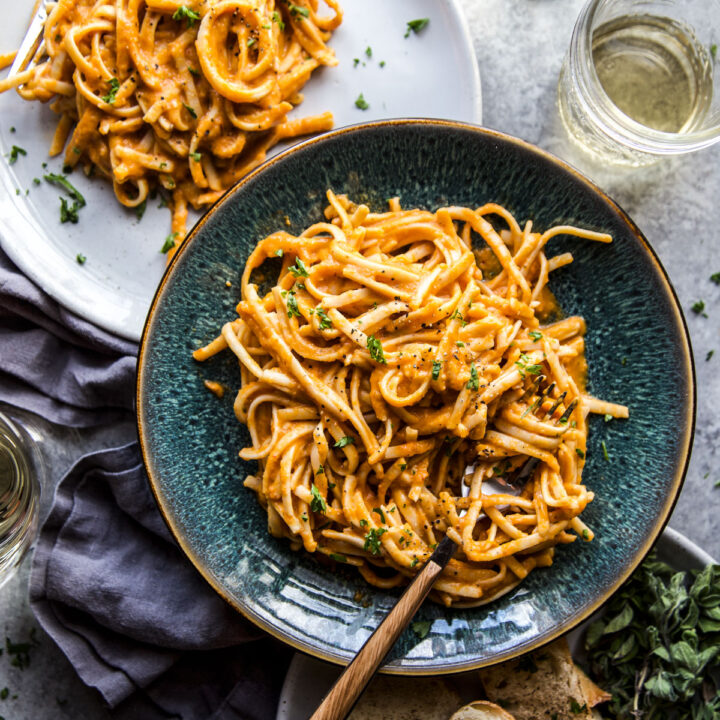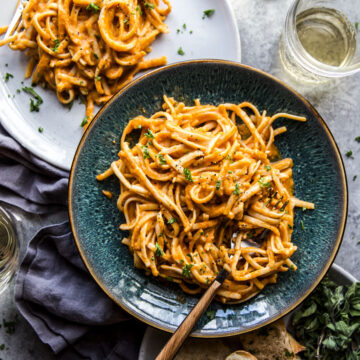 Chipotle Chickpea Spaghetti
Chipotle Chickpea Spaghetti is a tasty and healthy, vegetarian meal that is made with plant-based pasta and packs a ton of flavor!
Ingredients
1 lb Chickpea Spaghetti or any kind of regular pasta
1 cup Chopped yellow onion
3 cloves Garlic, minced
1 large Carrot, chopped
2 stalks Celery, chopped
2 tbsp Unsalted butter
1 tbsp Olive oil
3 large Beefsteak tomatoes, cored, chopped (with seeds)
2 medium Bay leaves
2 medium Chipotle chilies
2 tbsp Chipotle adobo sauce
1/4 cup Heavy whipping cream
Fresh Parmesan, for garnish
Instructions
Fill a large pot with salted water and bring to a boil. Cook the spaghetti according to package instructions. Drain and reserve 2 cups of pasta water.

In a large skillet preheated to medium high heat, add olive oil and unsalted butter. Next, add in the onion and garlic, and cook for about 5 minutes. Add in the carrot and celery. Continue to cook for another 5 minutes. Next, add in the tomatoes and bay leave. Stir to combine and cook until all the vegetables are tender about 5 to 7 minutes. Season with salt and pepper.

Once the vegetables have cooked, transfer the mixture to a blender. Add in chipotle peppers, adobo sauce, and whipping cream. Pour in 1 cup of reserved pasta water. Blend until smooth. If you need to add more pasta water to make the sauce smoother that's okay!

Add the blended sauce back to the skillet and heat until warmed through and slightly thickened. Next, add in the cooked chickpea spaghetti. Toss to coat and garnish with fresh Parmesan.
Did you make this recipe?
Please leave a comment below and share a photo on Instagram with the hashtag #thecuriousplate!