Easy Ricotta Cake with Fresh Berries
This light and fluffy Ricotta Cake with Fresh Berries is the quintessential summer treat! You will only need a handful of ingredients, a bowl, and 15 minutes to get it ready for the oven. 
Aside from the warm golden sunshine that summer brings, I also look forward to the abundance of fresh berries this season graces us with! Fresh, plump, and juicy blueberries, raspberries, strawberries, gooseberries, and blackberries are always a welcome sight to see on fields and farmer's markets.
Though I love them all, I am actually partial to the blueberries. They remind me of my favorite childhood book by Robert McCloskey, Blueberries for Sal. But, hey, I don't let the other berries know! They all have a special place in my heart- and tummy!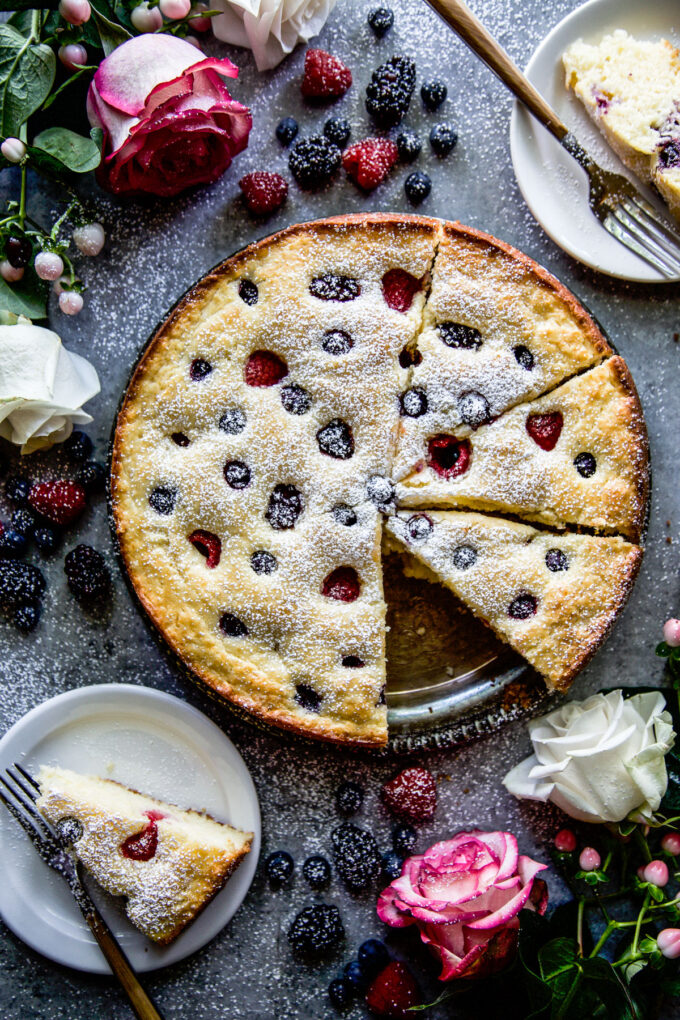 A Berry-licious Ricotta Cake Recipe
And what better way to celebrate the berry season than to "berrify" one of life's most fabulous culinary creations- CAKE! And I am not just talking about any type of cake here. These sun-kissed succulent fruits deserve nothing less than my Ricotta cake! This light and pillowy Italian-style cake flecked with fresh berries is such a delight, you will want it in the morning, afternoon, and evening. They are so easy to make, you do not need to wait for a special occasion to make them!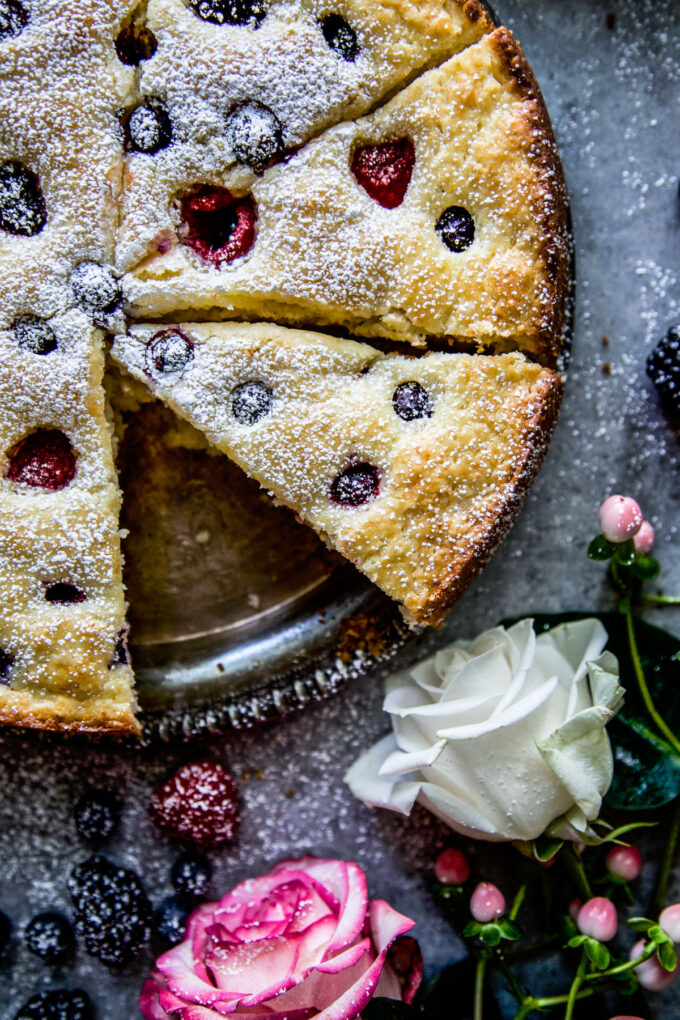 What You'll Need
Gather your usual baking ingredients, grab the ricotta and fresh berries, and you are set. Just mix, bake and eat! Here is the list of ingredients you'll need:
Dry Baking goods- I used all-purpose flour, granulated sugar,  baking powder, and Kosher salt.
Wet Baking Goods- I used eggs, vanilla extract, and melted and cooled unsalted butter. 
Whole milk ricotta- while Ricotta is usually associated with savory filling for stuffed pasta shells or lasagna,  this creamy cheese will make your cake extra moist and adds a rich flavor too.
Berries- I used fresh raspberries, blueberries, and blackberries for this recipe. However, feel free to use other berries or fruits you like. 
Confectioners sugar- you will use this for garnishing only.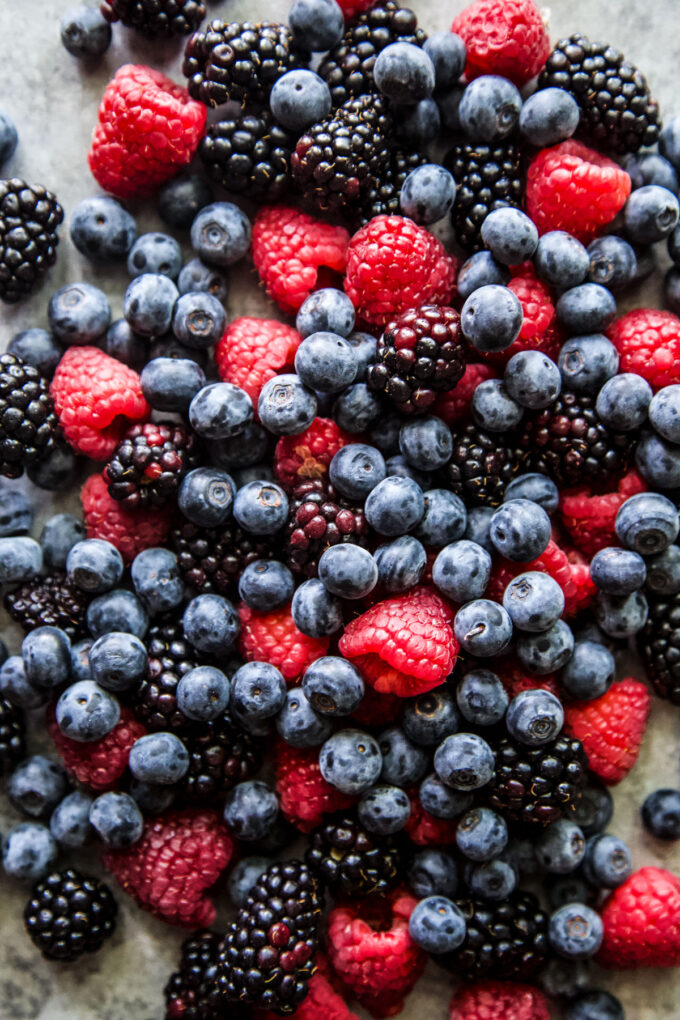 How to Make it
Making this summery dessert is as easy as can be! Just mix the all ingredients in a bowl (no electric mixer needed), and let your oven do the rest! You'll be pleasantly surprised by how amazing this cake is without having to do much!
Preparations:
Preheat an oven to 350 degrees.
Spray a 9-inch cake pan with non-stick cooking spray.
Steps:
Add all the dry ingredients (flour, sugar,  baking powder, and salt) to a large bowl and mix thoroughly. 
In a separate mixing bowl, combine the wet ingredients (eggs, vanilla extract, butter, and whole milk ricotta).
Add the dry ingredient mixture with the wet ingredients mixture slowly until you have a thick batter. 
Add the berries and fold them into the batter carefully. 
Pour batter into cake pan and bake for about 45 to 50 minutes or until golden brown.
 Remove from oven to cool before slicing and dusting with confectioners sugar.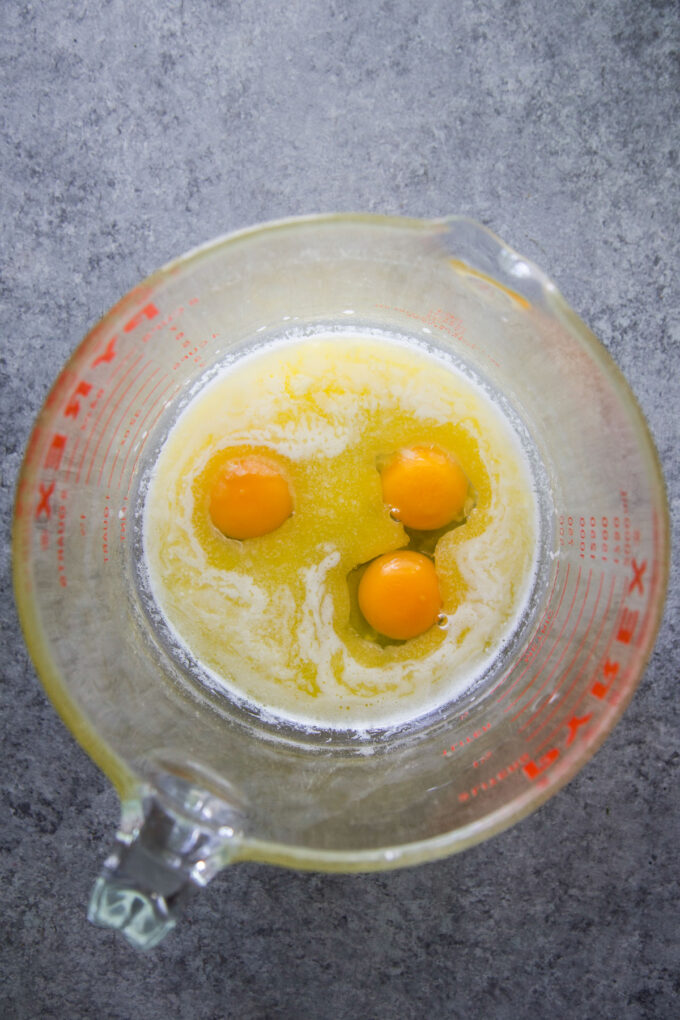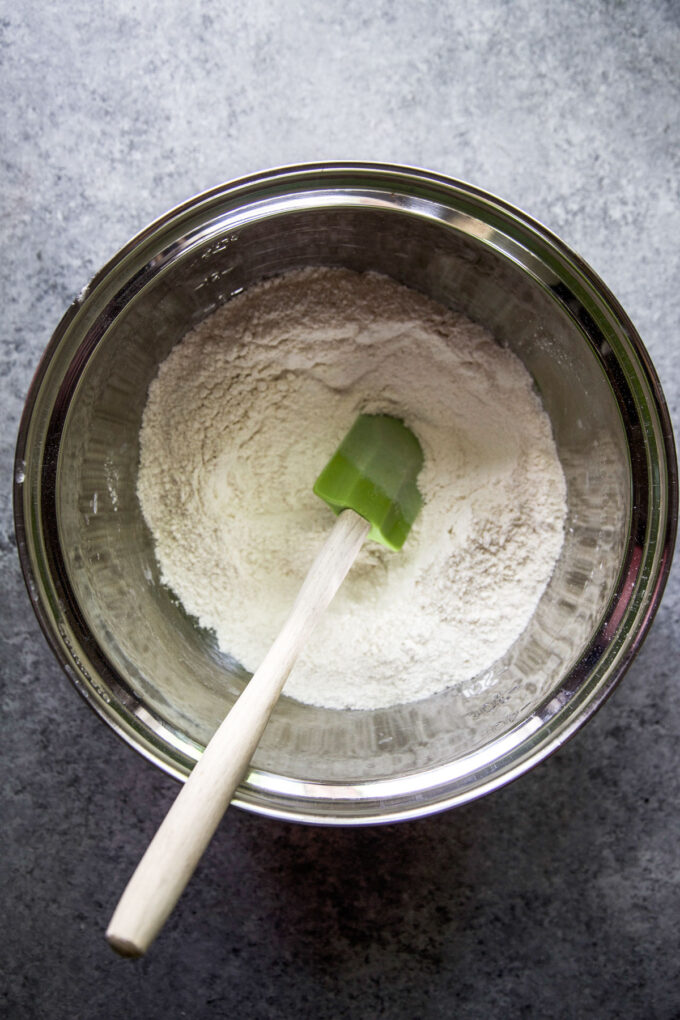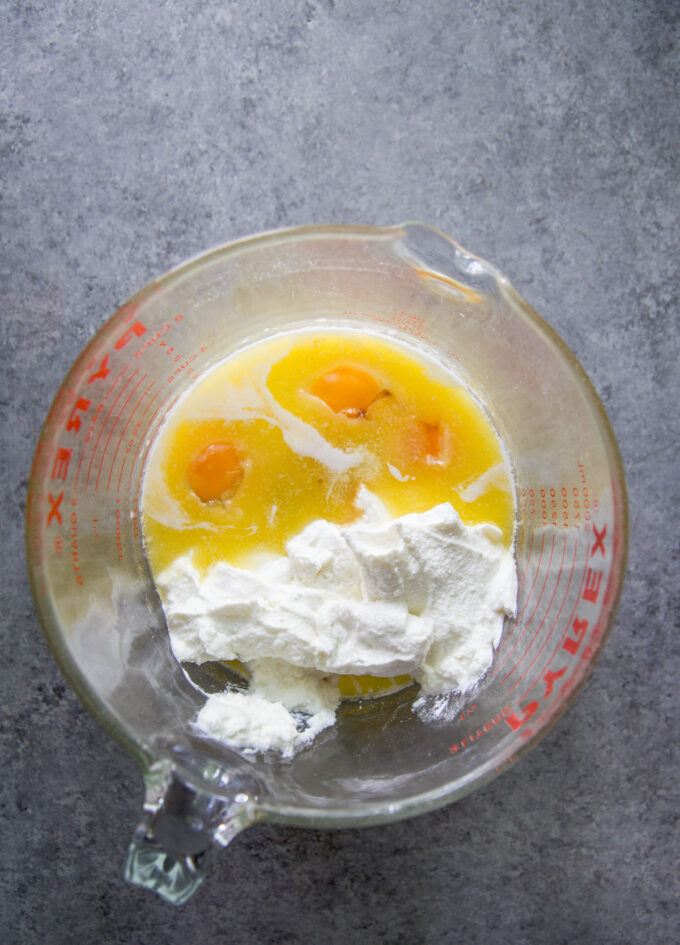 Tips when Making Ricotta Cake with Berries
Use room temperature ingredients. This will allow you to mix your ingredients easier and have a smoother batter.
Do not over mix your batter! Mix only until no dry spots are visible; the batter does not have to be very smooth. A few small lumps are okay. An over-mixed batter will result in a dense cake. Not exactly what we are going for, right?
Wash your berries thoroughly, and make sure to dry them up completely. You can quickly toss them in flour before adding them to the batter so they remain intact and do not bleed as they bake.
Use a spatula to fold (not mix) the batter once the berries are added. Use a gentle sweeping motion to ensure that the berries do not burst and make the cake soggy. 
The baking time may vary depending on the size of the cake tin you use and the type of oven you have. Make sure to make the necessary adjustment as you see fit. 
Let the cake rest in the baking tin for a  few minutes before setting it in a cooling rack. This will give the cake time to firm up, so it does not fall apart when you unmold it.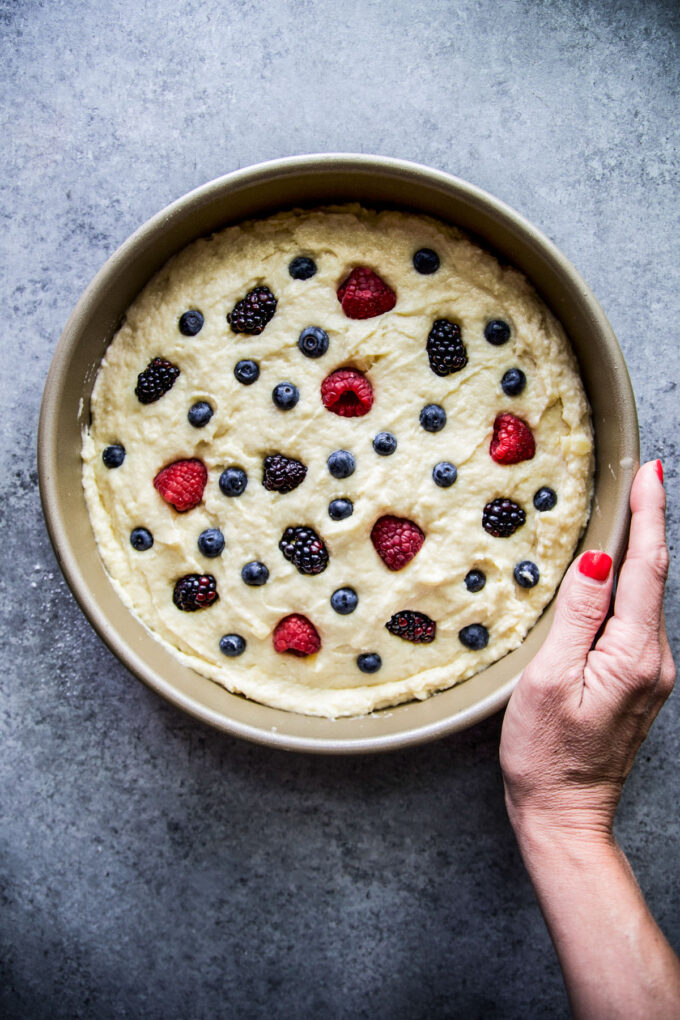 Frequently Asked Questions
How do I know if the cake is done baking? You can insert a toothpick into the center of the cake. If it comes out clean, then the cake is baked through. If there are bits of wet batter clinging to the toothpick, bake it for a few more minutes. 
 Can I use other fruits to make a Ricotta cake? Sure, you can try my Blood Orange Ricotta Cake, Roasted Strawberry Ricotta Cake, or Lemon Ricotta Cake with Meyer Lemon Frosting if you are looking for variations. They are all so lovely and can be prepared for different occasions. 
Can I use frozen mixed berries? I don't see why you can't, especially when it means you can enjoy this cake all year long! Just make sure to thaw them first and wash off the freezer burns before using them. 
What other garnishes can I use? If you want to spruce up your cake to make it fancier, you can top it with vanilla frosting and more fresh berries. You can also add nuts, sprinkles, and other cake toppers you like.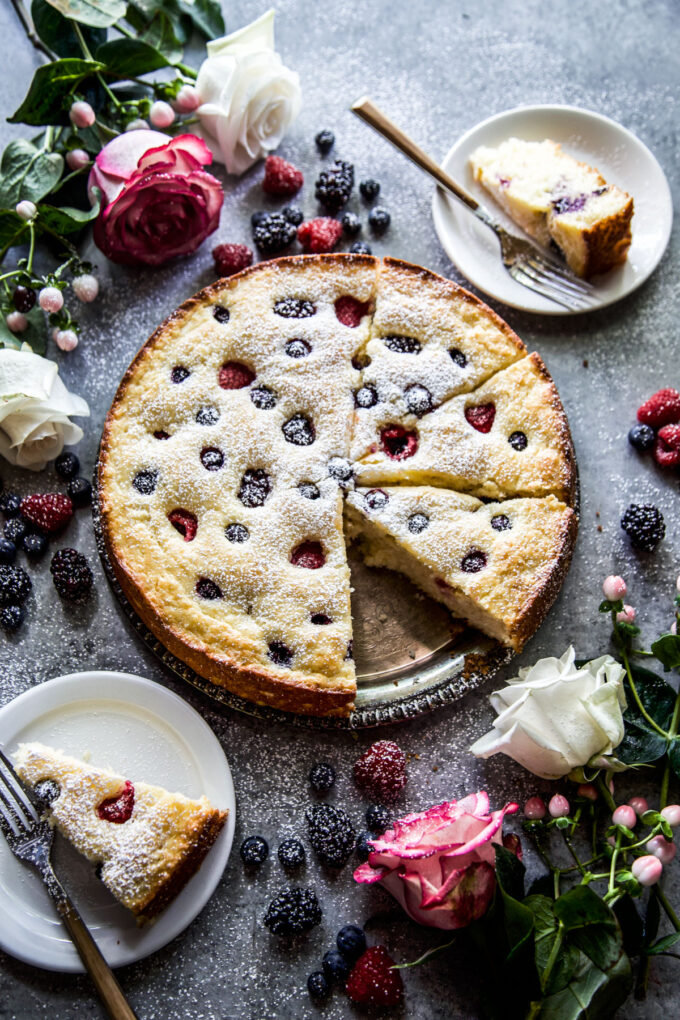 Storing Notes
If you are making this cake ahead of time or saving some slices in case of midnight cravings, you can store it in a cool, dry area at room temperature for 2 days. Make sure to keep it in a cake keeper or a large lidded container. If you want your cake to last longer, place it in the fridge for 5 days.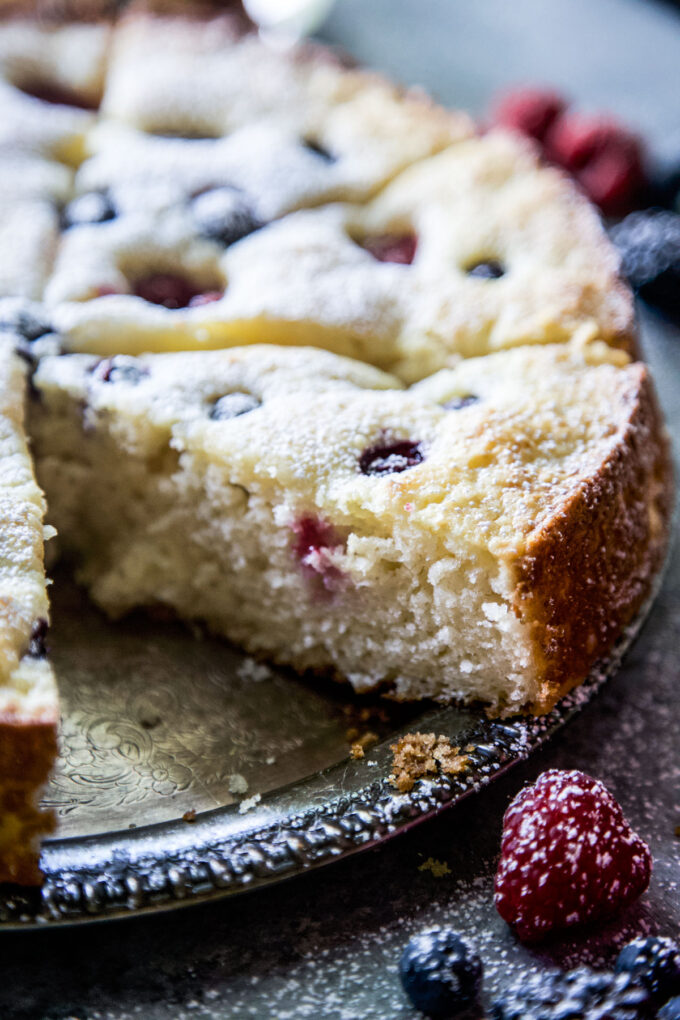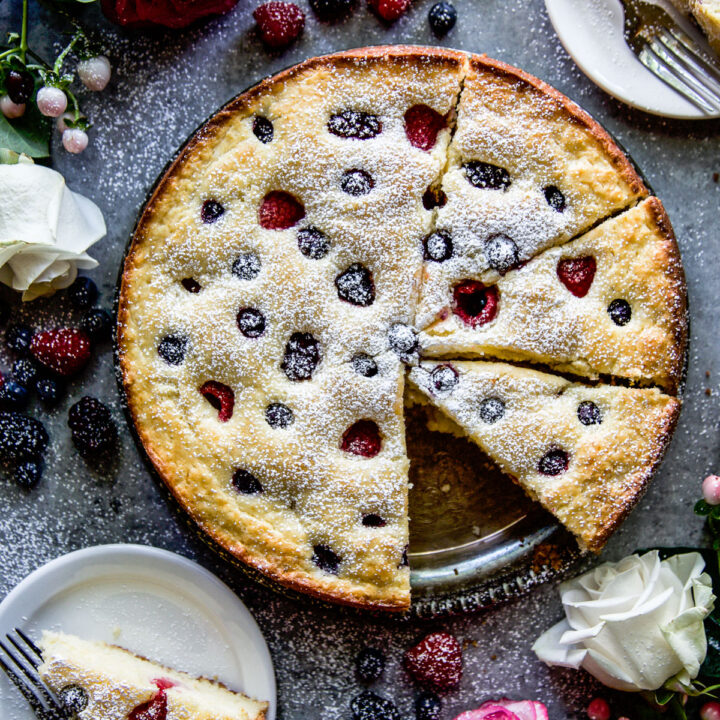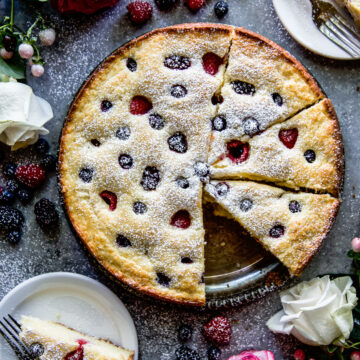 Easy Ricotta Cake with Fresh Berries
This light and fluffy Ricotta Cake teeming with your favorite fresh berries is the quintessential treat!
Ingredients
1 1/2 cups All-purpose flour
1 cup Granulated sugar
2 tsp Baking powder
3/4 tsp Kosher salt
3 large Eggs
1 1/2 cups Whole milk ricotta
1/2 tsp Vanilla extract
1 stick Unsalted butter, melted, slightly cooled
2 tbsp Fresh raspberries
2 tbsp Fresh blackberries
2 tbsp Fresh blueberries
Confectioners sugar, for garnish
Instructions
Preheat an oven to 350 degrees. Spray a 9-inch cake pan with non-stick cooking spray.

In a large bowl, combine the first four ingredients. In another large bowl combine eggs, ricotta, vanilla extract, and butter. Slowly combine the dry ingredients with the wet ingredients.

Once combined, gently fold in the fresh berries, careful not break them. Pour batter into the prepared cake pan and bake for about 45 to 50 minutes or until a toothpick inserted into the middle comes out clean.

Remove the cake from oven to cool before slicing and dusting with powdered sugar.
Did you make this recipe?
Please leave a comment below and share a photo on Instagram with the hashtag #thecuriousplate!