Easy Turkey Sloppy Joe Nachos
Add these Easy Turkey Sloppy Joe Nachos to your holiday menu spread! Crispy tortilla chips topped with a crumbly turkey sloppy joe mixture, peppers, and lot's of cheese! It's sure to be a hit!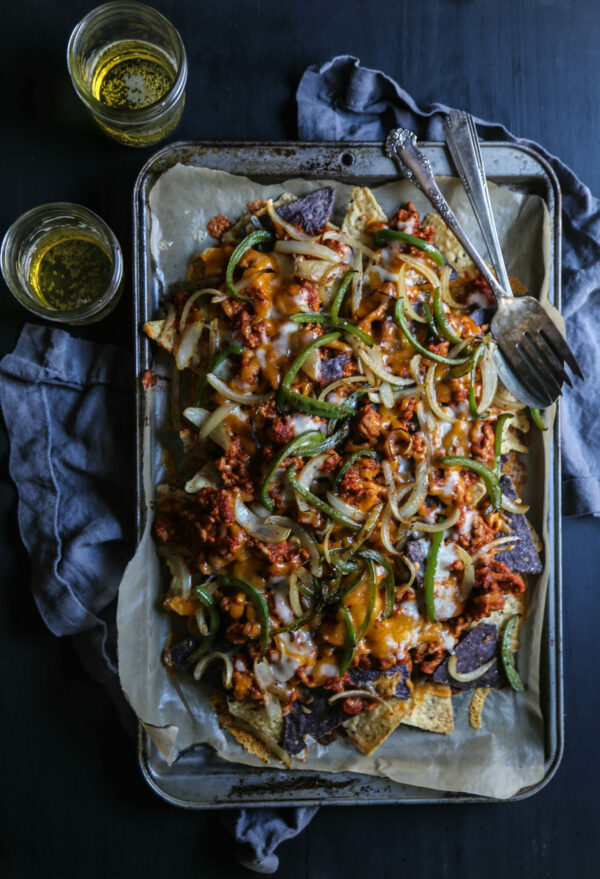 Summer is coming.
In just a few short days we will officially kick off the start of warmer weather, backyard barbecues, hiking season, the wearing of flippy-floppies, and rooftop happy hours. I don't know about you, but it feels like yesterday we were just sliding into spring break. I swear it will be Christmas before we know it. GASP!
But before we start talking Christmas in July, what are your plans for the upcoming holiday weekend? Are you traveling? Having a staycation? Soaking up the sun and having a big ol' barbecue? Whatever your plans, I hope it's fan-flipping-tastic!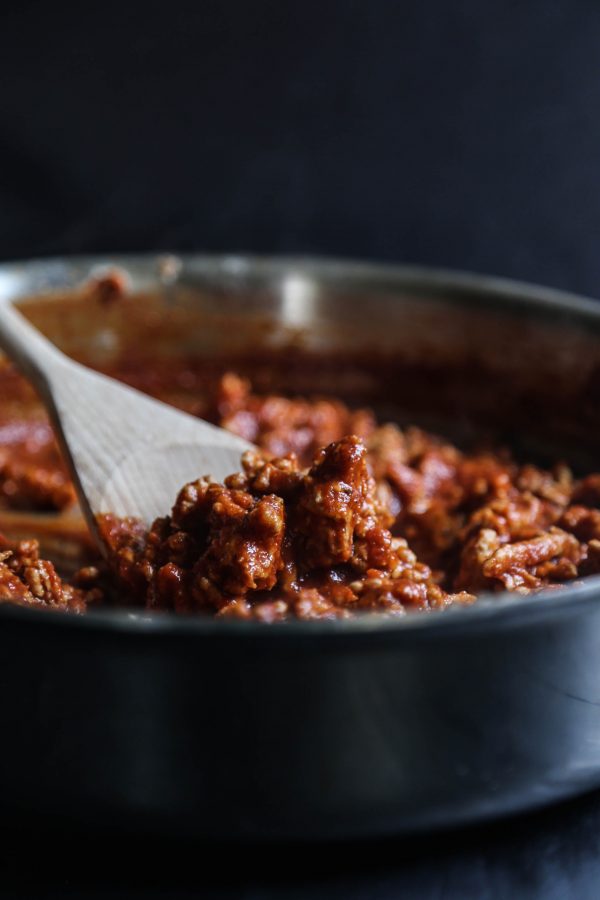 As you may know, Mr. B and I are jetting across the pond to Scotland this Saturday. This is my first international press trip and to say I'm a weeeeeee bit nervous about making sure my coverage looks profresh is a little overwhelming. Thankfully Mr. B will be by my side driving our tookus' around because I could get lost trying to get out of a paper bag. And to make things worse, I can't drive a manual! Actually this could be a humorous reality show watching yours truly drive a stick shift on the opposite side of the road without GPS. I foresee an MTV movie award somewhere in there.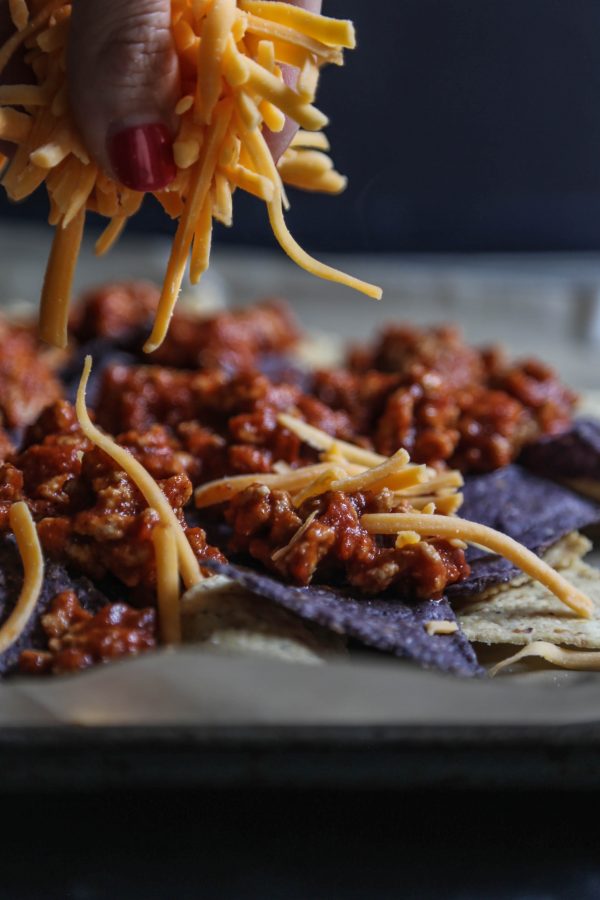 Well, before I get completely lost, I do have a super easy, semi-healthy dish for you to make this weekend. You guys know my love for comfort foods run deep in my soul. One of favorite things to eat as a kid was sloppy joes. I loved the crumbly ground beef mess and having the thickened tomato sauce smeared all over my face. Plus, with the melted cheese on top, I was in heaven.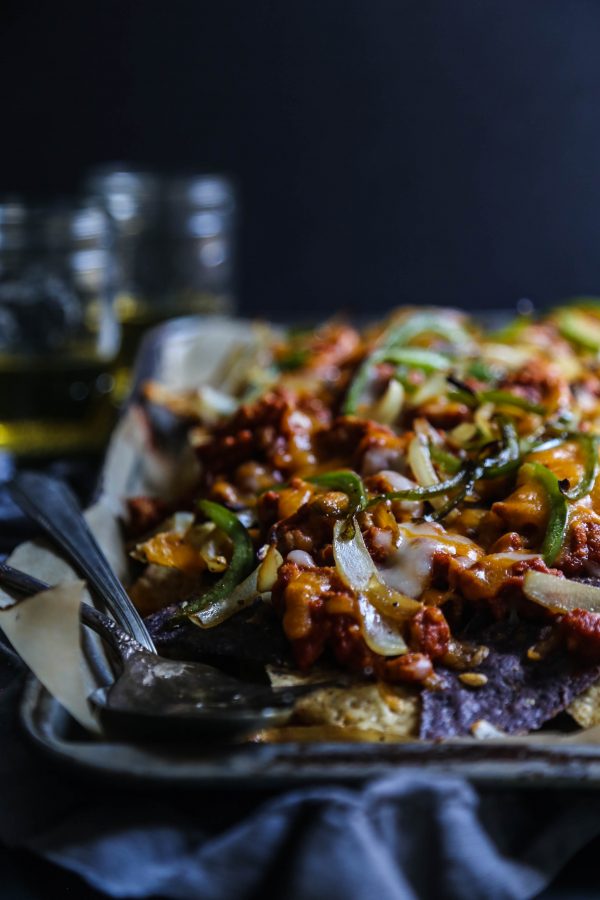 Anyway, I wanted to turn sloppy joes into something more modern and easy to transport for that big ass barbecue you are going to this weekend. And that's how Easy Turkey Sloppy Joe Nachos were born. You could honestly make these in your sleep, but besides the simplicity in making these nachos comes the fun conversation about the best time you had eating sloppy joes. I can't think of a better way to celebrate the return of summer than with a plate piled high of sloppy joe nachos, a glass of giggle juice, and toes in freshly cut grass.
Also, QUICK PSA!!!!
In less than a month, Mr. B and his friend Ben will be participating in the Colorado Bike MS 150. If you aren't familiar with this charity bike ride, The MS Society hosts these races all over the country in an effort to help raise money for research to find a cure for MS. This charity and event is near and dear to our hearts as two of our friends are currently battling the disease.
We would so appreciate a small donation towards helping find a cure. If you feel inclined to donate, please do so through the links below!! Thank you from the bottom of our hearts!
Mr. B's fundraising page!  &  Ben's fundraising page!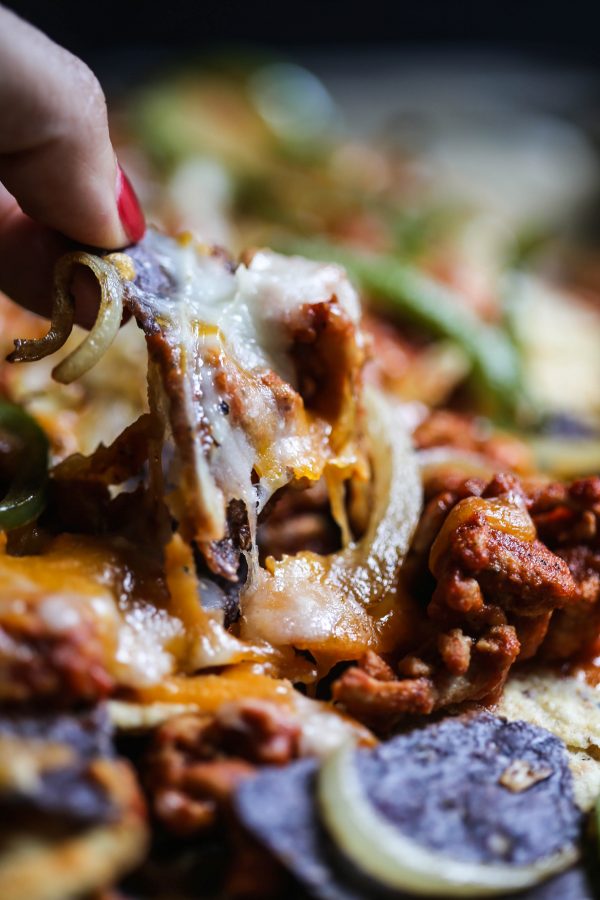 Easy Turkey Sloppy Joe Nachos
Ingredients:
1 lb ground turkey
2 garlic cloves, minced
3/4 cup ketchup
1/2 cup water
1 tablespoon brown sugar
3 teaspoons chili powder
1 teaspoon dry mustard
1 tablespoon tomato paste
Dash of Worcestershire sauce
Dash of Tabasco
1 yellow onion, sliced thinly
1 green pepper, sliced thinly
3 tablespoons olive oil
1 cup cheddar cheese, shredded
1 cup mozzarella cheese, shredded
2 cups multi-grain tortilla chips
2 cups blue corn tortilla chips
salt and pepper to taste
Directions:
Preheat a skillet to medium-high heat. Add 2 tablespoons olive oil, ground turkey, garlic, salt and pepper to the skillet. Saute turkey until no longer pink about five to seven minutes. Next, add the ketchup, water, brown sugar, chili powder, dry mustard, tomato paste, Worcestershire, and Tabasco. Stir to combine and bring to a simmer. Simmer for about five minutes until slightly thickened. Remove from heat.
In another skillet preheated to medium-high heat add remaining tablespoon of olive, yellow onion, green pepper, salt and pepper. Saute veggies until soften about five minutes. Remove from heat and set aside.
Turn on your broil. To make the nachos: place one cup of the multi-grain tortilla chips and one cup of the blue corn tortilla chips on a baking sheet. Top the chips with half of the sloppy joe mixture followed by 1/2 cup of each of the mozzarella and cheddar cheese. Repeat step with remaining chips, sloppy joe, and cheese. Place baking sheet under broil for about five minutes or until the cheese has melted. Remove from broil and dive in!!
All images and text ©