Everything Spiced Potato Salad with Lox
Everything Spiced Potato Salad with Lox is a fun twist on an everything bagel and lox sandwich. This potato salad will be a hit all summer long!
Tomorrow we are headed to Manhappiness.
Or what some may call the "Little Apple."
We are headed back to Kansas for the weekend to see family, celebrate Father's Day, and to finally see the Symphony In The Flint Hills. Have you heard of it?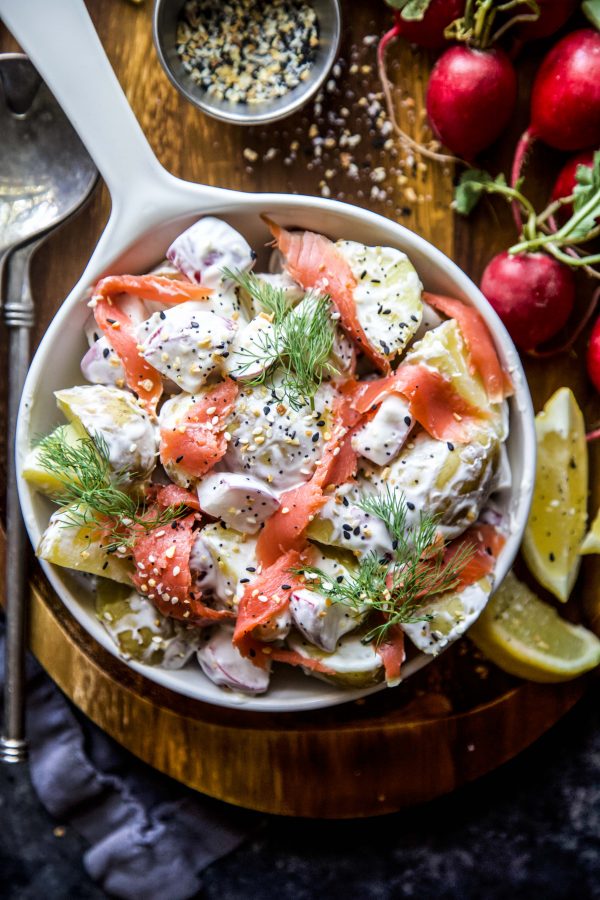 I know Kansas gets a wrap for not having the most hustle and bustle, but this event is worth a chat. Every summer the Kansas City Symphony does what I would call "a pop up show" right in the middle of the Flint Hills. Imagine watching the sun set over the prairie while listening to Copland. It's true Americana.
Anyway, I'm hoping my preggo self can handle the heat and wind. I plan on wearing this new dress from Pink Blush Maternity and a fedora. Although, I might need to switch that to a cowboy hat and boots. Thoughts?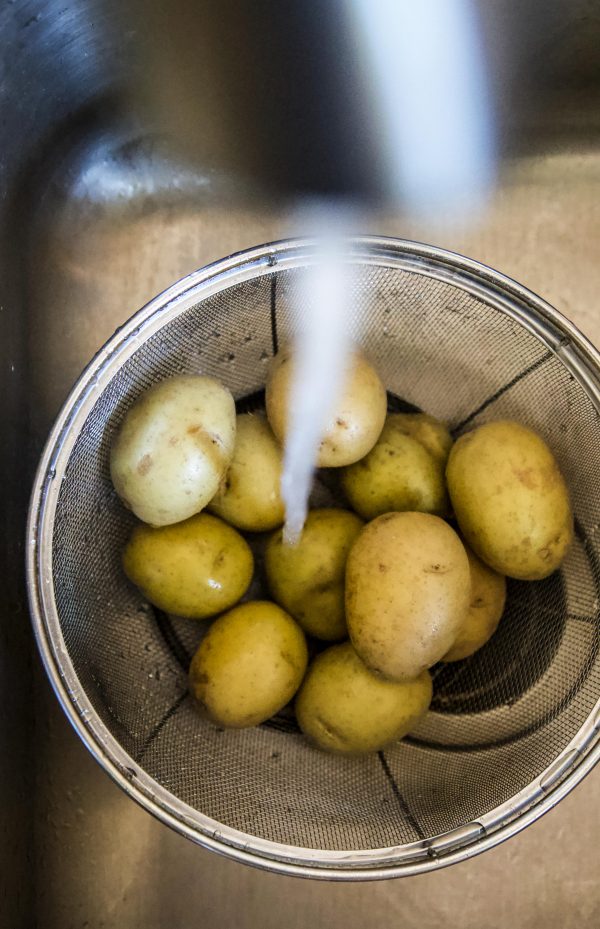 With all these outdoor excursions we are experiencing, I can't help but think about food! What are some of your go-to summer picnic favorites? I am a tried and true potato or pasta salad lover. Can you tell I'm from the Midwest? I typically lean towards your basic potato salad, but for today's recipe I decided to mix it up.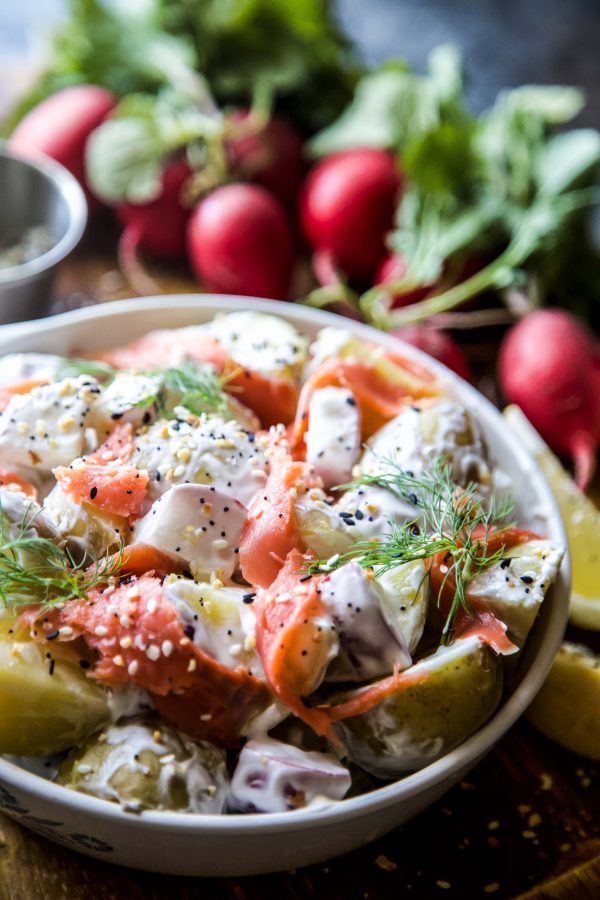 Meet your new best friend: Everything Spiced Potato Salad with Lox. This is a take on an everything bagel with lox. I seriously can't wait until October when I gobble up all the lox. Besides wine, it's the one thing I truly miss. Anyway, this potato salad is super simple to throw together and gives the summer picnic spread a little somethin', somethin'. 
Make a big batch for your next gathering and crank up some Copland.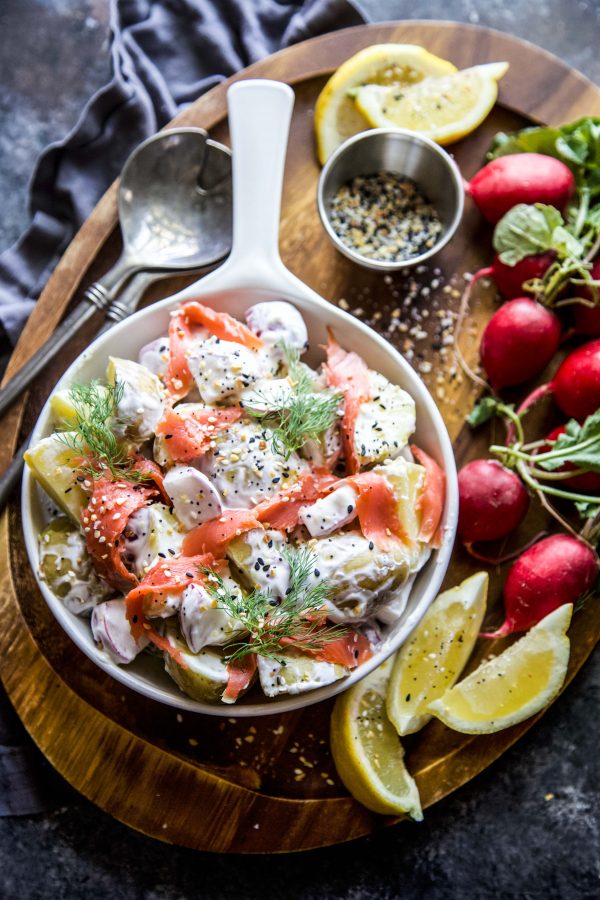 Everything Spiced Potato Salad with Lox
Ingredients:
2 pounds of yukon golden potatoes
1/2 cup Greek yogurt
1 tbsp mayo
1 tbsp sour cream
1 tsp lemon zest
2 tbsp olive oil
1/4 cup chopped fresh dill
5 small radishes, trimmed, cut into wedges
1 1/2 tbsp everything bagel seasoning
4 ounces lox thinly sliced smoked salmon, torn into small pieces
salt and pepper to taste
Directions:
In a large pot filled with cold water add the potatoes with some kosher salt. Bring the water to boil and then a simmer for about 10 to 15 minutes. Drain the potatoes and let cool before slicing into quarters.
In medium mixing bowl, combine Greek yogurt, mayo, sour cream, lemon zest, 2 tbsp olive oil, salt and pepper.
Once the potatoes have cooled and you have quartered them toss them with the Greek yogurt mixture. Next, add the radishes, everything bagel seasoning, and dill. Place the potato salad into a serving bowl.
Garnish the tops with the smoked salmon. Enjoy!
recipe adapted from bon appetit
All images and text ©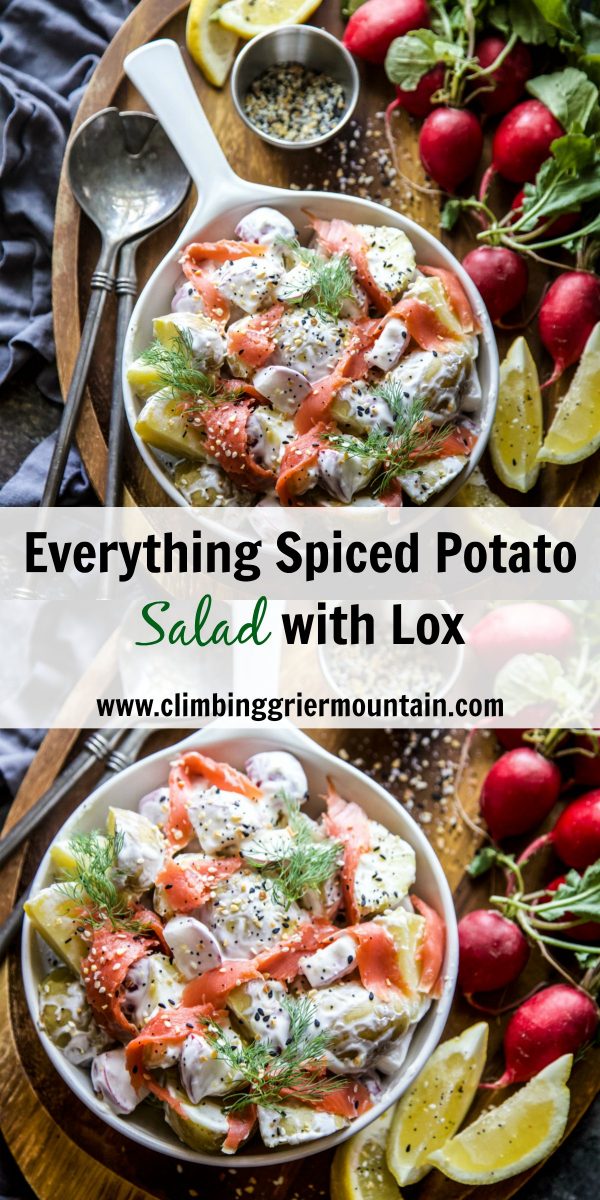 In conclusion, Everything Spiced Potato Salad with Lox is a symphony of textures and flavors. The robust everything spice, creamy potatoes, and delicate lox create a culinary masterpiece. Each bite is a delightful conclusion to a dish that elevates the classic potato salad to new heights.