Four Cheese Greek Pizza Dip with Tuscan Herb Hummus
Four Cheese Greek Pizza Dip with Tuscan Herb Hummus is an easy and flavorful appetizer ready in 20 minutes or less! Cream cheese, feta, mozzarella, and Parmesan mixed together and topped with a tuscan herb hummus makes for a delicious, easy, go-to appetizer!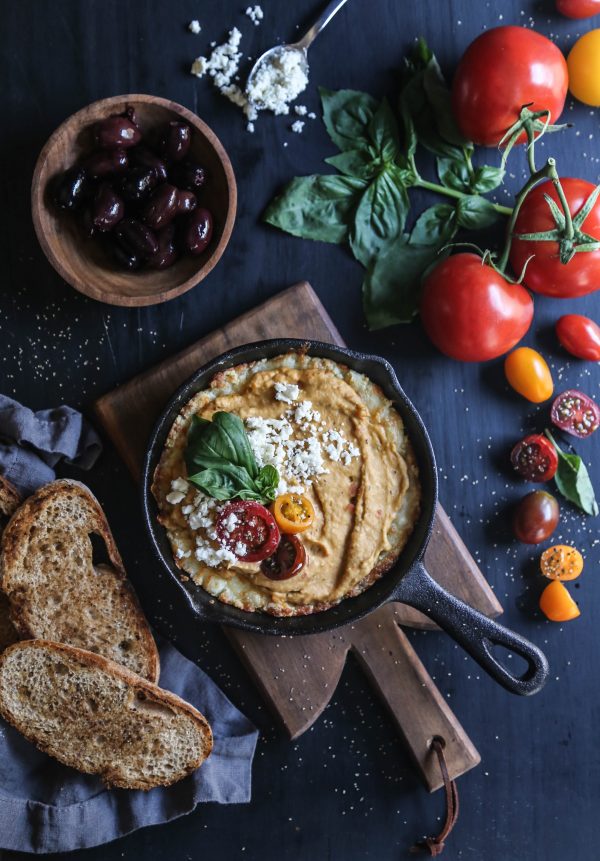 Happy National Hummus Day, friends!
Can you feel the chickpea love?
We've got a whole smorgasbord of things happening on this Friday. First, it's Friday the 13th. Fun little factoid for you. If a month's first date begins on a Sunday that month will always have a Friday the 13th. Second, TGIF. I don't know about you, but this week has been bonkers. I'm ready for a glass of giggle juice and silly conversation (insert: dropping calendar factoid bomb). Lastly, this Four Cheese Greek Pizza Dip with Tuscan Herb Hummus needs to be actioned!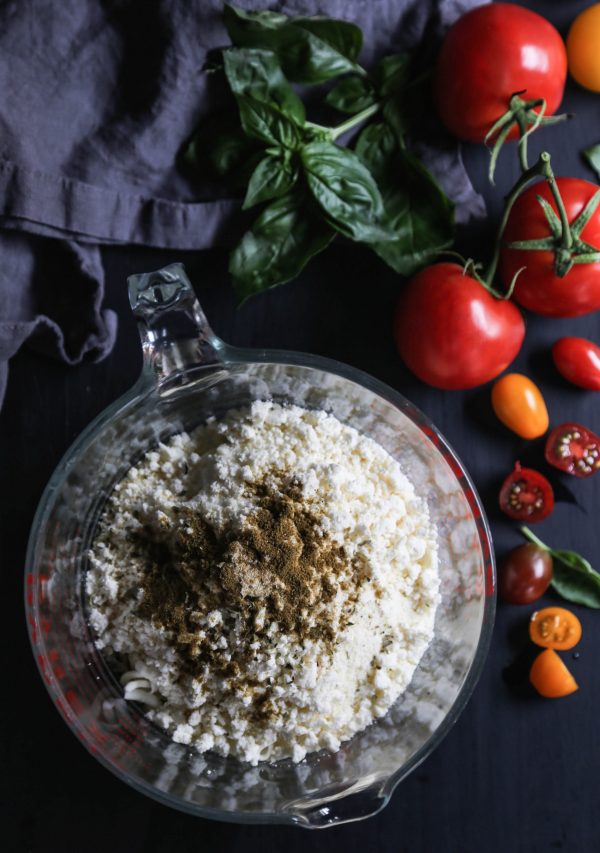 Mr. B and I are big fans of pizza on Friday night, but I'm always looking for ways to jazz it up. Enter this Four Cheese Greek Pizza Dip with Tuscan Herb Hummus. You might be thinking…."Lauren, hummus on a dip?" YASSSS. Sabra's Garden Tuscan Herb Hummus taste exactly like a pizza sauce in my opinion.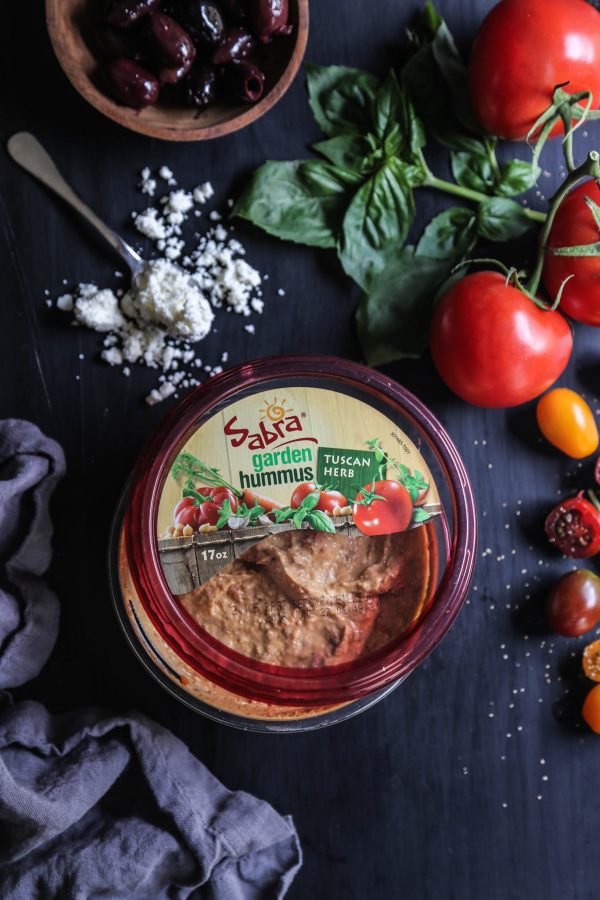 This dip is kind of like an upside down pizza in a way. On the bottom of the skillet are four kinds of cheese – mozzarella, cream cheese, feta, and Parmesan. Once these bad boys are baked and golden brown, spread the Tuscan Herb Hummus on top, and get your dip on. This dip would be perfect for those #unofficalmeal moments when you gather before the big feast. It comes together super quick and is a total crowd favorite!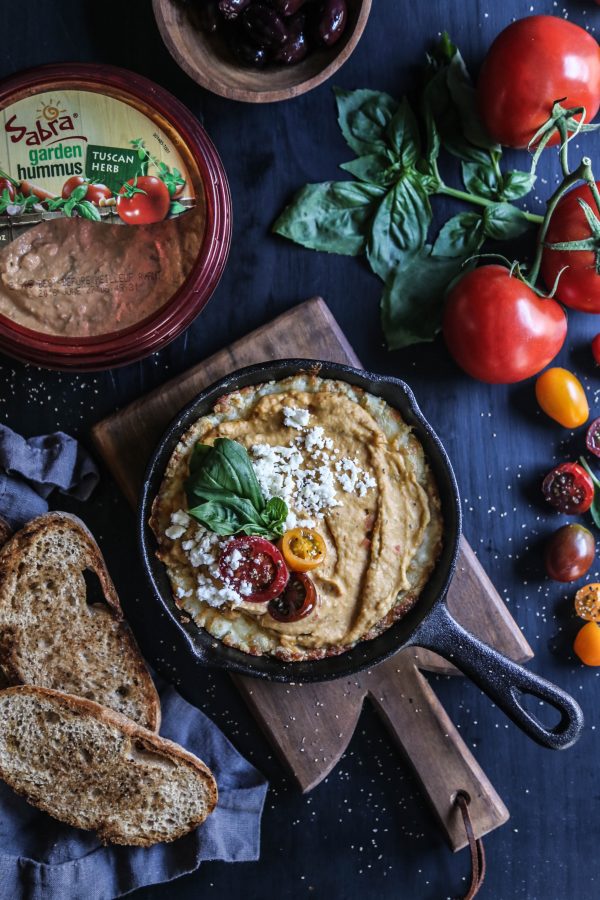 Now, since it is #NationalHummusDay, Sabra has a specialty coupon for y'all to grab on their website: www.sabra.com to help celebrate. The coupon is available only today and will be gone by midnight EST. So start clicking and then dipping!
Happy TGIF!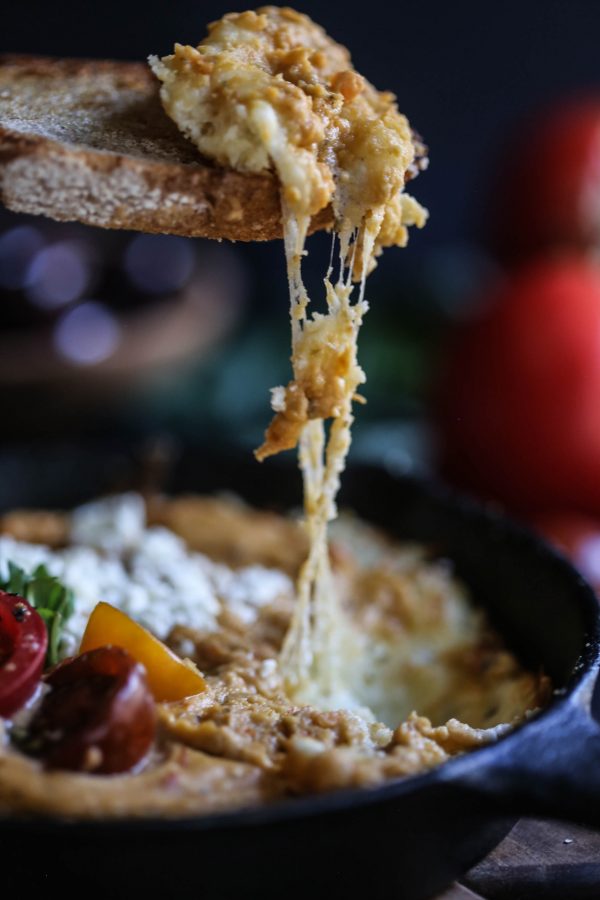 ***This post was sponsored by Sabra. As always, all opinions expressed are 100% my own!***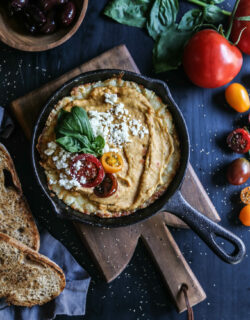 Four Cheese Greek Pizza Dip with Tuscan Herb Hummus
Ingredients:
8 oz plain cream cheese, room temperature
1 1/2 teaspoons ground dried oregano
1 teaspoon garlic powder
1 teaspoon ground cumin
1/4 cup feta (+ more for garnish)
3/4 cup ground Parmesan
1 3/4 cups mozzarella, shredded
3/4 cup Sabra Garden Tuscan Hummus
Fresh basil, garnish
Grape Tomatoes, garnish
Kalamata Olives, garnish
Crostini slices
Directions:
Preheat oven to 375 degrees.
In a large bowl, combine cream cheese, oregano, garlic powder, cumin, feta, Parmesan, and mozzarella. Divide the mixture between three, six-inch wide mini cast iron skillets or simply add to one, eight-inch wide skillet. Place skillets or skillet into the oven and bake for 25 minutes or until golden brown and bubbly. Remove skillets from oven and spread 1/4 cup of the hummus on top, repeat process with remaining mini skillets. If using just one large skillet spread the entire hummus amount onto the skillet. Garnish with fresh basil, tomatoes, olives, and serve alongside crostini for dipping.
All images and text ©