Ginger Pear Oat Smoothie
***This post is sponsored by USA Pears. I was compensated for my work, but all opinions expressed are 100% my own.***
Ginger Pear Oat Smoothie is a healthy and delicious smoothie that's perfect for breakfast or as a snack!
I want to share the most PEAR-fect smoothie recipe with you.
As a long time smoothie maker, I am always looking for different flavor combinations and ways to increase nutrition intake. Well, this Ginger Pear Oat Smoothie not only packs a lot of flavor, but is super healthy for you.
Ready to mix things up?
What's in this Ginger Pear Oat Smoothie?
When it comes to ingredients when making a smoothie the options are endless. Do you do sweet or savory? Add more vegetables or fruits? This Ginger Pear Oat Smoothie is simple, tastes delicious, and uses one of my favorite fruits, pears!
For this smoothie you will need:
USA Pears
Old Fashioned Oats
Greek yogurt
Banana
Maple Syrup
Ground Ginger or Fresh
Milk or Oat Milk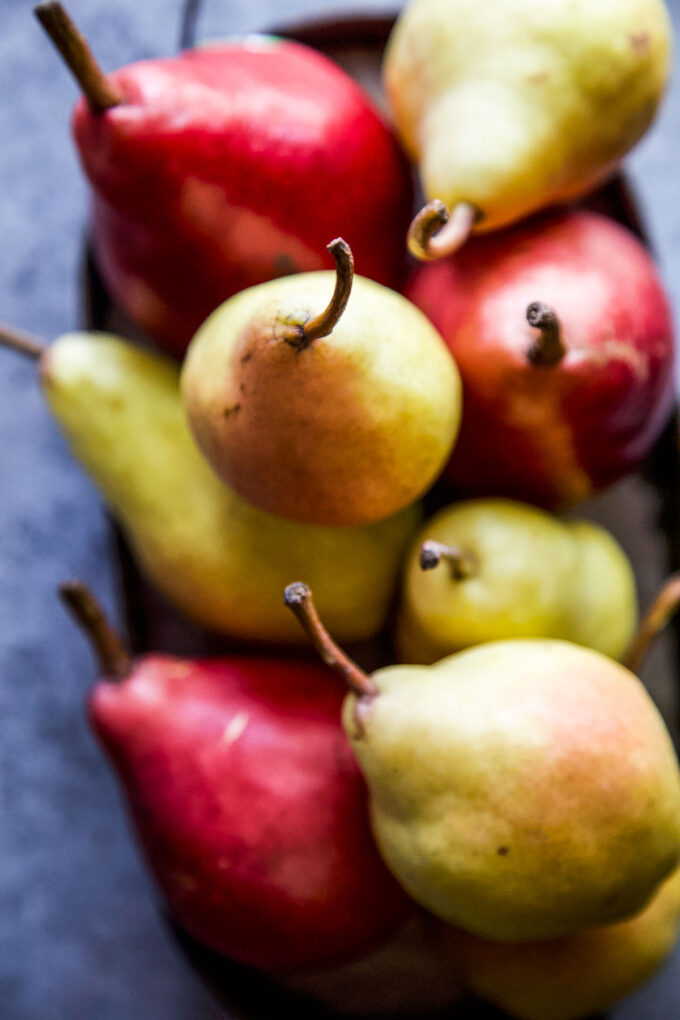 Why use USA Pears in your smoothies?
Fun factoid about pears that I learned recently: a single pear contains 6 grams of fiber!!! Amazing, right? I'm always looking to add more fiber to my diet to keep me full and regular. Pears are fabulous in that they not only taste delicious, but have so many health benefits as well.
How to tell if a USA Pear is ripe?
For the longest time I thought you needed to squeeze the sides of a pear to check to see if it was ripe. Nope. Next, time you are at the grocery store, CHECK THE NECK. Under the stem you will want to press and if it's soft with a little spring back it's perfectly ripe. Pretty cool, huh?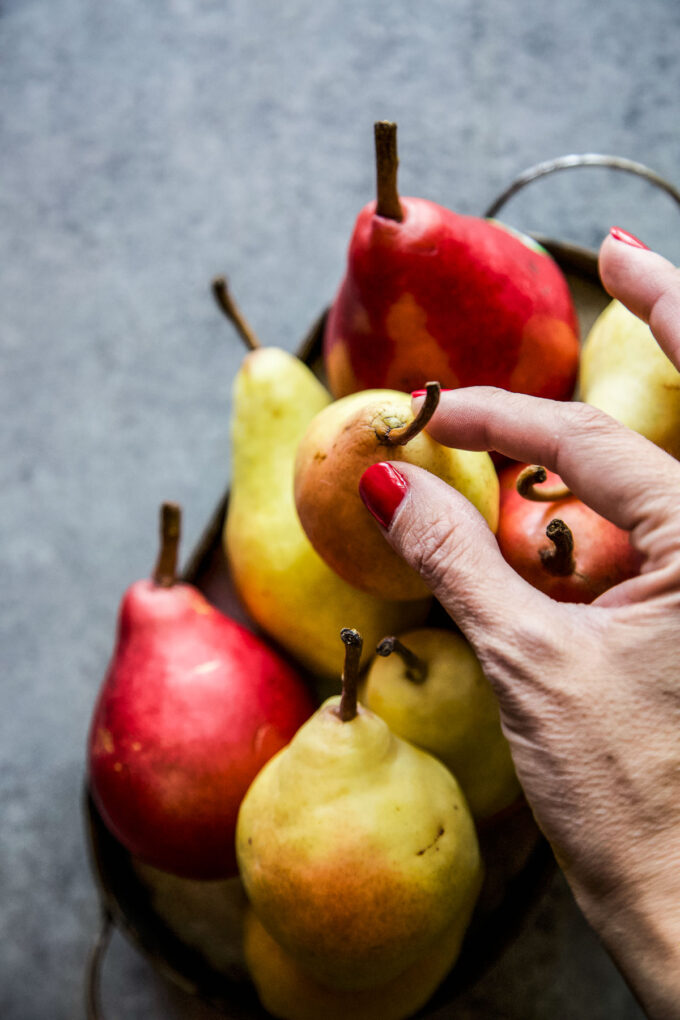 What kind of USA Pear varietal do you recommend?
Any USA Pear varietal will work – Bartlett, comice, Bosc, starkrimson, etc.
Tips for Making this Ginger Pear Oat Smoothie:
Ground ginger. You can use either ground ginger or fresh ginger. I typically have ground ginger in my spice draw. But! Either fresh or ground will work!

Oats. I use your standard old fashioned oats. Again, you can play around with the different kinds of oats if desired!

Banana. Personally I like to use a banana when I make smoothies. I find it helps to thicken the smoothie. However, if you don't like bananas you can make it without it!

Greek yogurt. If you want to add extra protein to your smoothie definitely use Greek yogurt. Any flavor will work, but if you want a clean taste just use plain.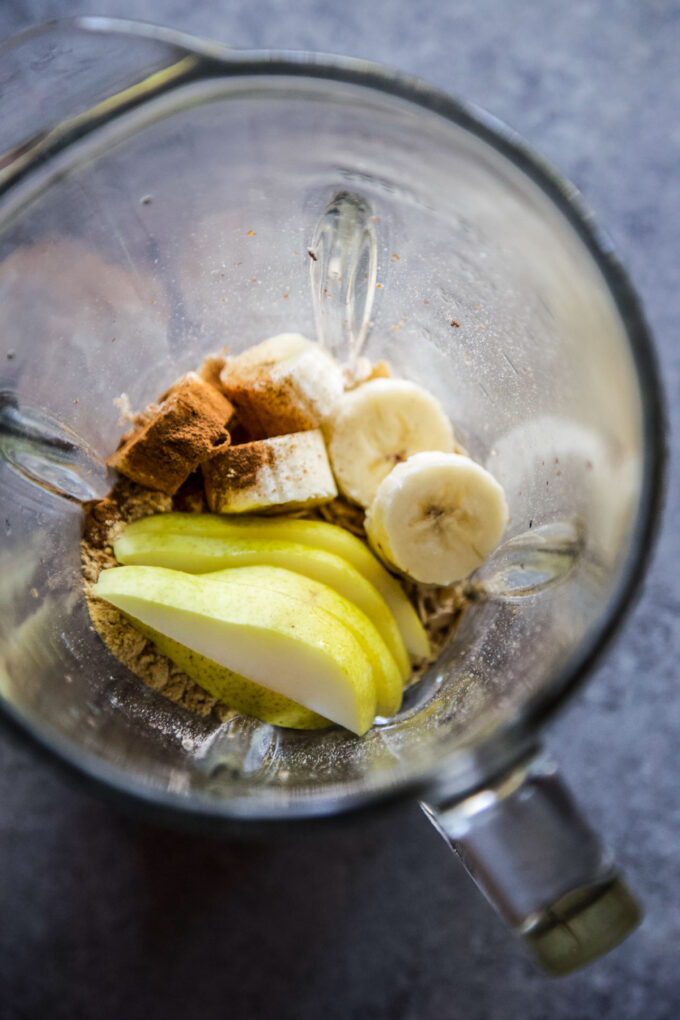 Frequently Asked Questions:
Can I make this Smoothie Dairy Free?
Yes! Simply omit the Greek yogurt and instead of regular milk use oat or almond milk!
Do I have to add ice to my smoothie?
You don't! You can use milk or water to help all the ingredients mix together!
For more pear recipe and pear information make sure to visit: www.usapears.org!
More Smoothie Recipes to Enjoy:
Ginger Pear Oat Smoothie
Ginger Pear Oat Smoothie is a healthy and delicious drink to make using fresh pears!
Ingredients
1 1/12 cups Regular milk
1 cup Old fashioned rolled oats
1 medium USA pear, sliced
1/3 cup Greek yogurt
1/2 medium Banana
1 tsp Ground ginger
1/4 tsp Ground cinnamon
1 tbsp Maple syrup
Honey nut granola, for garnish
Instructions
In a blender, add all the ingredients. Blend to combine until smoothie. If you need to add more milk to thin out the smoothie it's okay. Serve and enjoy!
Did you make this recipe?
Please leave a comment below and share a photo on Instagram with the hashtag #thecuriousplate!