Grilled Romaine Salad with Toasted Breadcrumbs
Grilled Romaine Salad with Toasted Breadcrumbs is an easy and refreshing salad made on the grill with romaine lettuce, lime juice, olive oil, and toasted breadcrumbs!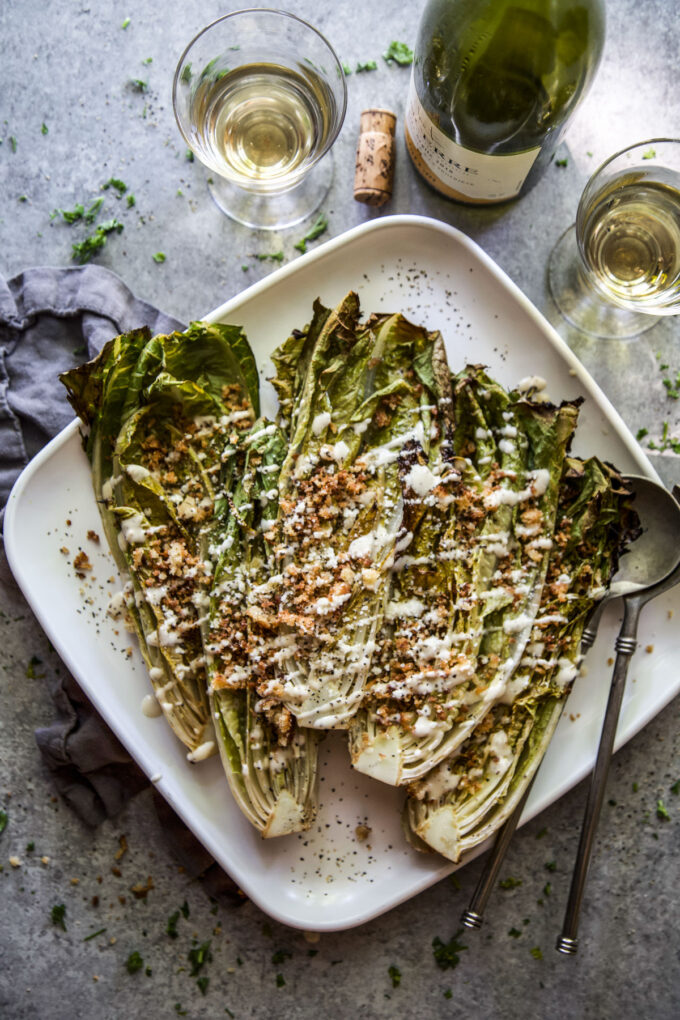 Make this easy summer salad highlighting the goodness of grilled romaine lettuce garnished with cheesy and garlicky breadcrumbs and your choice of dressing. Fire up your grill and enjoy deliciously charred and crisp romaine hearts with tender centers.
The Perfect Summer Salad!
Summer is when we take advantage of the golden, warm weather and cook outdoor food as much as possible. I just love expanding my cooking outside the four walls of my kitchen and getting reunited with my trusty 'ol griller! My Greek Grilled American Lamb Shoulder Chops and Jalapeno-Marinated Grilled Pork Chops are some of my go-to entrees when I need quick, easy, honest-to-goodness grilled meats. And I make sure to reserve some space in my griller for my romaine lettuce halves!
Grilling lettuce might not be as common as grilling other veggies like corn, mushrooms, bell peppers, and eggplants, but I urge you to try it. I have tried it once and never ever looked back. Grilling them adds layers of flavors and textures you don't get when they are served raw. It is so good that it does not need a lot of embellishments to make into a salad. For this recipe, I just made an easy cheese and garlic-infused breadcrumbs and a simple Caesar dressing.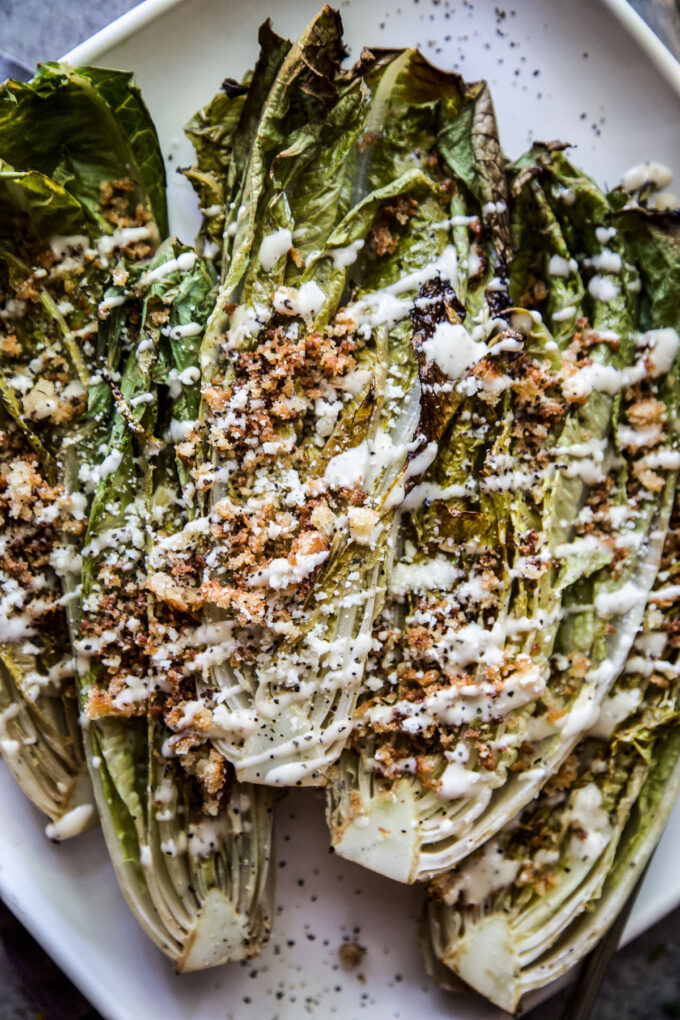 Ingredients
Made with simple ingredients but taste like a million bucks! This simple grilled side dish will wow you with its simplicity and deliciousness. Here's what you need to make it.
Romaine heads- I used 4 large ones, cut into halves. Aside from being one of the healthiest green leafy veggies, it is sturdy enough to keep intact over high heat, making it perfect for grilling.
Olive oil- this will help make the leaves char beautifully and result in crispier tips. This will also help prevent the leaves from sticking to the grill.
Fresh lime juice- adds acidity and tanginess to the lettuce. This is a nice balance to the natural sweetness vegetables take when grilled. You want a more bitter taste from the lime juice instead of sweetness from a lemon.
Salt and pepper – to taste.
Panko breadcrumbs- add a nice pop of crunch to the salad, especially once toasted in butter with garlic and parmesan.
Garlic- adding toasted garlic to your grilled salad is always a great idea! The sharpness of raw garlic mellows as they cook becomes sweeter and caramelized. Yum!
Parmesan cheese- adds a rich, savory flavor to the breadcrumbs. Everything is better with cheese, right?
Butter –use unsalted to ensure the garlic and cheese flavors shine through.
Caesar dressing- for drizzling. You can use other dressing you like, though. This salad is super versatile anyways.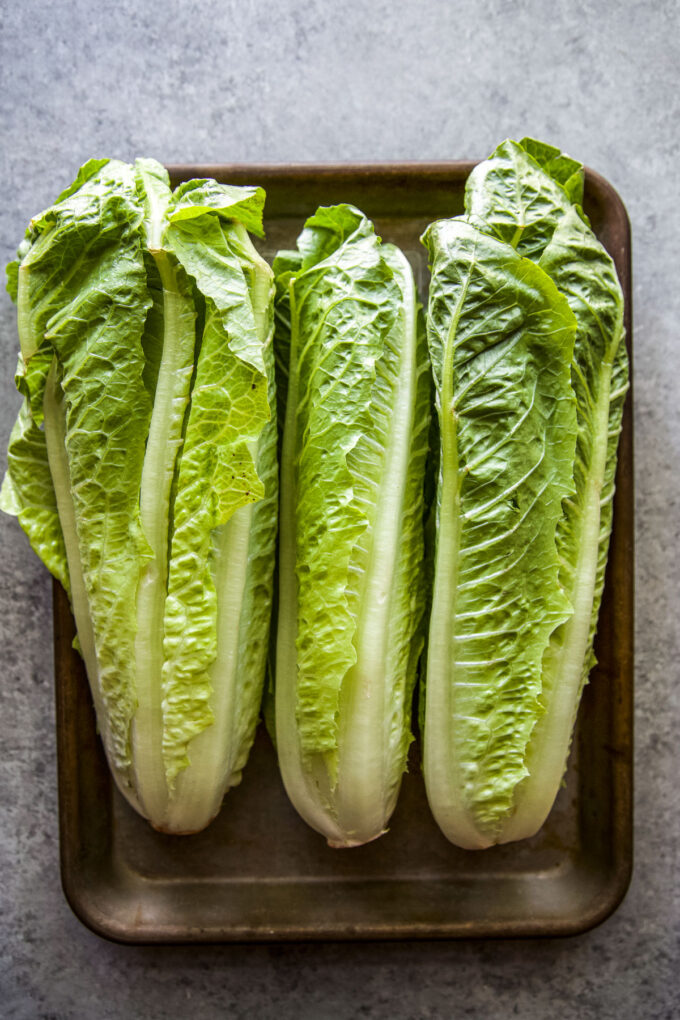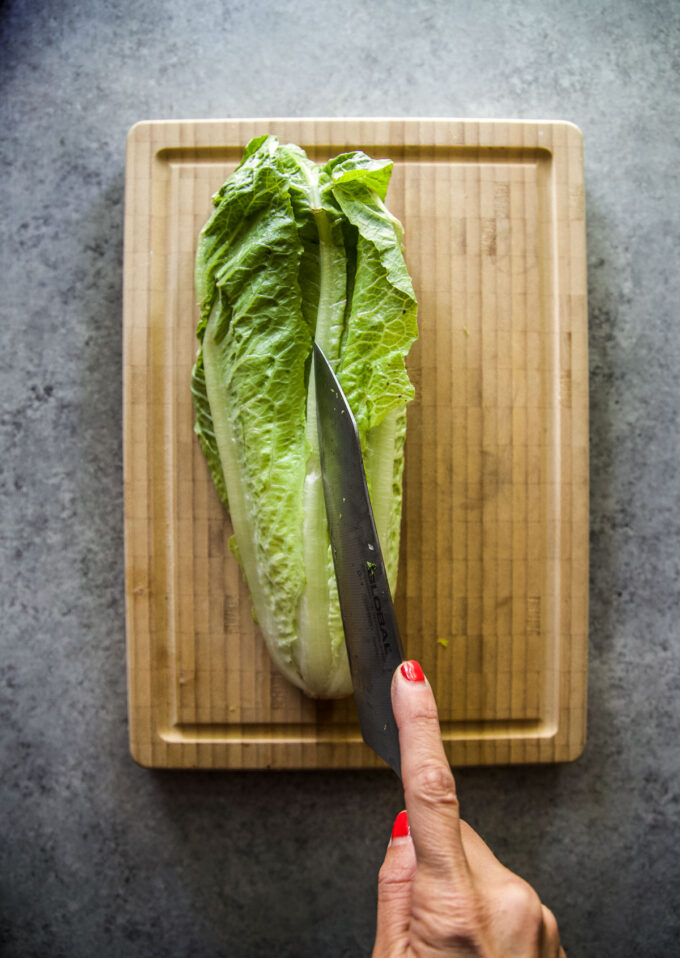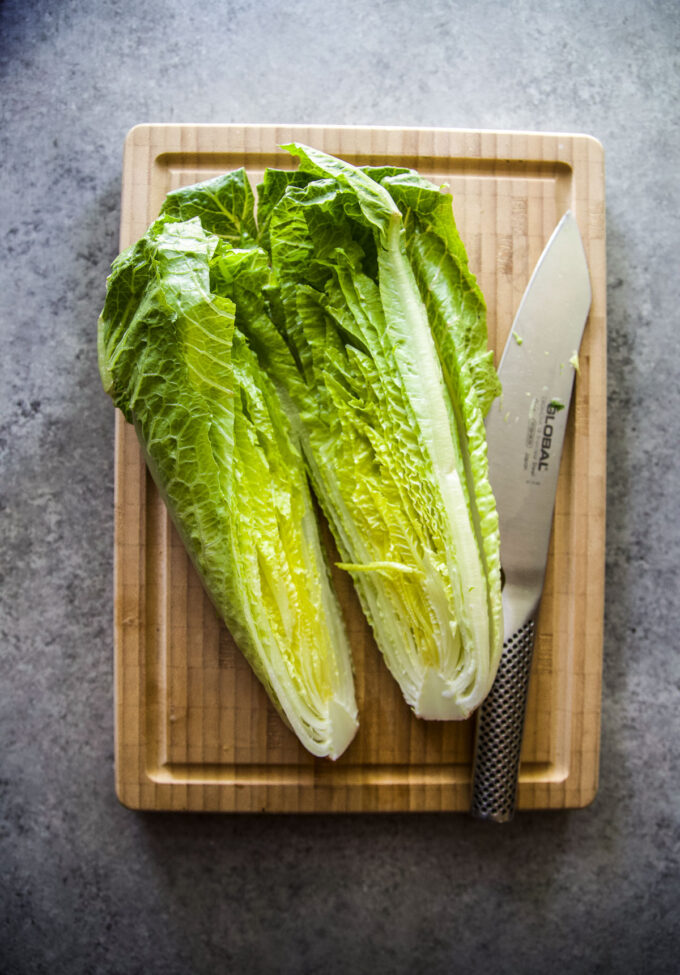 Instructions
Yes, it might take longer than simply getting your lettuce from the crisper, washing then dressing them. But, a few extra steps and minutes will make a world of difference! It adds a depth of summery flavor that will make you wonder why you have not done it before!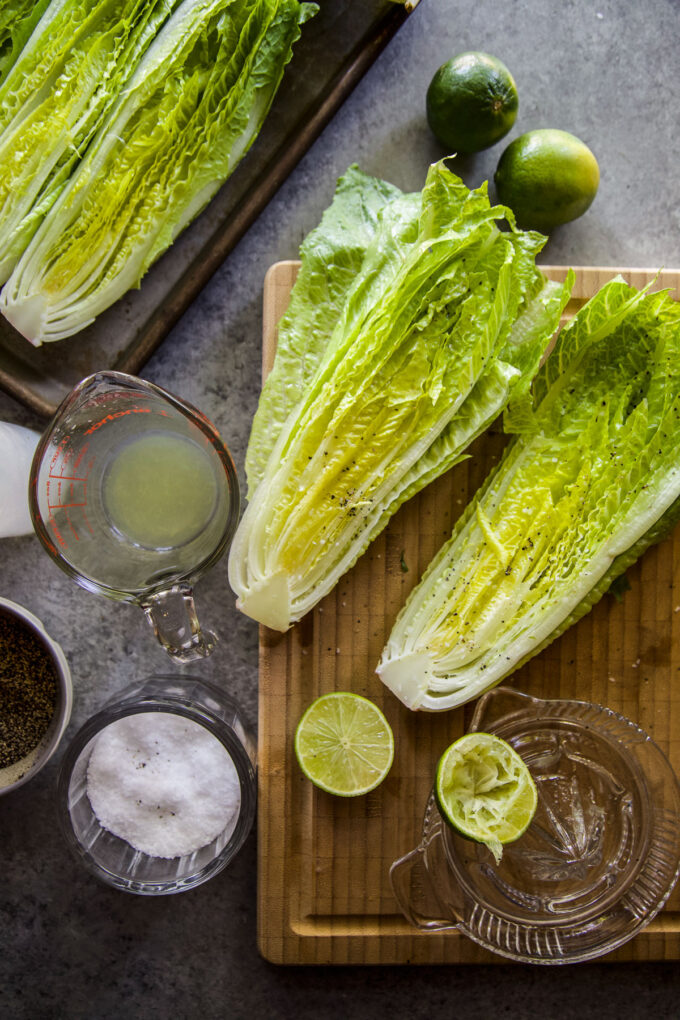 Preparations:
Preheat your grill to medium-high heat.
Wash the lettuce leaves thoroughly, and make sure to pat them dry.
Steps:
Prepare your lettuce. Place the romaine head on a chopping board with the stem pointing away from you. Using a large knife, slice from the stem all the way to the tips. This will allow you to cut them in halves equally without the leaves falling off.
Season the leaves. Sprinkle olive oil and lime juice evenly into the sliced heads. Then season with salt and pepper.
Grill! Place the sliced romaine heads into the grill cut-side down for a few minutes, then turn them over. You want the Romaine to be nice and crispy. Remove from the grill and set on a serving platter.
Make the toasted breadcrumbs. Melt butter in a large non-stick skillet over medium heat. Once it has melted, add the garlic, panko, parmesan, and sauté for 3 to 5 minutes or until golden brown and crisp. Transfer to a plate lined with a paper towel to absorb the excess oil.
Assemble the salad! Garnish the grilled Romaine with the toasted breadcrumbs and drizzle with Caesar salad dressing. Serve warm, and enjoy!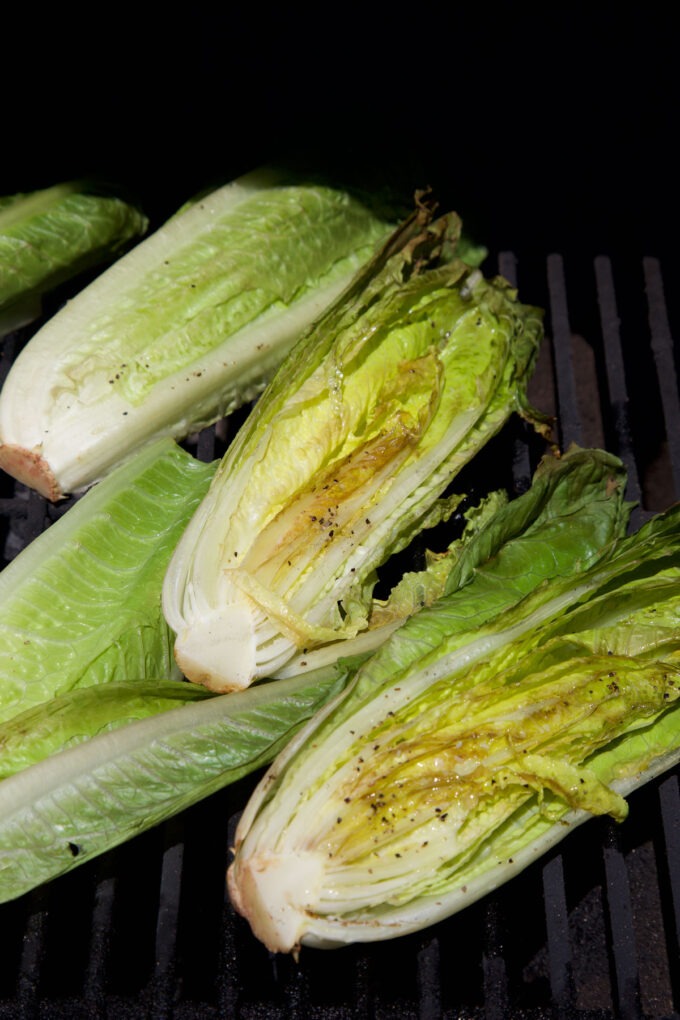 Tips when Making Grilled Romaine Salad
Dry your leaves thoroughly after washing them in running water. Grilling watery lettuce is never a good idea as it will create steam and affect the leaves' texture. No one likes a soggy and mushy salad!
It is important to preheat your griller. The grills should be hot enough for the lettuce to roast and char quickly, or else they will become wilted and bitter.
Leave the toasted breadcrumbs on the paper towel for a minute or remove excess oil. Too much will make the salad greasy and unappetizing.
You can chop the lettuce leaves into bite-sized pieces after grilling if you prefer. I will do this if there are children present at the table. It'll be easier for them to enjoy!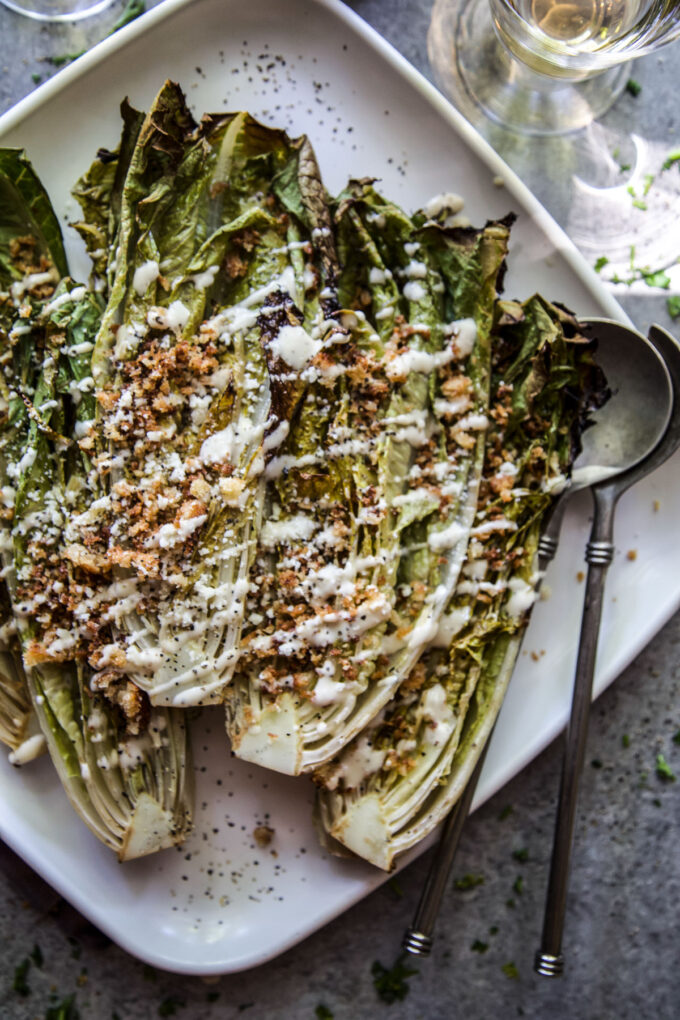 Variations
What I love about this grilled salad recipe are the endless topping options you can try. Don't stop with the toasted breadcrumb topping, and let your culinary creativity lead you into a great salad adventure! Here are some ideas for you:
Add some proteins! You can make this veggie salad a meal-in-one by adding bacon bits, hard-boiled eggs, chicken slices, ham, sausage, and even grilled shrimp.
Add more veggies. This dish would go great with red onions, tomatoes, olives, corn, and bell peppers! You can add them fresh or grilled too.
Fruits are friends. Go all out by adding your fave salad fruits like apples, cranberries, or pomegranate seeds.
Go Nuts! Layer your salad with more texture by adding walnuts, almonds, pine nuts, peanuts, pistachios, and cashews.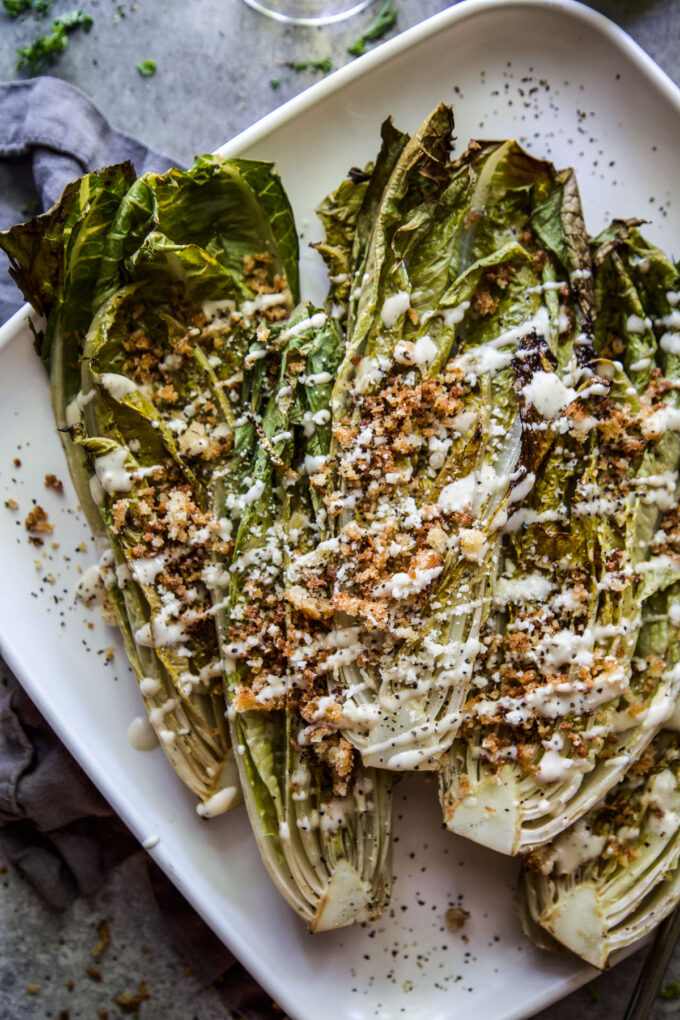 What Salad Dressing to Use?
The great thing about leafy salads is that you can pair them with almost any type of salad dressing! Aside from classic Caesar and Vinaigrette, you can enjoy it with Tahini Ranch Dressing, Jalapeno Avocado Dressing, or Basil-Mint Dressing. Take your pick!
Serving and Storing
This salad is best served and eaten right away. If you have leftovers, you can place them in the fridge for up to three days. However, note that it will not have the same crisp texture and robust flavors the longer they stay stored.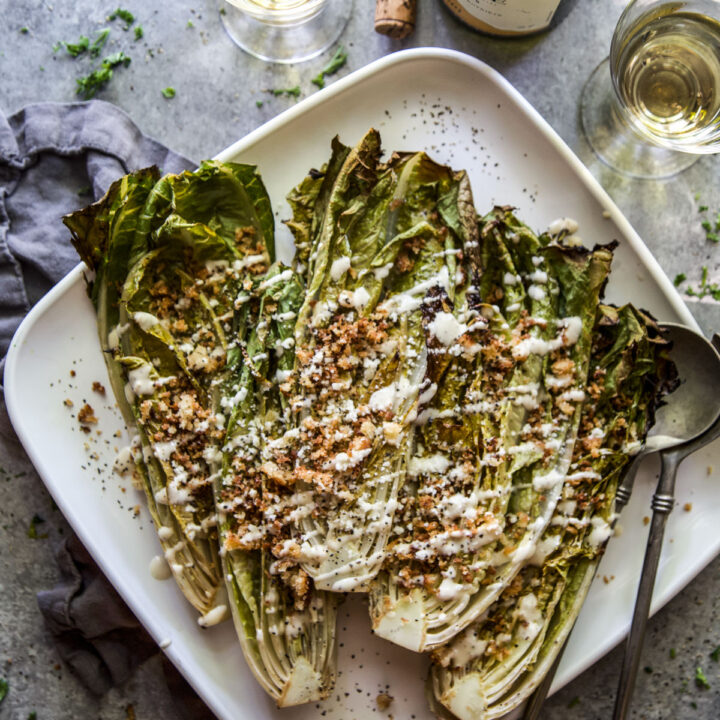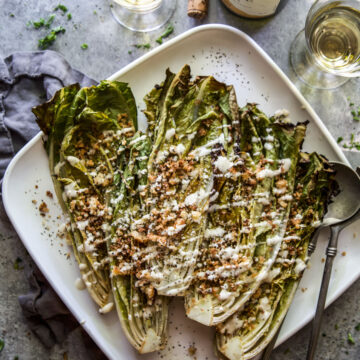 Grilled Romaine Salad with Toasted Breadcrumbs
Grilled Romaine Salad with Toasted Breadcrumbs is an easy and refreshing salad made on the grill with romaine lettuce, lime juice, olive oil, and toasted breadcrumbs!
Ingredients
4 large Romaine heads, washed and dried
1/4 cup Olive oil, divided
1/3 cup Fresh lime juice, divided
salt and pepper to taste
1/3 cup Panko breadcrumbs
2 tbsp Unsalted butter
1 clove Garlic, minced
1/4 cup Freshly grated Parmesan cheese
Caesar dressing, for garnish or your favorite salad dressing
Instructions
Preheat your grill to medium-high heat. 

Take a Romaine head and slice it lengthwise. Next, sprinkle the sliced heads with olive oil and lime juice. You'll need about 1 to 2 tbsp per head depending on the size. Sprinkle with kosher salt and pepper. Repeat the process until all lettuce has been covered. 

Place the Romaine on the grill. Grill each side for a few minutes. You want the Romaine to be nice and crispy. Remove from the grill and set on a serving platter. 

Next, place a large non-stick skillet over medium heat and melt the butter. Add the garlic, panko, Parmesan and sauté for 3-5 minutes until it starts to turn golden brown. Remove from heat and transfer to a paper towel lined plate to drain any excess oil.

Sprinkle the toasted breadcrumbs over the Romaine and garnish with your favorite salad dressing. 
Did you make this recipe?
Please leave a comment below and share a photo on Instagram with the hashtag #thecuriousplate!