Korean BBQ Short Rib Stuffed Sweet Potatoes
Jazz up your sweet potato stuffing game by making these Korean BBQ Short Rib Stuffed Sweet Potatoes! Slow cooked Korean barbecue short ribs stuffed into buttery sweet potatoes make for a killer and delicious dish!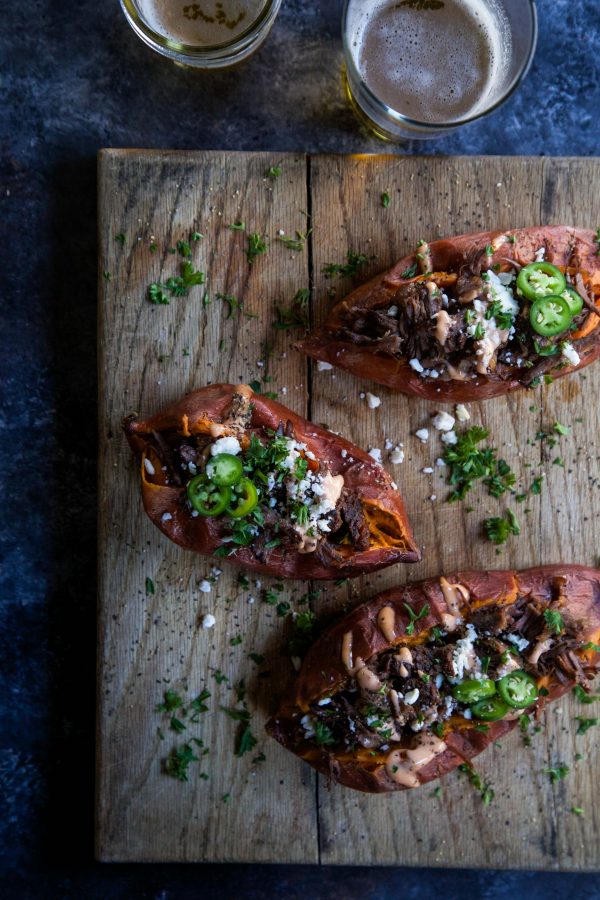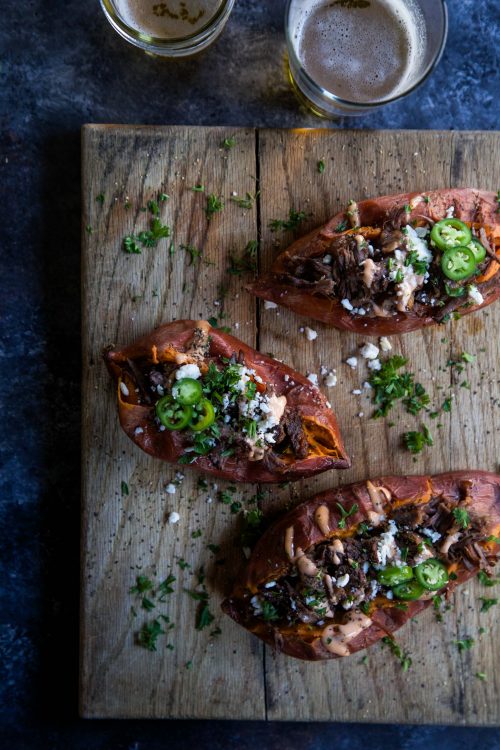 Let's get stuffed!
"Easy Lauren, I've only had my first cup of coffee this morning."
Sorry, sorry. My bad. I think this batch of coffee I made is as strong as jet fuel. I dunno. But I have a lot of energy at the moment because a certain someone's birthday is this coming weekend!!
What am doing you ask? Haven't a darn tooting clue. I thought about being naughty at Nordstroms for the afternoon. A girl can never go wrong there. I have a lot of events and weddings to attend this spring and summer, and I don't want to look like a sack of potatoes. Ya feel me? And since we are having spring like weather already, I figured why not sip rose on a patio and order a plate of crispy french fries. Followed by Mr. B making his marvelous white pizza for dinner. I think this is a good plan, no?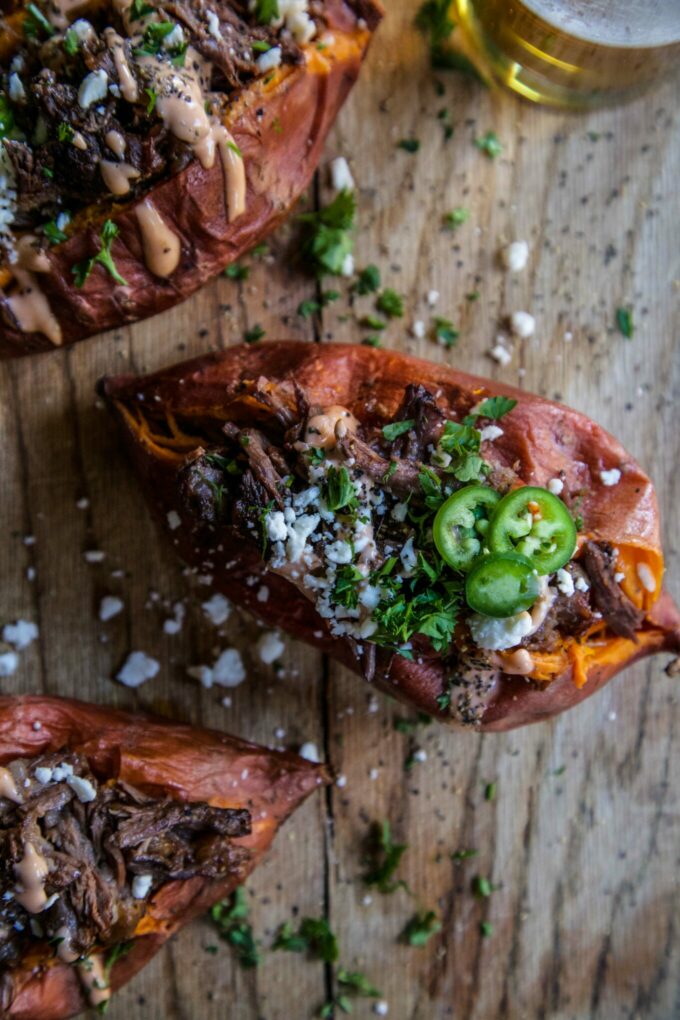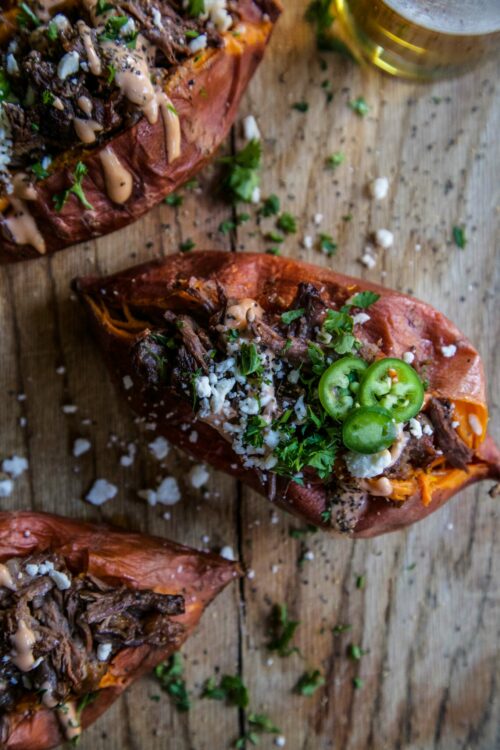 Anyway, back to the statement at hand. What I was referring to when I said, "Let's get stuffed" were these Korean BBQ Short Rib Stuffed Sweet Potatoes. I am having a minor moment with Gochujang sauce. Like if I could bathe in this Korean barbecue sauce and it not be awkward, I would. I highly recommend running to your grocery store and purchasing a bottle because you will put it on everything. Including your avocado toast.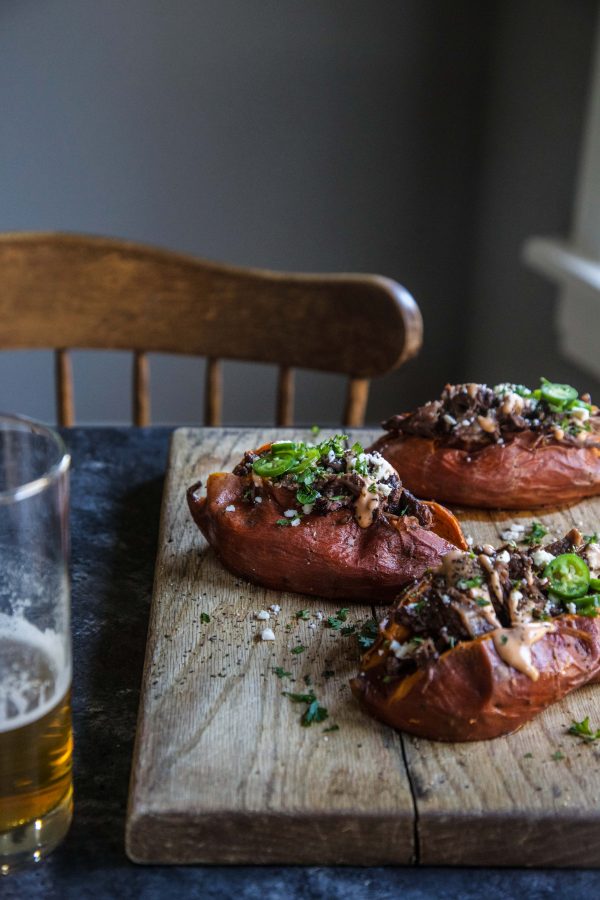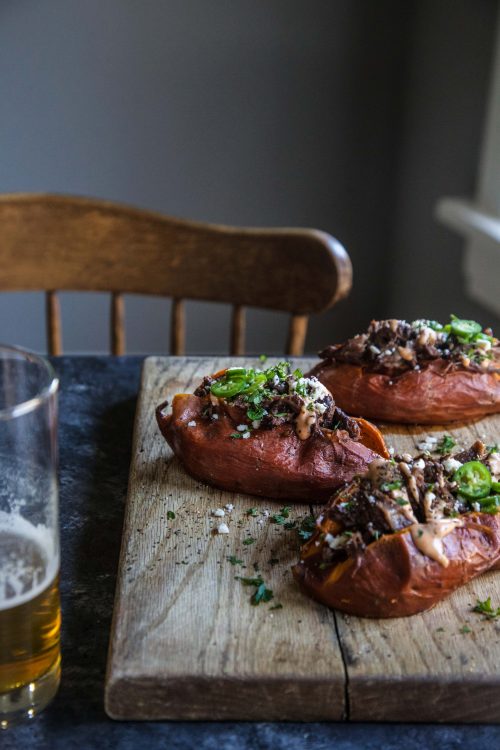 But! Today we are adding Gochujang to some short ribs, letting them slow cook until falling off the bone, and then stuffing them into some baked sweet potatoes. Oh, and wait for it…….finish it off with some Srirachia aioli. GAH!! Now, do you want to get stuffed? Thought so.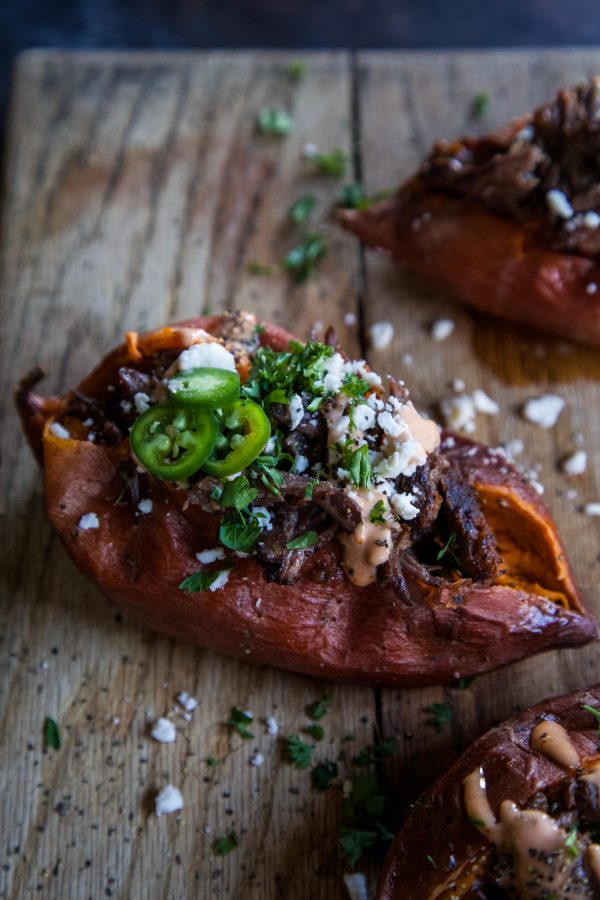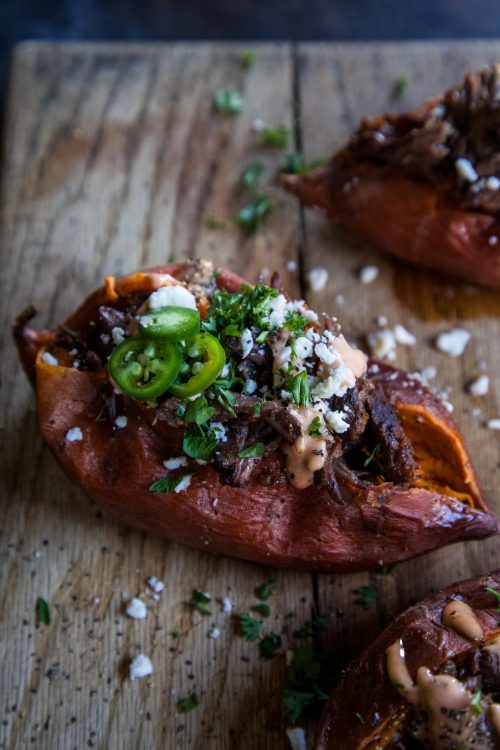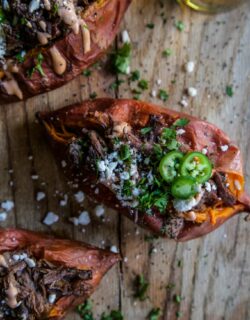 Korean BBQ Short Rib Stuffed Sweet Potatoes
Ingredients:
2 lbs beef short ribs
1 1/4 cups Gochujang (Korean barbecue sauce)
2 cups beef stock
4 large sweet potatoes, washed
4 tablespoons olive oil
1 cup mayonnaise
1 tablespoon Sriracha
1 tablespoon lemon juice
salt and pepper to taste
Jalapeño rounds, for garnish
Parsley, for garnish
Directions:
In the bottom of a slow cooker, place short ribs. Salt and pepper to taste followed by Gochujang sauce. Stir to combine and then pour in the beef stock. Set the slow cooker to either high for four hours or on low for eight hours.  Once the short ribs are finished cooking, remove them from the slow cooker and set on a cutting board. Discard the bone and shred the beef with two forks. Set aside.
Meanwhile, preheat an oven to 400 degrees. Spray a baking sheet with non-stick cooking spray.  Take a sweet potato and prick around the sides of the potato with a fork. Next, rub each sweet potato with one tablespoon of olive oil. Wrap  each potato in foil and place on the baking sheet. Roast the sweet potatoes for one hour. Once cooked, remove the sweet potatoes from the from the oven and let them cool slightly before removing the foil.
While the sweet potatoes cool, make the Sriracha aioli. In a small bowl, combine mayonnaise, Sriracha, lemon juice, salt, and pepper. Stir to combine and set aside.
Remove the foil from the sweet potatoes. Using a pairing knife make a small cut down the center of the sweet potato. Pull the sides apart creating a space to stuff the potatoes. Take some of the beef short ribs and stuff them into each sweet potato. Top with Sriracha aioli, jalapeño rounds, and parsley!
All images and text ©