Turmeric Noodle Bowls with Ginger Garlic Shrimp
Turmeric Noodle Bowls with Ginger Garlic Shrimp are a must make meal that's ready in 30 minutes! Turmeric soaked noodles get tossed with ginger garlic shrimp, basil, and cilantro. It's slurp worthy!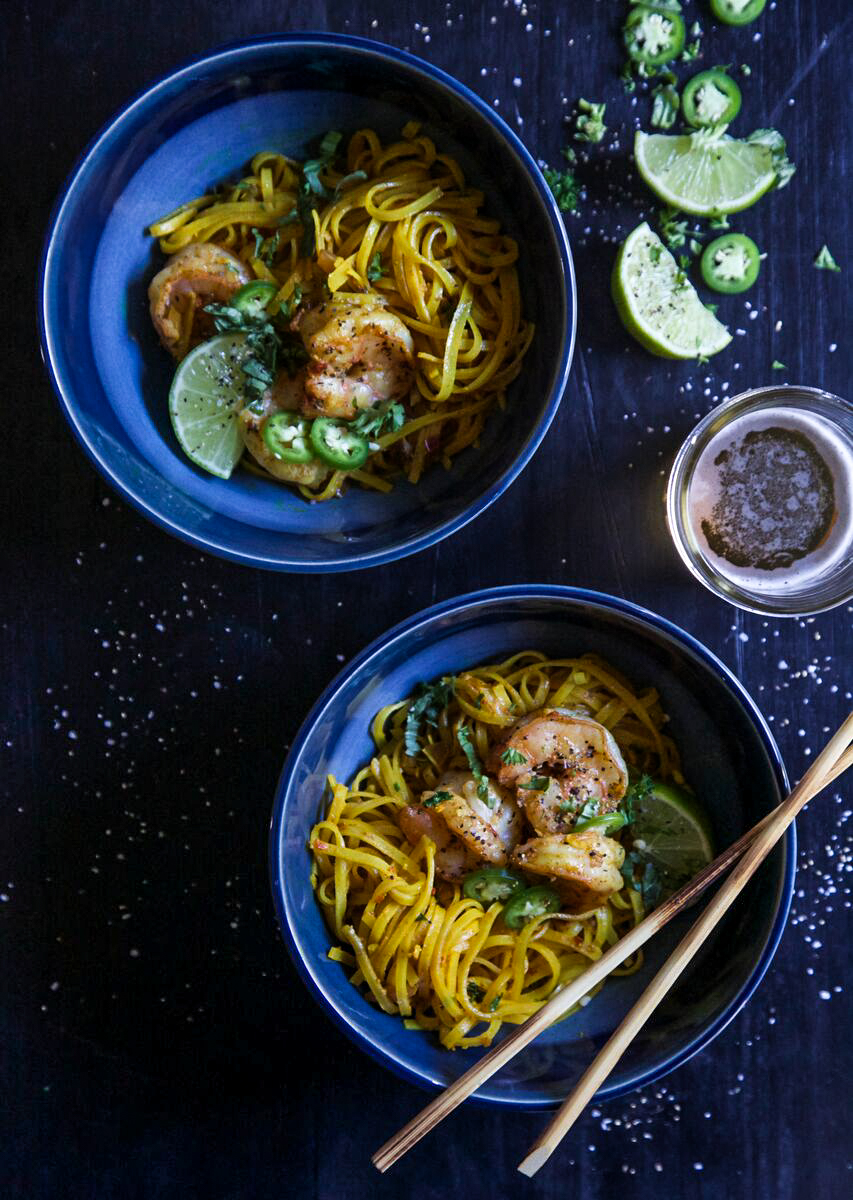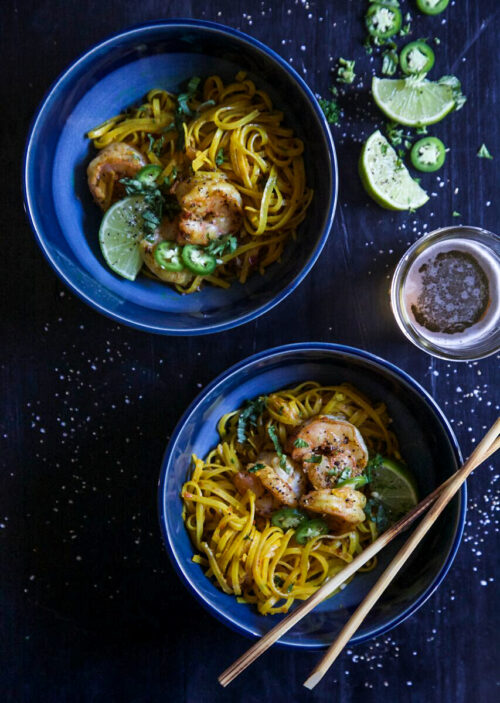 Ooodles of noodles.
That's what I think of when I hear the word noodle. This particular statement comes from a very funny movie called Patch Adams staring the late Robin Williams. He helps make an elderly lady's dreams come true by filling a plastic pool full of spaghetti noodles so she can swim in…oodles of noodles!
As a girl watching this movie, I wanted to be a doctor and make people laugh so bad. Did I ever tell you that besides wanting to be a cop, I thought about becoming a comic? Strange, yes?
Looking back the thought of standing in front of a room full of strangers and trying to make them laugh sounds terrifying. I would much rather go to a Children's hospital wearing a funny costume to invoke laughs Also, this form of comic relief is way more rewarding because laughter really does help with healing.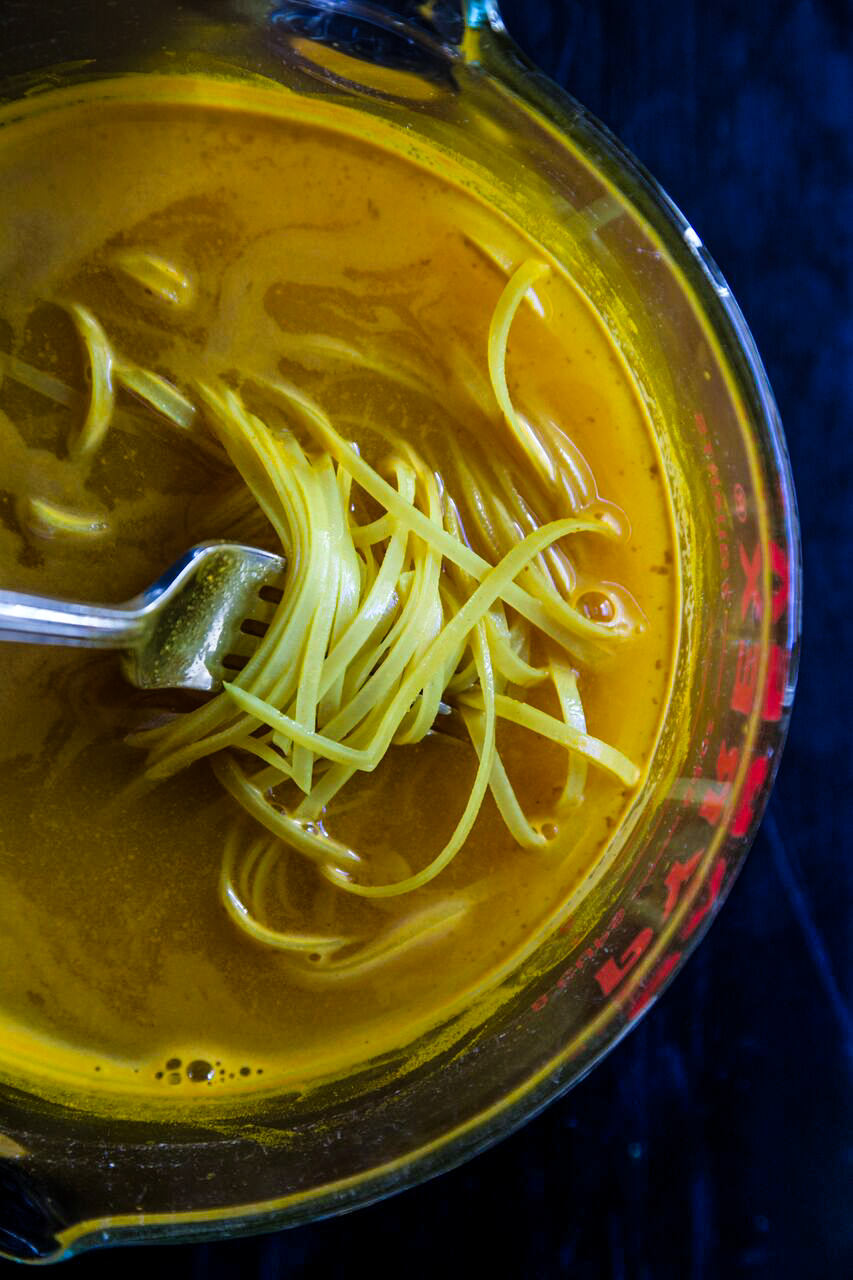 I remember as a kid my mother would let my brothers and I watch Young Frankenstein when we were home sick with the flu. We would roar with laughter as we laid in bed sipping 7up, eating saltine crackers and chicken noodle soup.
Well, today's recipe does contain oodles of noodles. Turmeric soaked noodles that is. I can't get enough turmeric these days. If there is a way to sneak this healthy, golden hued powder into a drink, pizza, or taco, I'm on it. This Turmeric Noodle Bowl with Ginger Garlic Shrimp is brilliantly easy to make. All you have to do is cover the rice noodles with boiling water and a dusting of turmeric. Let the noodles have their tubby time and then boom. Turmeric noodles.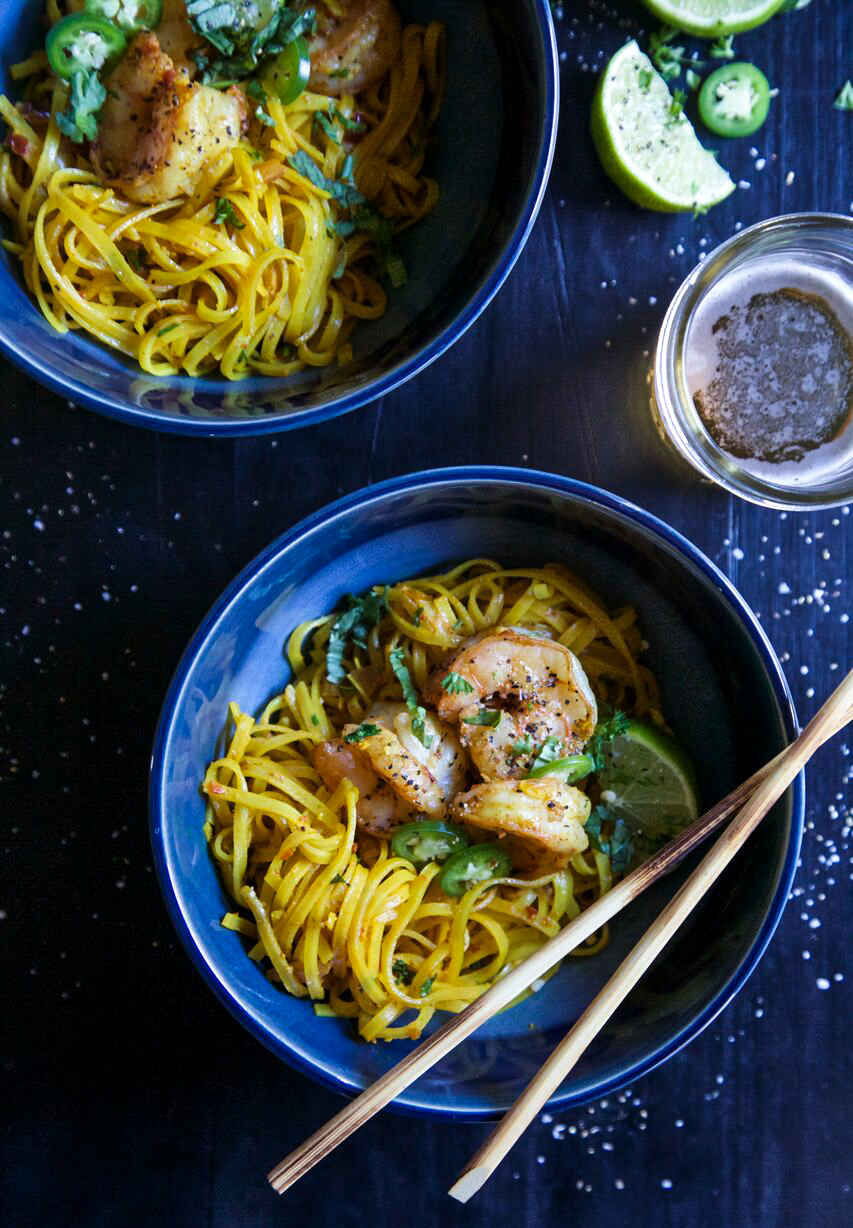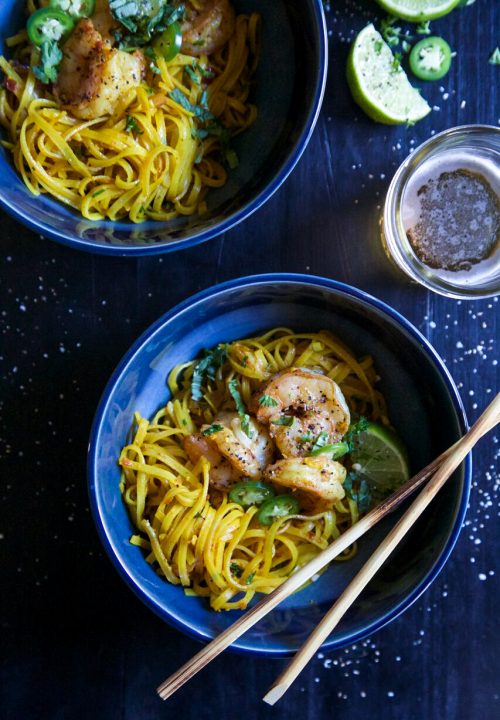 You can add whatever protein you'd fancy into this bowl. I went with shrimp because I love the way garlic and ginger taste when sautéed in a quick wine sauce. Plus, ginger and turmeric are total besties. Let's be real.
Alright, I'm off to fill the plastic pool with turmeric noodles.
Too much?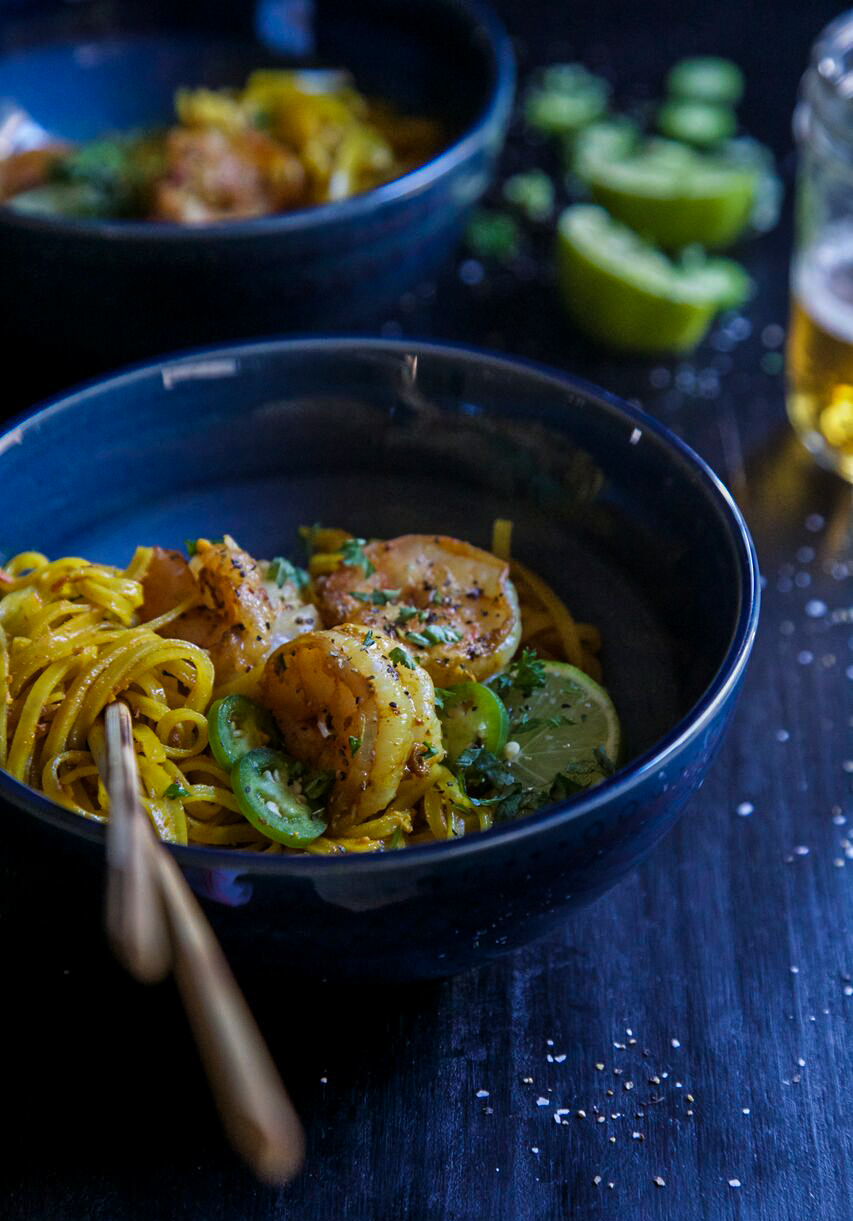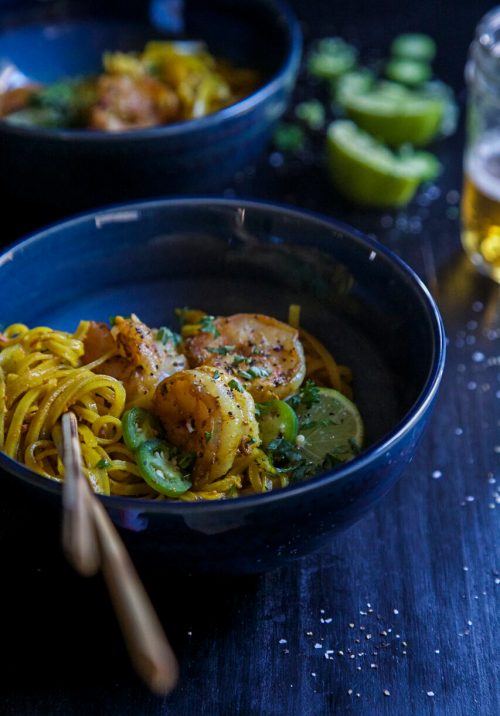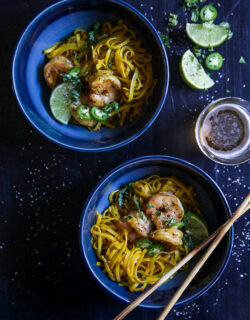 Turmeric Noodle Bowls with Ginger Garlic Shrimp
Ingredients:
1 package rice noodles
2 tbsp ground turmeric
1 1/4 tsp kosher salt, divided
Boiling water
1 lb shrimp, shelled and deveined
1 tsp ground pepper
2 tbsp olive oil, divided
1/4 cup diced red onion
3 garlic cloves, minted
1 tbsp grated fresh ginger
1/4 cup white wine
1/4 cup chicken stock
1 tbsp soy sauce
1 tbsp chili garlic sauce
1 tbsp lime juice
Fresh basil chopped, for garnish
Fresh cilantro chopped, for garnish
salt and pepper to taste
Directions:
In a large mixing bowl, combine turmeric, 1/4 tsp kosher salt, noodles, and enough boiling water to cover the rice noodles. Let the noodles soak in the water for about 20 minutes. Once softened, drain the noodles and set aside.
In a large bowl toss together shrimp, 1 tsp kosher salt and 1 tsp ground pepper. Heat a large skillet to medium high heat. Add 1 tbsp olive oil and the shrimp to the skillet. Saute the shrimp on the first side for about a minute, flip, then cook for another minute or until the shrimp are slightly pink and starting to curl up. Remove the shrimp from the skillet with a pair of tongs to a plate.
In the same skillet, turn the heat back to medium. Add 1 tbsp of olive oil to the skillet and then add the red onion, garlic, and ginger. Sauté the veggies until softened about two minutes. Next, deglaze the skillet with white wine making sure to scrap up all the brown bits. Stir in the chicken stock,  soy sauce, chili garlic sauce, and lime juice. Let the sauce simmer for a few minutes and then add the noodles and shrimp back to the skillet. Toss together making sure the sauce has coated the noodles and the shrimp. Remove the skillet from the heat and garnish with fresh basil and cilantro. Serve immediately!
All images and text ©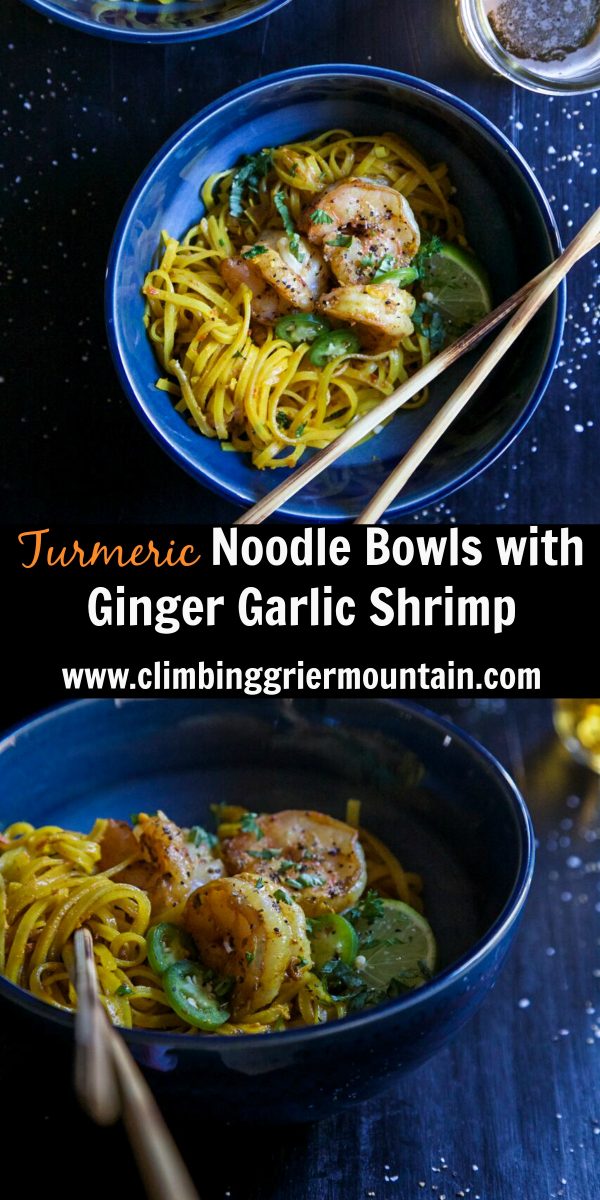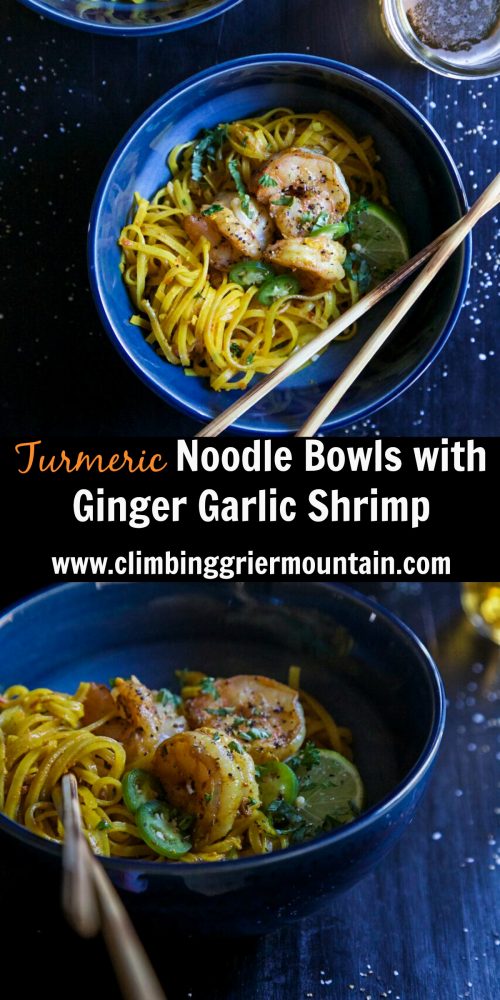 In conclusion, Turmeric Noodle Bowls with Ginger Garlic Shrimp offer a harmonious blend of flavors and health benefits, creating a satisfying, wholesome culinary experience.