Mexican Fattoush Salad
Mexican Fattoush Salad is a super simple dish that comes together in 15 minutes or less! Crisp romaine, Mexican-spiced pita chips, grilled corn, fresh tomatoes, and queso fresco tossed together for the ultimate dinner salad!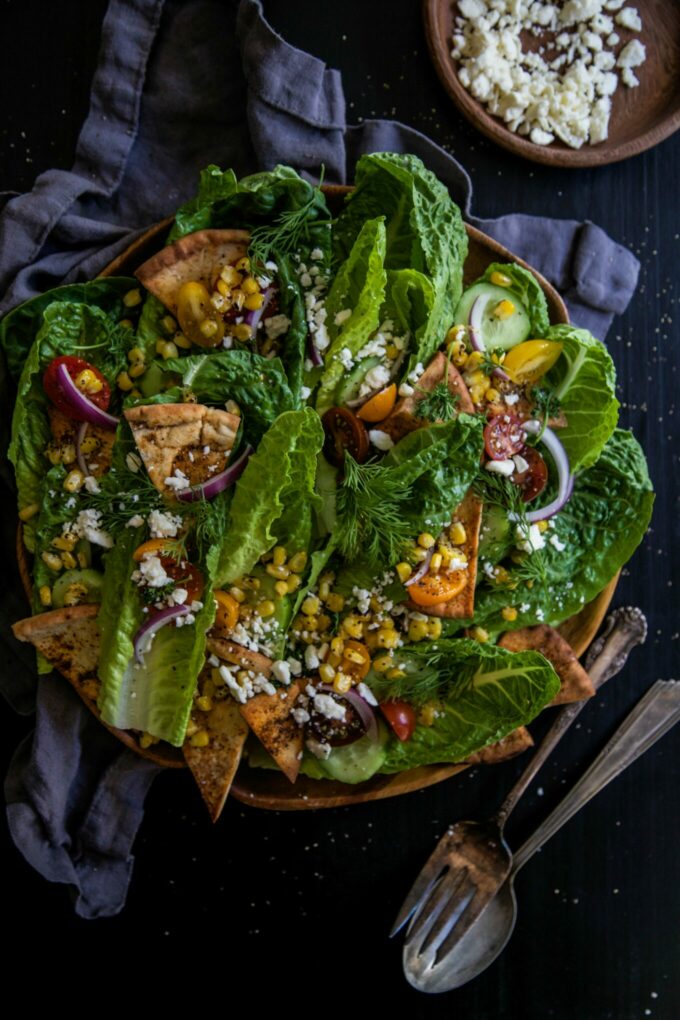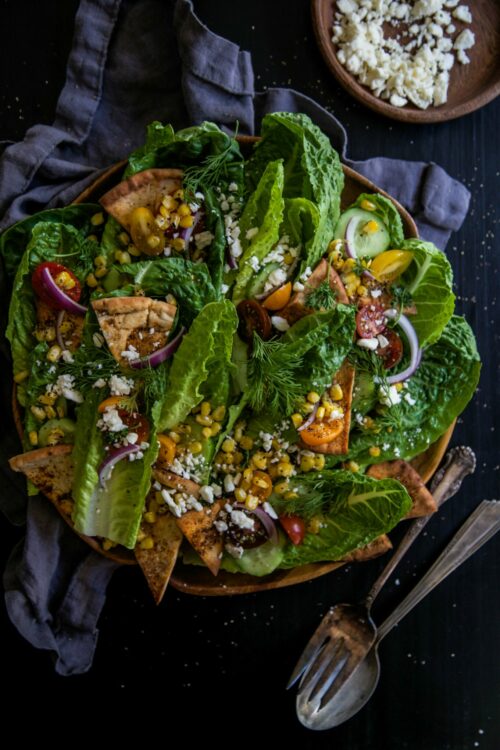 I know it sounds weird.
Mexican. Fattoush. Salad.
I promise this salad of salads will not disappoint. Because it's Monday I want you to have the best start to the week!
Anyway, I always giggle when I hear the word fattoush. It reminds me of an Adam Sandler movie called, You Don't Mess with Zohan. Have you seen this movie? Chances are probably not because it has a whopping two stars on IMDB. But! The villain of the movie is played by John Turturo who is known as the Phantom. Later on in the movie, we find out that his real name is Fattoush thanks to his lovely sister. I don't know why, but I laugh out loud when she says, "Oh you mean, Fattoush is the one causing all the ruckus?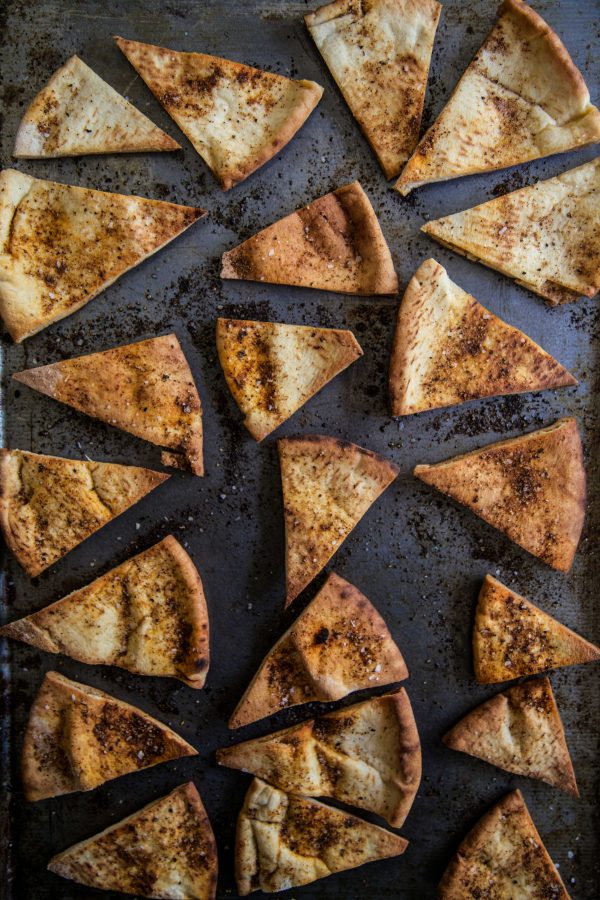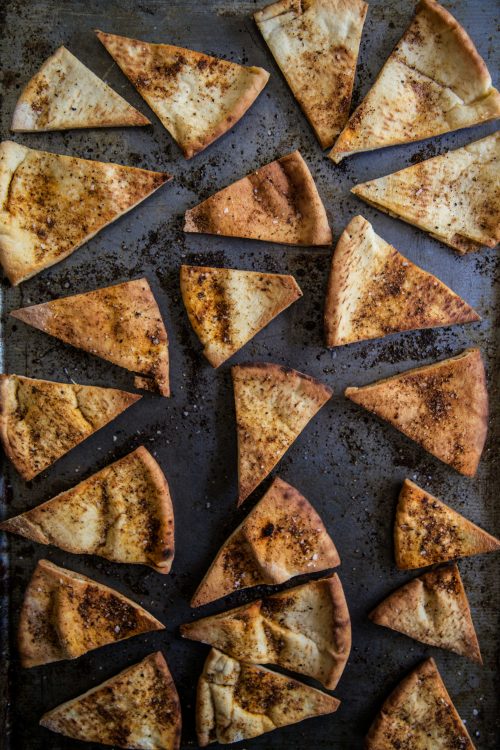 Okay, maybe this is one of those things you will just have watch to understand. I think it's free on Amazon to stream so I highly recommend giving it a go! Alright back to matters at hand. This Mexican Fattoush Salad.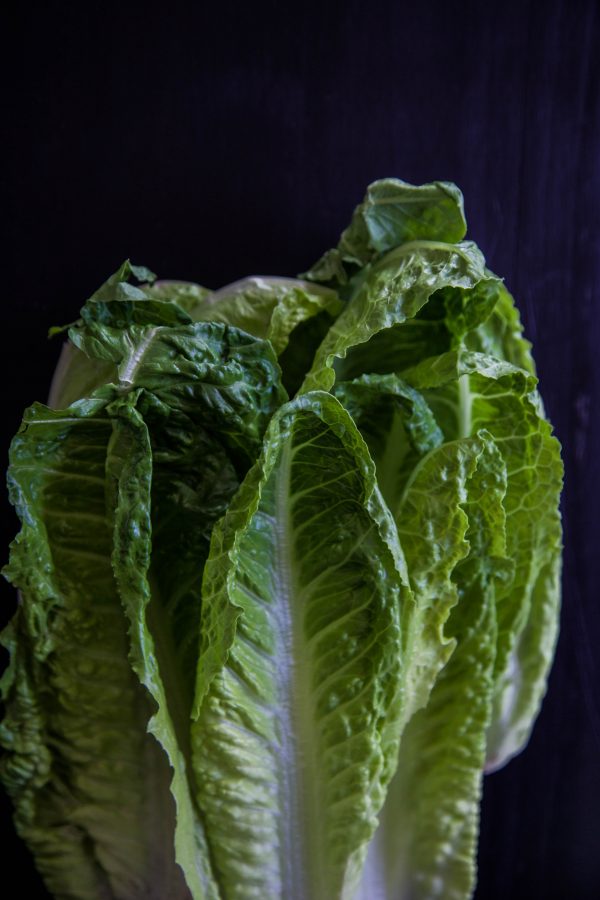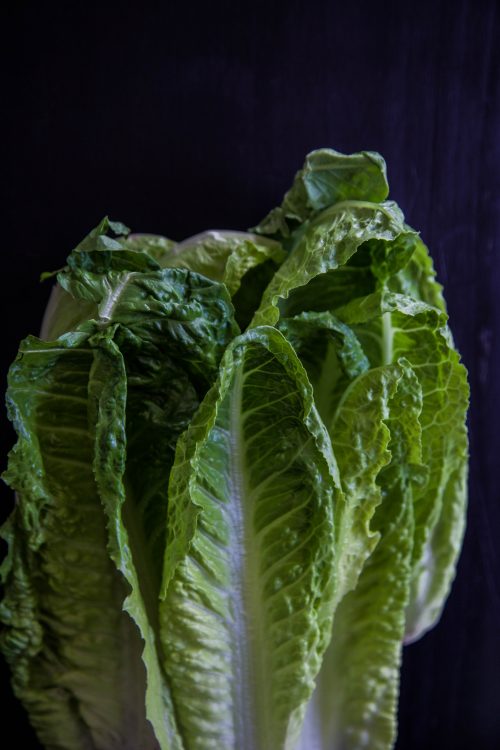 What makes this salad so brilliant is the spiced baked pita chips. Chili powder, cumin, coriander, garlic powder, and paprika mixed together, sprinkled on top of the pita and then baked. It provides the perfect spicy crunch in this gorgeous salad. Which is complete with the usual fattoush salad fixings – cumbers, tomatoes, red onion, dill, and parsley.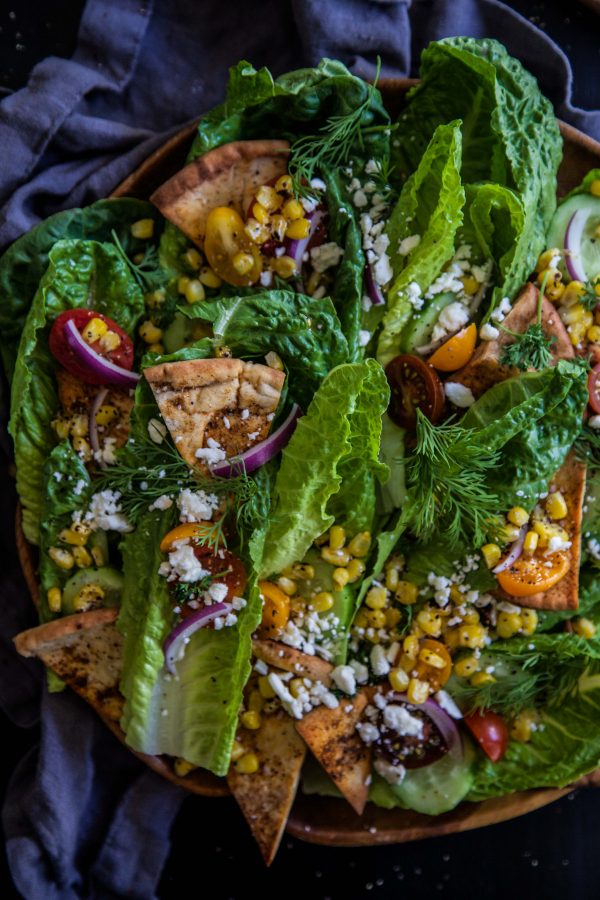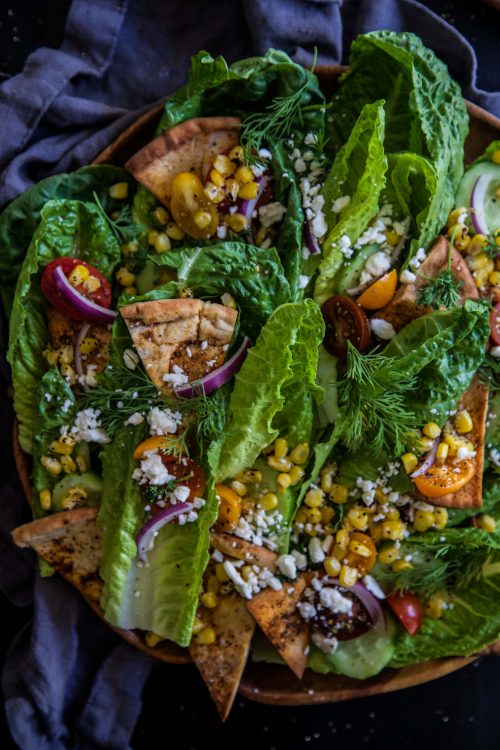 Oh! And since I am basically willing spring at the moment, grilled corn! You can use frozen or canned just make sure to give it a quick saute over high heat to add a richer taste. But whatever you do don't forget the queso fresco!
Now, who's ready to start this week? "Fattoush?"……..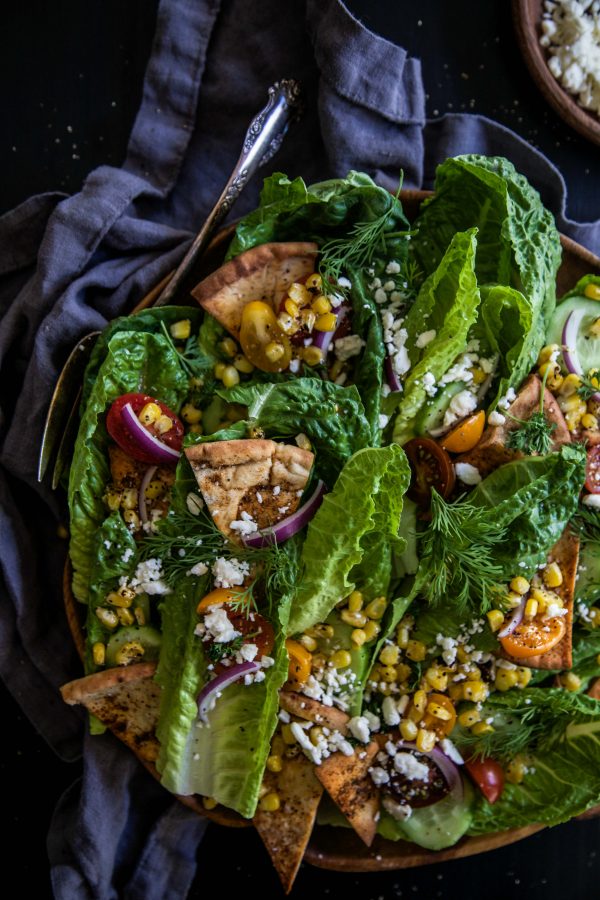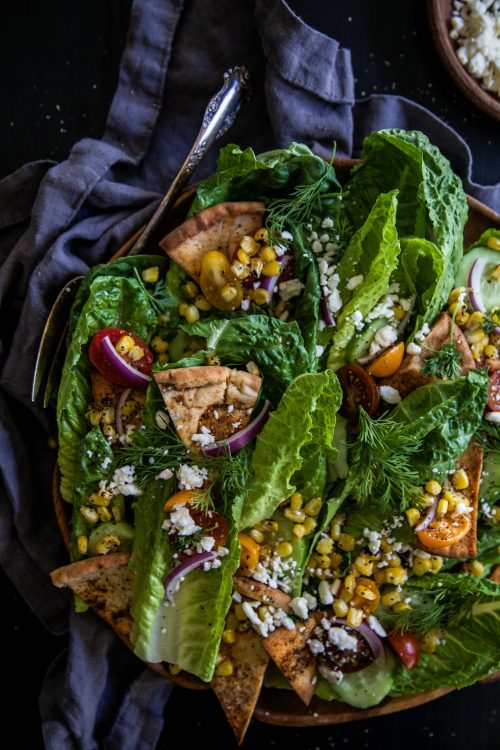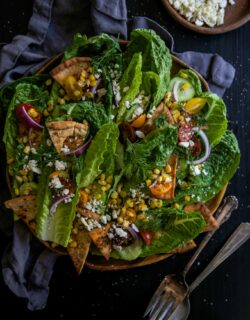 Mexican Fattoush Salad
Ingredients:
1 tbsp chili powder
1 tsp coriander
1 tsp cumin
1 tsp paprika
1 tsp garlic powder
salt and pepper to taste
3 pitas sliced into triangles (roughly 20)
4 tbsp olive oil, divided
3 cups chopped romaine
1/2 cup halved grape tomatoes
1/4 cup sliced thinly red onion
1/2 cup sliced cucumber rounds
1 cup grilled corn
2 tbsp chopped fresh dill
2 tbsp chopped fresh cilantro
2 tbsp chopped fresh parsley
Ground sumac, for garnish
Queso fresco, for garnish
Salt and pepper to taste
Directions:
Preheat oven to 400 degrees.
In a small bowl mix together chili powder, coriander, cumin, paprika, garlic powder, salt, and pepper. Next, spray two baking sheets with non-stick cooking spray. Place the pita triangles on the baking sheet  and spread into an even layer. Drizzle 2 tbsp of olive oil between the pita chips along with some of the spice mixture. Using more spice if you want to kick things up a notch. Flip and sprinkle the remaining side. Place the baking sheets in the oven and bake for about 10 minutes or until the pita is golden brown. Remove the baking sheets from the oven and set the pita aside to cool.
In a large salad bowl, add the romaine, grape tomatoes, red onion slices, cucumbers, grilled corn, dill, cilantro, parsley, and pita chips. Toss to combine and then drizzle top with remaining 2 tbsp olive oil, a light dusting of ground sumac if desired, queso fresco, salt, and pepper. Ole!
All images and text ©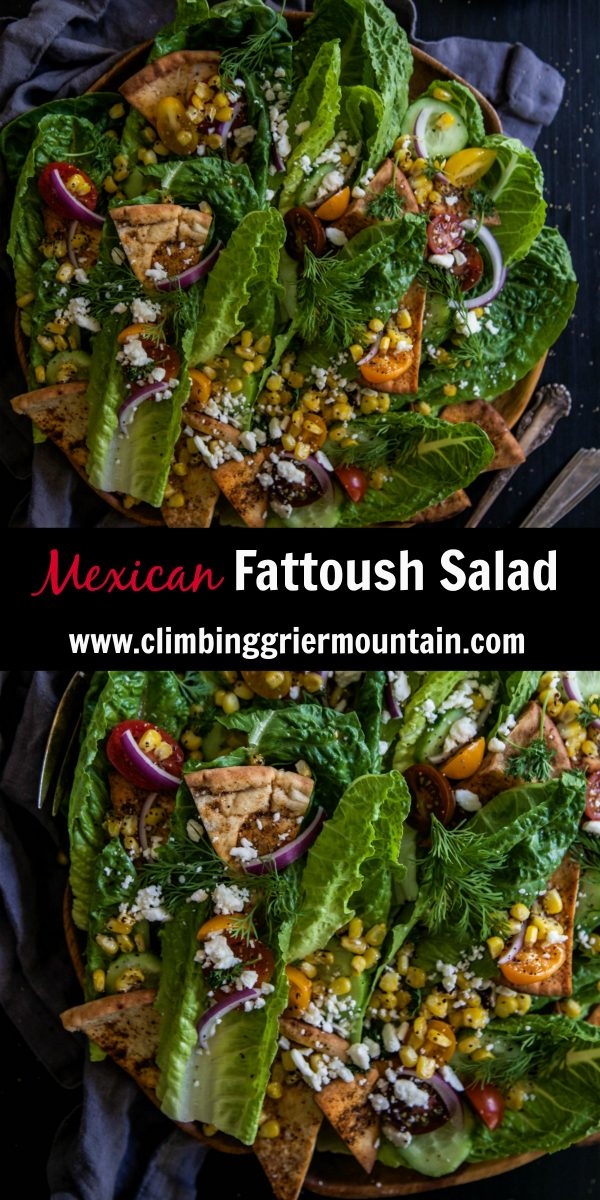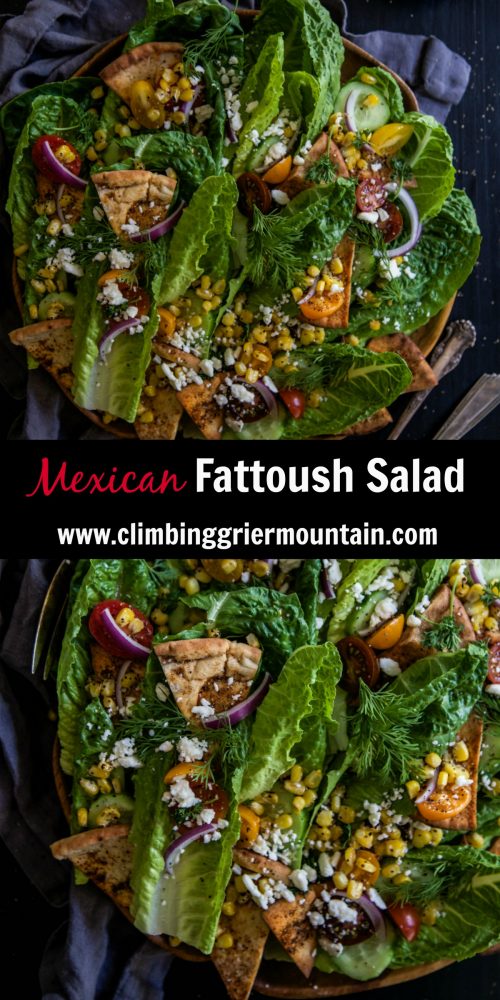 In conclusion, the Mexican Fattoush Salad offers a symphony of fresh, bold flavors that combine the best of two culinary worlds. A satisfying and unique salad for any palate.