Morning Mule Cocktail
When you need an alcoholic breakfast drink for a brunch or special occasion, this Morning Mule is one of the best morning cocktails you'll find. Made with vodka, refreshing orange juice, and spicy ginger beer, it's the perfect combination of a mimosa and a Moscow Mule.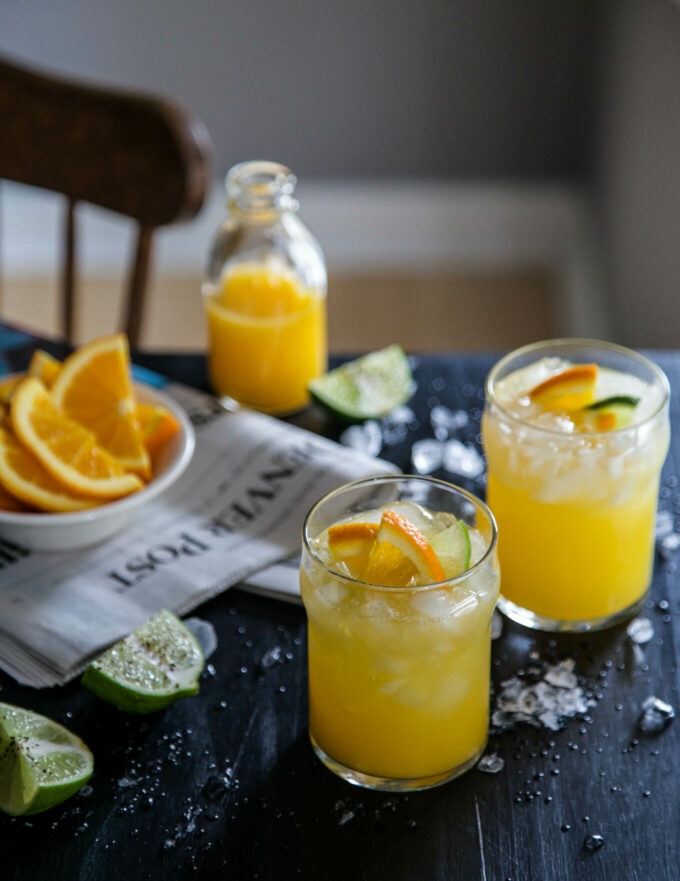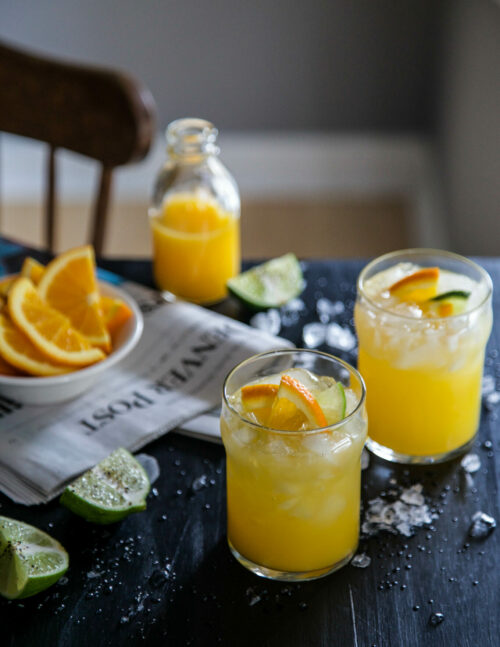 Can you feel it?
Spring is in the air! GAH! I'm so excited because our peach tree has the most beautiful blooms bursting right now. I think I have taken at least 248 photos in the past 48 hours (you'd think I was entering the tree into a beauty pageant).
Now that it's officially spring, my thoughts are turning to brunches in sundresses and bubbly morning cocktails. And happy hours on rooftops. And cocktails around a bonfire. Can you tell I've had cabin fever?
Making Morning Cocktails with Vodka
Morning drinks often include orange juice, and this cocktail is no exception. But many alcoholic drinks for morning are made with Prosecco for a lighter touch. The Morning Mule is made with a stronger spirit – vodka – and a punch of ginger beer.
So while it's a great choice for a brunch cocktail, it also works just fine any time of day.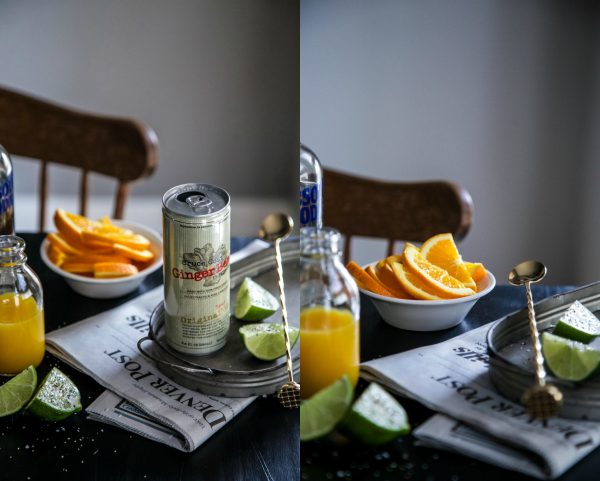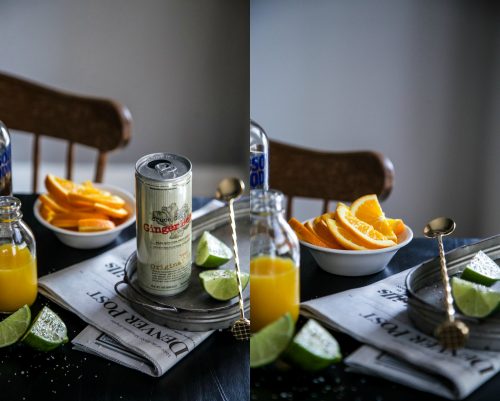 To make the Morning Mule, start by filling a tall cocktail glass with crushed ice. Pour 1.5 ounces of vodka into the glass, then add 1/2 cup of orange juice and 1/2 cup of ginger beer. Stir to combine and garnish with lime wedges and orange slices.
If you're feeling naughty, this cocktail would be easy to make by the pitcher – just mix the vodka, OJ, and ginger beer and pour into ice-filled glasses as needed!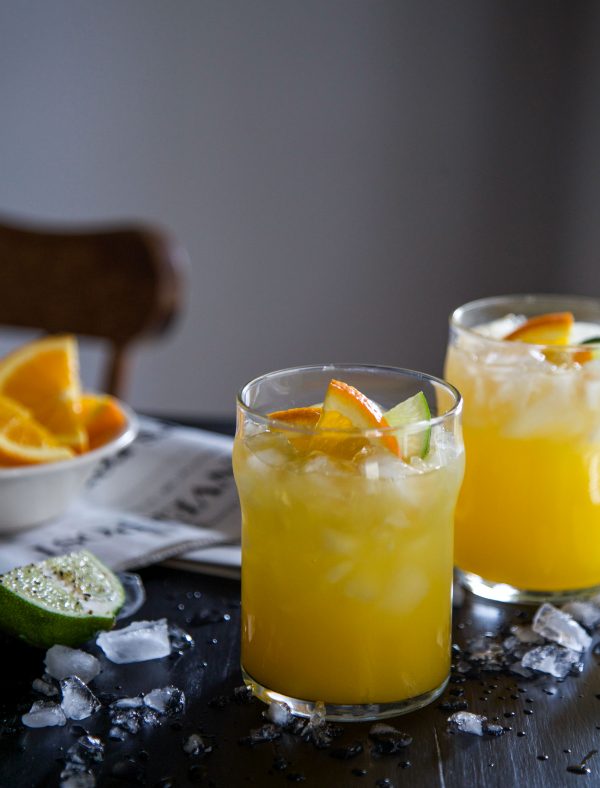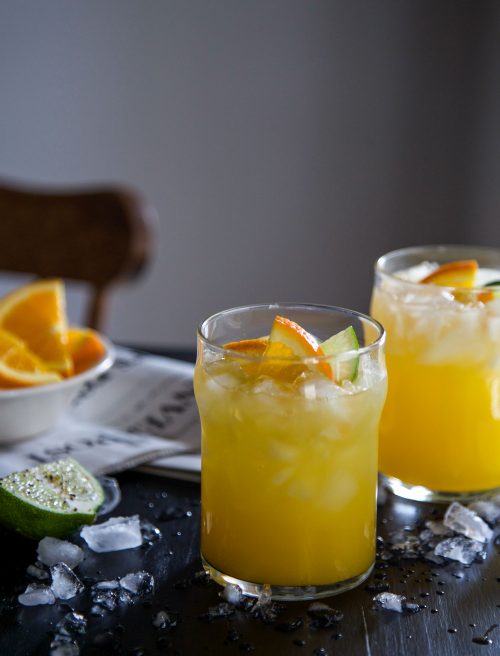 With warmer weather arriving, I am motivated to start working in the yard. Last weekend Mr. B and I sucked up the dead leaves in our front yard berm with a shop-vac. Next on the list is assembling and organizing our garden beds.
If you have any tips in this area, please send them our way. I want to keep it fairly simple. We have a bunch of travel this summer and I don't want to come home to a Little Shop of Horrors style backyard, ya feel me? I'm thinking of lots of herbs, lettuce, maybe zucchini, stuff like that.
But that's next weekend. And since it's now the middle of the week, I figured we needed something to set our eye on the brunch prize. Because in my world, Wednesday is basically the start of the weekend.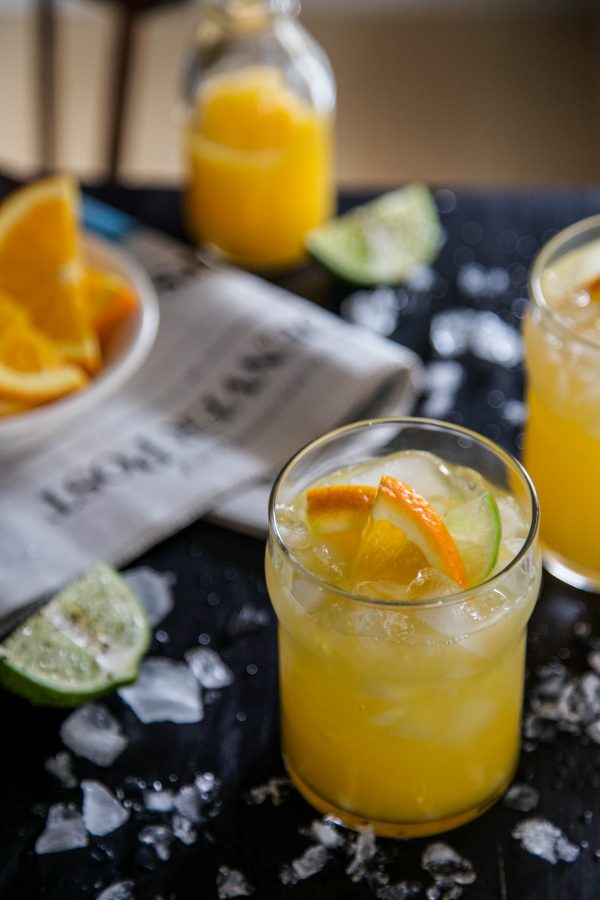 This Morning Mule Cocktail is my new go-to for brunch, a special Mother's Day cocktail, when I need a break from gardening, or… Wednesday.
Cheers to spring and the start of long, warm days!
More cocktails you'll love:
Morning Mule Cocktail
This is one of the best morning cocktails you'll find – it's the perfect combination of a mimosa and a Moscow Mule!
Ingredients
Crushed ice
3 oz Vodka, divided
1 cup Orange juice, divided
1 cup Ginger beer, divided
Lime wedges, for garnish
Orange slices, for garnish
Instructions
Fill a cocktail glass with crushed ice.

Add one shot of vodka (1.5 ounces) into the cocktail glass.

Pour in 1/2 cup orange juice followed by 1/2 cup ginger beer. Stir to combine.

Garnish with lime wedges and orange slices.

Repeat process for remaining cocktail.
Did you make this recipe?
Please leave a comment below and share a photo on Instagram with the hashtag #thecuriousplate!
In conclusion, the morning cocktail is a delightful way to awaken your senses, infusing your day with a burst of flavor and energy to embrace the day ahead. Cheers to a vibrant morning!