Peach & Basil French Toast Bake
Peach & Basil French Toast Bake is a scrumptious meal using seasonal ingredients to make for breakfast, lunch or dinner!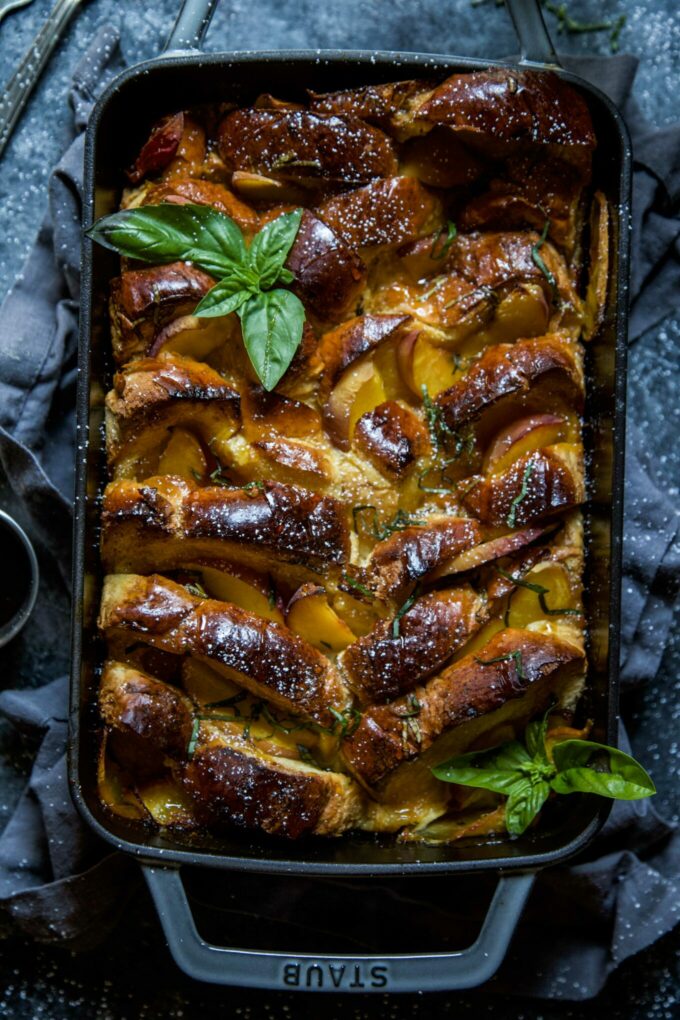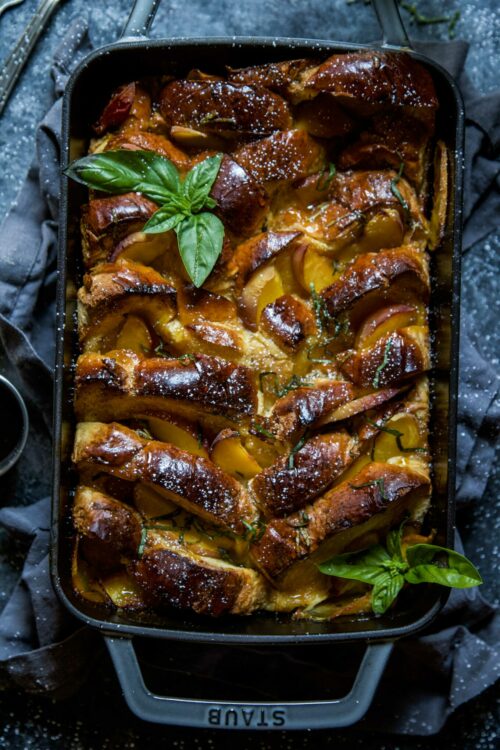 I think it was two weeks.
Right?
Yes, because we were driving back from the lake. Duh! Mr. B and I were in major podcast mode since our drive was a causal 12 hour long journey. Seriously, when is tellaporting going to become a thing?
Anyway, we had already spent nine hours listening to Joe Rogan podcasts. He has a lot variety and does great interviewing. I also like Jenna Kutcher of the Goal Digger, but to keep things light I found Dax Shepards podcast called "Armchair Expert."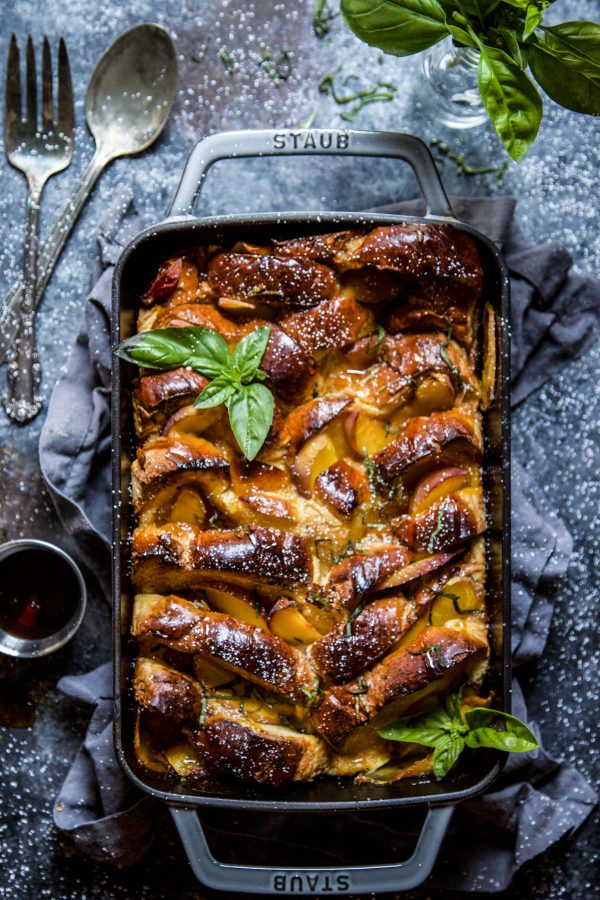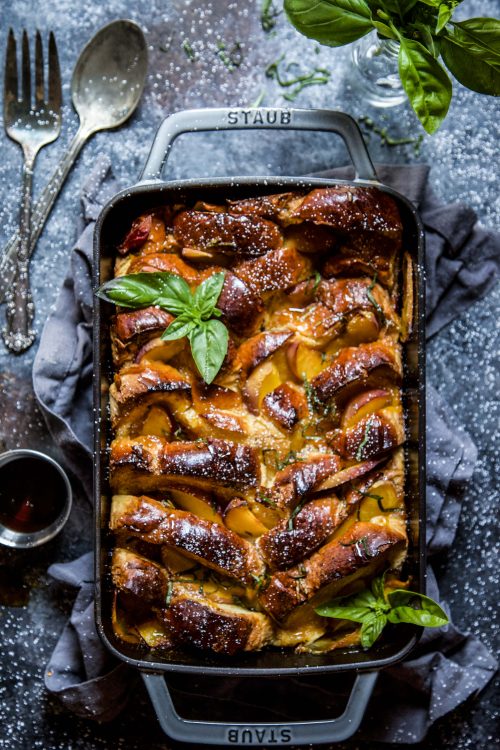 The first episode that he ever aired was an interview with Kristen Bell who is also his wife. Mr. B and I have a huge crush on them as a couple and individuals so we dove straight in. The podcast starts out with them arguing about how she needs to  get to Micheals (the craft store) before she picks up the kids. From there they go into her background, how she started in the acting biz, and then into their relationship.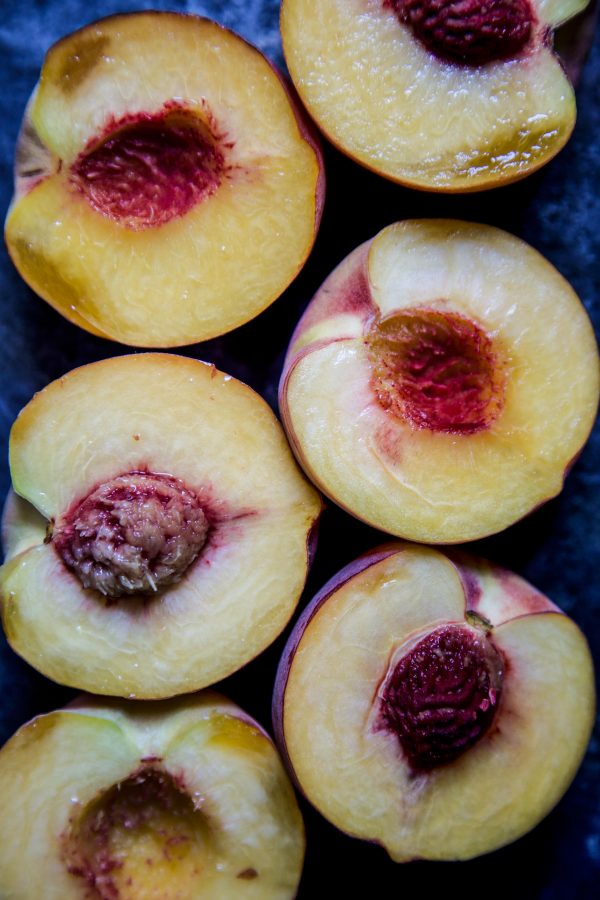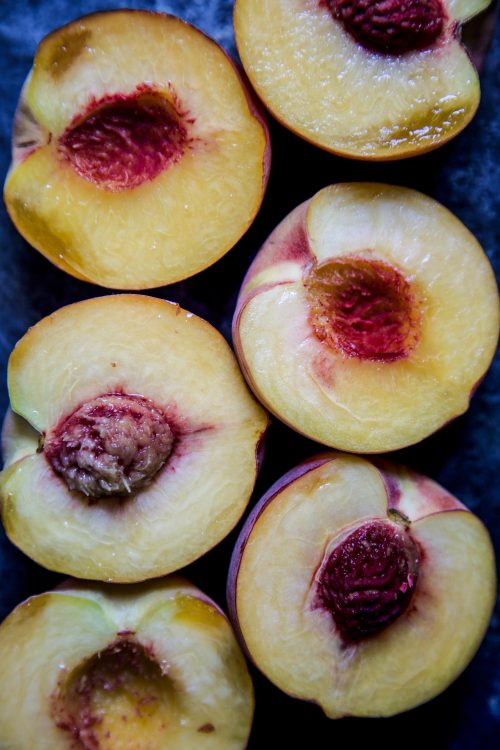 They are as honest as it gets, folks. The topics they discussed ranged from depression to couples therapy to love language to kids. Nothing was off limits. Plus, it was so refreshing to hear that they are polar opposites and how they continually have to work hard at their marriage.
One thing I did take away is how tuned in they are to social awareness. People put #relationshipgoals whenever they see a picture of them on Instagram, etc. They talked about how they wish people didn't do that because it's not all sunshine and lollipops. To me I think it's good for people of that high of a social authority to tell people to quit living a curated life and go out and do shit!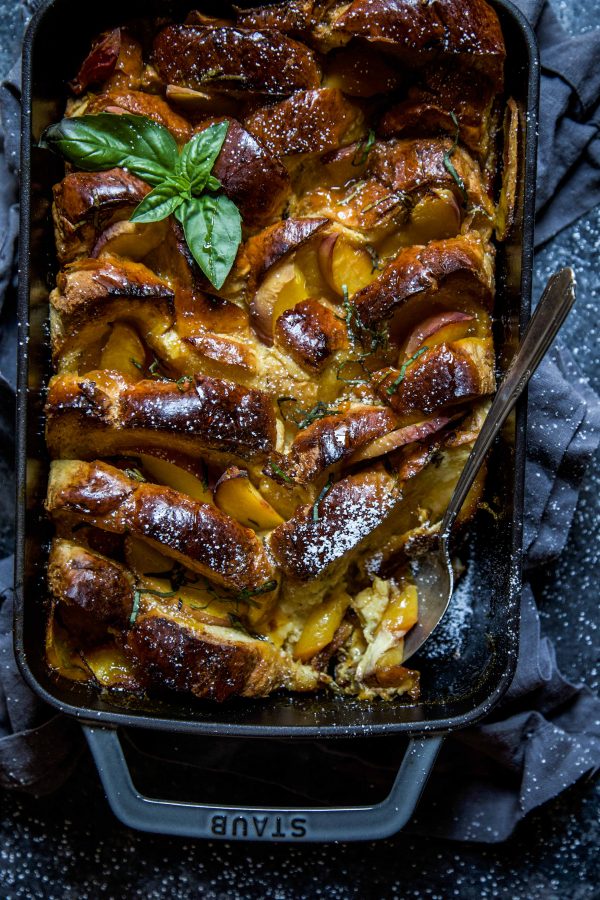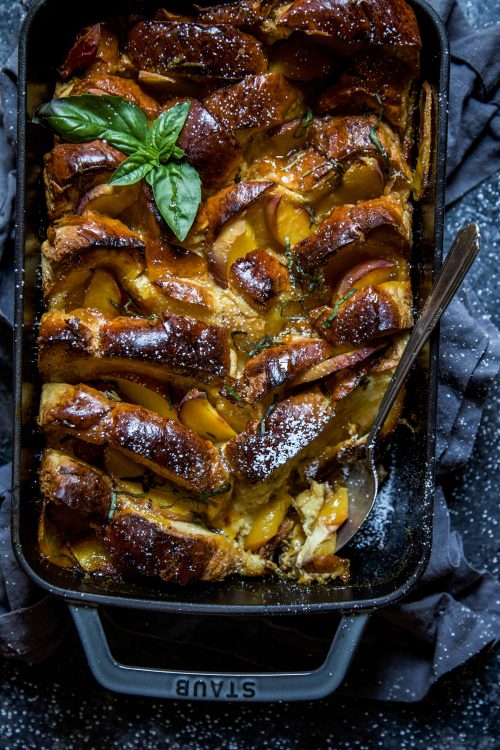 Okay, so while you download that podcast I highly recommend eating a big plate full of this Peach & Basil French Toast Bake. In case you have produce anxiety like me this is a great way to use up all of those fresh peaches and herbs.
Just assume the French toast making position, stuff with fresh peaches, bake and garnish with basil. Easy peasy. Now, hit play!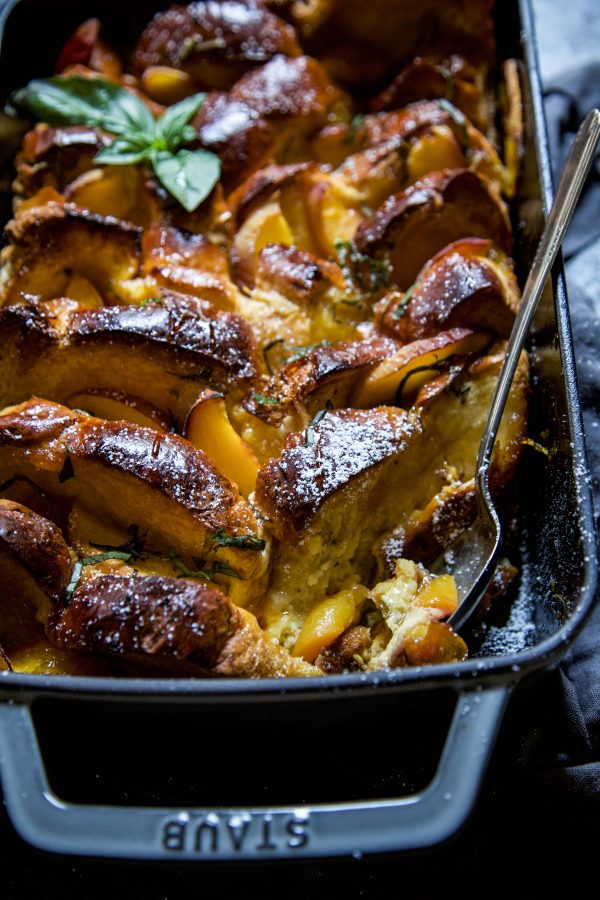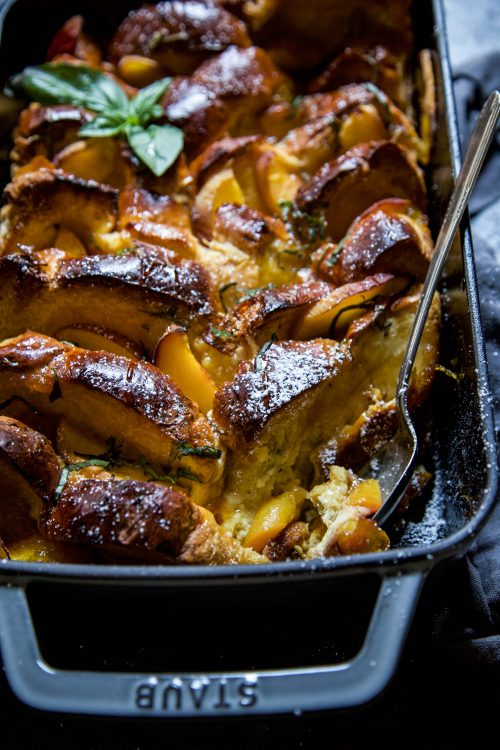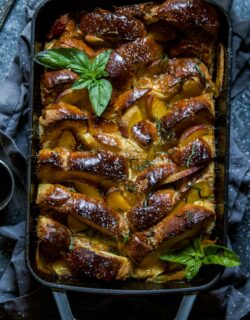 Peach & Basil French Toast Bake
Ingredients:
14 one-inch slices brioche bread
6 eggs
2 tsp vanilla extract
1/2 tsp ground cinnamon
1 3/4 cups whole milk
1/2 tsp kosher salt
1 tbsp chopped fresh basil + more for garnish
1/2 cup peach or apricot jelly
1 1/2 peaches slice thinly
Powdered sugar, for garnish
Maple syrup, for garnish
Directions:
Spray a 9X13 baking dish with non-stick cooking spray.
In a large bowl combine eggs, vanilla extract, ground cinnamon, whole milk, basil and kosher salt.
Next, take a piece of the brioche bread and submerge it into the egg mixture. Shake off any excess egg and place it into the prepared baking dish. You can arrange the bread however you see fit. I like mine a little more rustic free form.
Once you've got all the bread slices into the baking dish, dollop the peach jelly over the tops followed by the peach slices.
Pour any leftover egg mixture over the top of the bread slices and then cover the top with foil. Place the baking dish into the fridge to set for at least 30 minutes.
Preheat your oven to 375 degrees and bake the french toast for about 45 to 50 minutes or until set. If the top begins to brown to quickly loosely cover the top with foil.
Once cooked, remove from oven and garnish with confectioners sugar, basil and maple syrup.
All images and text ©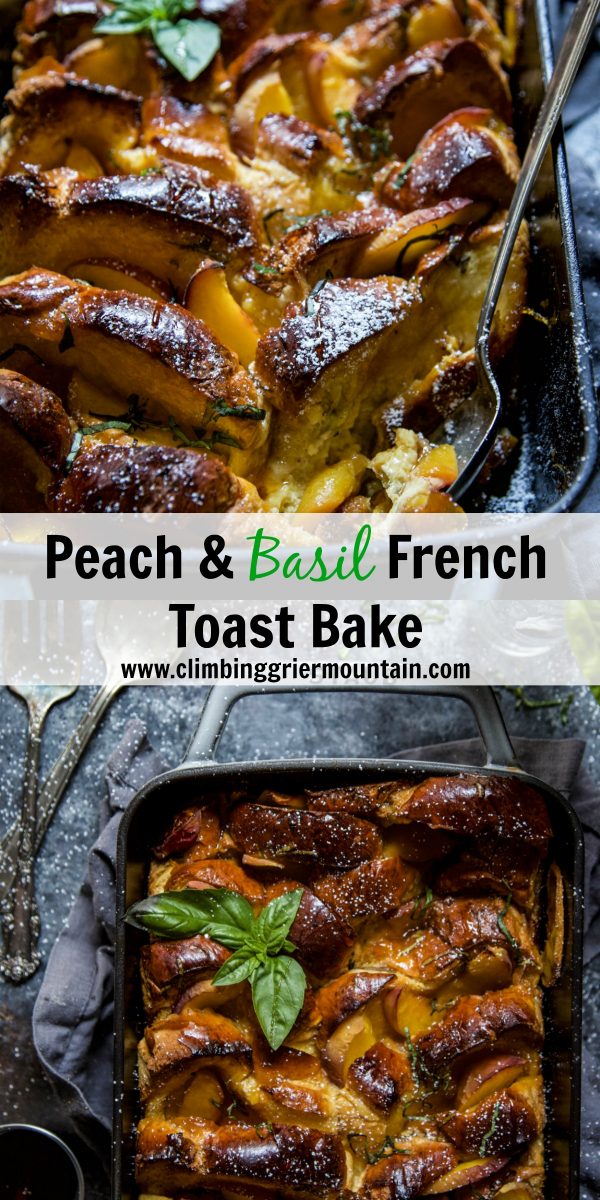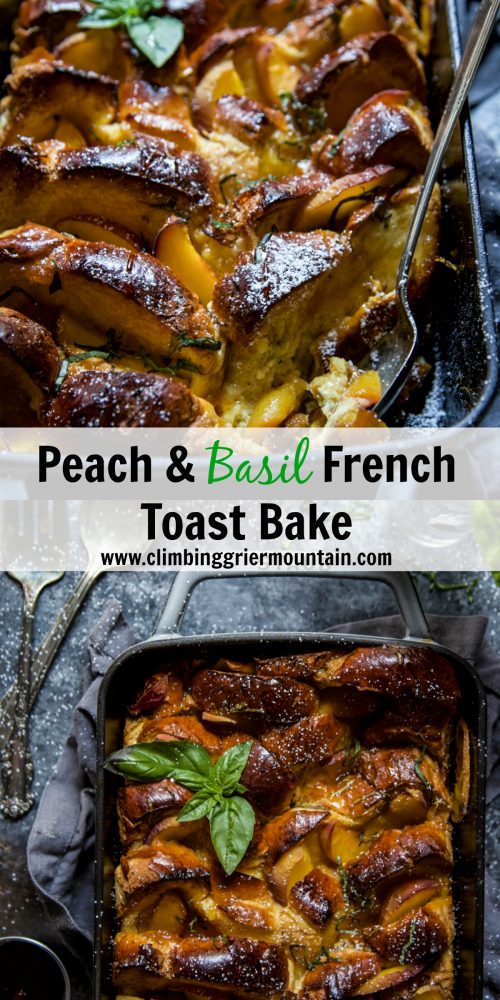 In conclusion, our Peach & Basil French Toast Bake is a harmonious blend of sweet and savory, offering a delightful breakfast experience that's both comforting and uniquely delicious. Enjoy!