Tex-Mex Crustless Quiche
Tex-Mex Crustless Quiche is a delicious and flavorful meal that's easy to assemble anytime, or any day of the week!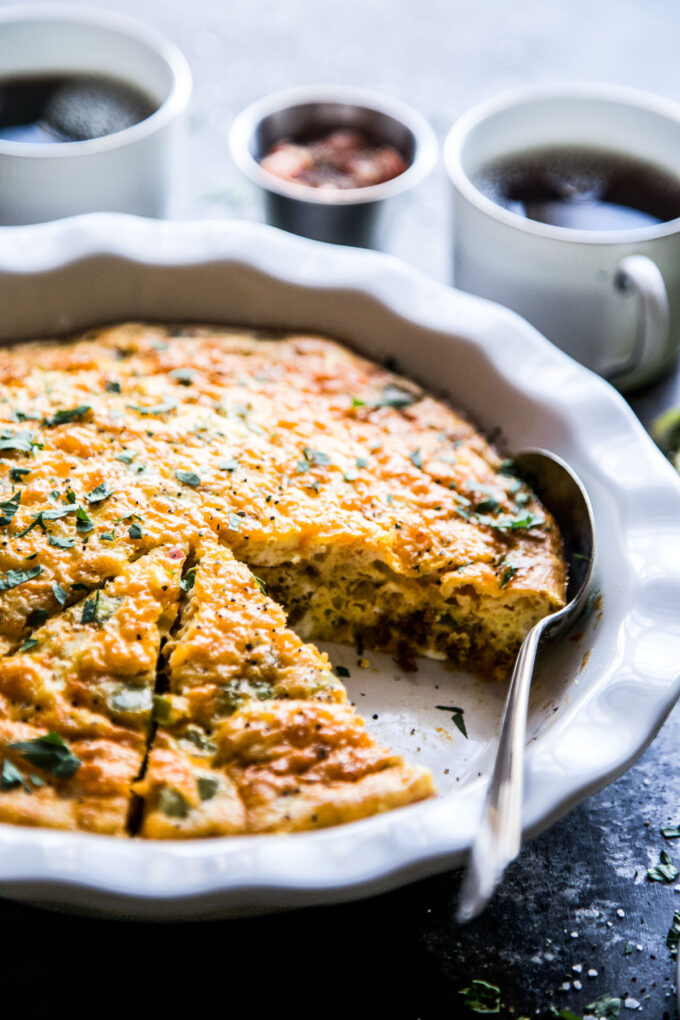 Breakfast on the fly.
Brunch any day of the week.
Sound too good to be true?
What if I told you that this Tex-Mex Crustless Quiche can solve all your breakfast and brunch dilemmas? With the versatility of ingredients and the quickness of no crust required this quiche will become a staple.
Plus, the flavor profile of Tex-Mex ingredients like chorizo, cumin, and peppers makes this quiche reign supreme whether for breakfast, lunch or dinner.
Let's get cooking!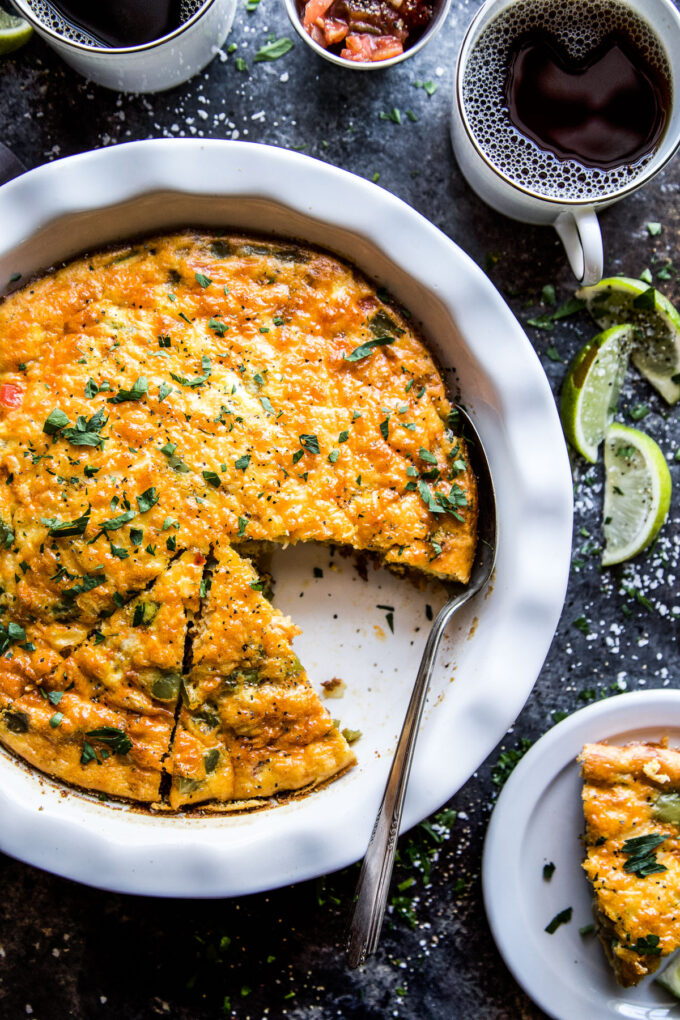 What's in this Tex-Mex Crustless Quiche?
To make this quick and easy Tex-Mex Crustless Quiche you will need the following:
Eggs
Heavy Cream
Milk
Chorizo
Yellow Onion
Green Pepper
Red Pepper
Shredded Cheese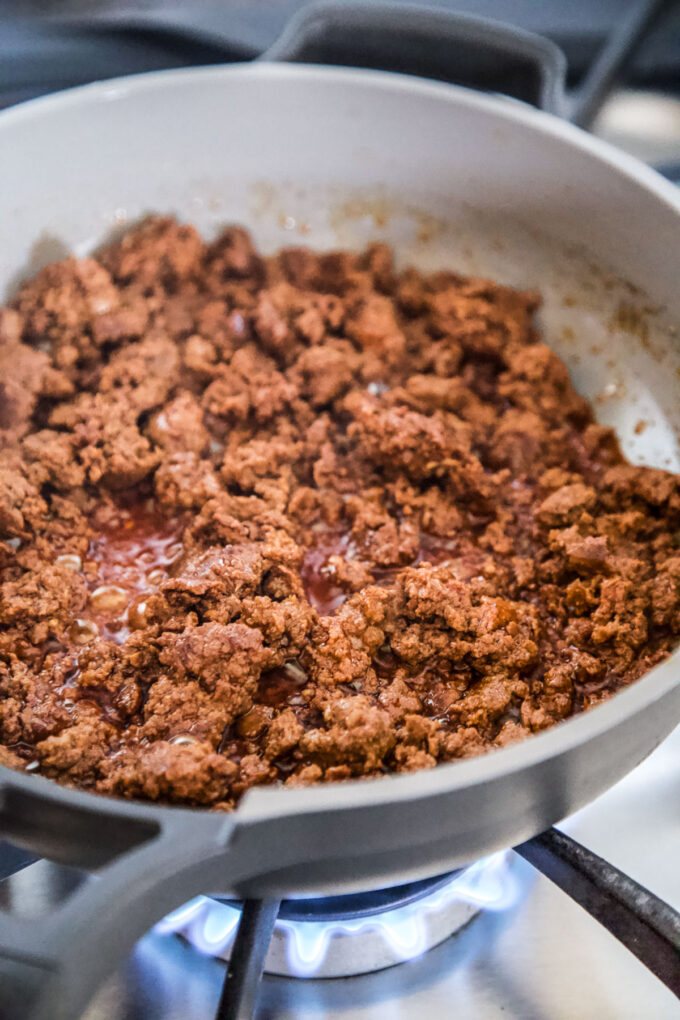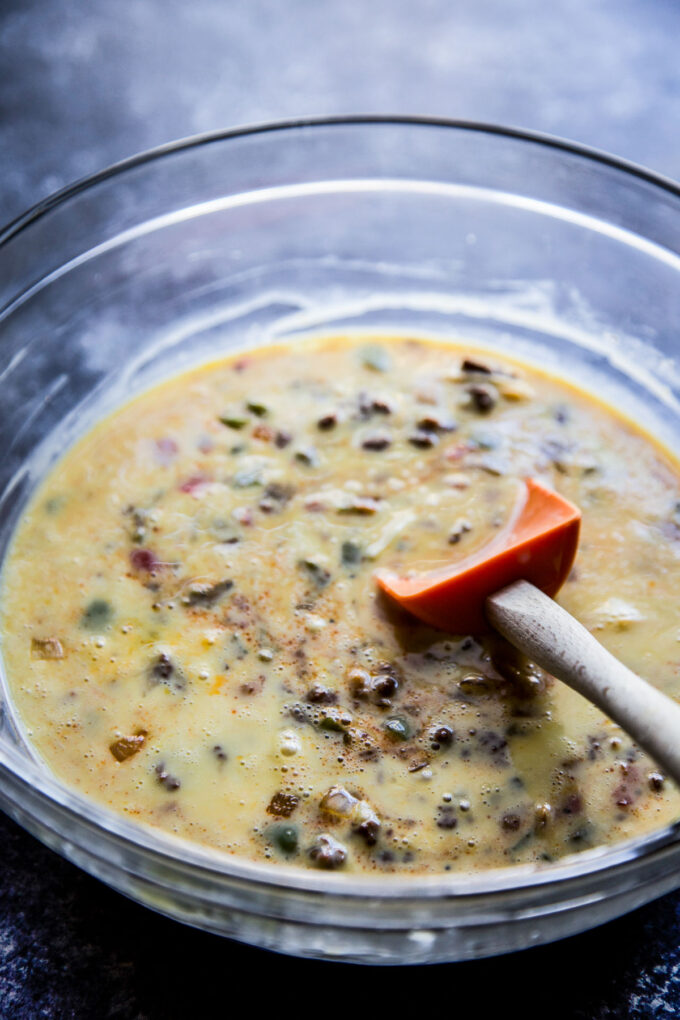 Tips for Making this Tex-Mex Crustless Quiche:
Chorizo. When you are sourcing ground chorizo from the store make sure it is from the butcher. Basically, you want to stay away from the tube kind of chorizo. It's no bueno.

Vegetables. To make this a Tex-Mex approved quiche I tossed in a couple of peppers. You can definitely add in poblano peppers or to make it spicy some jalapenos!

Heavy cream. If I am going to make a quiche I usually go all in. BUT! If you want to keep this dish on the lighter side I would use half-n-half.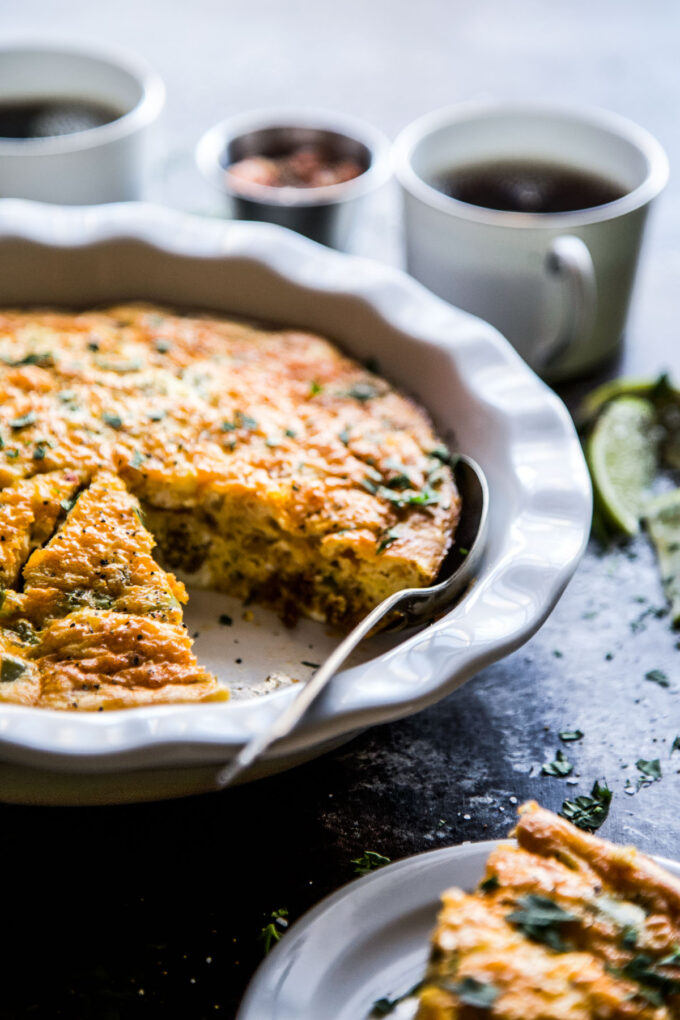 Frequently Asked Questions:
What's the difference between a Quiche & a Frittata?
The difference between the two is that a frittata is typically made with just eggs whereas a quiche is mixed with milk and/or heavy cream, and eggs.
Do you have to eat this Tex-Mex Crustless Quiche for brunch?
Nope! The great thing about this crustless quiche is that it's completely versatile, easy to assemble, and tastes great with only a few ingredients. So you could serve this any day of the week!
Can I make this quiche vegetarian?
You bet. Simply omit the chorizo and add in more veggies as needed!
Do you have a recipe for quiche with a crust?
Yes! I would try my Everything Burrata Quiche with Almond Crust.
How far in advance can I assemble this quiche?
You can make this quiche fully assembled up to 1 day in advance of baking. Simply cover with plastic wrap and refrigerate. Let the quiche sit at room temperature for a bit prior to baking, then bake as directed.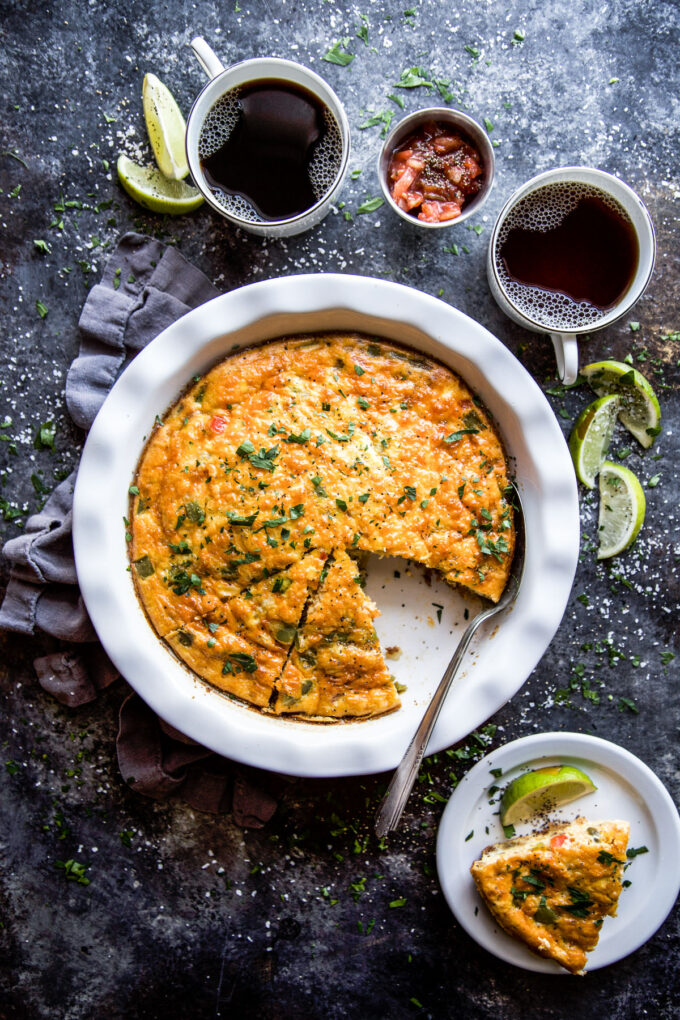 More Delicious Breakfast or Brunch Recipes to Enjoy: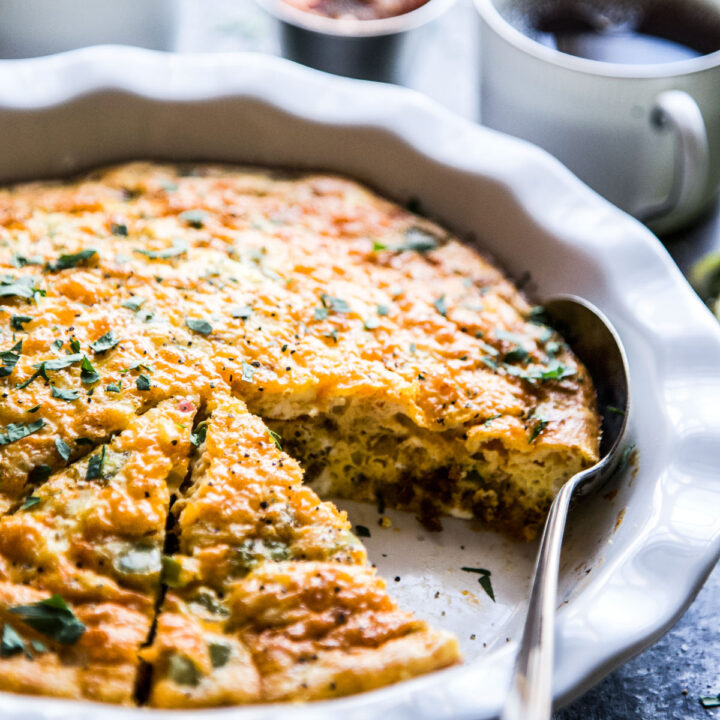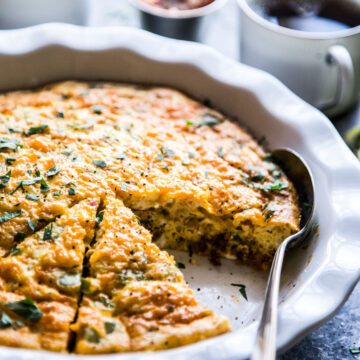 Tex-Mex Crustless Quiche
Tex-Mex Crustless Quiche is a delicious and flavorful meal that's easy to assemble anytime, or any day of the week! 
Ingredients
2 tbsp Olive oil, divided
1/2 lb Fresh ground chorizo
1/4 cup Chopped yellow onion
1/4 cup Chopped red bell pepper
1/4 cup Chopped green bell pepper
1 tsp Ground cumin
1 tsp Ground paprika
1 tsp Garlic powder
1 cup Shredded Monterey jack cheese, divided
8 large Eggs
1/4 cup Whole milk
1/4 cup Heaving whipping cream
salt and pepper to taste
Instructions
Preheat oven to 375 degrees. Spray a 8 to 9 inch pie dish with non-stick cooking spray.

In a non-stick skillet preheated to medium high heat add 1 tbsp olive oil and chorizo. Cook the chorizo for about 5 minutes or until no longer pink. Line a plate with a paper towel and pour the chorizo and drippings on top. Wipe out the skillet.

In the same skillet as the chorizo add the remaining 1 tbsp olive oil to the skillet. Add the onion, peppers, salt, and pepper. Cook the vegetables for a few minutes over medium high heat and then add in the cumin, paprika, and garlic powder. Stir to combine and continue to cook for another minute. Remove the skillet from the heat.

In a large mixing bowl add the eggs, milk, cream, and 1/2 cup of shredded cheese. Whisk to combine. Fold in the reserved chorizo and vegetables. Pour the quiche mixture into the prepared baking dish. Sprinkle the top with the remaining 1/2 cup of cheese. Bake the quiche for about 20 minutes or until the middle has set. Cool slightly before serving.
Did you make this recipe?
Please leave a comment below and share a photo on Instagram with the hashtag #thecuriousplate!