Three Cheese Pesto Pepperoni Pizza
Three Cheese Pesto Pepperoni Pizza is a pesto flavored pizza topped with pepperoni and three kinds of cheese!
Two kinds of pizza camps: Marinara or Pesto.
Personally, I could do either.
Marinara being of tomato based where Pesto is all about the herbs. I tend to make my pizza with marinara because I always have a jar of Rao's in my pantry. And let's be real, they make the best f$cking marinara ever.
However, I like to mix up my pizza making situation on Friday nights. This is where things get WILD and I make my pizza with pesto. I know, don't be jelly. Being a mom of a toddler, well, you get the picture. Little changes like this help me get through the day!
Okay, so let's dive in and make this pizza. Lots of ins and outs when it comes to pizza making!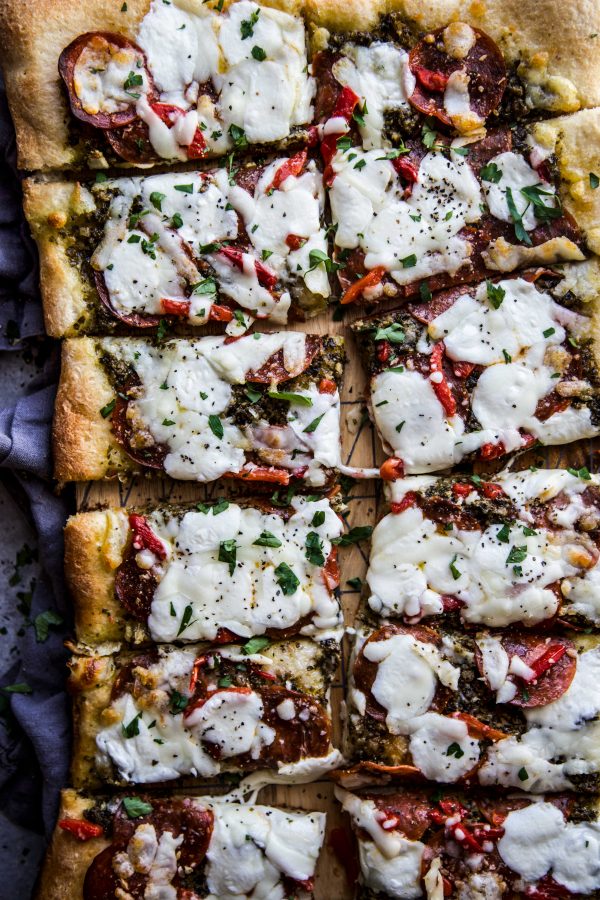 What's in this Three Cheese Pesto Pepperoni Pizza?
Like I mentioned above there are a lot of ins and outs when it comes to making pizza. Do you make your own pizza crust? Do you make your own pesto? The list of questions can go on forever!
Here's the deal….do whatever is easiest for you! Generally I do a mix of easy, store-bought ingredients and then slap some homemade goodness on top. I say, use whatever you have on hand in the pantry and go from there!
In the pizza you'll find:
Pizza Crust
Pesto
Pepperoni
Parmesan
Mozzarella
Fontina
Pretty simple, huh?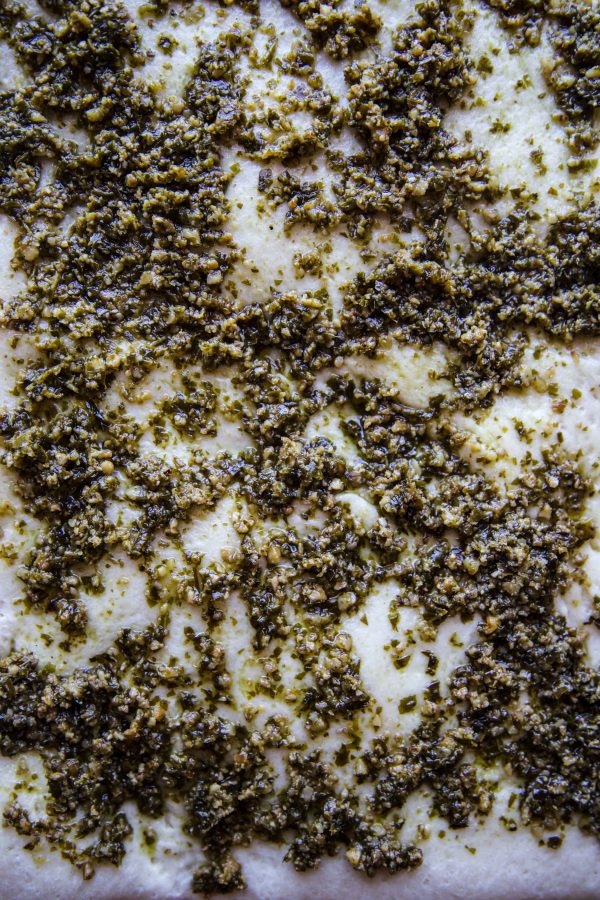 Tips for Making this Three Cheese Pesto Pepperoni Pizza:
1) Par Bake Your Pizza Crust. This step is the MOST IMPORTANT. You want to give your crust a head start at getting nice and crispy. You will bake it for about 5 minutes prior to adding your toppings. This will keep the pizza from being soggy!
2) Crust. You can either purchase your pizza crust from a local pizza joint or from the grocery store. BUT! You can also make it from scratch. Whatever is easier!!
3) Pesto. Again, you can either purchase at the store or make your own. If you do purchase your pesto I highly recommend getting Dellalo. Their products are amazing!
4) Cheese. For this pizza you can use whatever kind of cheese you love. I will say that if you can grate your own cheese that's the way to go. The rustic cut when shredded melts beautifully!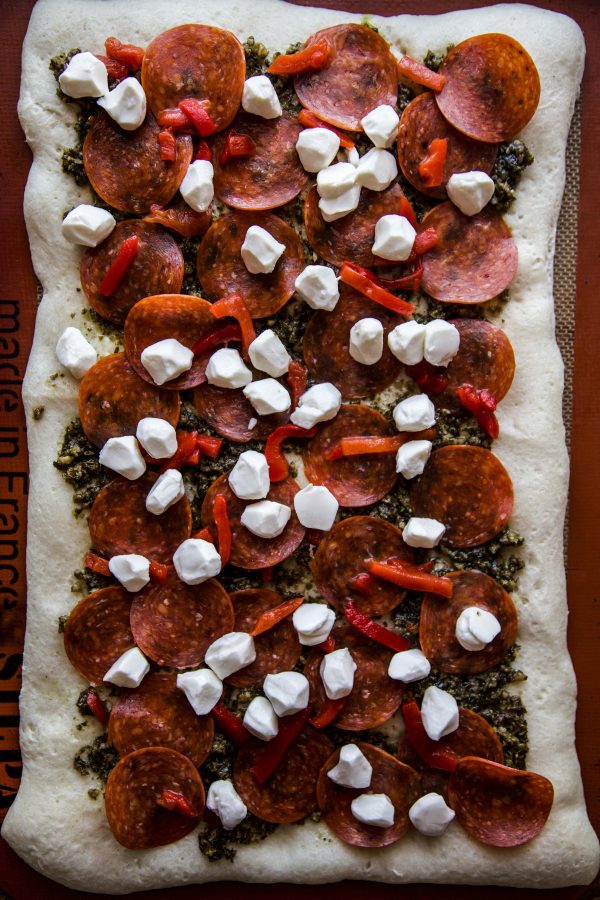 Can I make this pizza vegetarian?
You bet! Simply remove the pepperoni and you will have a meatless, but cheesy pizza ready to go!
Can I make this pizza gluten-free?
Yep! I would source gluten-free dough and then add all the toppings!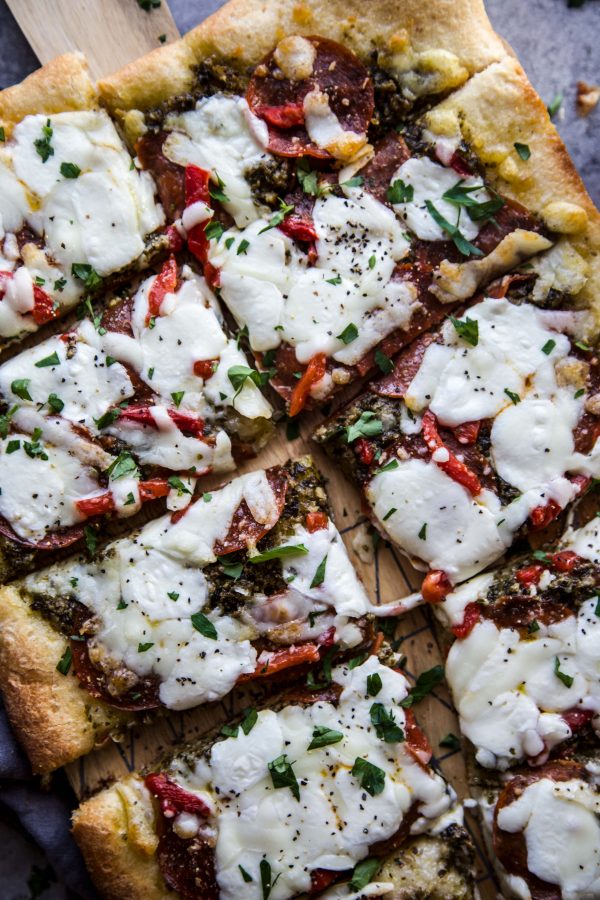 How long will this pizza last in the fridge?
I say 3 days! If you want to kick things up a notch fry up an egg and place it on top for a scrumptious breakfast the next day!
So, are you ready to up your pizza night?! If you make this pizza please let me know! Love hearing from you!!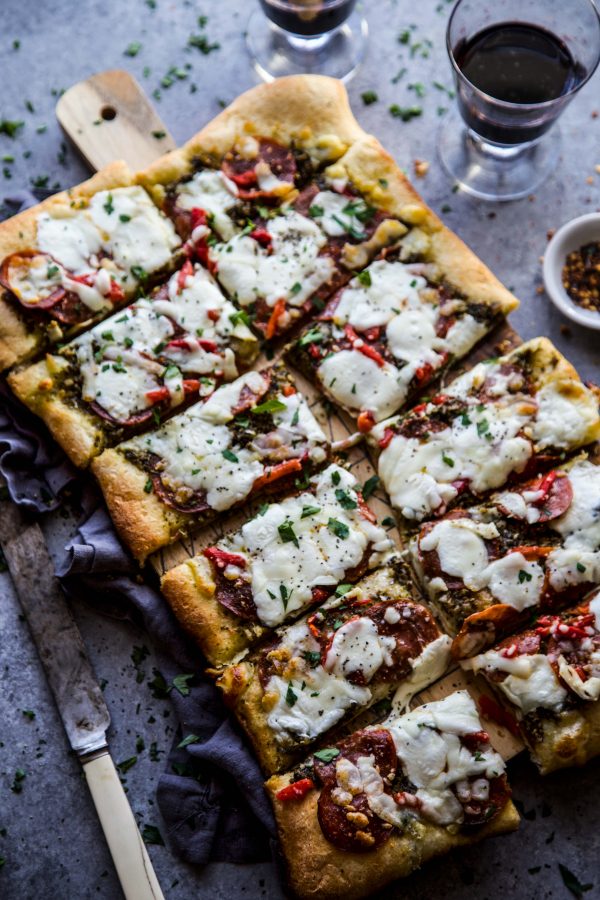 More pizza recipes to enjoy:
Three Cheese Pesto Pepperoni Pizza
Ingredients:
1 pizza dough ball either store-bought or homemade
1 cup pesto
12 slices pepperoni
1/2 jar pimiento peppers, drained
8 oz package mozzarella pearls
1/2 cup shredded Parmesan cheese
1 cup shredded Fontina cheese
Directions:
Preheat your oven to 400 degrees. Spray a baking sheet with non-stick cooking spray.
Roll out your pizza dough into a 9X13 rectangle. Place the dough on the baking sheet and par-bake your dough for 5 minutes in the oven.
Remove the dough from the oven and add the pesto. Make sure to leave a 1-inch border all the way around. Top with pepperoni, pimiento peppers, mozzarella pearls, Parmesan, and fontina. Cook the pizza for about 10 to 15 minutes or until the cheese has melted and the crust is golden.
Let cool slightly before serving!
All images and text ©