Beef & Bean Pumpkin Stew
**This post is a collaboration with Beef. It's What's For Dinner. on behalf of the Beef Checkoff. I received compensation, but all opinions are my own***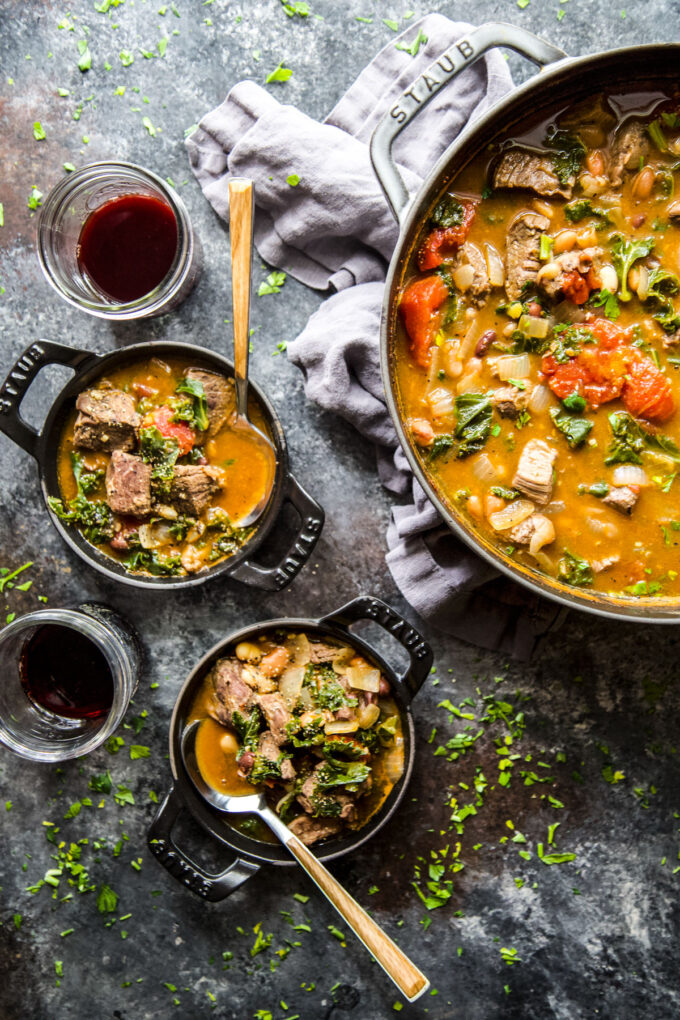 Soup season.
Is there anything better than a warm cup of soup or stew on a cool, fall night?
Not only does soup warm the soul, but it's a great one-pot meal that can feed a crowd quickly after all those fun, fall adventures.
Well, today I'm showing you how to make this Beef & Bean Pumpkin Stew. This stew will become a staple in your dinner rotation. What makes this stew reign supreme is the Beef Stew Meat.
I always have a few packages in the freezer or keep a pound in the fridge to add to any dish throughout the week. Which is why this Beef & Bean Pumpkin Stew was a winner for our household.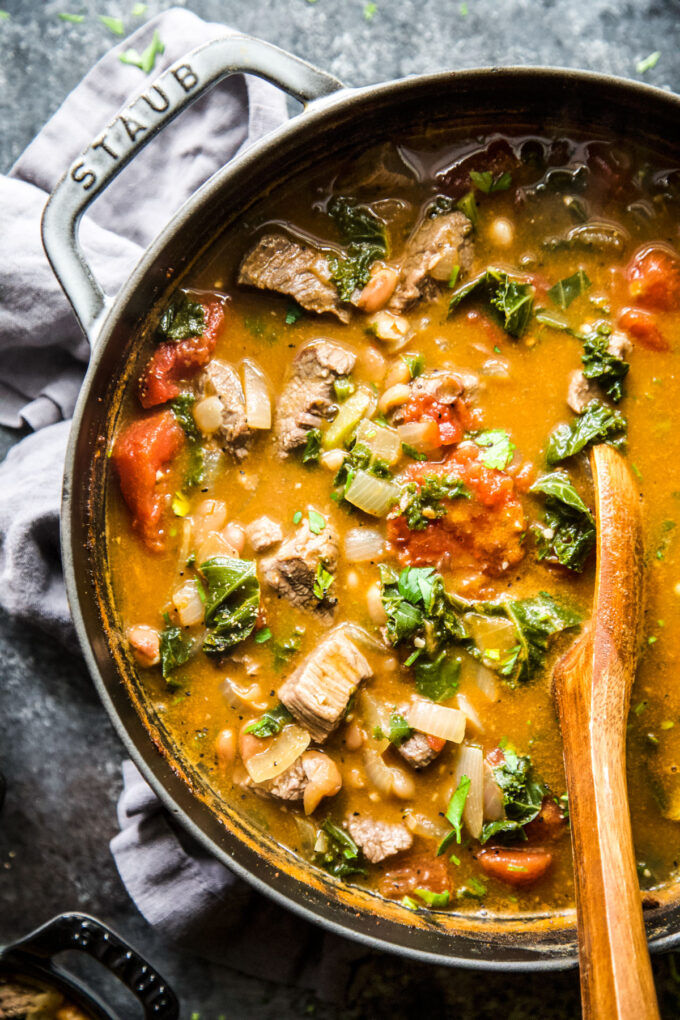 Why Use Beef Stew Meat?
First, Beef Stew Meat is extremely versatile. It's also budget-friendly, and doesn't need to marinate like other cuts of beef. Beef Stew Meat can be turned into burgers and used on the grill. Beef Stew Meat can be simmered and added to spaghetti sauce. Beef Stew Meat can be chili and slow cooked into a slow cooker.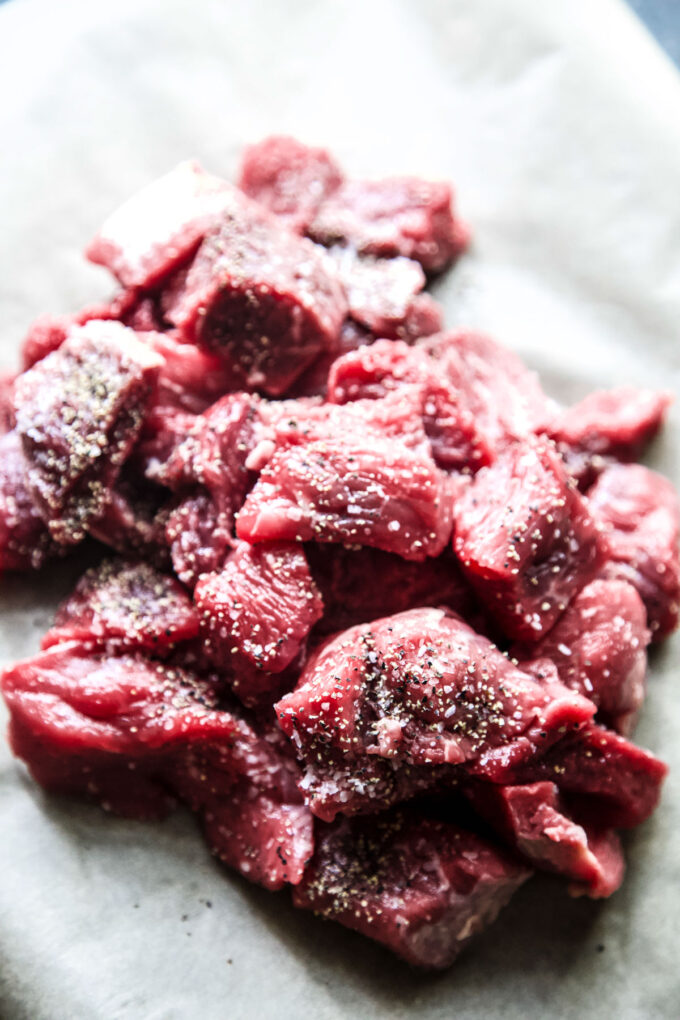 How do you know how much beef to purchase?
Most groceries will have around one pound of packaged Beef Stew Meat. However, whenever you cook Beef Stew Meat it does shrink a bit during the cooking process as the meat breaks down. I always recommend buying at least two pounds of beef stew meat to make sure your soup or stew is extra hearty.
For the Beef & Bean Pumpkin Stew I used 1.5 pounds just to make the stew well stocked.
Tip for Preparing Beef Stew Meat:
If you have a frozen pound of Beef Stew Meat make sure to defrost in the fridge overnight. This will ensure safe defrosting.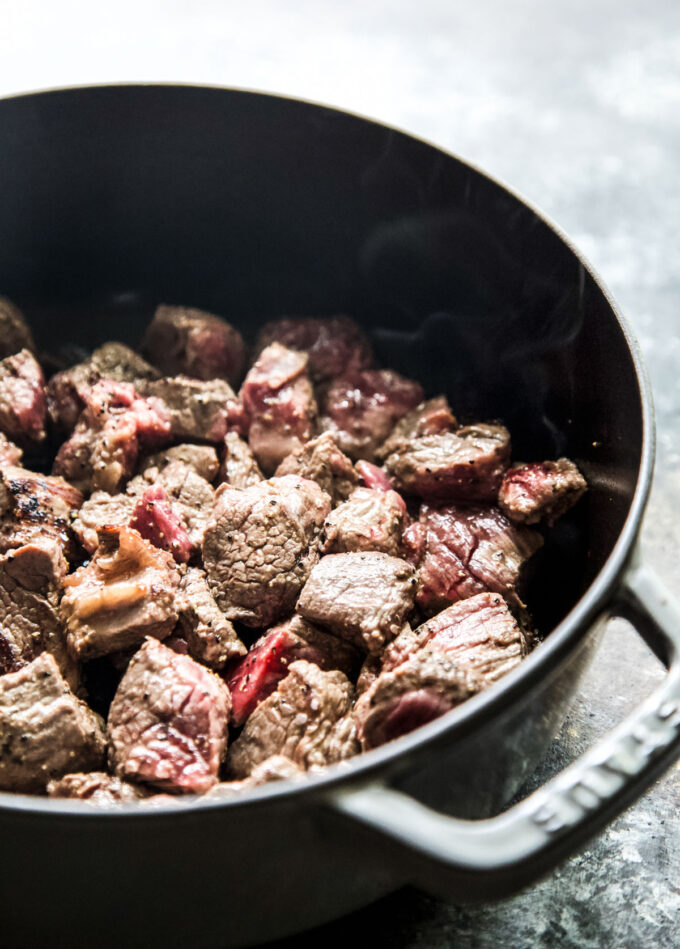 Cooking Beef Stew Meat:
Again, there are so many ways to cook Beef Stew Meat, but for today's recipe I simply seared about 1.5 pounds of Beef Stew Meat in a large Dutch oven. Pro tip: heat is your friend. By searing the beef prior to adding it to the stew you get a nice, caramelized surface which will add a depth of flavor.
Once you've got the Beef Stew Meat seared, you'll remove it from the Dutch oven and then begin the layering process of your stew by cooking onion, garlic, beans, and spices. Add the beef back to the pot with beef stock and bring to boil. Reduce the pot to a simmer and then stir in the pumpkin puree, stewed tomatoes, kale, and hot sauce. Pretty easy, huh?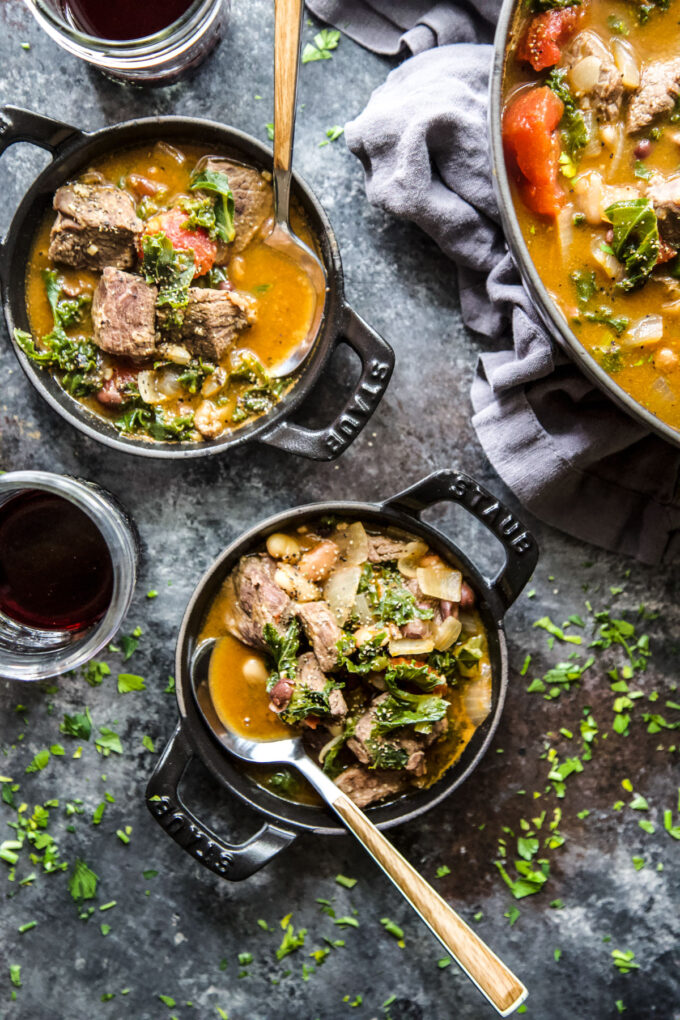 Frequently Asked Questions:
Do you have to use navy beans?
Not at all! You can substitute with any kind of canned bean.
How long will this stew keep?
This stew will keep up to three to four days in the refrigerator and up to a month in the freezer.
Beef Stew Meat is wonderful and delicious. I hope this Beef & Bean Pumpkin Stew will find its way onto your room table this fall. For more information and recipe information make sure to visit: www.beefitswhatsfordinner.com!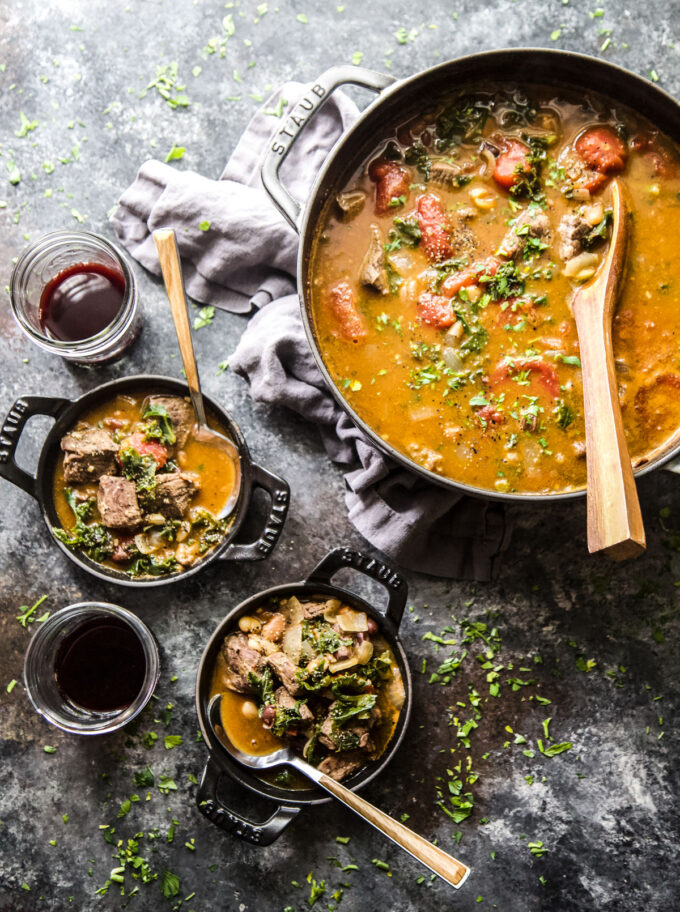 More Delicious Beef Recipes to Enjoy: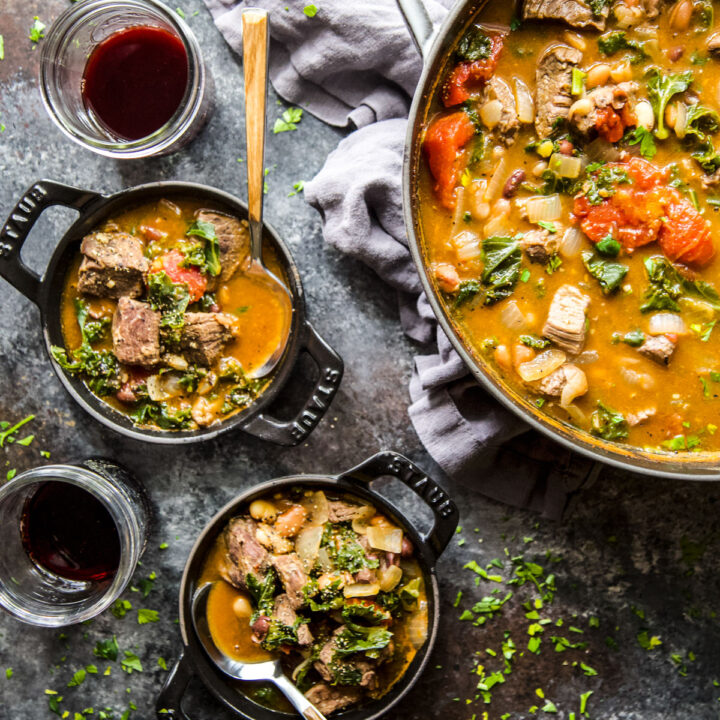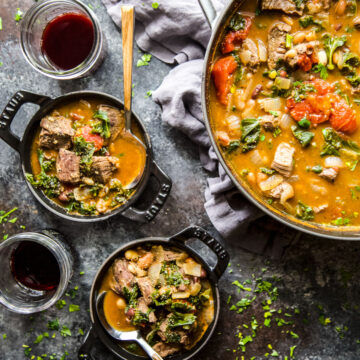 Beef & Bean Pumpkin Stew
Beef & Bean Pumpkin Stew is an incredible, one-pot stew made with beef stew meat, pumpkin, and assorted canned beans!
Ingredients
2 tbsp Olive oil
1.5 lbs Beef chuck stew meat, cubed into 1-inch pieces
1 large Yellow onion, chopped
3 cloves Garlic, minced
2 tsp Ground cumin
2 tsp Chili powder
1 tsp Dried oregano
1 15oz Canned navy beans, rinsed and drained
1/2 cup Canned pinto beans, rinsed and drained
1/2 cup Canned black beans, rinsed and drained
4 cups Beef broth
1 cup Pumpkin puree
1 15oz Canned stew tomatoes
3 cups Chopped fresh kale
2 tsp Tabasco hot sauce (*optional)
Salt and pepper to taste
Fresh chopped parsley, for garnish
Instructions
In a large Dutch oven preheated to medium high heat add the olive oil, beef, salt and pepper. Sear the beef on both sides until golden brown about 2 minutes per side. Remove with a slotted spoon and set aside in a bowl.

In the same skillet, add the onion and garlic. Sauté for a few minutes until the onion has softened. Next, add in the cumin, chili powder, oregano, navy beans, pinto beans, and black beans. Stir to combine and cook for a minute. 

Add the reserved beef back into the pot along with the beef broth. Bring to a boil and then simmer. Simmer the stew for about 45 minutes and then stir in the pumpkin, stewed tomatoes, kale and hot sauce. Let the flavors simmer for another 10 minutes. Divide among bowls and enjoy! 
Did you make this recipe?
Please leave a comment below and share a photo on Instagram with the hashtag #thecuriousplate!