Burrito Honeynut Squash Boats
Burrito Honeynut Squash Boats are an easy, flavorful dish that is made with honeynut squash, cheese, vegetables, and enchilada sauce!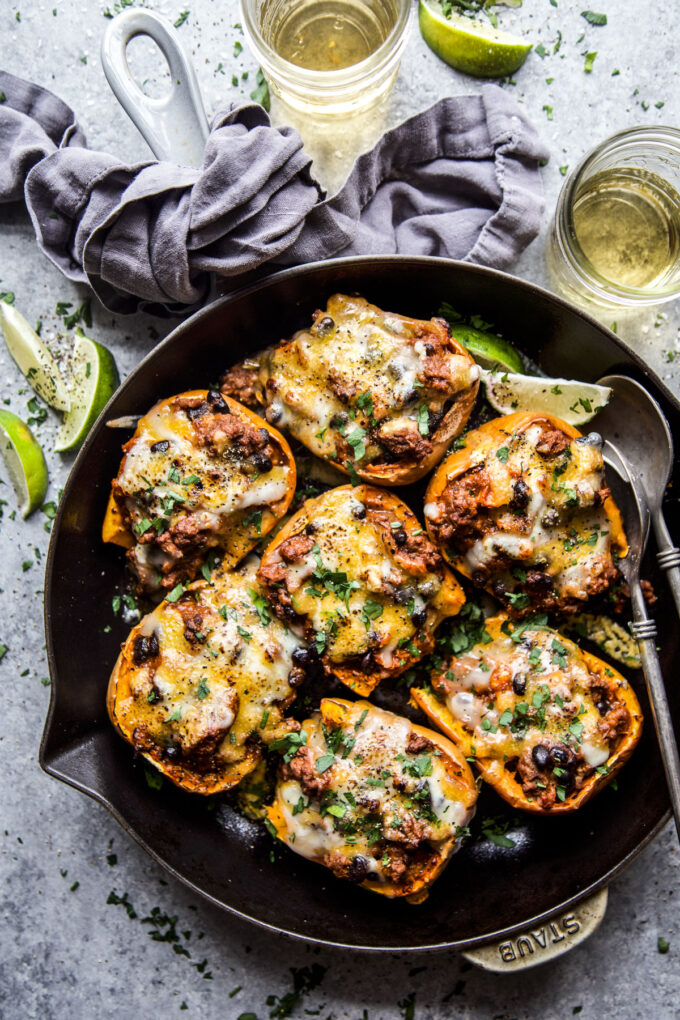 During the fall, I'm always looking for new ways to enjoy squash.
Squash is a versatile starchy vegetable.
What's your favorite? Most folks lean towards butternut or acorn, but there are other options like delicata or honeynut which is what I'm using in today's recipe. These Burrito Honeynut Squash Boats are loaded with flavor and are great option when you want dinner to be healthy-ish.
If you've never tried honeynut squash, it's basically the younger sister of butternut squash. A little sweeter, more orange-hued, and packed with nutrients. Of course, topped with copious amounts of cheese makes these Burrito Honeynut Squash Boats two-snaps up!
Ready to get cooking?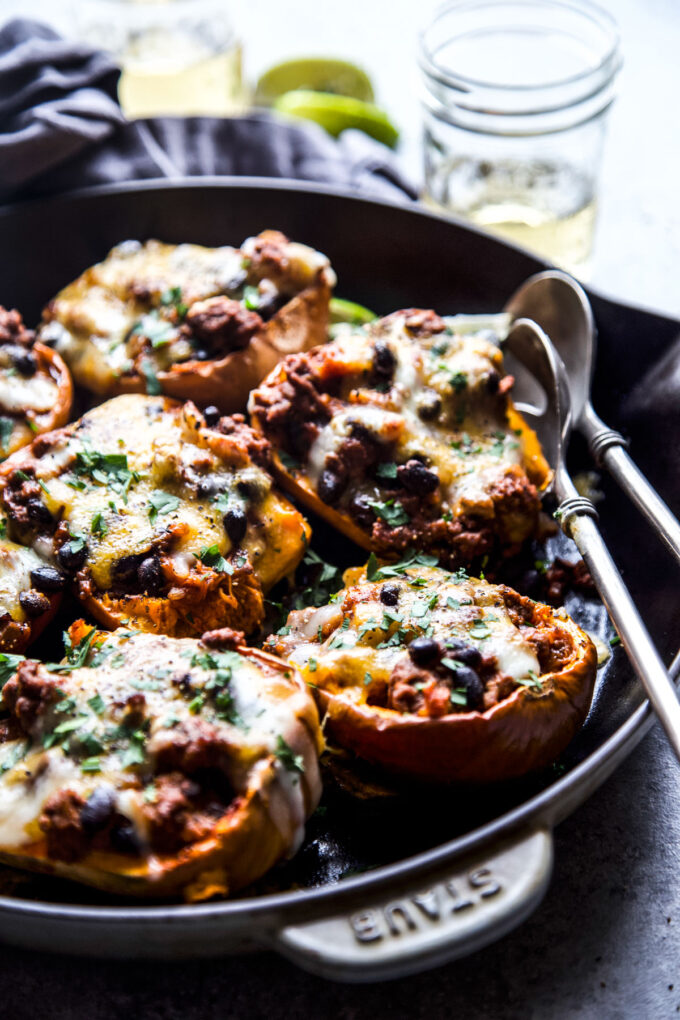 What are in these Burrito Honeynut Squash Boats?
One of the many reasons why I enjoy this recipe is because the ingredient list is full of pantry staples. This means you can customize it to your exact flavor profile, but also use up that can of black beans that's been on the shelves for a bit. For this recipe you will need:
Honeynut squash
Ground beef
Onion
Corn
Chili powder
Cumin
Garlic
Black beans
Enchilada sauce
Shredded cheese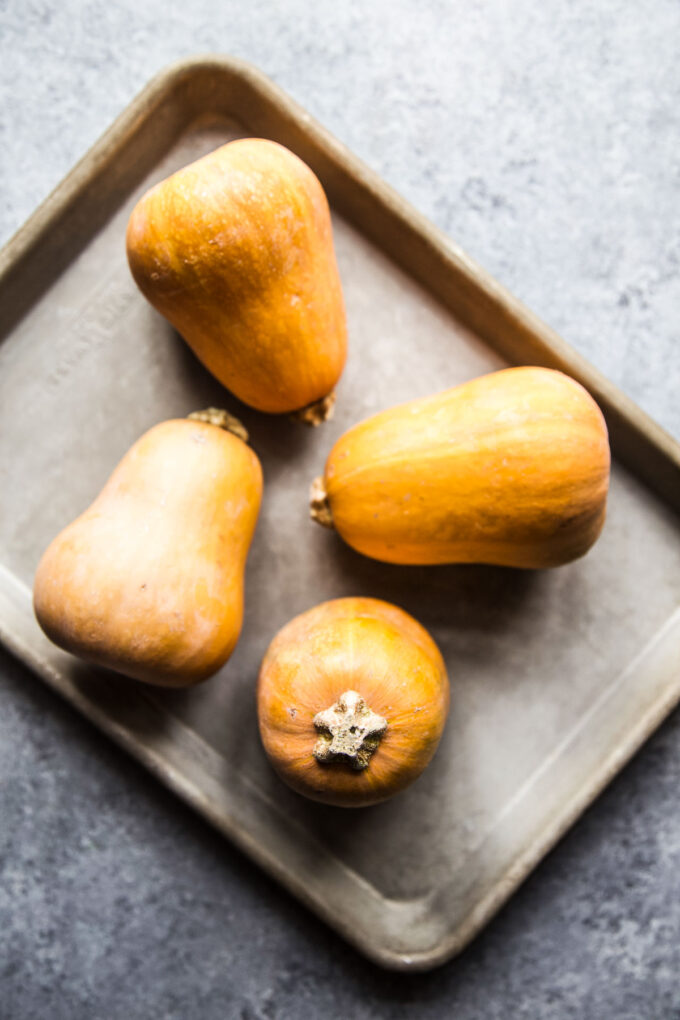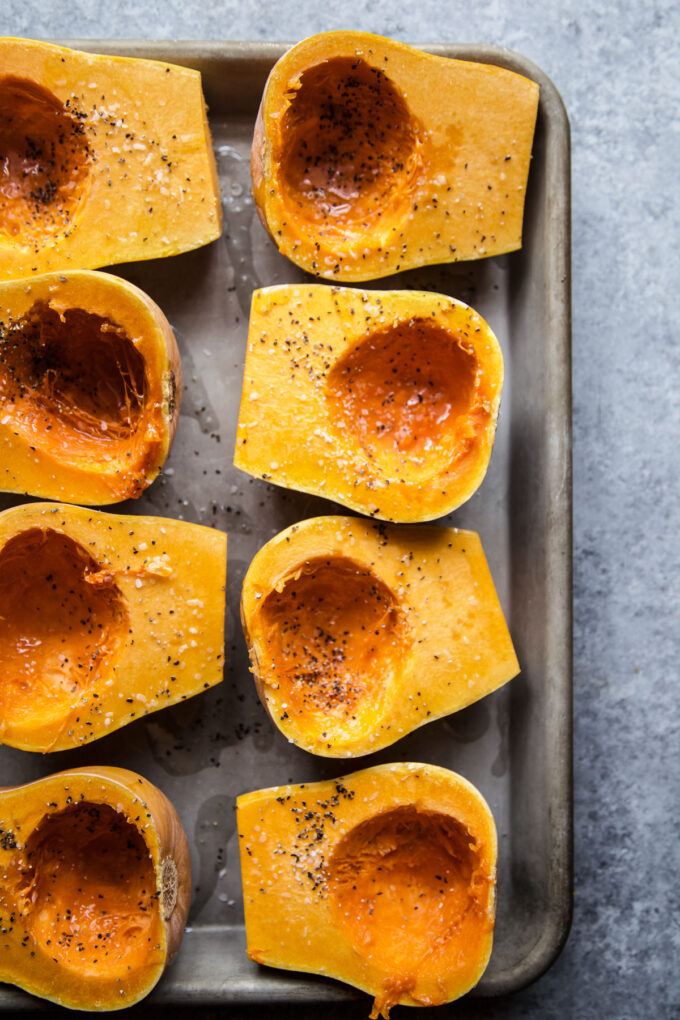 Tips for Making these Burrito Honeynut Squash Boats:
Honeynut squash: If you can't find honeynut squash at the grocery store you can use butternut squash instead!
Spices: If you want to add some heat to this dish you can add in a pinch of cayenne. Also, you can use taco seasonings if you would like to add more flavor.
Black beans: I always have black beans in the pantry. However, if you want to try pinto, navy, or kidney beans all would be great substitutes!
Toppings: the hardest part about this dish is deciding what kind of toppings you want to add. Personal favorites: avocado, sour cream, shredded lettuce, etc!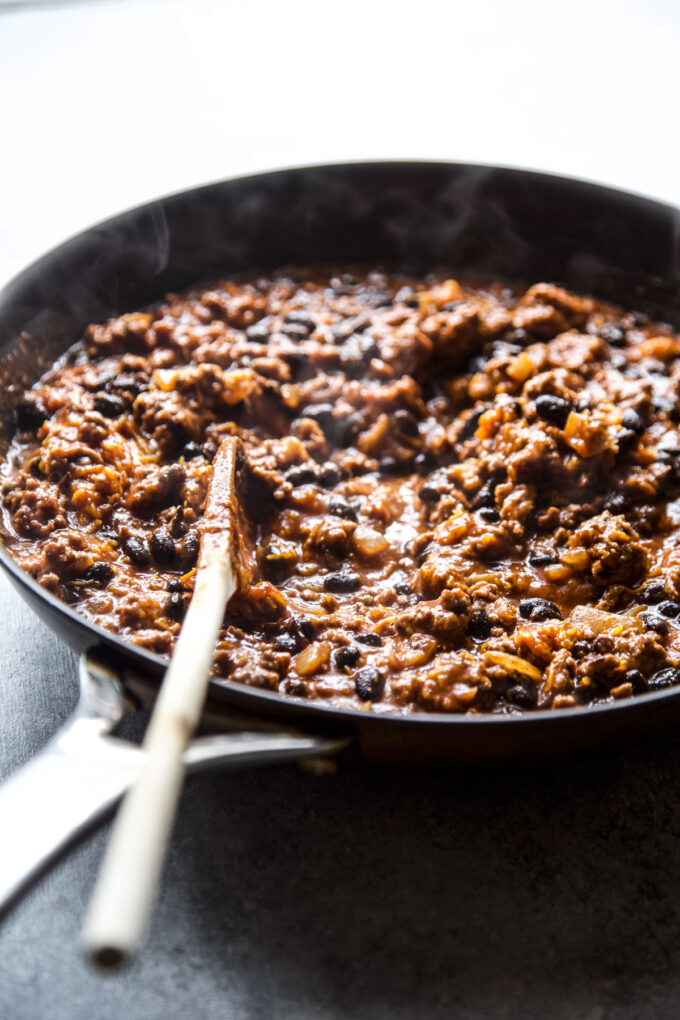 Frequently Asked Questions:
Why do you use honeynut squash instead of butternut?
The great thing about honeynut squash besides it's cute size is it's sweeter, nuttier and more nutrient dense. Plus, the skin is edible and the orange-hued flesh is a wonderful addition to any dish that needs a vegetable boost!
How do you cook honeynut squash?
Great question! Since it's smaller it will cook quicker. Simply slice the honeynut squash in half, scoop out the seeds, and roast in the oven for 20 minutes at 400 degrees.
Can I make this dish vegetarian?
You bet! Simply omit the ground beef.
I don't like ground beef, what is a good protein substitute?
There are many options for protein substitutes: ground chicken, turkey, pork, chorizo, or any plant based would be awesome!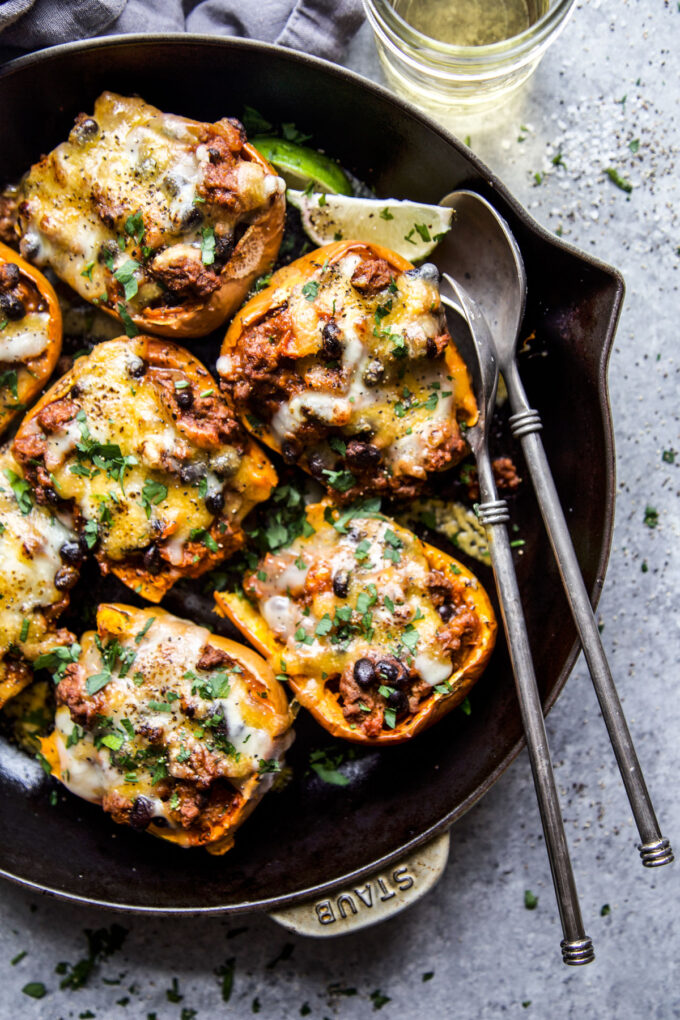 More Delicious Squash Meals: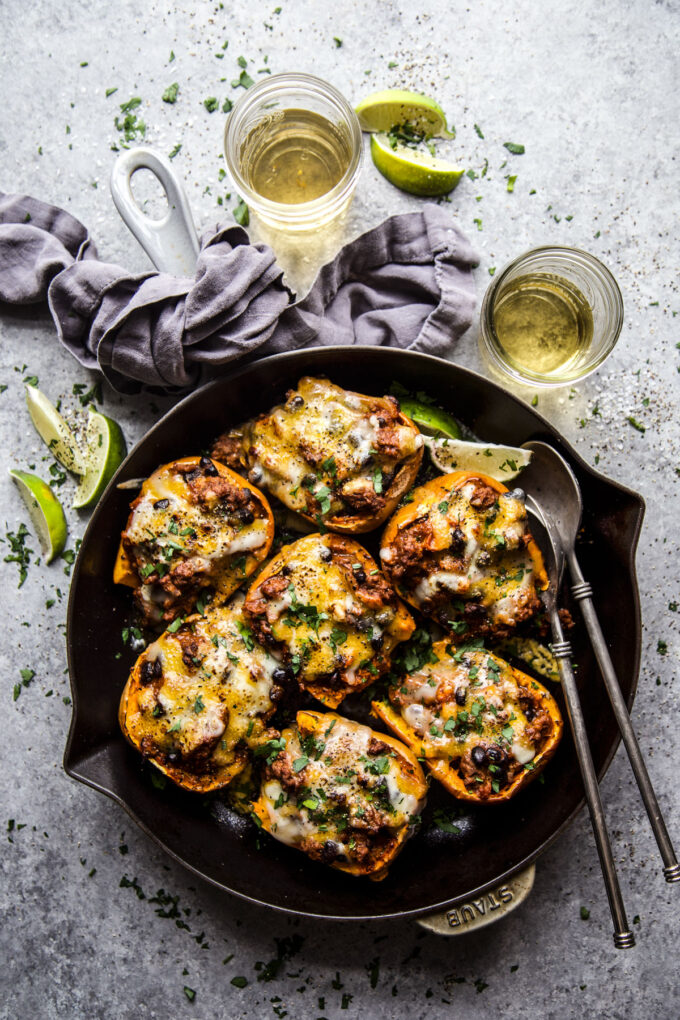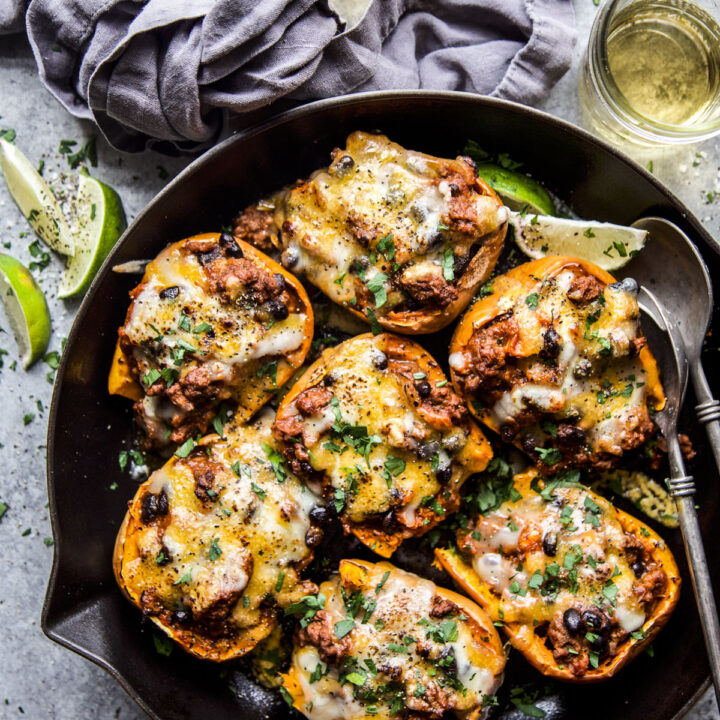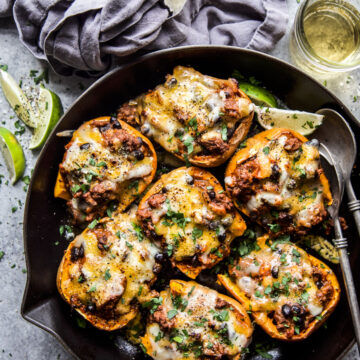 Burrito Honeynut Squash Boats
Burrito Honeynut Squash Boats are an easy, flavorful dish that's made with honeynut squash, vegetables, and enchilada sauce!
Ingredients
4 medium Honeynut Squash, halved and seeds removed
1 cup Chopped yellow onion
3 cloves Garlic, minced
1 lb Ground beef
1 tsp Ground cumin
1 tsp Chili powder
1 cup Frozen or fresh corn
1 15oz Can black beans, rinsed and drained
1 10oz Can red enchilada sauce
1 1/2 cups Shredded Monterey jack
salt and pepper to taste
olive oil
Instructions
Preheat your oven to 425 degrees. Spray a baking sheet with non-stick cooking spray. Place the honeynut squash halves on the baking sheet and drizzle tops with olive oil, salt, and pepper. Roast the honeynut squash for about 20 minutes or until tender. Remove the squash from the oven to cool.

Once the squash has cooled, scoop out the flesh, leaving a border around the edges and place the insides into a large mixing bowl.

Meanwhile, reduce the oven temperature to 350 degrees. In a large skillet preheated to medium-high heat add about 1 tbsp of olive oil to the skillet. Add the onion and cook for about 5 minutes or until softened. Stir in the garlic and continue to cook for another minute.

Next, add in the ground beef, breaking it up with a wooden spoon. Cook the meat until no longer pink about 5 to 7 minutes. Stir in the cumin, chili powder, salt, and pepper. Add in the corn, black beans, enchilada sauce, and reserved honeynut squash. Stir to combine.

Now, fill the honeynut squash boats with the beef mixture and top with cheese. Place the baking sheet back into the oven and let the cheese melt about 5 minutes.

Remove from oven and garnish with your favorite toppings!
Did you make this recipe?
Please leave a comment below and share a photo on Instagram with the hashtag #thecuriousplate!