Apple Pie Cookie Cups
Apple Pie Cookie Cups are a fun twist on classic apple pie! Made with apples, oats, and spices, this is the best fall dessert!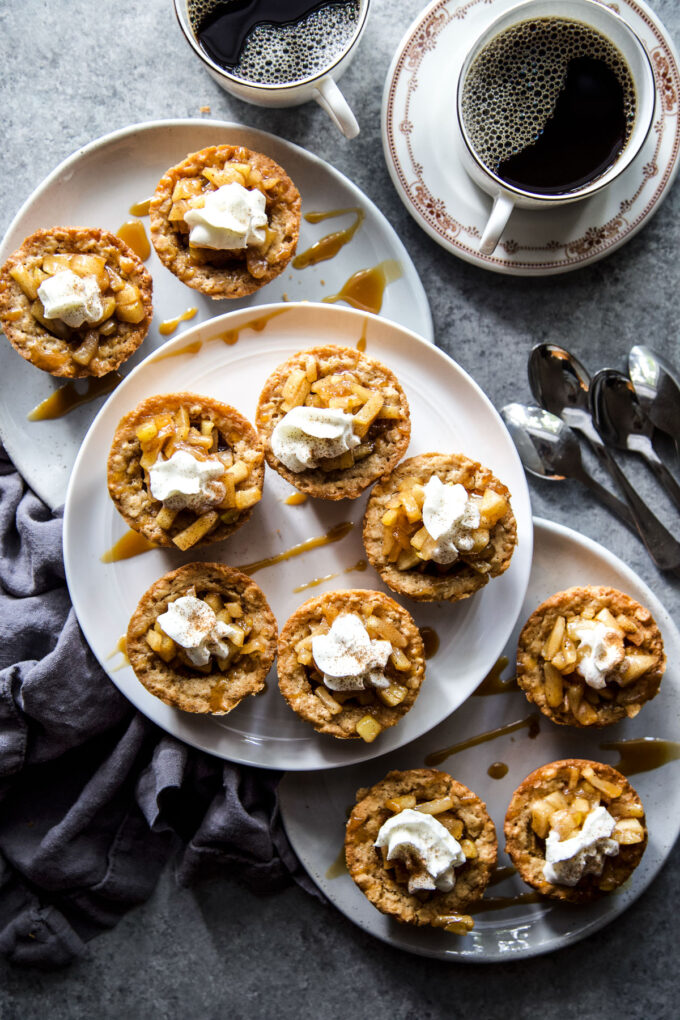 Thanksgiving dessert is served.
If you are just joining us, I kicked off The Curious Plate Thanksgiving on Sunday with an Easy Guide on How to Host Thanksgiving + a Free Printable Checklist. It's chock-full of entertaining tips, recommendations for kitchen tools, and a full Thanksgiving menu to help make the big turkey feel like a breeze.
Each day this week I have shared a new recipe:
Hungry yet? Well, today I've shared the best for last with these Apple Pie Cookie Cups. I know, I know, it's not a traditional pie. BUT! After eating all that delicious food, doesn't a mini pie sound so much better?
Bonus: this dessert can be made ahead of time which will make you look like a hosting star!
Ready to start baking?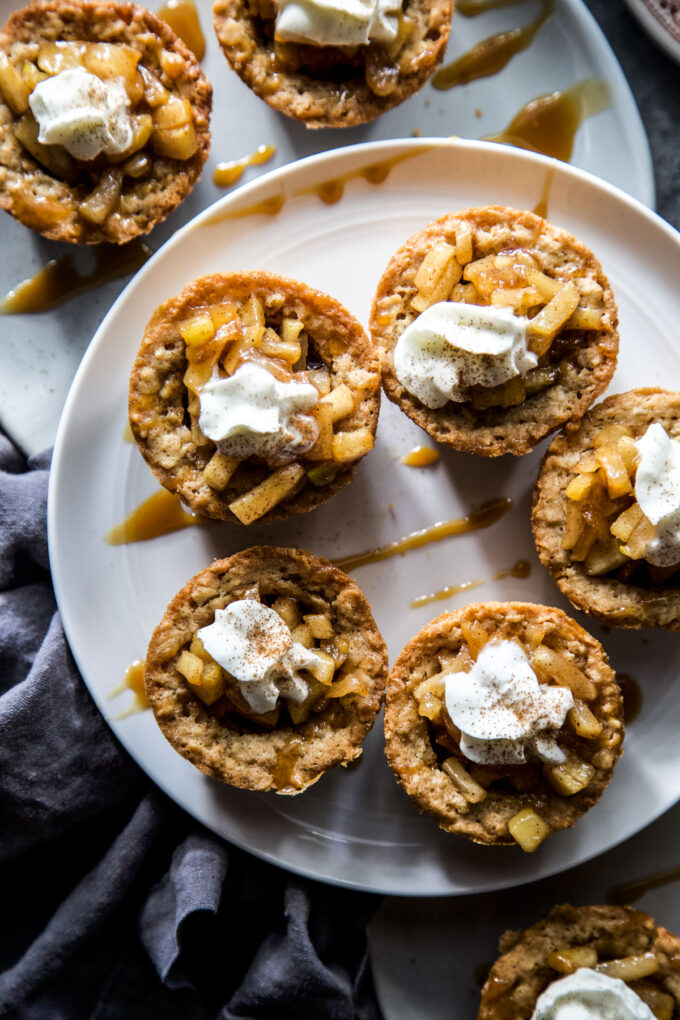 What are in these Apple Pie Cookie Cups?
When it comes to making dessert, I'm a big fan of letting simple ingredients shine. If you've been a long time reader of The Curious Plate you know that I'm not a huge pie lover. However, I do love the flavors of an apple pie. I would just rather have a few of these Apple Pie Cookie Cups instead of a whole pie.
If you want a simple, tasty Thanksgiving dessert all you need to make these Apple Pie Cookie Cups are:
Unsalted butter
Brown sugar
Granny smith apples
Egg
Oats
All-purpose flour
Vanilla extract
Nutmeg
Cinnamon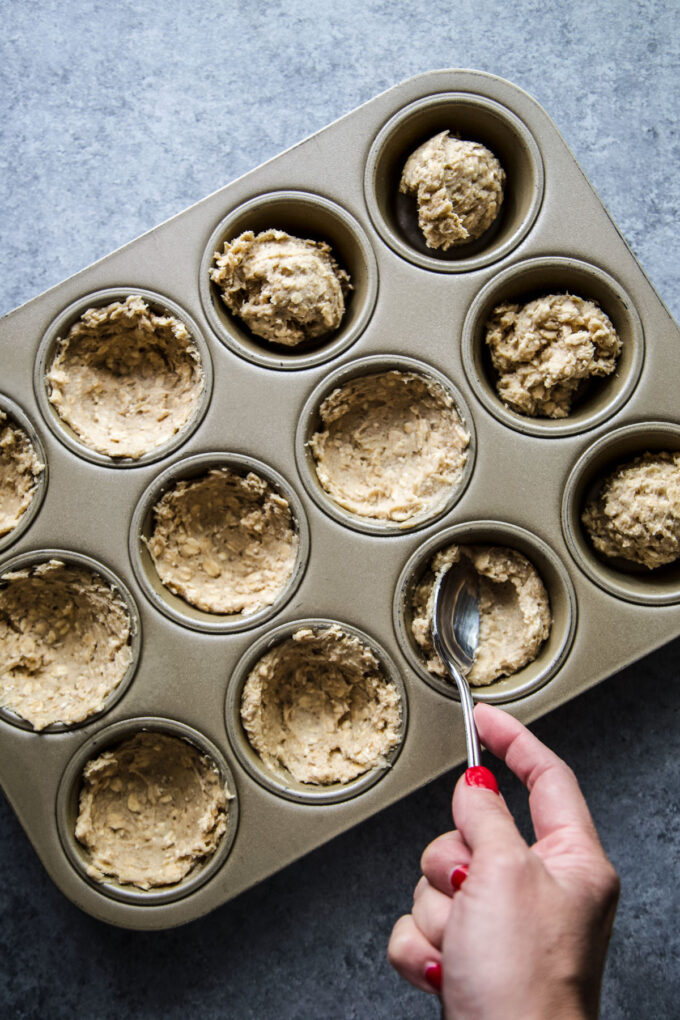 Tips for Making these Apple Pie Cookie Cups:
Apples. I recommend using granny smith apples for these cups. You can definitely use whatever you have on hand just keep in mind that Granny smith apples are tart and pair well with sweet ingredients.
Oats. I used old fashioned oats in this recipe because that's what we have in the pantry. Please feel free to use whatever kind of variety of oat you like!
Whipping cream. Adding whipping cream to the top is extra! But I will say it doesn't give these cups a little something, something.
Caramel sauce. Again, only if desired. I think it makes these cups look and taste luxurious.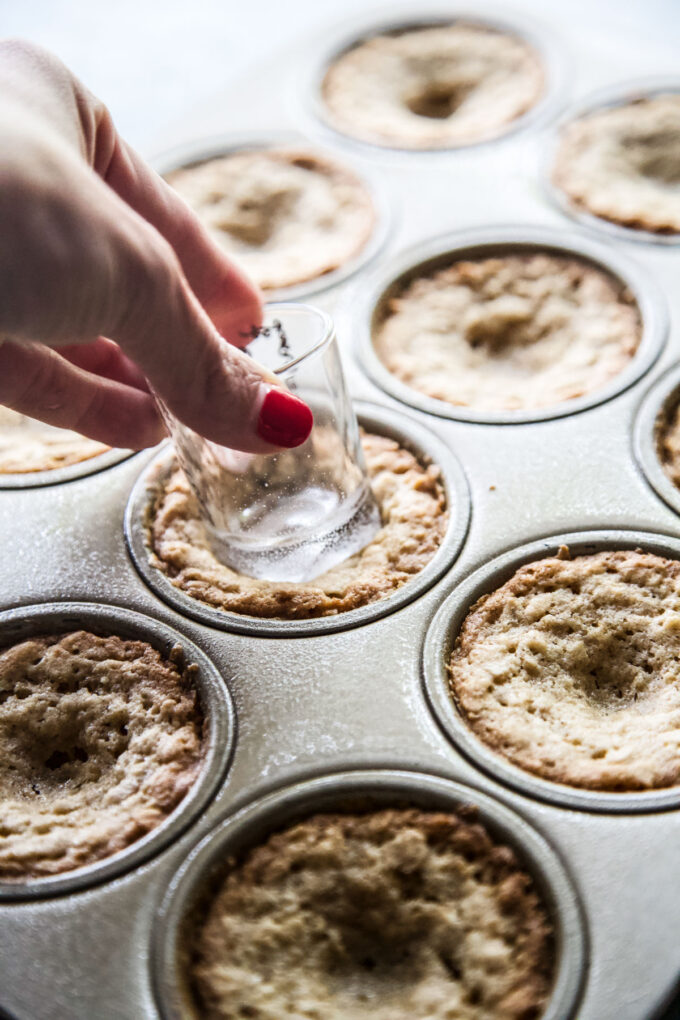 How many days ahead can I make these Apple Pie Cookie Cups?
You can prep the cups at least 2 days ahead of time. Simply store them in the fridge and bring to room temperature prior to serving with the hot stuffed apples.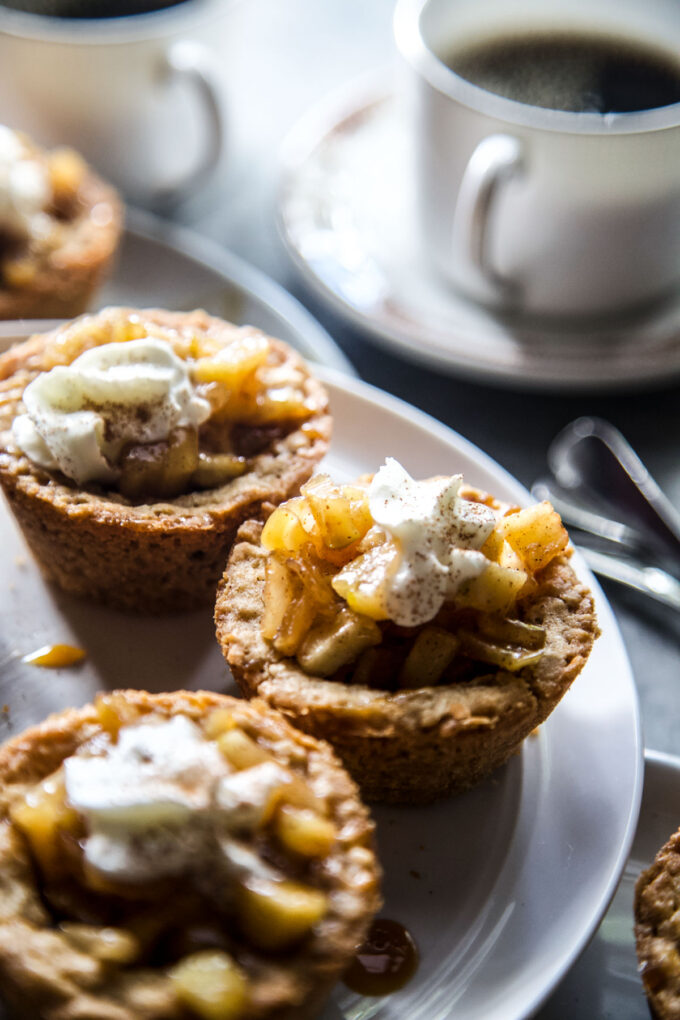 Can you make the filling in advance?
Yes! You can make the filling a day in advance and then reheat on the stovetop prior to adding to the cups.
What muffin pan do you recommend using?
Definitely want to use a non-stick muffin pan. Also, if you can find Baker's Joy non-stick cooking spray that will help as well because it contains flour in the spray.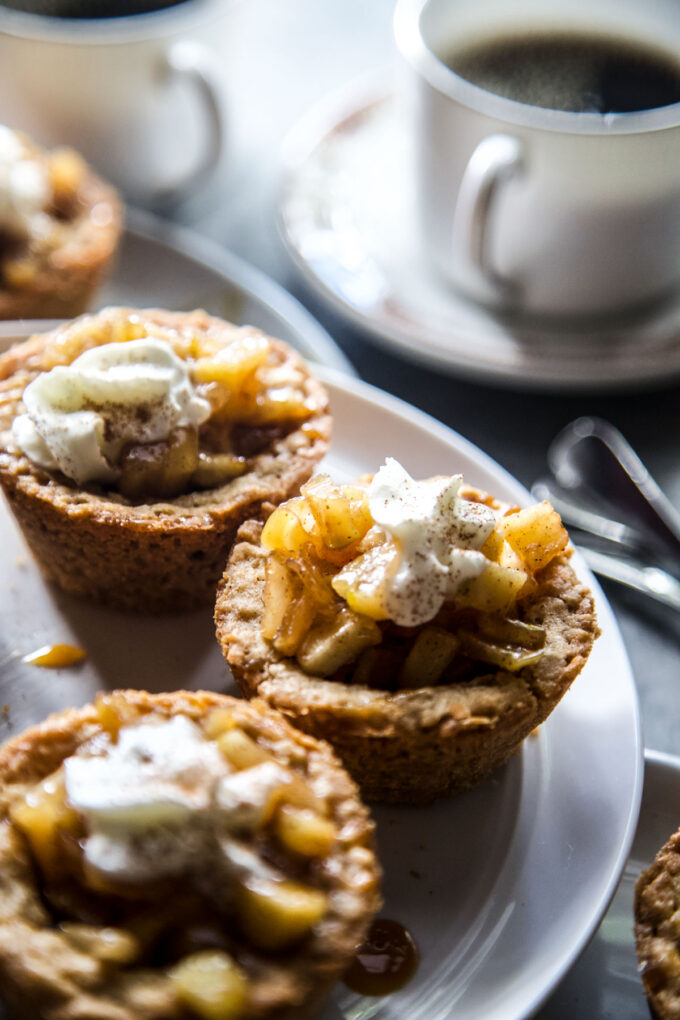 More Delicious Thanksgiving Desserts:
If you need more Thanksgiving Day recipe inspiration make sure to check out our Thanksgiving recipes here!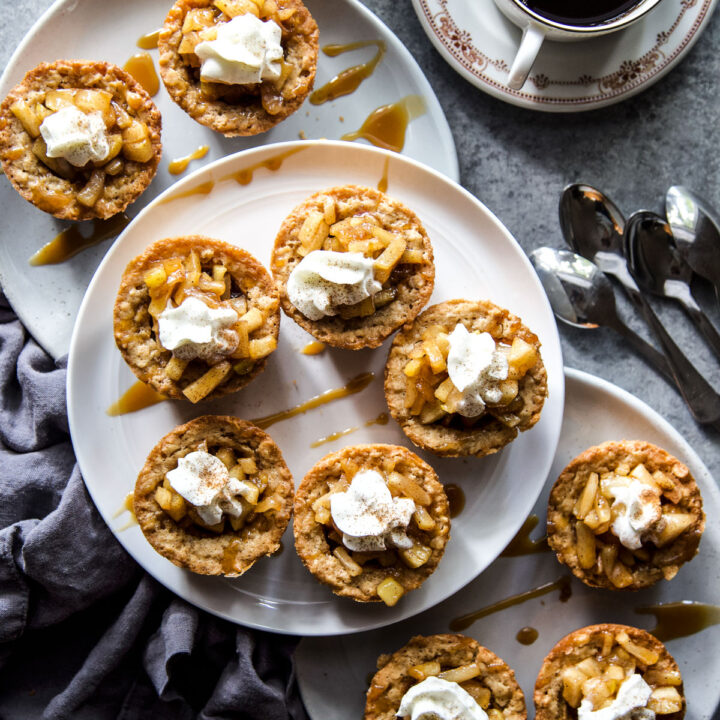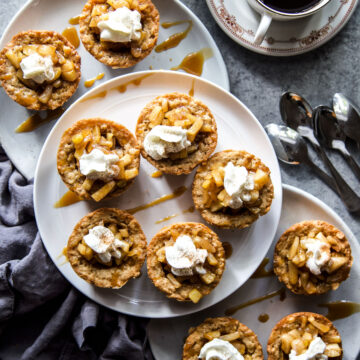 Apple Pie Cookie Cups
Apple Pie Cookie Cups are a fun twist on classic apple pie! Made with apples, oats, and spices, this is the best fall dessert! Thanksgiving dessert is served. 
Ingredients
2 sticks Softened unsalted butter + 2 tbsp for cooking apples
1 1/4 cups Brown sugar, divided
3/4 cup Granulated sugar, divided
2 large Eggs
1 tsp Vanilla extract
1 1/4 cups All-purpose flour
1 3/4 cups Old fashioned oats
1 tsp Baking powder
1/2 tsp Ground cinnamon
1/2 tsp Kosher salt
4 medium Granny smith apples, peeled, cored, and finely chopped
1 1/2 tsp Cornstarch
1/2 tsp Ground nutmeg
1/2 tsp Ground cinnamon
Caramel sauce, for serving
Whipped cream, for serving
Instructions
Preheat oven to 350 degrees. Spray a 12-cup muffin tin with non-stick cooking spray.

In a mixer fitted with a paddle attachment, add the butter, 1 cup brown sugar, and 1/2 cup granulated sugar. Beat everything until nice and fluffy. Next, add in the eggs and vanilla. Continue to combine.

Add in the flour, oats, baking powder, cinnamon, and kosher salt. Stir to combine.

Using an ice cream scoop, scoop the cookie dough into the muffin tin and using your hands press to flatten. Bake the cookie cups until golden brown; about 15 to 20 minutes.

Remove the cookies from the oven. Spray the bottom of a shot glass with cooking spray and gentle press the shot glass into the center of each cookie to create cups. Let the cookie cup cool in the muffin tin before removing.

Next, melt 2 tbsp butter in a skillet over medium-high heat. Add the apples and cook until beginning to soften. Add 1/4 cup brown sugar, 1/4 cup granulated sugar, cornstarch, nutmeg, and cinnamon. Cook until softened and caramelized.

Remove the cookie cups from the muffin tin and place on a serving tray. Spoon the apple filling into each cup. Garnish with caramel and whipped cream!
Did you make this recipe?
Please leave a comment below and share a photo on Instagram with the hashtag #thecuriousplate!