Savory Sweet Potato Casserole
Savory Sweet Potato Casserole is a delicious and easy side dish to make for Thanksgiving or weeknight dinner!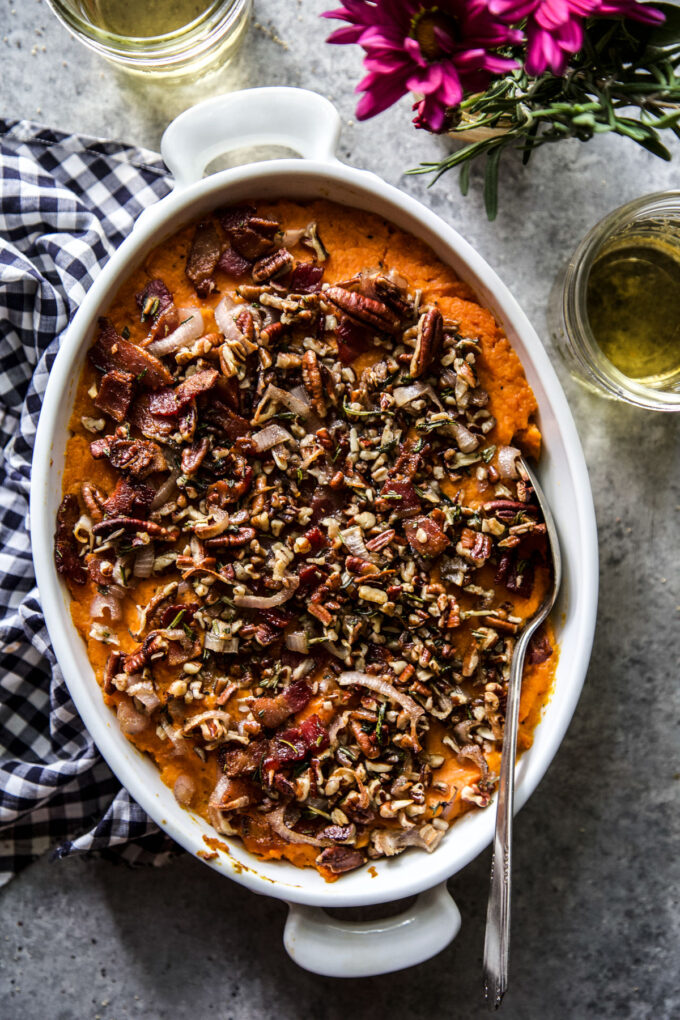 Thanksgiving sides.
Is there anything better? I think not!
Well, today I'm back with another side dish that will have all of us savory folks jumping for joy!
If you are just joining us, I kicked off The Curious Plate Thanksgiving on Sunday with an Easy Guide on How to Host Thanksgiving + a Free Printable Checklist. It's chock-full of entertaining tips, recommendations for kitchen tools, and a full Thanksgiving menu to help make the big turkey day feel like a breeze.
Each day this week I'm sharing a new recipe. So far we have……
I'm hungry! Well, today I'm sharing another delicious Thanksgiving side dish. Because let's be real, Thanksgiving is all about the sides. This Savory Sweet Potato Casserole is the older, wiser sister of the sweet potato casserole topped with marshmallows. A little more sophisticated and tastes the best leftover!
Okay, let's see what all the fuss is about and get cooking!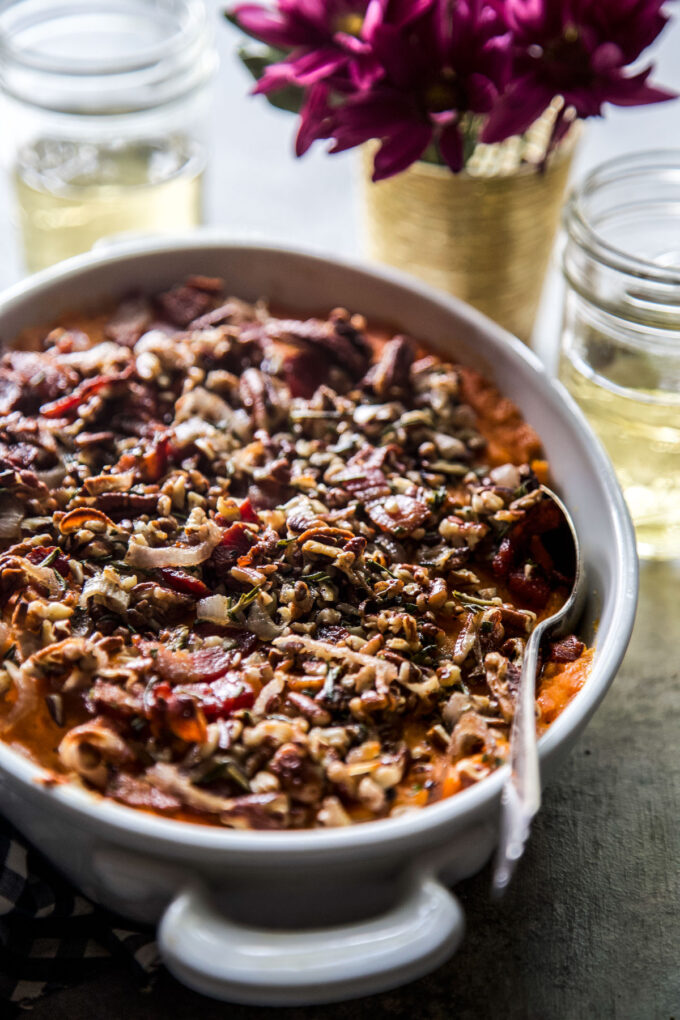 What's in this Savory Sweet Potato Casserole?
The hardest part about Thanksgiving is not the turkey, it's deciding what side dish to make! This Savory Sweet Potato Casserole is an amazing addition and quick to make as well. For this recipe you will need:
Sweet potatoes
Butter
Half-n-Half
Garlic
Bacon
Pecans
Shallot
Rosemary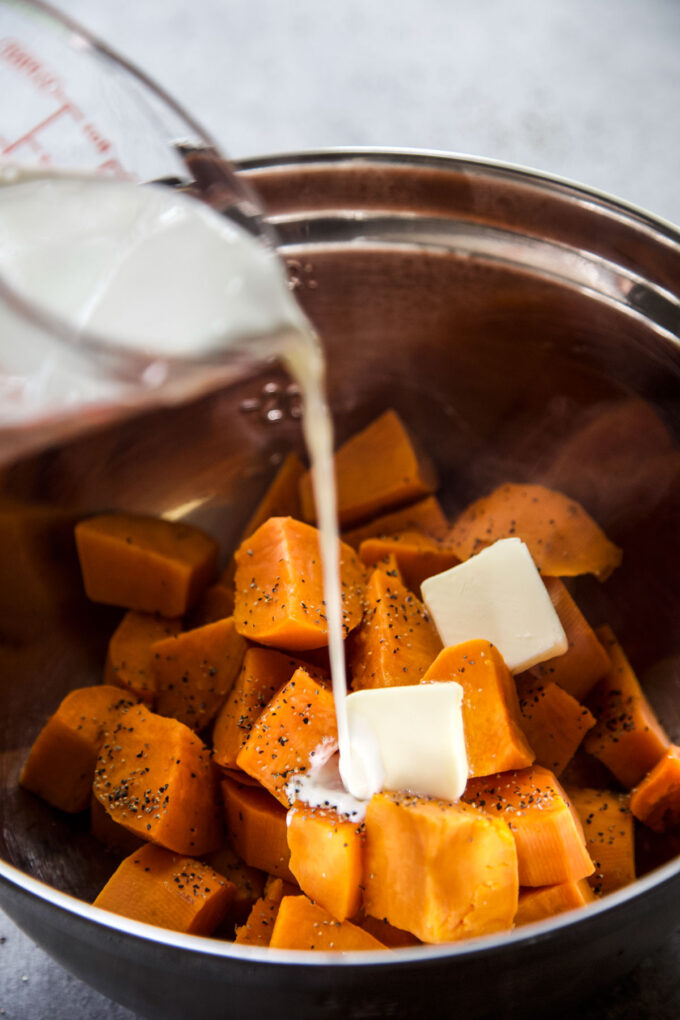 Tips for Making this Savory Sweet Potato Casserole:
Sweet Potatoes. I know that peeling potatoes can be a pain. BUT! By peeling the potatoes you create a luxurious, silky potato casserole.
Half-n-Half. Since it's equal parts cream and milk, half-n-half is the best liquid to add to any casserole. You can use whole milk if you don't have half-n-half!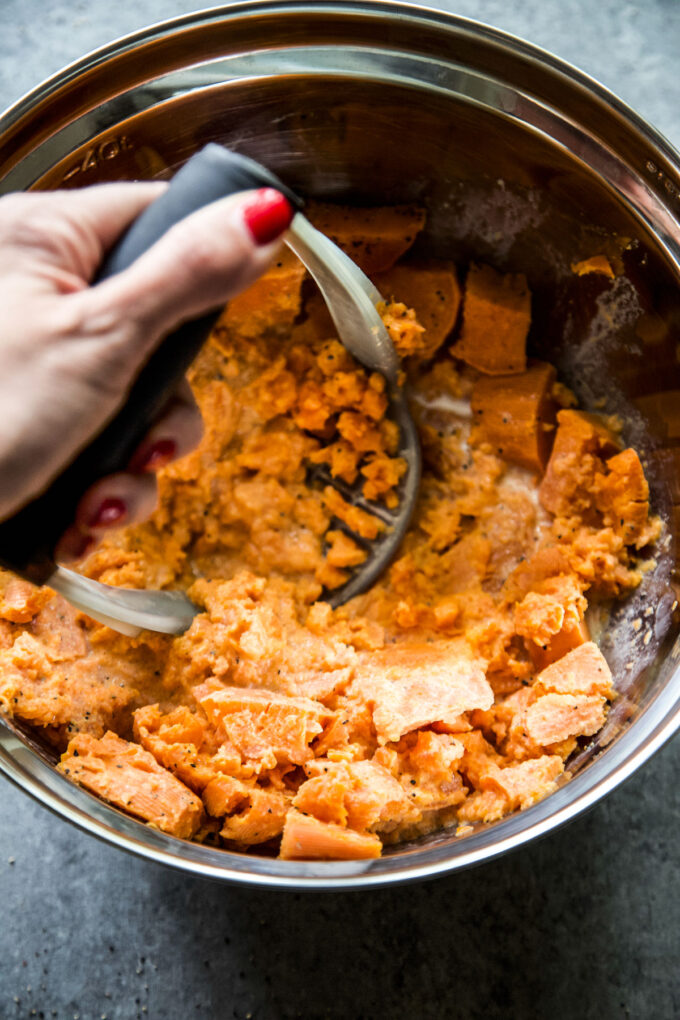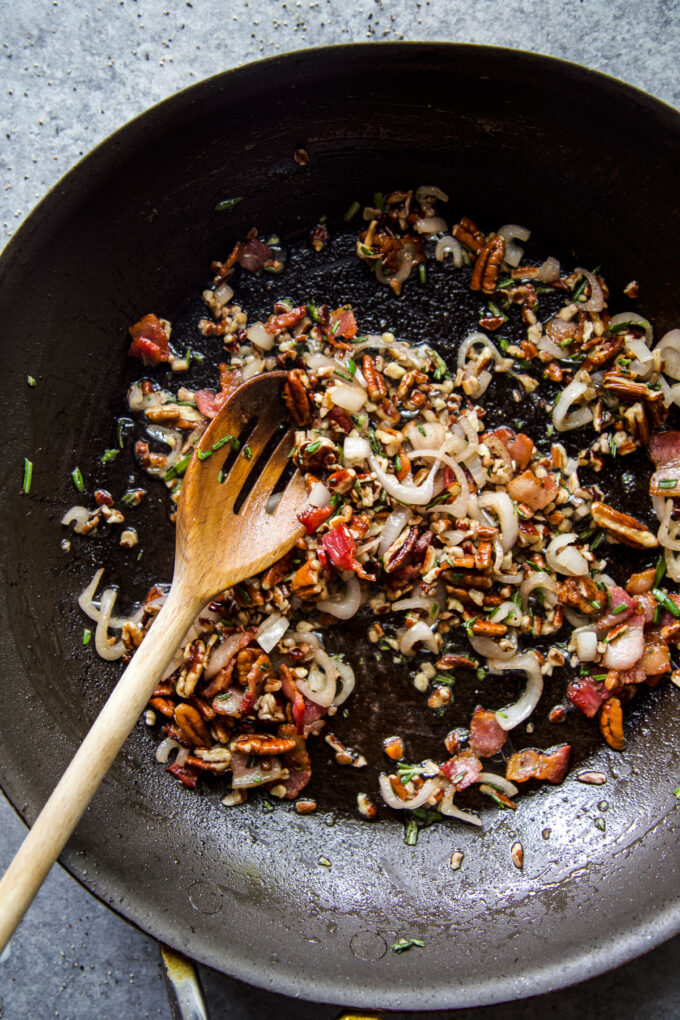 Frequently Asked Questions:
How far in advance can I make this stuffing?
You can make the entire dish two days ahead of time and keep it in the fridge. Simply reheat in the oven and serve when warm.
Can I make this vegan?
You bet! Simply use plant-based milk or butter.
Can I make the topping with different herbs?
Fresh chopped sage would be a delicious option instead of rosemary.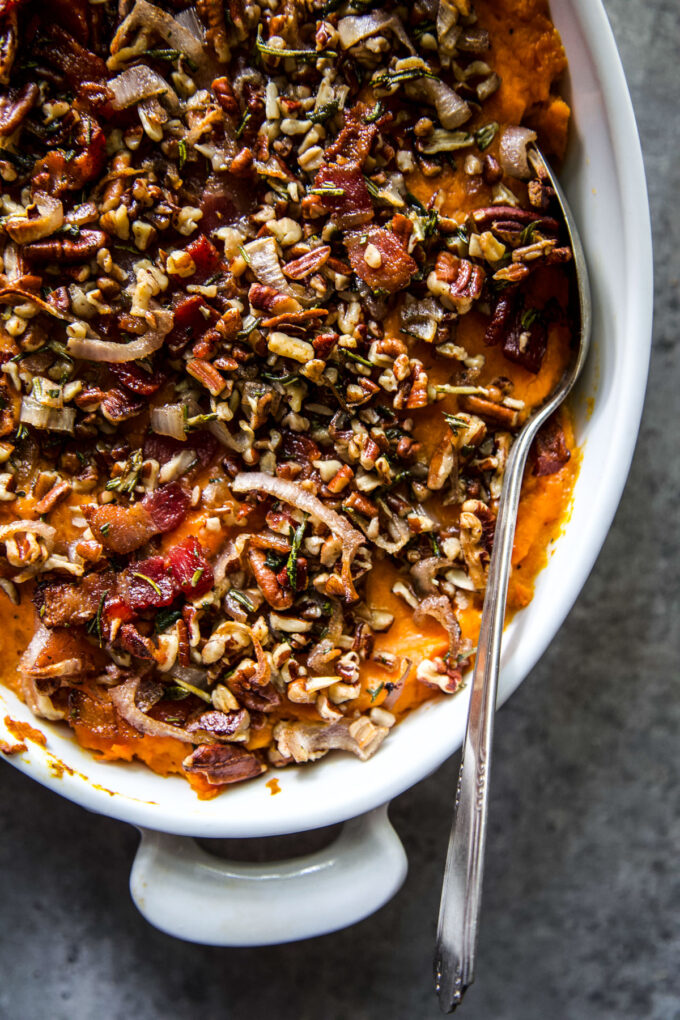 More Delicious Thanksgiving Sides to Enjoy:
If you need more Thanksgiving Day recipe inspiration make sure to check out our Thanksgiving recipes here!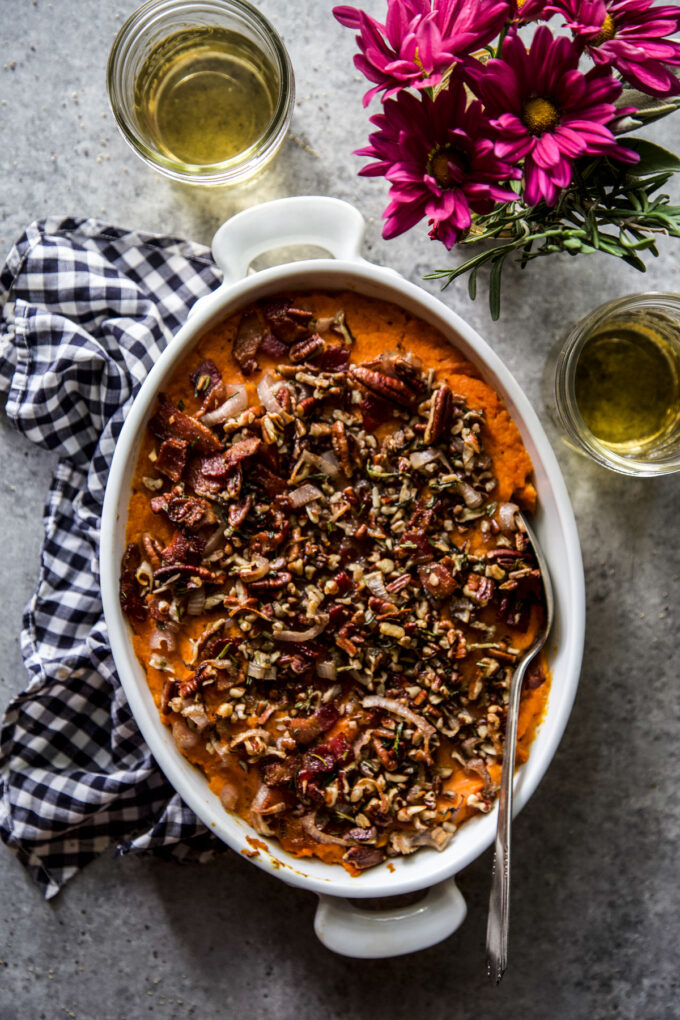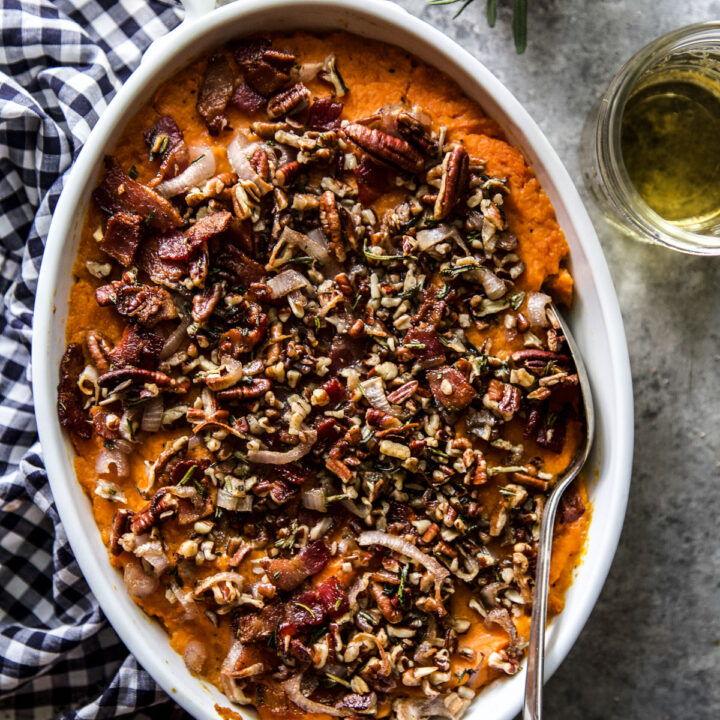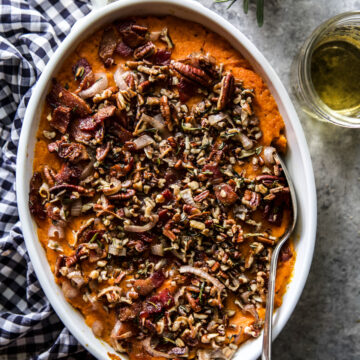 Savory Sweet Potato Casserole
Savory Sweet Potato Casserole is a delicious and easy side dish to make for Thanksgiving or weeknight dinner! 
Ingredients
4 lbs Sweet potatoes, peeled and cut into evenly sized chunks
1/2 cup Half and Half
2 tbsp Unsalted butter
4 slices Bacon, chopped
1 small Shallot, finely chopped
3 cloves Garlic, minced
1 cup Pecans, chopped
1 tbsp Chopped fresh rosemary
2 tsp Maple syrup
salt and pepper to taste
Instructions
Preheat your oven to 350 degrees. Spray an 8X8 baking dish with non-stick cooking spray and set aside.

Fill a large pot with cold water and add the cubed sweet potatoes. Bring the mixture to a boil and boil the potatoes for 20 minutes or until fork tender. Drain the potatoes and place them in a large bowl.

While the potatoes are boiling, you will want to make the bacon pecan topping. Preheat a large skillet over medium heat and add the bacon. Cook the bacon stirring until crispy. Once cooked, remove the bacon with a slotted spoon and place on a plate lined with a paper towel.

In the same skillet with the bacon grease, add the shallot, garlic, and chopped pecans. Stir to combine and cook over medium heat for a few minutes or until the shallots have softened and the pecans have become slightly toasted. Stir in the rosemary, maple syrup, and the cooked bacon. Combine everything and stir until warm.

Add butter, half and half, salt, and pepper to to the sweet potatoes. Using a potato masher or hand mixer, mash the potatoes until smooth. If you need to add more half and half that is okay.

Take the sweet potatoes and spoon them into the prepared baking dish. Top with the bacon pecan mixture. Place the dish into the oven and bake for 30 minutes or until golden brown. If needed, you can put foil over the top to prevent the pecans from burning. Remove from oven and enjoy!
Did you make this recipe?
Please leave a comment below and share a photo on Instagram with the hashtag #thecuriousplate!