Easy Cornbread Stuffing with Salami
Easy Cornbread Stuffing with Salami is a tasty and delicious stuffing that's perfect for Thanksgiving Day!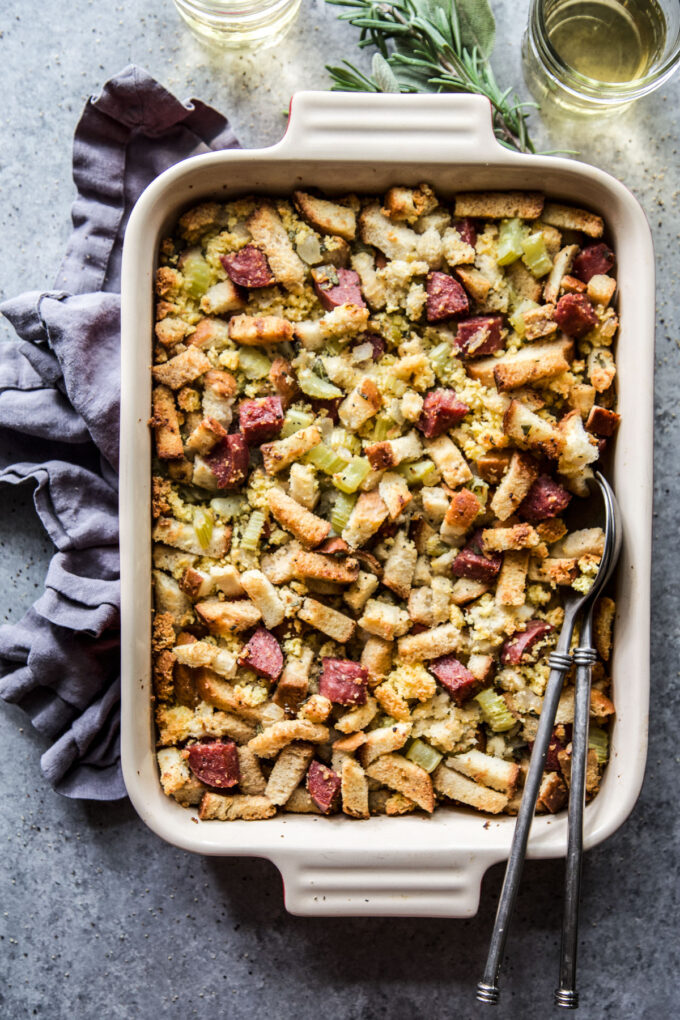 I'm just here for the sides.
The Thanksgiving Sides that is.
If you are just joining us, I kicked off The Curious Plate Thanksgiving on Sunday with an Easy Guide on How to Host Thanksgiving + a Free Printable Checklist. It's chock-full of entertaining tips, recommendations for kitchen tools, and a full Thanksgiving menu to help make the big turkey day feel like a breeze.
Each day this week I will share a new recipe. So far we have….
Hungry yet? Well, today I'm sharing a new favorite Thanksgiving side dish. Because let's be real, Thanksgiving is all about the sides. This Easy Cornbread Stuffing with Salami is a breeze to make and is actually best made ahead of time. Fluffy cornbread tossed with fresh sage, salami, croutons, and butter makes this stuffing an 11/10 situation.
Ready to get cooking?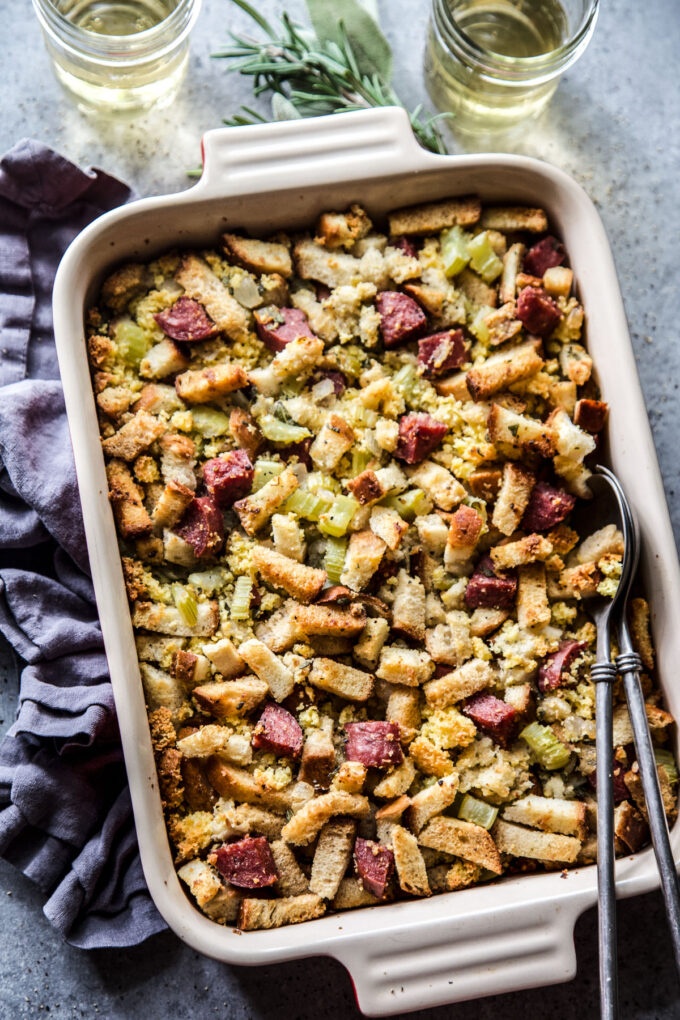 What's in this Easy Cornbread Stuffing with Salami?
When it comes to Thanksgiving sides the possibilities are endless. My opinion: you can't beat delicious stuffing. This Easy Cornbread Stuffing with Salami is a fun twist on traditional stuffing and easy to prepare as well. You will need:
Boxed cornbread (like Jiffy!)
Salami
Onion
Celery
Croutons
Chicken Stock
Butter
Garlic
Fresh Sage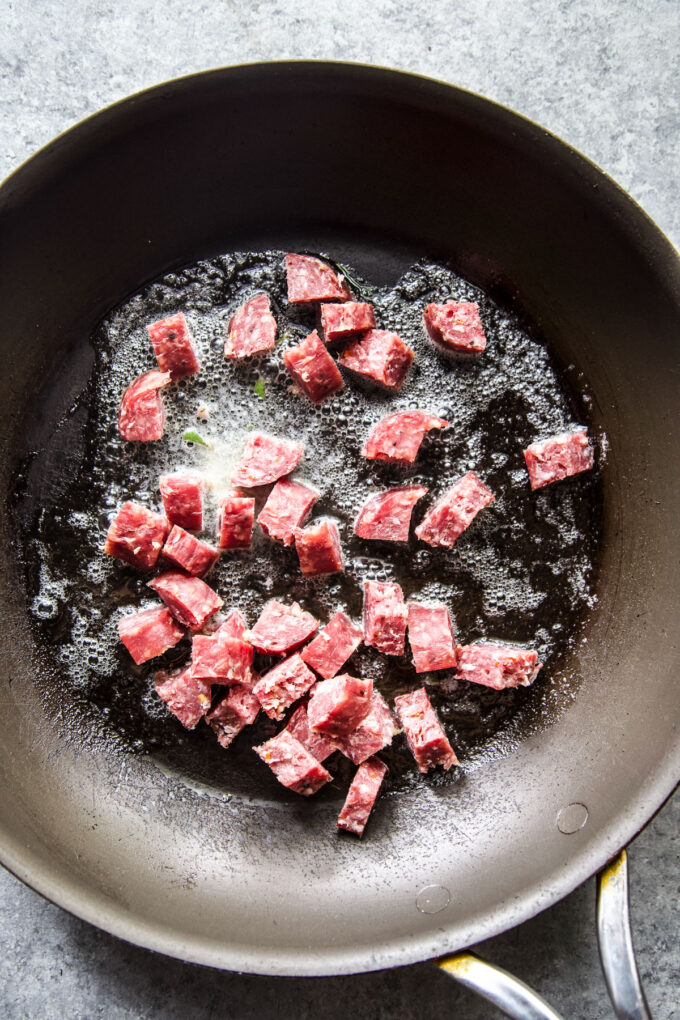 Tips for Making this Easy Cornbread Stuffing with Salami:
Cornbread. When it comes to making the cornbread, don't stress yourself out and simply just purchase a few boxes of Jiffy. It's a breeze to make and what's great is that the longer you let the cornbread set out ahead of time the better it will be to make the stuffing.

Salami. Since the salami is the star of the stuffing you want to pick a kind that you would enjoy as if you were making a charcuterie board. And if you are wondering if it is the pre-cooked kind of salami, it is! Trust me, the flavor is so good mixed with the cornbread.

Stuffing Croutons. Any packaged stuffing will work. Basically you are creating a foundation for the cornbread to be mixed with. You could even use day old bread that has been cubed.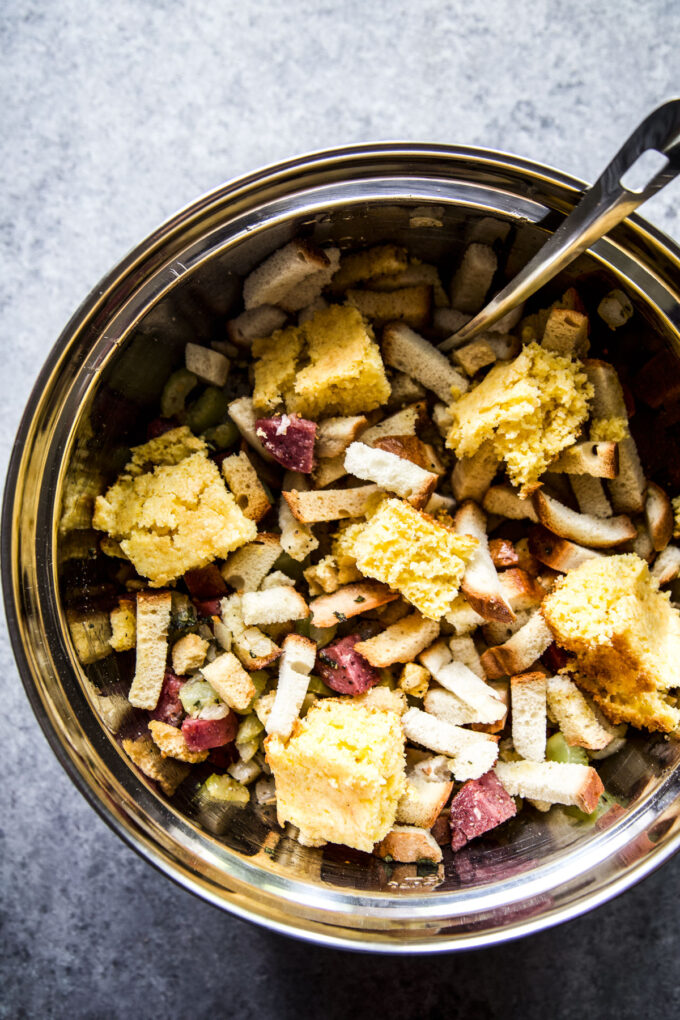 Frequently Asked Questions:
Can I make this gluten free?
Yes! The cornbread is gluten free, but you will need to swap out the bread croutons for a gluten free variety.
I'm not a fan of salami, may I swap it out?
Definitely! You could substitute the salami with bacon, sausage, ham, or anything other protein that you'd prefer.
How far in advance can I make this stuffing?
You can make the entire dish two days ahead of time and keep it in the fridge. Simply reheat in the oven and serve when warm.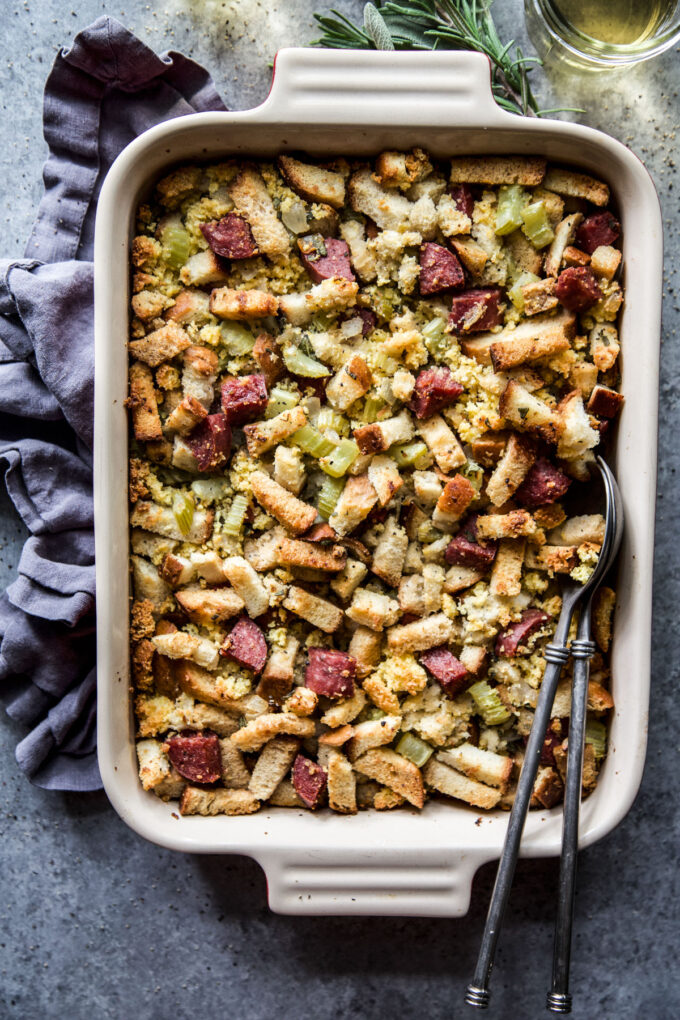 More Delicious Thanksgiving Sides to Enjoy:
If you need more Thanksgiving Day recipe inspiration make sure to check out our Thanksgiving recipes here!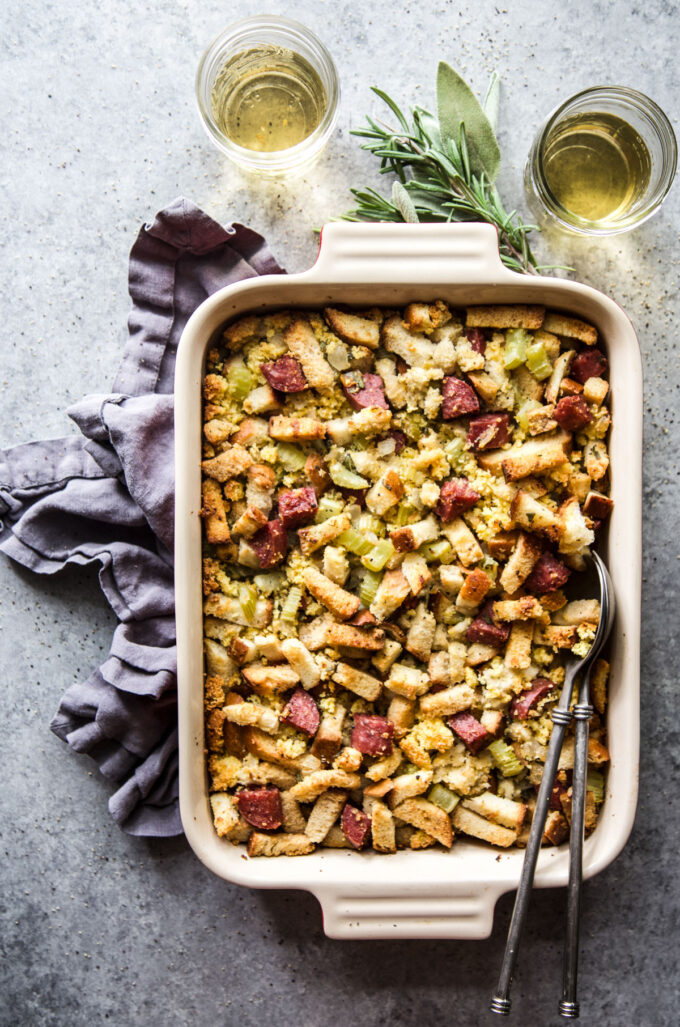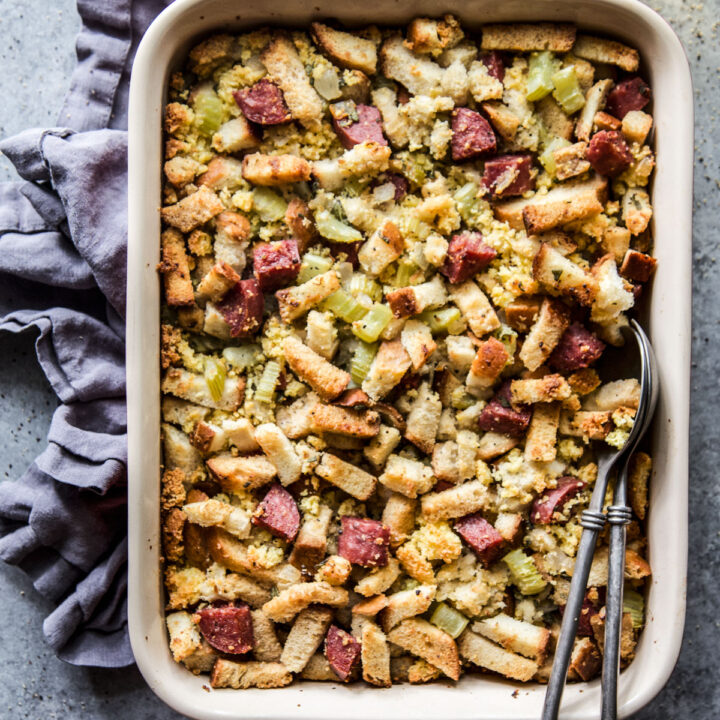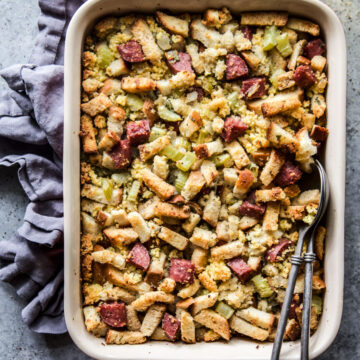 Easy Cornbread Stuffing with Salami
Easy Cornbread Stuffing with Salami is a tasty and delicious stuffing that's perfect for Thanksgiving Day!
Ingredients
8 tbsp Unsalted butter, divided
12 cups 1-inch cornbread cubes (two boxes of Jiffy cornbread made according to package instructions)
1 10oz Salami, cut into 1/2-inch pieces
1 large Yellow onion, chopped
3 stalks Celery, chopped
4 cloves Garlic, minced
3 tbsp Chopped fresh sage
1 5 to 7 oz Stuffing mix croutons
3 cups Chicken stock
salt and pepper to taste
Instructions
Preheat your oven to 350 degrees. Spray a 13X9 baking dish with non-stick cooking spray and set aside.

Take the cubed cornbread and spread it gently onto a large baking sheet. Place the cornbread into the oven for about 20 minutes until partially dried out. You will want to toss halfway through cooking to ensure the cornbread doesn't get to brown. Remove from oven and let it cool.

Next, melt 1 tbsp of butter in a large skillet over medium heat and add in the salami. Cook the salami for a couple of minutes or until lightly browned. Transfer the salami to a large bowl using a slotted spoon.

Next, add the remaining 7 tbsp of butter to the same skillet and melt over medium heat. Add in the onion, celery, garlic, salt, and pepper. Stir to combine and cook for about 10 minutes or until the vegetables have softened. Toss in the sage and stir to combine.

Add the stuffing croutons and cornbread to the bowl with the salami. Gently toss everything together. Next, add the vegetable mixture and chicken broth. You want to allow the bread a chance to soak up the liquid so start slowly. If you don't use all 3 cups of chicken stock that's okay!

Toss everything together and pour the stuffing into the prepared 13X9 baking dish. Bake the stuffing for about 40 to 45 minutes or until golden brown on top!
Did you make this recipe?
Please leave a comment below and share a photo on Instagram with the hashtag #thecuriousplate!