Elote-Style Breakfast Tacos
These breakfast tacos combine the hearty goodness of cheesy scrambled eggs and zesty elote-style corn mixture nestled in toasted tortillas. Break away from your usual morning meal routine and try this easy Mexican-inspired dish full of tantalizing flavors that will surely wake your senses up!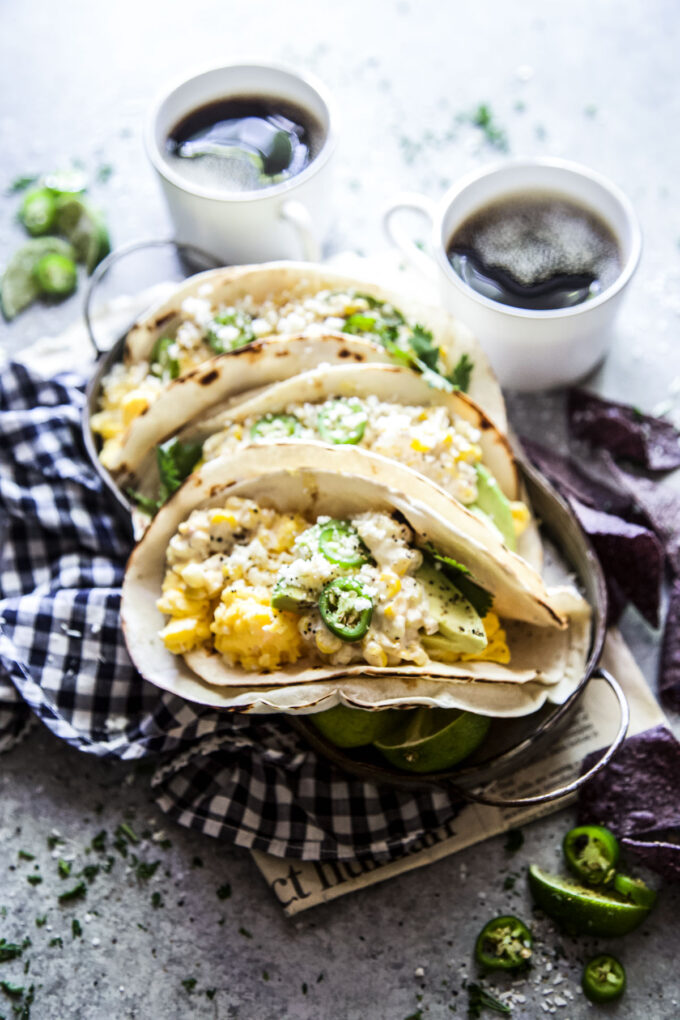 Tacos in the Morning!
If you are a taco lover and would squish everything between your beloved tortillas, then this recipe will make your mornings extra special! This Tacos de Elotes recipe features creamy, fluffy, and cheesy scrambled eggs topped with flavorful Mexican street corn garnished with cilantro, avocado, and jalapenos slices. These tacos are super filling and will power you up until lunchtime. Plus, they are so quick and easy that it will not take you more than 30 minutes to get them ready on the table for the whole family to enjoy. They are perfect for breakfast-on-the-go, picnics, and brunch parties! Who said you cannot start Taco Tuesday early?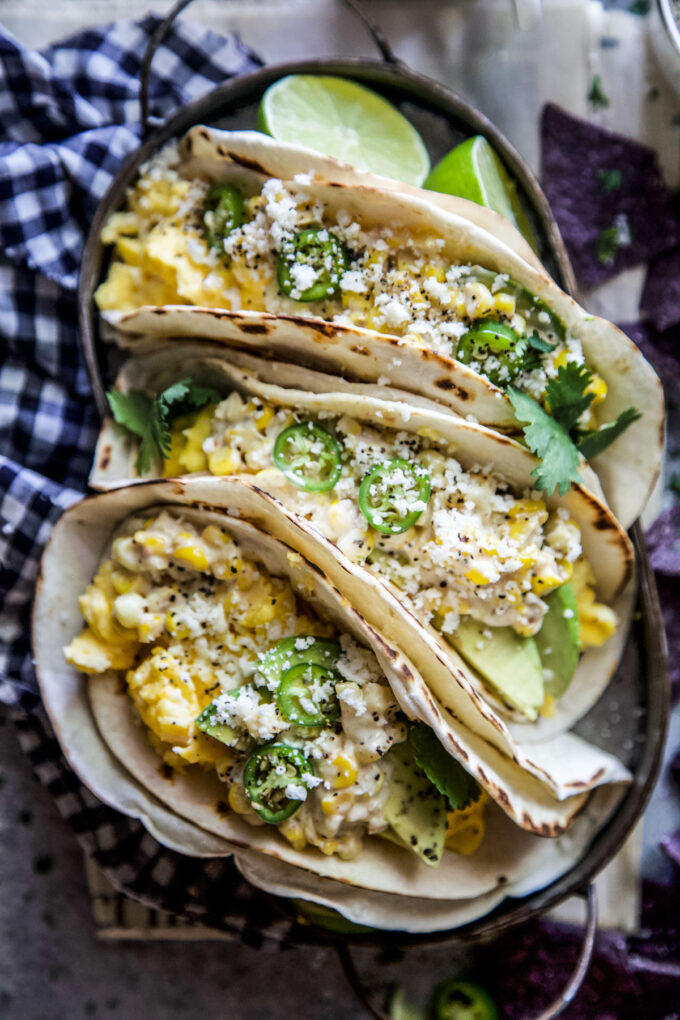 What is Elote?
Elote means "an ear of corn." It is a popular Mexican street food where cobs or kernels are cooked and doused with cheese, spices, and seasonings, giving them a multitude of flavors! The one I used in this recipe is associated with Esquites or "elote en vaso" which translates to "corn in a cup." It is traditionally made of cooked corn kernels mixed with mayonnaise, cojita cheese, lime, chili, and salt, among other things. You will love the pops of sweet crunchiness coated in creamy mayo infused with spicy, savory, and tangy flavors!
What corn to use?
You can either sauté the corn in a skillet or grill them. I love both methods but find sautéing more convenient. However, if you have time to fire up your grill, that added smoky taste is well worth the effort! This can be done ahead of time, so you don't have to wake up early to prep your corn. When sautéing, you can either use oil or butter for extra flavor.
If you cannot be bothered with shucking the kernels off the cob, you can also use frozen or canned corn kernels. If you are using frozen corn kernels, thaw them overnight in the fridge and wash them with running water before using them.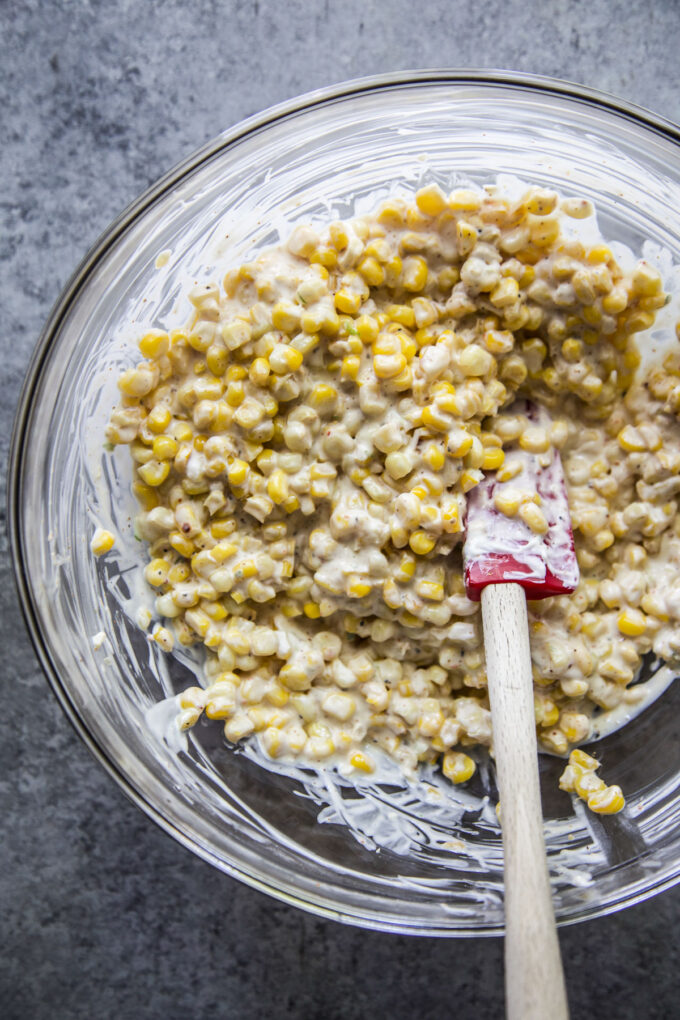 What You Need to Make Elote-Style Breakfast Tacos?
Making this Mexican-themed breakfast treat is super easy and requires a few ingredients to make a fluffy, cheesy egg base and elote corn salad. Here's a list of what you will be needing:
For the Scrambled Eggs:

Eggs- I used 8 large ones to make 4 servings. Fresh is always best!
Half-and-half- is an equal mixture of half milk and half cream. I like using this because it gives the scrambled eggs the perfect amount of creaminess while still making them light and fluffy.
Mexican-style cheese- you can use any variety you like! Oaxaca, Asadero, or Manchego are great options because they melt really well. You can also use Monterey Jack in a pinch.

For the Elote:

Corn- cooked or grilled corn, then cut off the cob.
Mayonnaise- gives the elote its creamy texture.
Sour cream- most recipes do not include this, but I love how it brightens the mixture with its rich tart flavor.
Chili-lime seasoning- adds a touch of fiery zestiness to the dish!
Lime juice and zest- nothing like fresh citrus for some acidity and aroma.
Kosher salt
Pepper
Garlic

Flour tortillas
Cojita Cheese- this is a type of aged Mexican cheese with a salty and milky flavor. Depending on the age, it can have a texture between feta (younger) and parmesan (older).
Garnishes- I used fresh cilantro, avocado, and jalapeno slices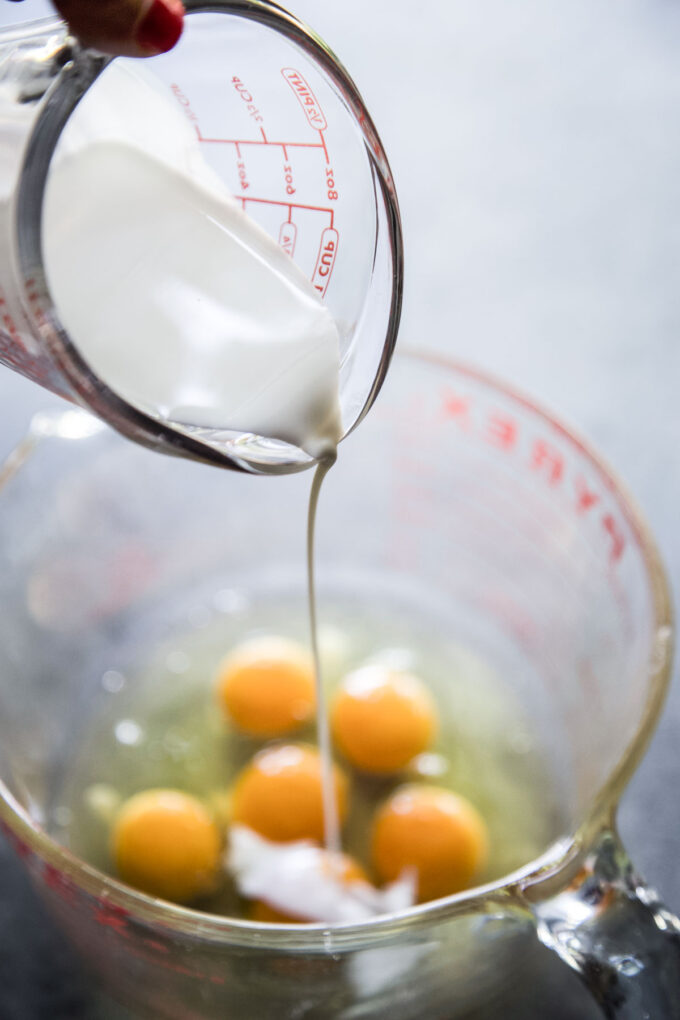 How to Make Them?
Enjoying these corn-filled breakfast goodies will take less than 30 minutes! Just cook the eggs, mix the elote ingredients together and assemble!
Preparations:
Saute or grill the corn and shuck the kernels off.
Toast your tortillas
Zest the lime
Chop the toppings
Steps:
Make the Scrambled Eggs. Whisk the eggs and half-and-half in a large mixing bowl, then season with salt and pepper. Pour the egg mixture into a large non-stick skillet, set over medium-high heat, and gently stir. Add the shredded cheese and continue cooking until the scrambled eggs are fluffy and the cheese has melted.
Make the Elote. In a medium mixing bowl, combine corn, mayo, sour cream, garlic, chili-lime seasoning, salt, pepper, lime juice, and lime zest. Mix well until all the ingredients are fully incorporated and the corn kernels are entirely coated.
Assemble the Tacos. Place a toasted tortilla on a plate and add a spoonful of scrambled eggs on top. Next, add a generous dollop of the elote-corn mixture. Top with cojita cheese and garnish with fresh cilantro, avocado, and jalapeno slices. Serve and enjoy!
Tips When Making Elote-Style Breakfast Tacos
Use a non-stick skillet or pan and a silicone spatula when cooking the scrambled eggs for best results. These will make cooking- and cleaning up- a breeze!
Gently but consistently stir the eggs once they are in the skillet for even cooking. Remove the eggs from heat while they are still a bit runny. The residual heat will take care of it as the scrambles eggs rest.
Not everyone has the stomach for spicy food in the mornings. Reduce the amount of chili-lime seasoning and omit the jalapenos if you want it with less heat.
You can always make the necessary changes to the amount of tanginess by using more or less sour cream and lime juice.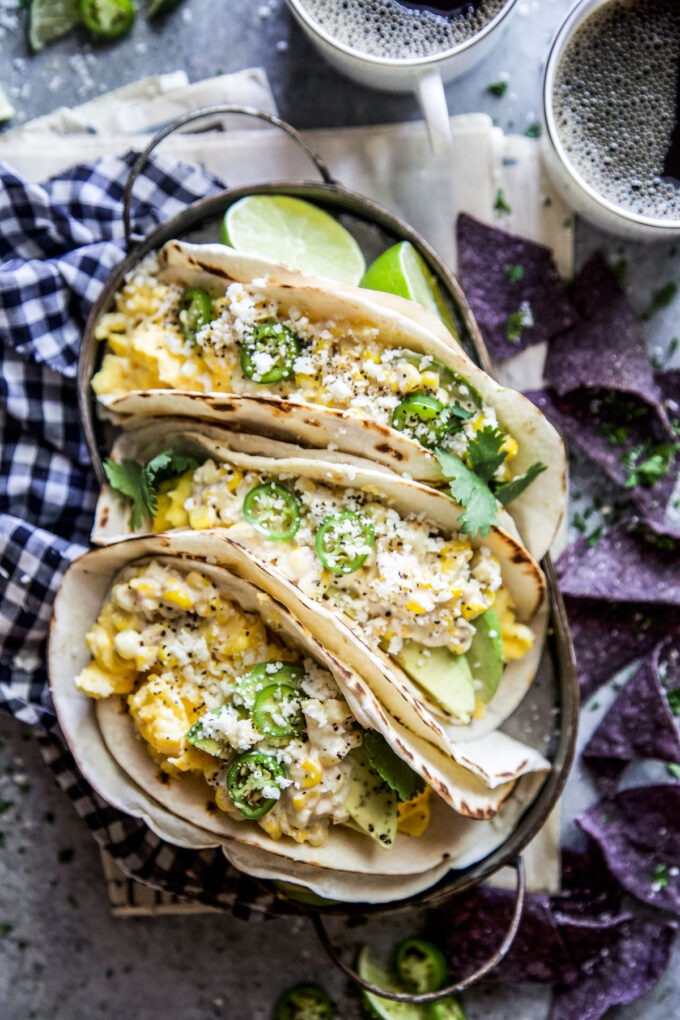 Frequently Asked Questions
How can I make this gluten-free? Simple swap the flour tortillas with corn tortillas. They are healthier too!
Is this recipe vegetarian? Yes! All the ingredients used for this recipe are animal-friendly.
Can I skip the sour cream? If you do not have it, you can replace it with more mayo and add a bit more lime juice instead.
What can I use instead of Cojita cheese? Both feta and parmesan are great substitutes depending on your preference.
Storing Notes
These Elote-Style Breakfast Tacos are best eaten right away. If you have leftovers, store the scramble eggs and elote separately for best results. Place them in airtight containers but consume them within three days at most.
You can use leftover Elote to make Mexican Street Corn Tortilla Soup or use it as a topping for Mexican Fattoush Salad. Or simply enjoy them as it as an appetizer or snack.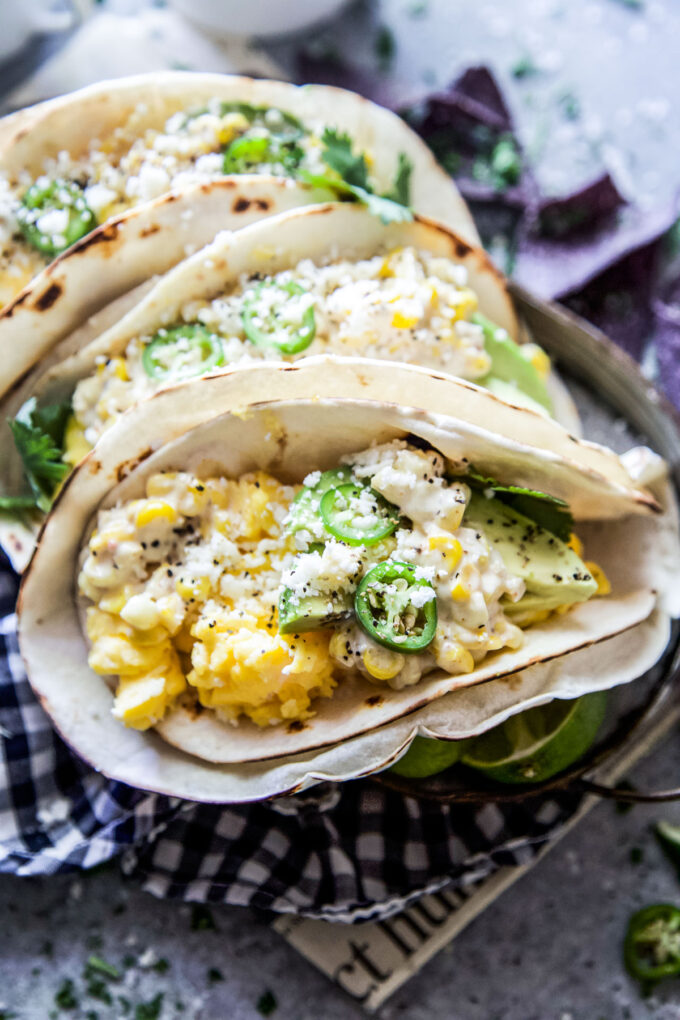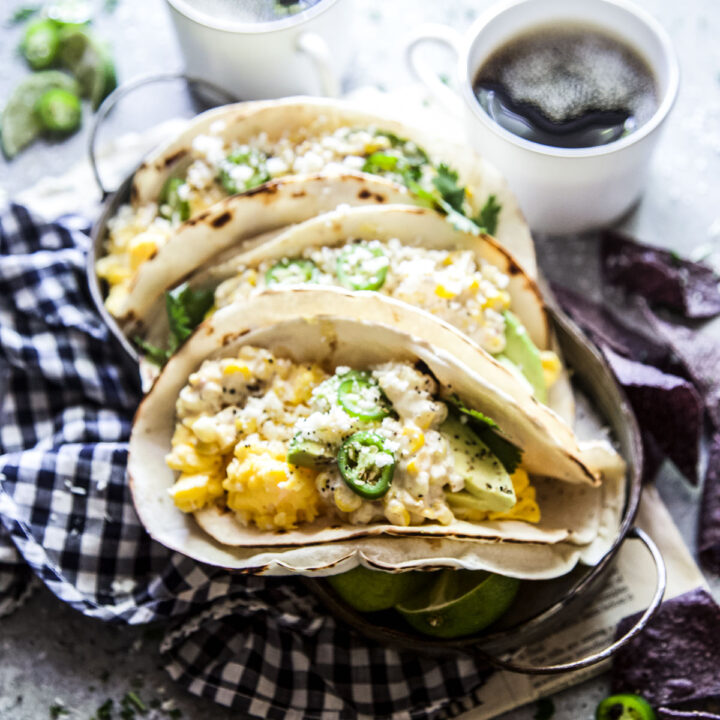 Elote-Style Breakfast Tacos
Elote-Style Breakfast Tacos combine the hearty goodness of cheesy scrambled eggs and zesty elote-style corn mixture nestled in toasted tortillas!
Ingredients
8 large Eggs
1/4 cup Half-n-half
1/3 cup Shredded Mexican style cheese
8 Flour tortillas, toasted
4 Ears of cooked or grilled corn, cut off the cob
1/3 cup Mayonnaise
1/4 cup Sour cream
1 clove Garlic, minced
1 tsp Chile-lime seasoning (*I get mine from Trader Joes)
1/2 tsp Kosher salt
1/2 tsp Ground pepper
1 tbsp Fresh lime juice
1 tsp Lime zest
Cojita cheese, for topping
Fresh cilantro, jalapeños, avocados, for garnish
Instructions
In a large bowl whisk together the eggs, half-n-half, salt, and pepper. Preheat a large non-stick skillet to medium-high heat and add the whisked eggs. Gently stir the scrambled eggs and then add in the shredded cheese. Once cooked and the cheese has melted, remove the skillet from the heat. 

Next, in a medium bowl, combine corn, mayo, sour cream, garlic, chili-lime seasoning, salt, pepper, lime juice, and lime zest. 

To serve: place a tortilla on a plate and top with a spoonful of scrambled eggs. Next, add a spoonful of the elote-corn mixture on top of the eggs. Garnish with cilantro, avocado, and jalapenos slices if desired. Repeat until all tacos have been formed.
Did you make this recipe?
Please leave a comment below and share a photo on Instagram with the hashtag #thecuriousplate!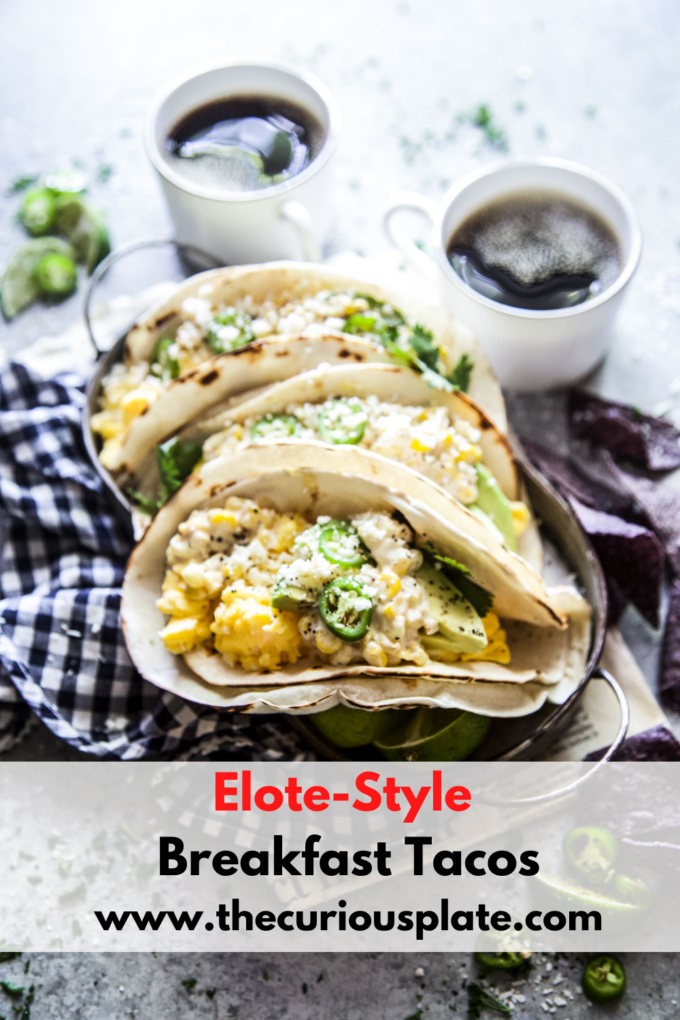 In conclusion, Elote-Style Breakfast Tacos offer a delightful fusion of flavors and textures. The marriage of cheesy scrambled eggs and the vibrant elote-style corn mixture, nestled in warm tortillas, creates a morning meal that's both hearty and satisfying. It's a delicious way to start your day with a burst of flavor.