Jerk Chicken Pizza
Jerk Chicken Pizza is a Jamaican-inspired pizza made with ground chicken, spices, and of course, cheese!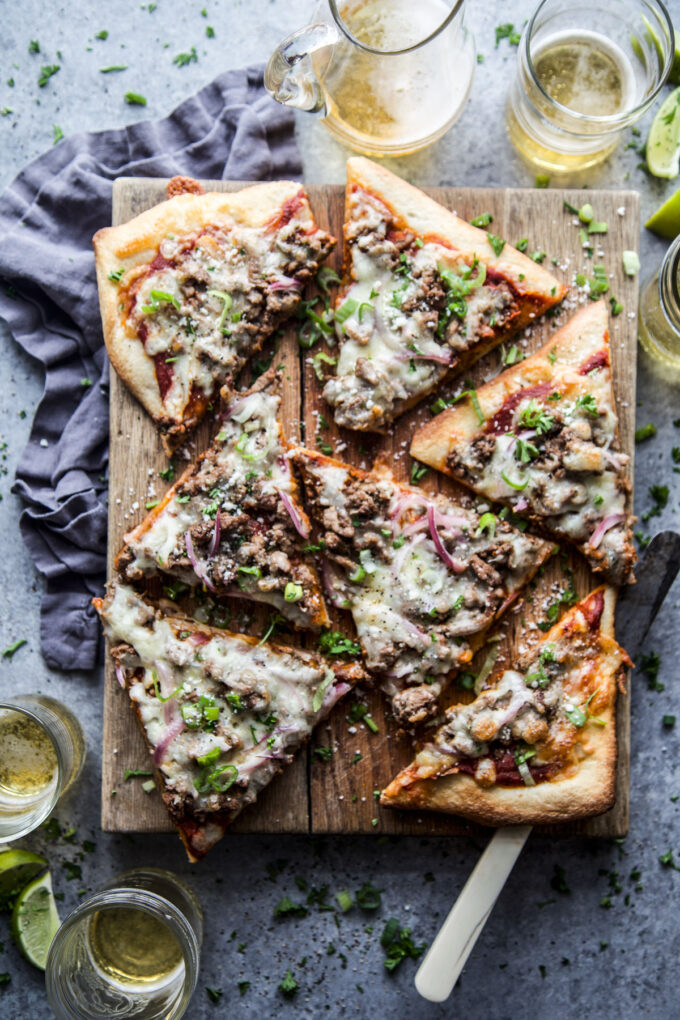 Mr. B and I have frequented the Caribbean quite a bit.
We are big scuba divers and enjoy the chance to swim amongst the fishes whenever we get the chance. We've been to Puerto Rico, St. Croix, Bahamas, and Cancun.
However, we have never been to Jamaica. I hear it's an extraordinary country full of pristine sandy beaches, beautiful culture, and food that is drenched in incredible spices. It's on my list and until we get the chance to go, I will have to make my own inspired version of jerk chicken at home.
Now, traditional jerk marinade is made with a scotch bonnet pepper. Have you ever had this pepper? If not, it's a chili pepper and it does pack some heat. Living in Denver it's hard to get our hands on the original Caribbean red pepper so for this inspired Jerk Chicken Pizza I am using a jalapeno in its place.
Don't worry there will still be a ton of allspice and thyme in the sauce. Shall we get cooking?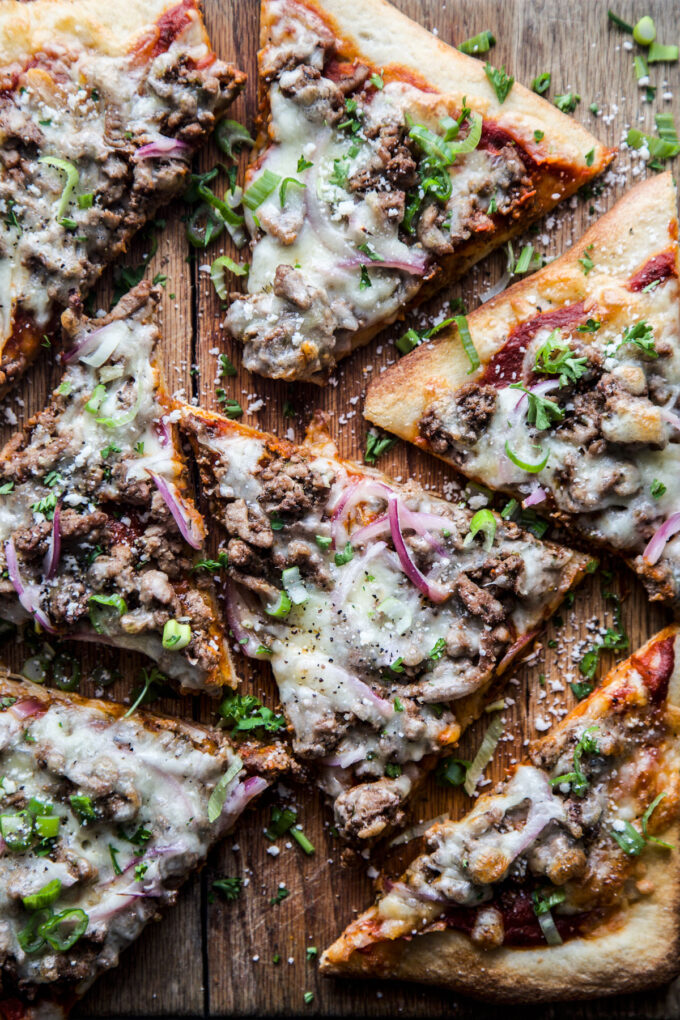 What's in this Jerk Chicken Pizza?
Like I mentioned above, this Jerk Chicken Pizza is easy to make! This version doesn't include the traditional scotch bonnet in the sauce, but I've offered an alternative to still bring some spice and heat to this delicious pizza!
For this recipe you will need:
Pizza dough: homemade or store bought
Pizza sauce
Shredded Mozzarella
Ground chicken
Garlic
Green onions
Brown sugar
Allspice
Thyme
Cinnamon
Lime Juice
Jalapeno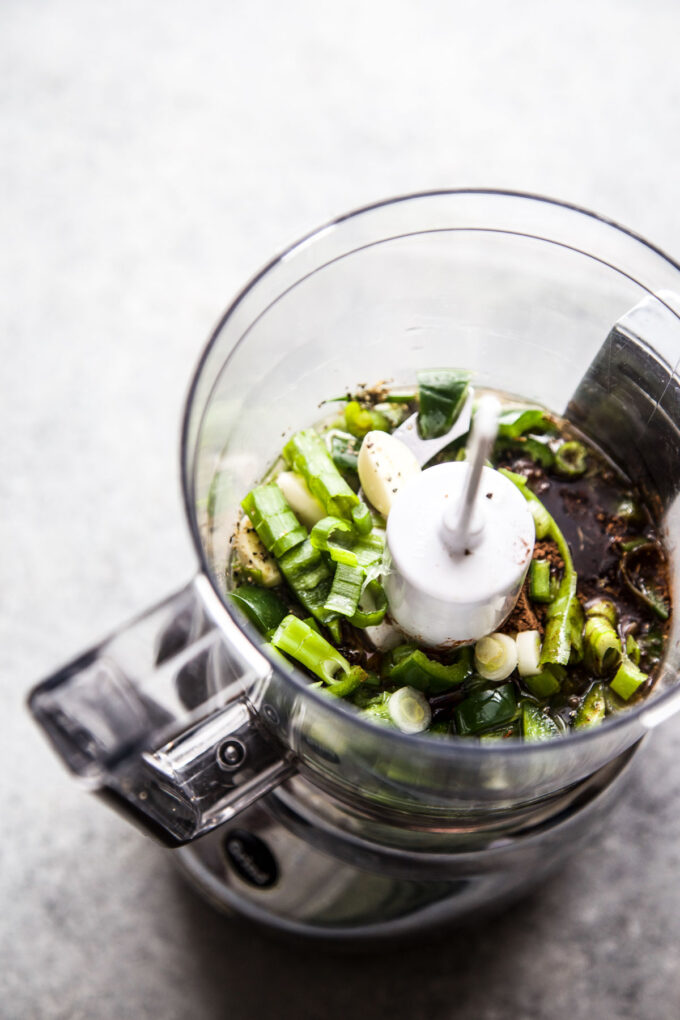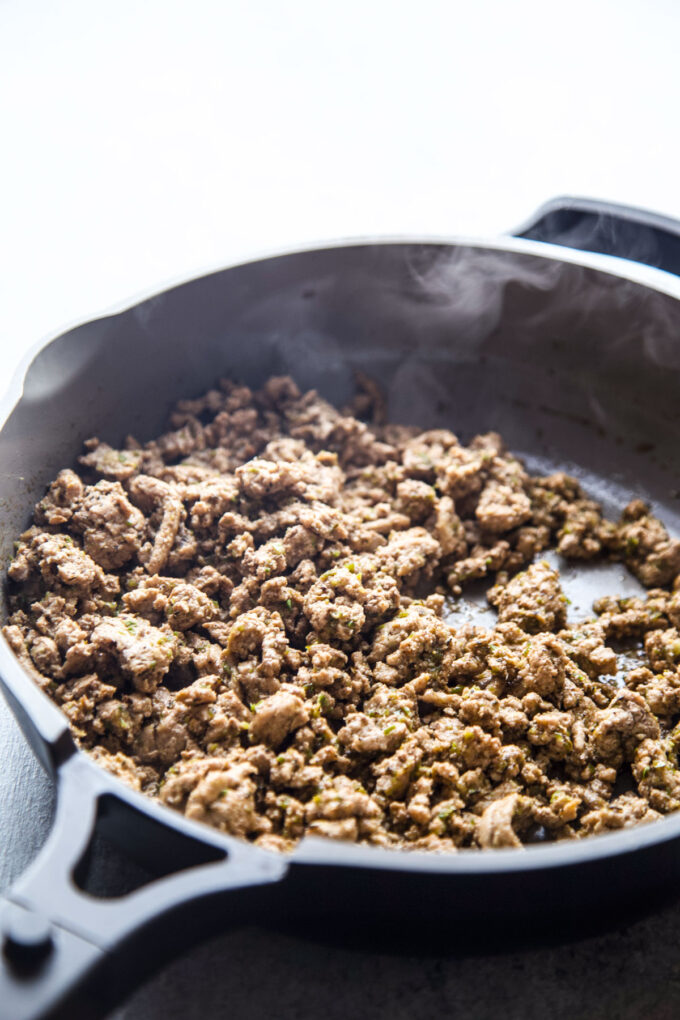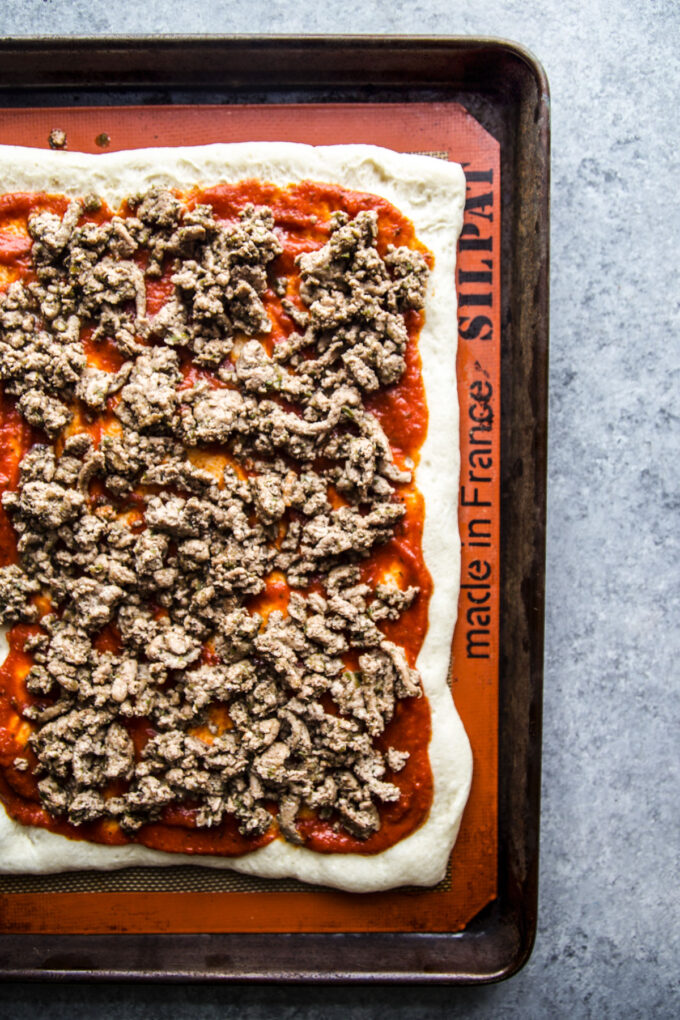 Tips for Making this Jerk Chicken Pizza:
Pizza dough. I'm a big believer in making dinner time a breeze so if you want to use packaged pizza dough from the grocery store…. DO IT! Another option is to pick up a dough-to-go at your local pizzeria.
Par Bake. One of the best tips I ever received was to par-bake your pizza crust. Meaning, you want to give your pizza dough a head start by baking it for a few minutes in the oven prior to baking. It will help keep the crust nice and sturdy!
Scotch Bonnet. This Caribbean chili pepper is the original pepper used in a traditional jerk marinade. However, since I live in a landlocked state, I'm subbing in a jalapeno for simplicity. You could also use a habanero pepper as well. If you can find the original scotch bonnet pepper, definitely use it!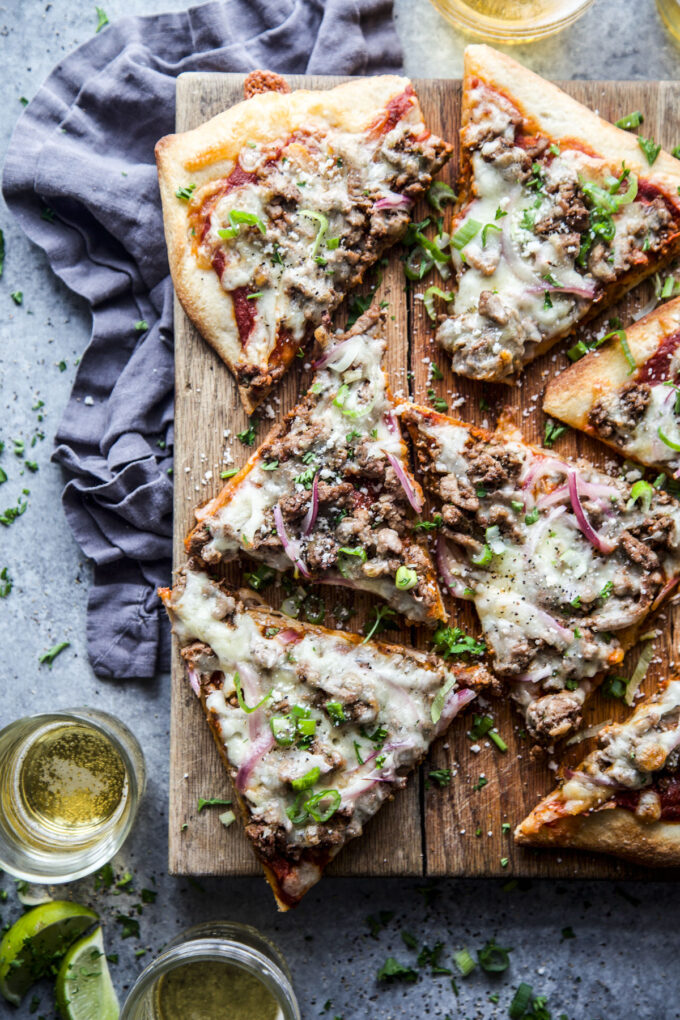 Frequently Asked Questions:
What's a good protein substitute in this Jerk Chicken Pizza?
If you aren't a big fan of chicken you could certainly substitute with ground beef, pork, turkey, or any plant-based product.
If I wanted to find a Scotch Bonnet pepper, where would I look?
I would first search online to see if any wholesale retailers offer them in bulk. Otherwise, check with your local community retailers as they might have a good idea on where to source the pepper.
Can you make the marinade ahead of time?
You bet! This jerk inspired marinade will keep up to 3 days in the fridge.
More Delicious Pizza Recipes to Enjoy: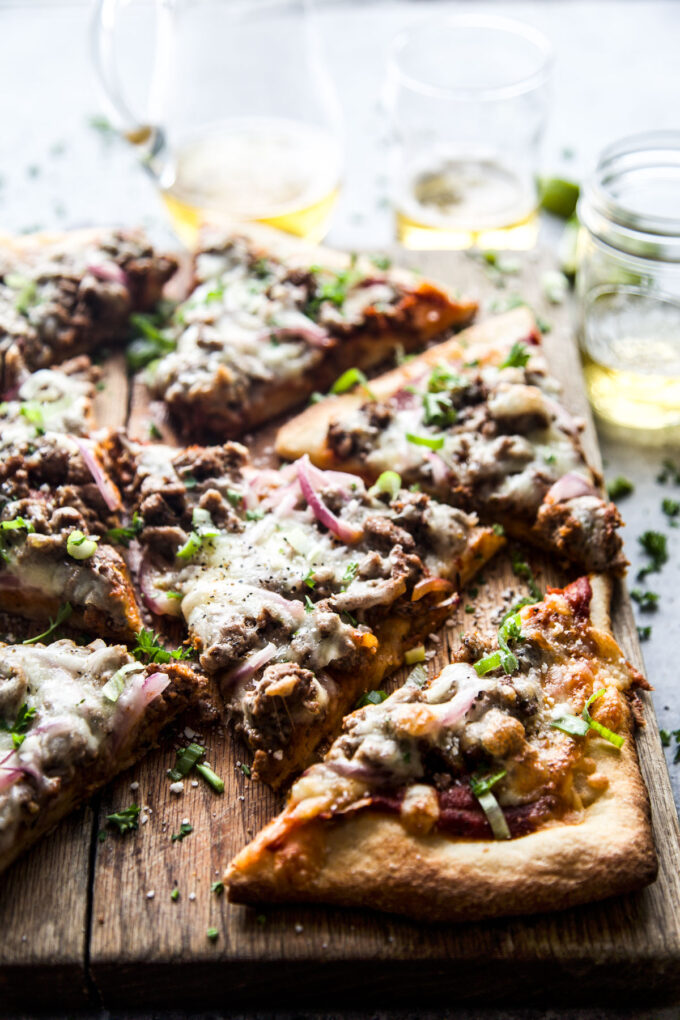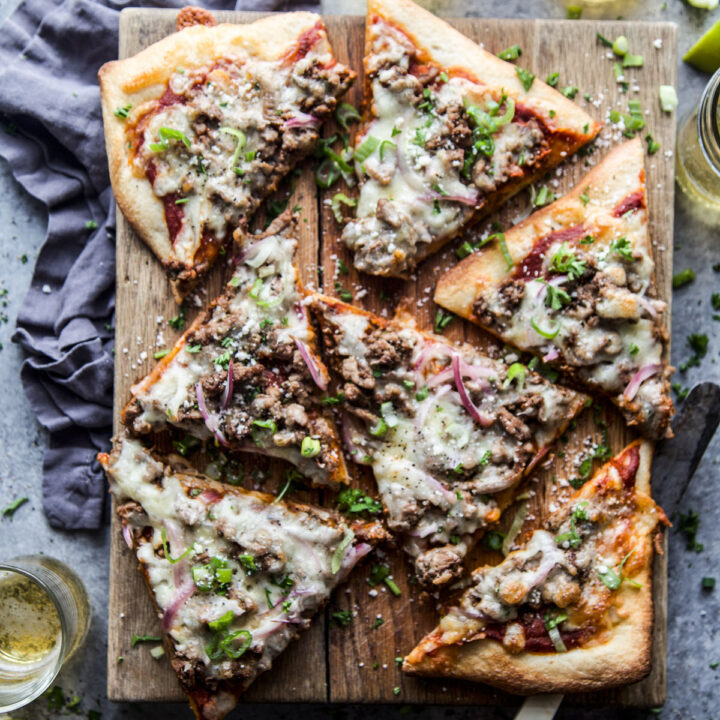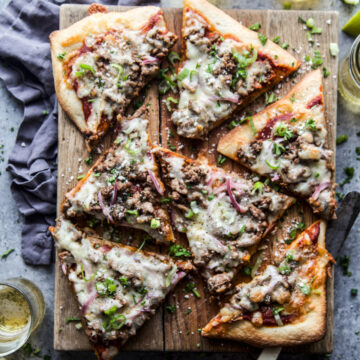 Jerk Chicken Pizza
Jerk Chicken Pizza is a Jamaican-inspired pizza made with ground chicken, spices, and of course, cheese! 
Ingredients
1 bunch Green onions, roughly chopped
2 cloves Garlic
2 tbsp Water
1 large Jalapeno, seeds removed, roughly chopped
2 tbsp Fresh lime juice
2 tbsp Olive oil
1 tbsp Brown sugar
1 1/2 tsp Ground allspice
1 tsp Dried thyme
1/2 tsp Ground cinnamon
salt and pepper to taste
1 lb Ground chicken
1 cup Favorite pizza sauce
1/3 cup Sliced red onion
1 1/2 cups Shredded mozzarella cheese
1 package Pizza dough
Instructions
Preheat your oven to 400 degrees. Spray a baking sheet with non-stick cooking spray and set aside.

In a food processor add the green onions, garlic, water, jalapeno, lime juice, brown sugar, olive oil, allspice, thyme, cinnamon, salt, and pepper. Pulse until combined and smooth. Pour the sauce into a large measuring cup.

Roll out your pizza dough into a 9X13 rectangle. Par-bake the pizza dough for about 5 to 6 minutes. Remove and set aside.

Next, spray and skillet with non-stick cooking spray and add in the ground chicken. Cook the chicken over medium-high heat for about 5 minutes. Pour in about 1/3 cup of the jerk sauce into the skillet and continue to cook. Let the chicken simmer in the sauce for a few minutes and set skillet aside.

Spread the pizza sauce on top of the par-baked dough leaving a one-inch border all around. Next, top the sauce with the jerk chicken, sliced red onions, and shredded mozzarella. Cook the pizza for about 10 minutes or until golden brown. Remove from oven, slice, and enjoy!
Did you make this recipe?
Please leave a comment below and share a photo on Instagram with the hashtag #thecuriousplate!