Easy Big Mac Potato Skins
Easy Big Mac Potato Skins are a delicious and tasty appetizer or side to make for game day or anytime in between!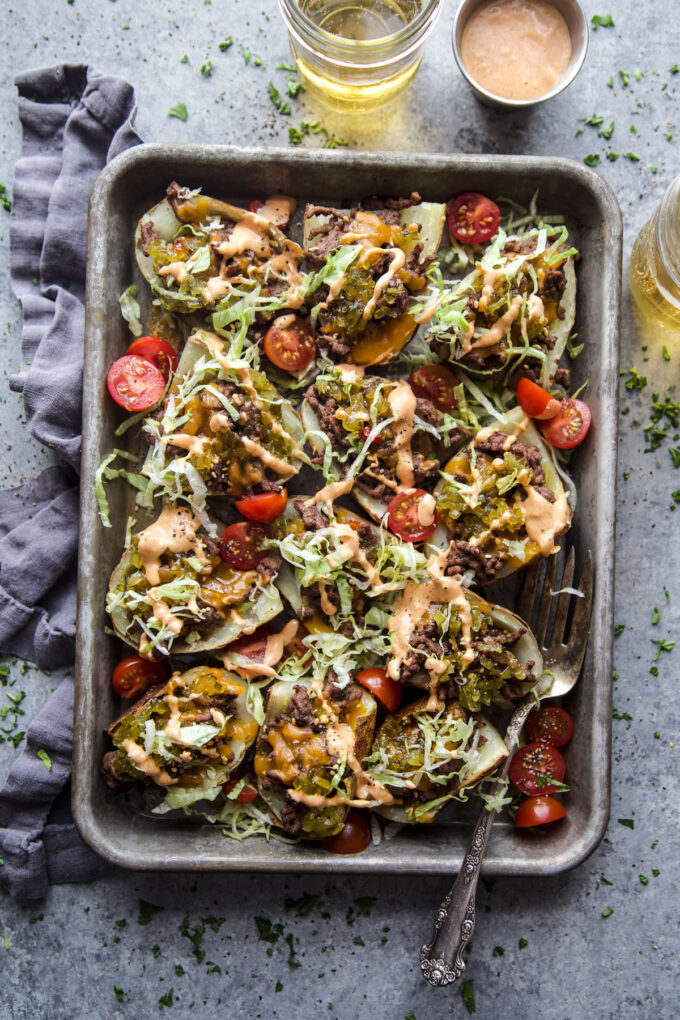 Growing up going to McDonald's was considered a treat.
My father would often travel for work so whenever he did my mom would treat my brothers and I to dinner at McDonald's.
Yes, we would order the typical Happy Meal. BUT! As we grew older my favorite would always be the Big Mac. Of course, my eyes were always bigger than my head so I would never be able to finish it all.
I think the best part of a Big Mac was the sauce. The perfect balance of salty and tang had my tastebuds dancing for joy. Well, today's recipe I am taking all the flavors of a Big Mac and putting them into a different vehicle. Meet your new fast food ride: Easy Big Mac Potato Skins.
Like I said, all the flavors of your classic Big Mac, but a little leaner thanks to the potato. Plus, I love the snack size which means you can serve these as an appetizer, snack, or for the big game.
Shall we see what the fuss is all about?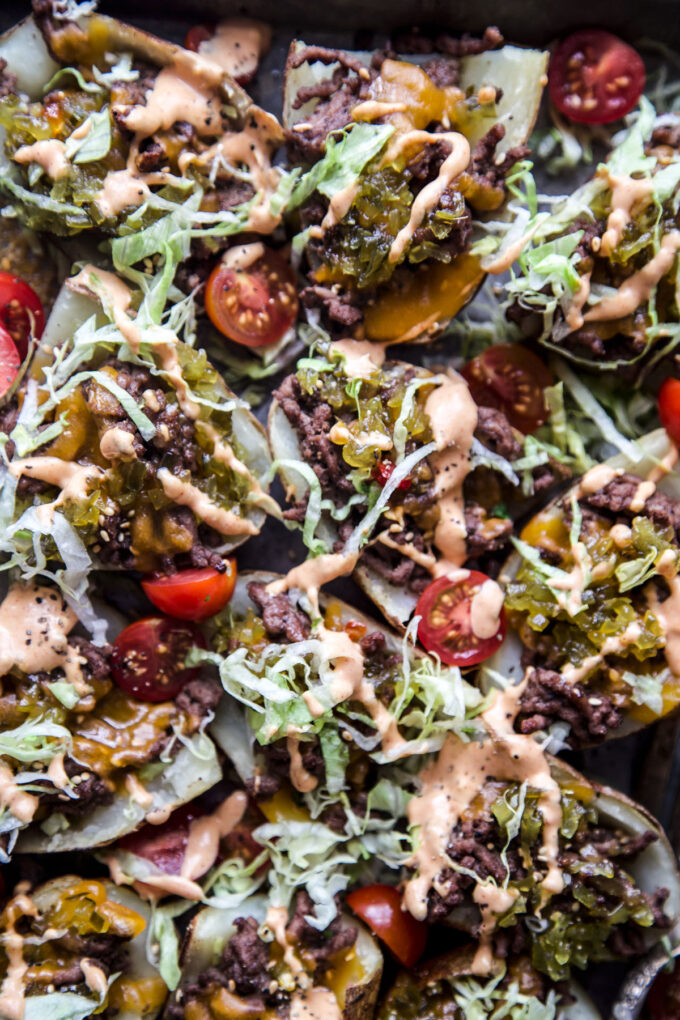 What's in these Easy Big Mac Potato Skins?
We all reach for the fast food option when we need a meal like the twelfth of yesterday. However, this version of a Big Mac won't weigh you down and only takes a handful of ingredients to make.
For this recipe you will need:
Russet Potatoes
Ground Beef
Worcestershire Sauce
Paprika
Garlic Powder
Shredded Cheddar Cheese
Shredded Lettuce
Relish
Mayo
Ketchup
Mustard
Apple Cider Vinegar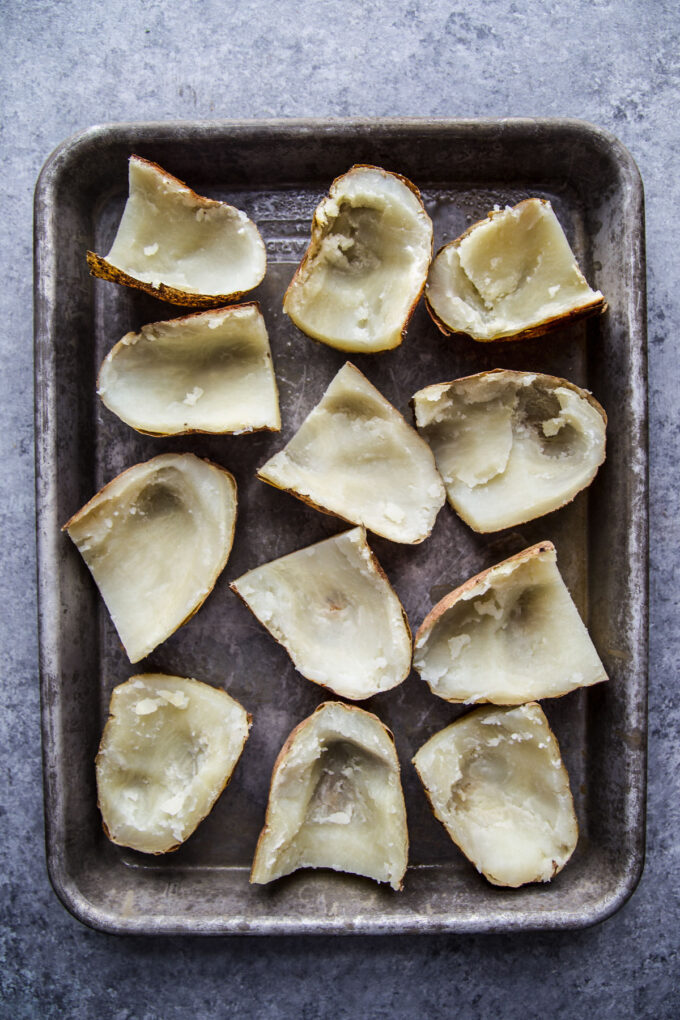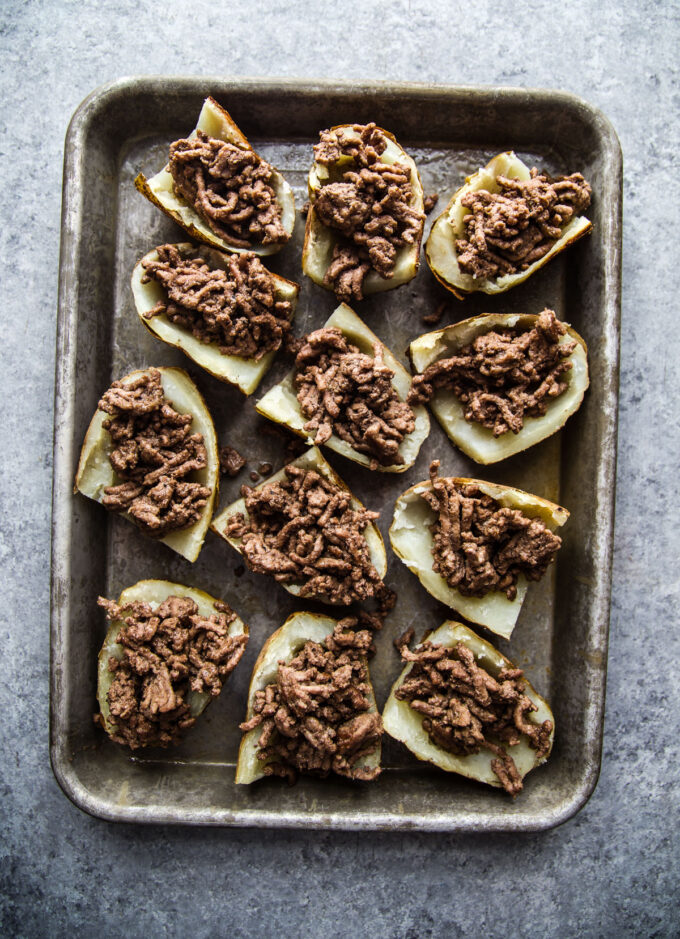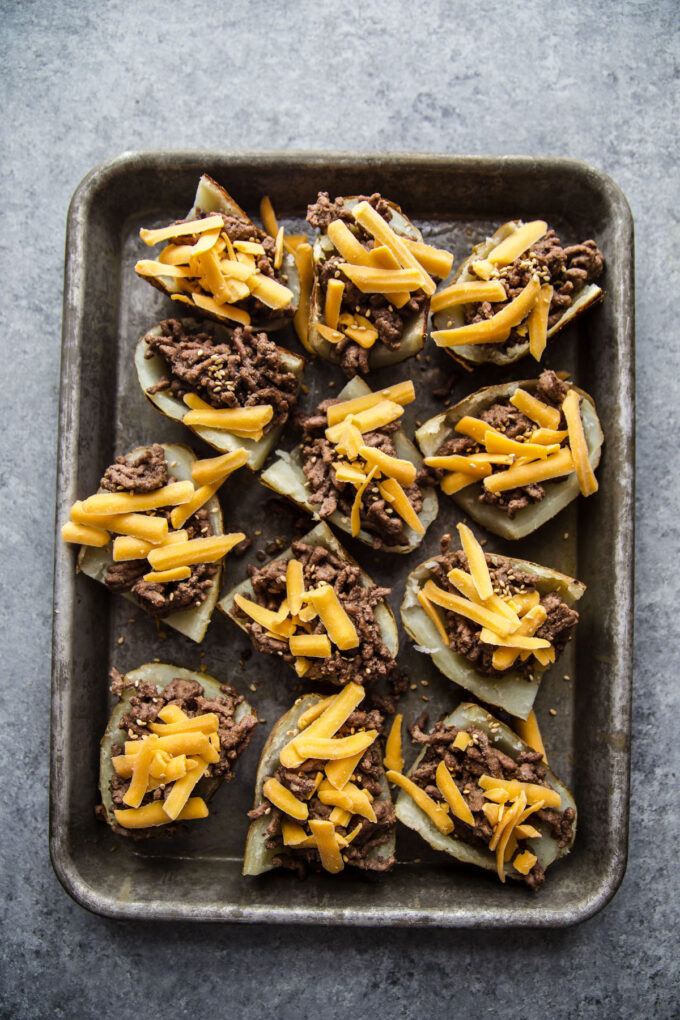 Tips for Making these Easy Big Mac Potato Skins:
Russet Potatoes. I do love a nice golden russet potato. They are sturdy and are what I like to say, "never fussy." However, you can use whatever potato you have in the pantry. Golden potatoes would be an excellent substitute.
Ground beef. I know the traditional version of a Big Mac comes with two all-beef hamburger patties. Please feel free to try these potato skins using ground chicken, pork, or turkey!
Special sauce. If you really want this sauce to sing, I would make it a day ahead to allow the flavors to come together!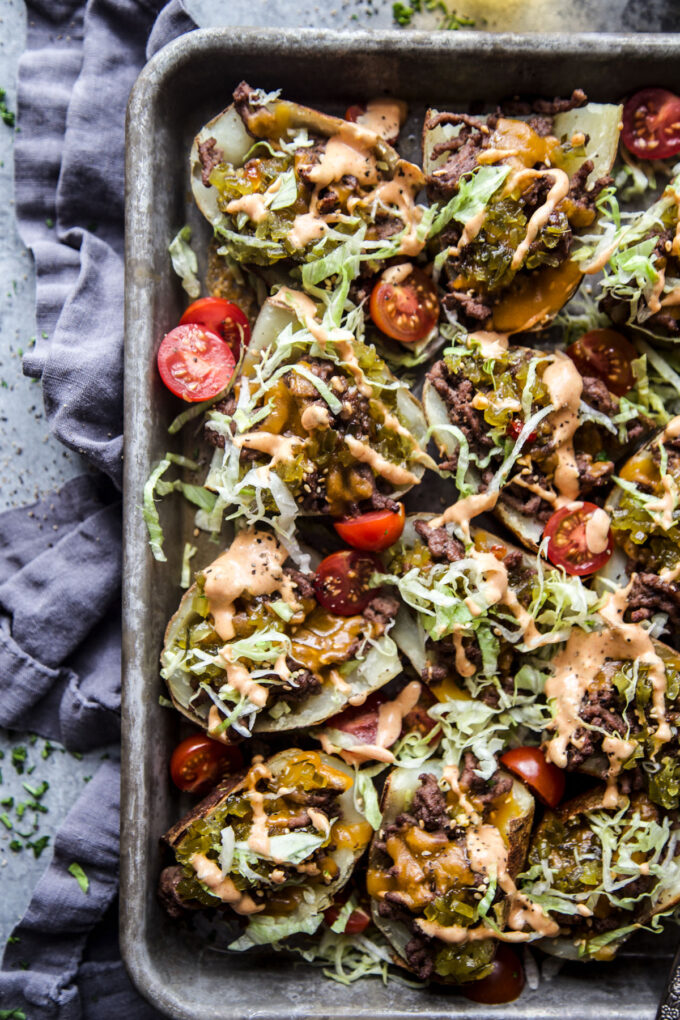 Frequently Asked Questions:
I'm not a big fan of beef, what is a good protein substitute?
If you don't like ground beef you could certainly try ground chicken, pork, turkey, or a plant-based protein!
Would this recipe work using sweet potatoes?
Yes! However, it will taste the flavor profile as sweet potatoes tend to be sweeter.
Can you prep these Easy Big Mac Potato Skins ahead of time?
You bet! The potato skins can be made a day ahead and kept in the fridge. The same goes with ground beef. Just simply bring to room temperature prior to sticking them in the oven.
Can you make Easy Big Mac Potato Skins Vegan?
Absolutely! Simply replace the beef with a plant-based protein and swap out the cheese & mayo for vegan friendly.
More Delicious Game Day Appetizers to Enjoy: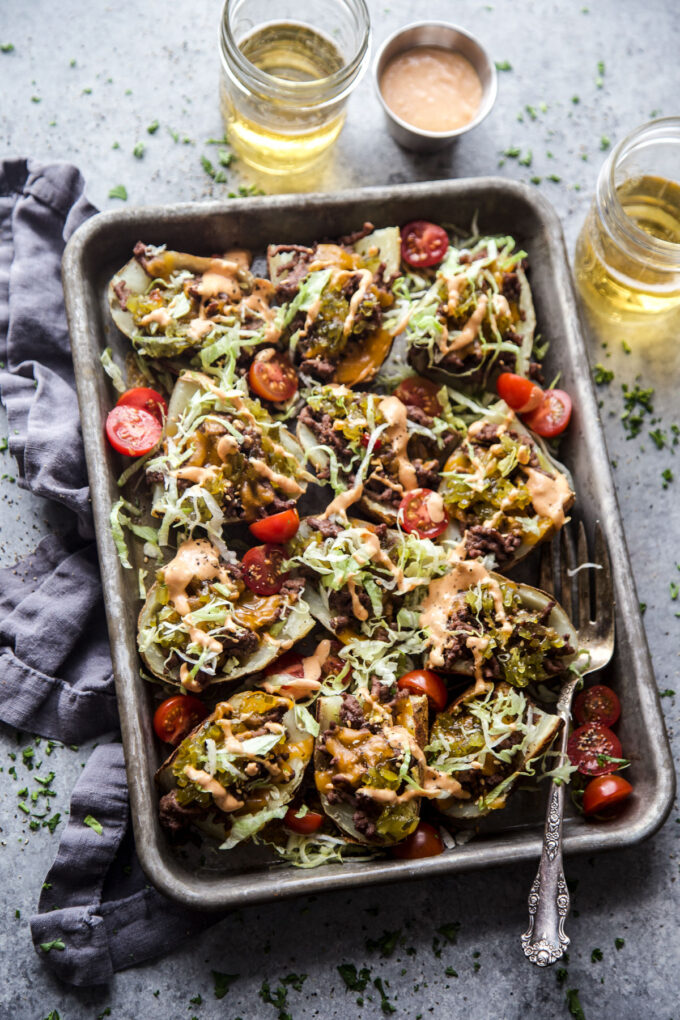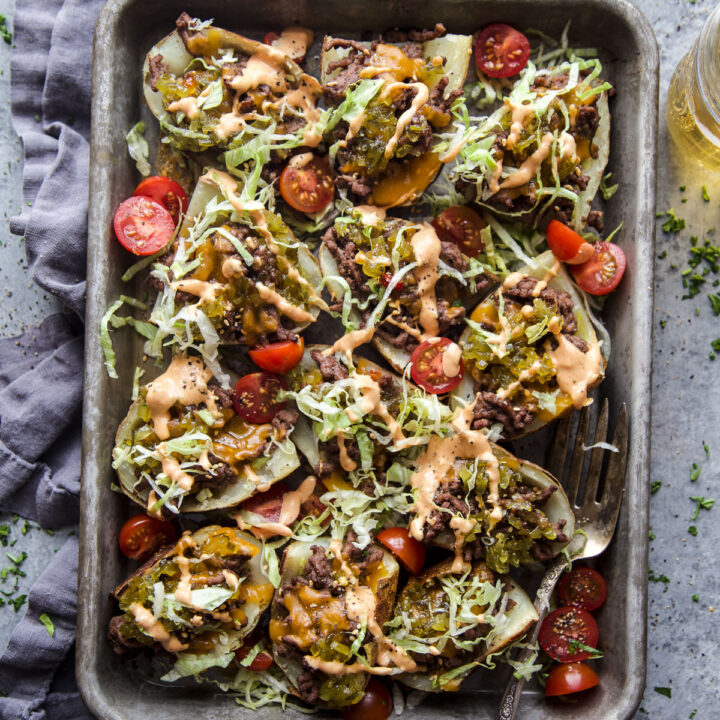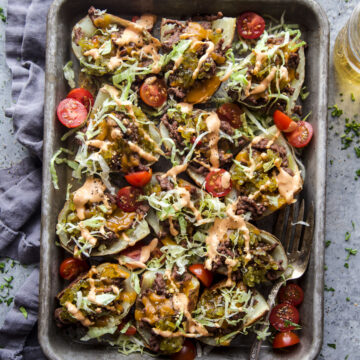 Easy Big Mac Potato Skins
Easy Big Mac Potato Skins are a delicious and tasty appetizer or side to make for game day or anytime in between! 
Ingredients
4 large Russet potatoes, scrubbed clean
Olive oil
Kosher salt & pepper, to taste
1 lb Ground beef
2 tsp Worcestershire sauce
1 tsp Garlic powder
1/4 tsp Cayenne
2 cups Shredded cheddar cheese
1 tbsp Sesame seeds
Cherry tomatoes, for garnish
Shredded lettuce, for garnish
Sweet pickle relish, for garnish
1/2 cup Mayonnaise
2 tbsp Yellow mustard
1 tbsp Ketchup
1 tbsp Apple cider vinegar
1 tsp Paprika
Instructions
Preheat oven to 400 degrees. Spray a baking sheet with non-stick cooking spray. Using a fork, pierce the potatoes all over and then rub the potatoes with olive oil, salt, and pepper. Bake the potatoes for 1 hour or until the skin is crispy. Remove from oven and cool before handling.

While you wait for the potatoes to cool make the beef filling. Heat a large non-stick skillet to medium high heat. Add the ground beef and season with Worcestershire sauce, garlic powder, cayenne, kosher salt, and pepper. Cook until the beef is no longer pink and drain the fat.

In a small mixing bowl combine mayo, mustard, ketchup, apple cider vinegar, and paprika until smooth.

Once the potatoes have cooled, cut the potatoes in half lengthwise, and then cut each half crosswise. Using a spoon scoop out the flesh leaving about 1/4 inch of the skin covered. Place the cut potatoes back on the baking sheet. Top with potatoes with ground beef, cheddar cheese, and sesame seeds. Put the baking sheet bake into the oven to melt the cheese.

Transfer the potato skins to a platter and top with tomatoes, lettuce, pickle relish and sauce!
Did you make this recipe?
Please leave a comment below and share a photo on Instagram with the hashtag #thecuriousplate!