Tomato, Peach, & Burrata Salad with Hot Honey Sauce
Tomato, Peach, & Burrata Salad with Hot Honey Sauce is a refreshing and easy salad to make any night of the week!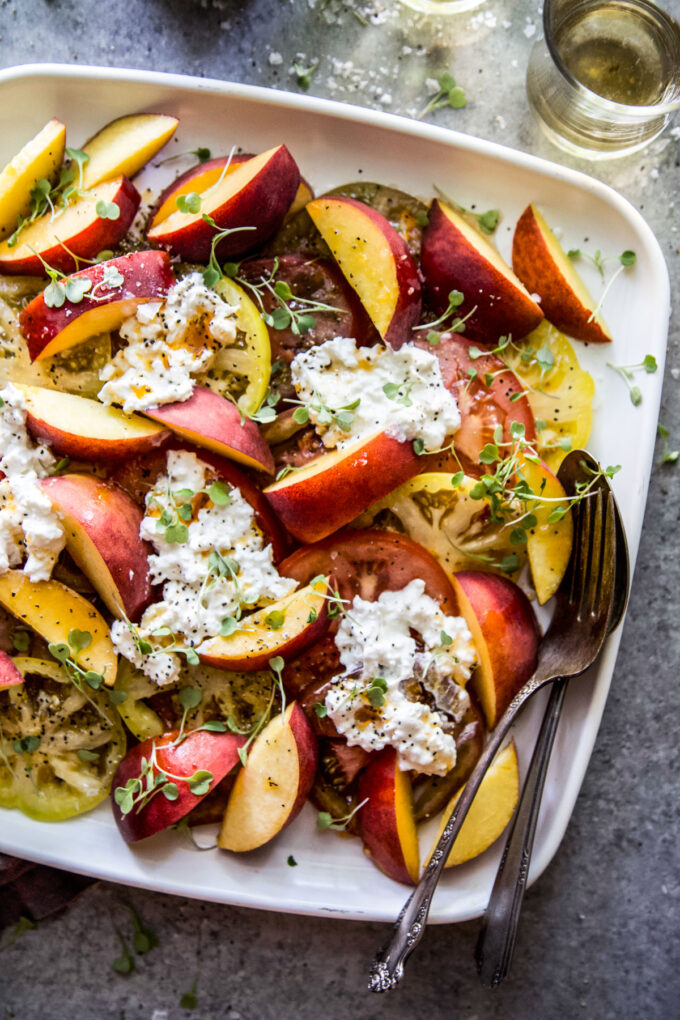 This fresh and vibrant summer salad is made of juicy tomatoes and plump, sweet peaches topped with creamy Burrata cheese, then tossed in an amazingly delicious and zesty salad dressing! It's a stunning fusion of bright, summery flavors, colors, and textures that will enthrall your tastebuds with every mouthful.
If you are looking for a quick and easy salad that does not look like you hurriedly put it together, try this tomato peach burrata salad! Not only will you have a heck of a good-looking salad in minutes, but it also tastes absolutely amazing. Get your palate ready because it will give you a different kind of salad experience. I love the combination of soft peaches, juicy tomatoes, and milky Burrata together. But, when you add the Hot Honey Sauce to the equation- it becomes a kick-ass combination of almost everything- fiery, sweet, tangy, and savory.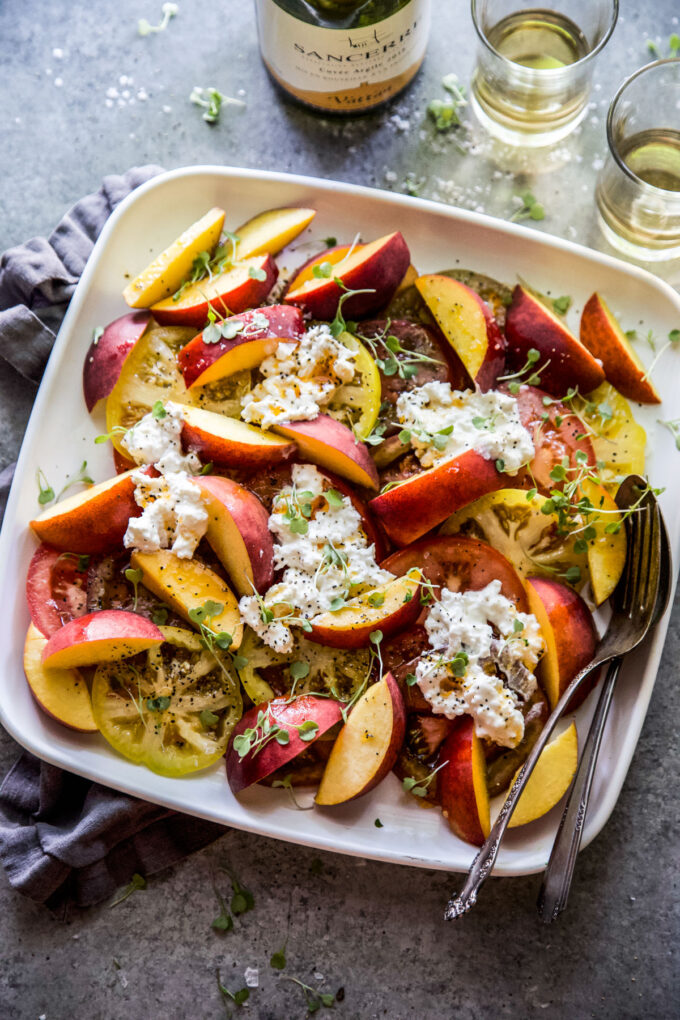 What is Burrata?
I am in love with this pouch of cheesy delight! If you have not tried using this before, this salad recipe is the best introduction! I swear it'll get you hooked in no time. Burrata is a type of soft Italian cheese from cow or buffalo milk. It is made of mozzarella and cream, giving it a creamy texture and yummy milky taste. It goes great with salads, pasta, and sandwiches. I use it in my recipes like Sweet Potato Lasagna, Roasted Red Pepper Alfredo, and Sheet Pan Mushroom & Burrata Pizza.
Ingredients:
A quick trip to the farmer's market will get you the fresh produce you need for this salad. As you can see, the salad dressing uses everyday ingredients that you can put together quickly.
For the Salad:
Peaches- these are one of the best summer fruits out there! So, take advantage of the season by picking ripe and sweet ones. Choose those that have dark yellow skin. They should also be firm with a slight give when you press them gently.
Heirloom tomatoes- I love using these on my salads because they have the perfect balance of acidity and sweetness.
Burrata
Fresh herbs– are used to garnish your salad. You can use chopped thyme, dill, basil, parsley, or oregano.
For the Hot Honey Sauce:
Olive oil
Hot sauce– use your favorite hot sauce!
Rice vinegar– I like using this because it is less acidic than white vinegar and has a sweeter undertone.
Honey– balances the tangy and spicy flavors of the sauce.
Kosher salt and freshly ground pepper- to taste.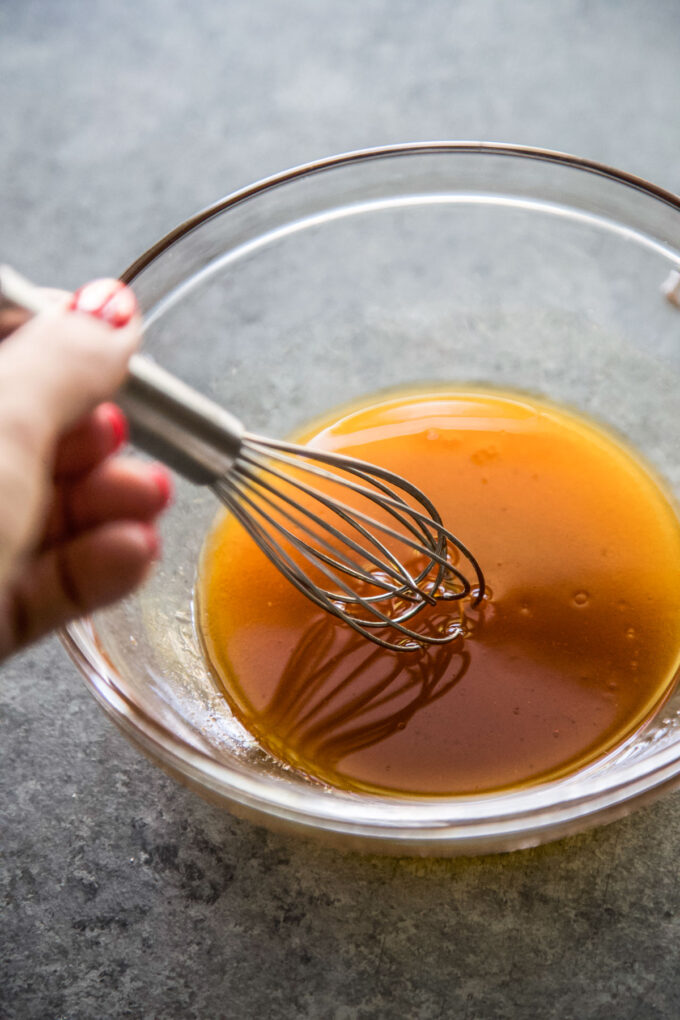 Possible Substitutions:
You can still enjoy this summer salad any time of the year by using canned peaches instead of fresh ones! Nectarines and plums would also work with this recipe.
Aside from heirloom tomatoes, you can also use cherry or grape tomatoes sliced into halves.
Burrata cheese is often sold at artisanal cheese shops. However, if you cannot find one in your area, you can always use mozzarella as an alternative.
If you do not have rice vinegar, apple cider is a good substitute.
Maple syrup can also be used instead of honey.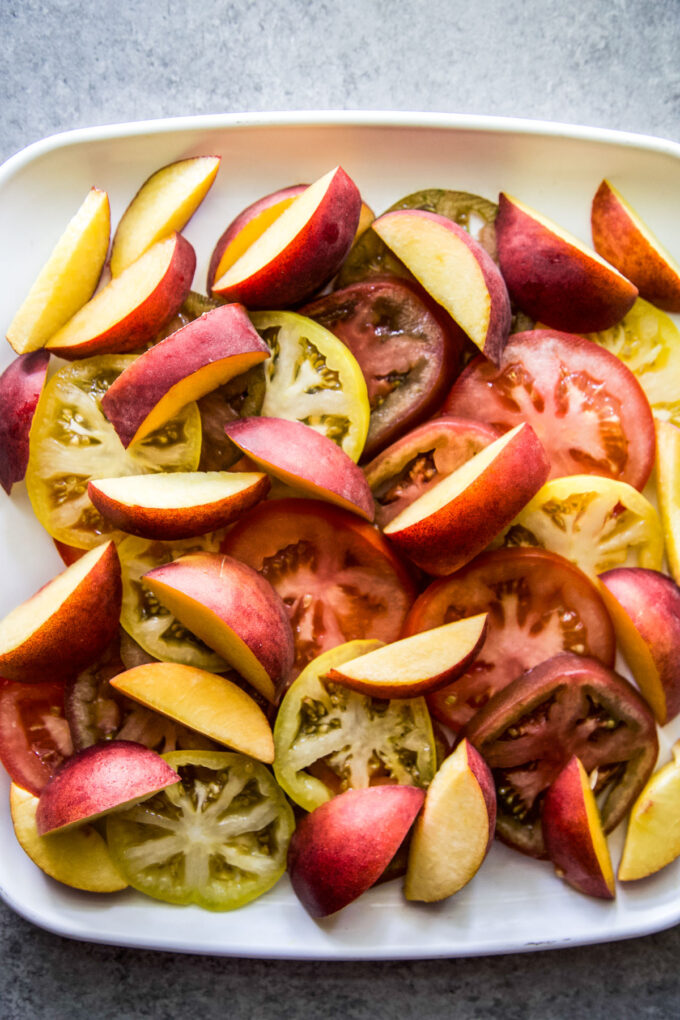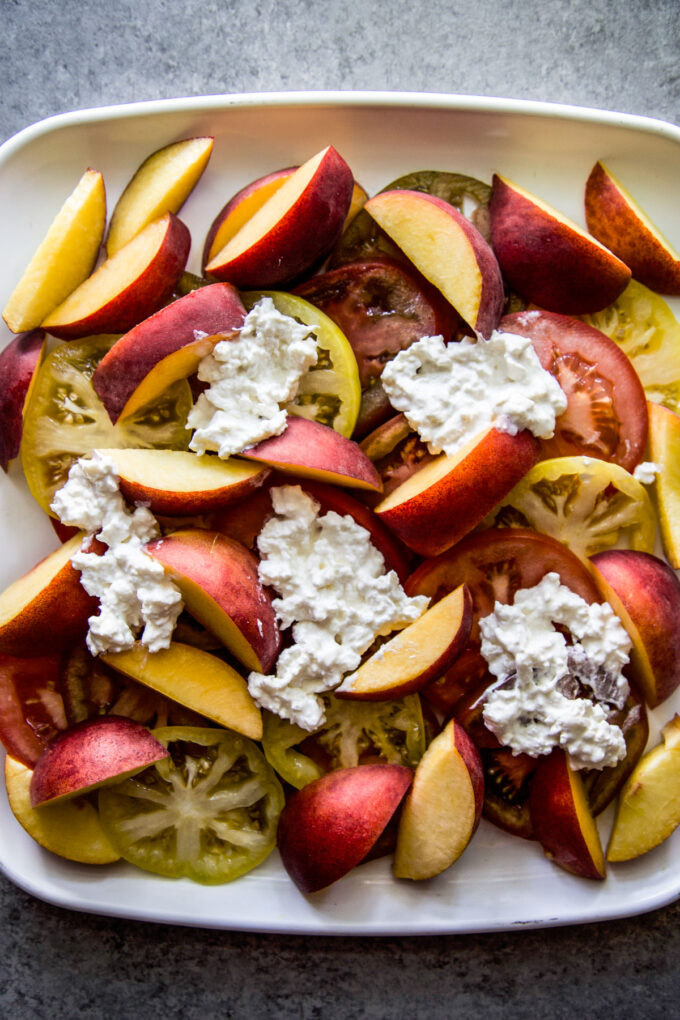 How to Make Tomato, Peach, & Burrata Salad with Hot Honey Sauce
This fresh, raw salad does not require cooking, so all you need is to get the ingredients ready, make the sauce, and assemble everything together. You'll have a gorgeous salad in no time!
Make the Hot Honey Sauce. In a small mixing bowl, add the olive oil, hot sauce, vinegar, and honey. Mix everything together and season with salt and pepper as needed.
Marinate the Tomatoes and Peaches. Add the peaches and tomatoes to a large bowl. Pour half of the sauce over them. Let them sit for about five minutes to allow the flavors to absorb as much sauce as possible.
Assemble. Place the marinated tomatoes and peaches in a serving plate. Top them with Burrata cheese, drizzle with the remaining sauce and garnish with fresh herbs. Serve and enjoy!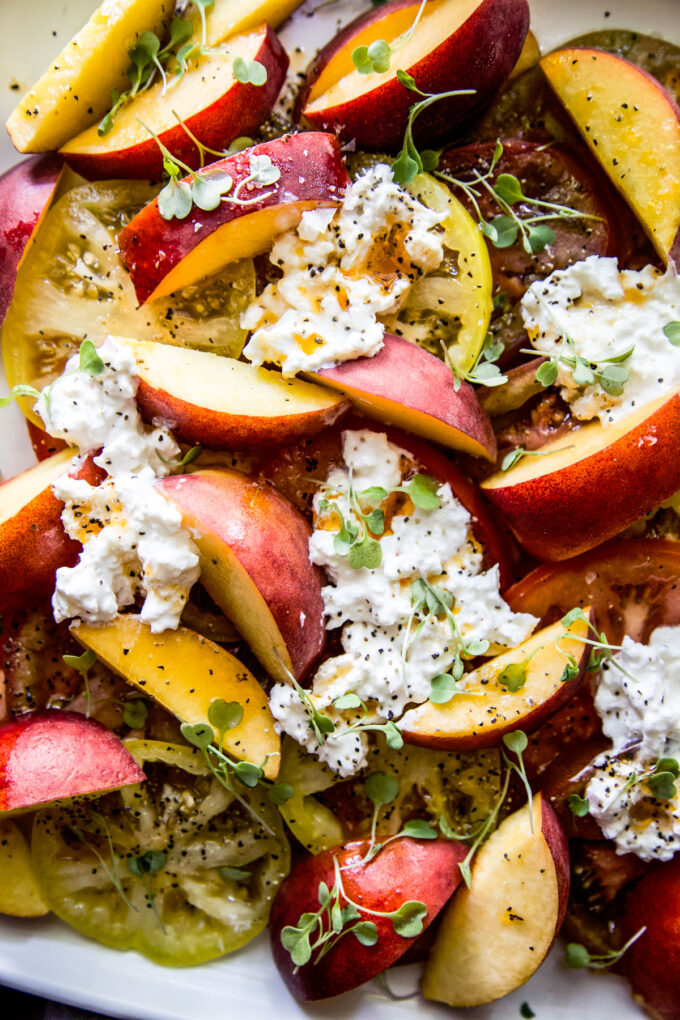 Helpful Tips
No need to toss the salad. The peaches and tomatoes are already infused with the sauce, so there is no need to mix them up. Plus, this can cause the tender peach pieces to fall apart, making your salad look messy.
Feel free to adjust the level of spiciness by adding or reducing the amount of hot sauce in the sauce.
If you are not a fan of spicy food, you can try using other dressings such as honey dijon vinaigrette or maple vinaigrette. It might not have a kick, but it would still be delicious!
Add pops of crunch to your Tomato, Peach, & Burrata Salad by garnishing it with your fave nuts or seeds! Walnuts, almonds, pine nuts, sunflower, or pumpkin seeds would be great!
Turn it from a side dish to a full fledged lunch or dinner dish by adding proteins like prosciutto, bacon bits, shrimps, or chicken shreds.
Serving Suggestions:
This salad is best eaten right away! You can simply serve with slices of crusty bread on the side for a light meal. It goes great paired with pizzas, pasta, and a side dish to your mains! I love pairing this refreshing salad with grilled dishes like Grilled American Lamb Shoulder Chops and Jalapeno-Marinated Grilled Pork Chops.
Frequently Asked Questions:
Is burrata skin edible? Absolutely. The outside packet housing the cream is made of mozzarella cheese, so it is very safe (and delicious) to eat!
How long can this salad last? Because it is made of fresh ingredients and cheese, I recommend making just enough for one serving. You can refrigerate it for a few hours to overnight, but it will not have the same texture and fresh flavors.
Is this dish gluten–free? All ingredients should be naturally gluten-free. However, I urge you to check if the rice vinegar you have does not contain grain first before using it to be safe.
Tomato, Peach, & Burrata Salad with Hot Honey Sauce
Tomato, Peach, & Burrata Salad with Hot Honey Sauce is a refreshing and easy salad to make any night of the week!
Ingredients
2 tbsp Olive oil
2 tbsp Favorite hot sauce (*I like Tabasco)
2 tsp Unseason rice vinegar
2 tsp Honey
Kosher salt and pepper to taste
3 ripe Peaches, cut into wedges
2 large Heirloom tomatoes, sliced thinly
1 8 oz Ball of burrata or fresh mozzarella
Fresh herbs, for garnish
Instructions
In a small bowl combine olive oil, hot sauce, vinegar, honey, salt and pepper. 

Next, place the peaches, tomatoes, and half the hot honey sauce in a large bowl. Sit for about 5 minutes to allow the flavors to absorb. 

Transfer the salad to a serving platter. Top the peaches and tomatoes with burrata and drizzle remaining hot honey sauce over the top. Garnish with fresh herbs and enjoy! 
Did you make this recipe?
Please leave a comment below and share a photo on Instagram with the hashtag #thecuriousplate!