Unstuffed Egg Roll Skillet
Unstuffed Egg Roll Skillet is a healthy dish that's made with cabbage, ground beef, and quinoa!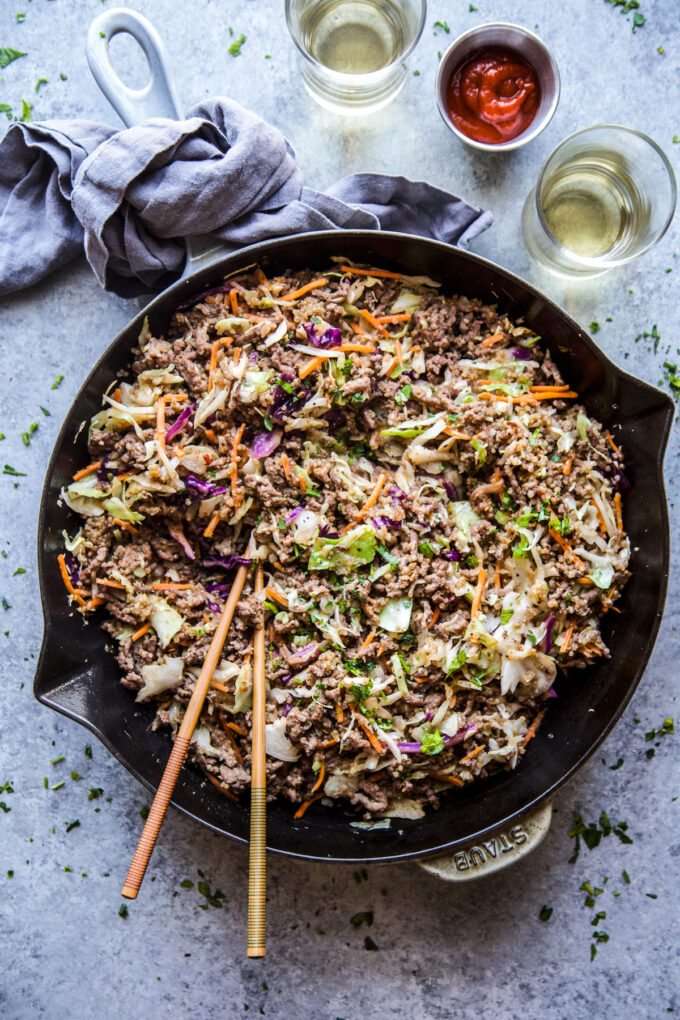 Don't slide to dial.
If you are looking for the perfect take-out, fake-out this Unstuffed Egg Roll Skillet will hit the spot!
Picture all the tasty ingredients that are used to make a traditional egg roll – ground pork, cabbage, carrots, and mixture of spices. Toss all those ingredients into a skillet to cook and what you get is dinner on the table quicker than any delivery service.
Now, for this deconstructed version of an egg roll, I've added my own spin and used ground beef + quinoa to give it some extra protein. What's great about this recipe is that it's completely customizable! Use what you have in the fridge to make a healthy, low-carb take-out, fake-out dish!
Ready to get cooking?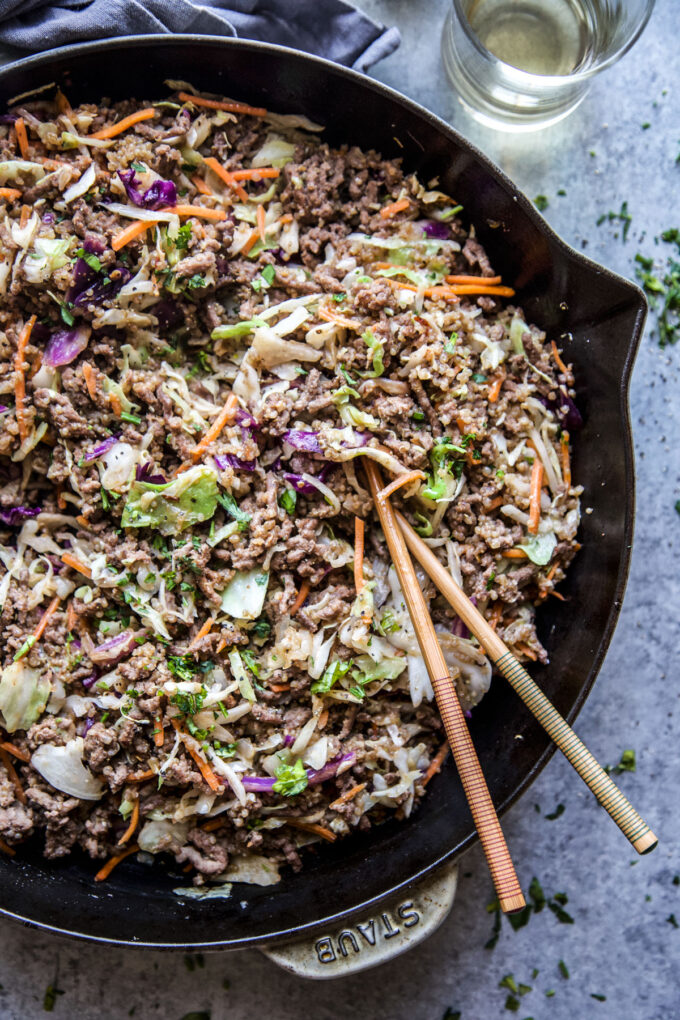 What's in this Unstuffed Egg Roll Skillet?
Every time we order take-out from an Eastern restaurant, I always get egg rolls. Something about these cabbage stuffed fried gems that makes me so happy. For this recipe, we deconstructed the traditional egg roll and made it skillet friendly. You will need:
Broccoli slaw mix (or coleslaw)
Ground beef
Quinoa
Soy Sauce
Garlic
Ginger
Rice Vinegar
Chili paste
Sesame oil
Green onions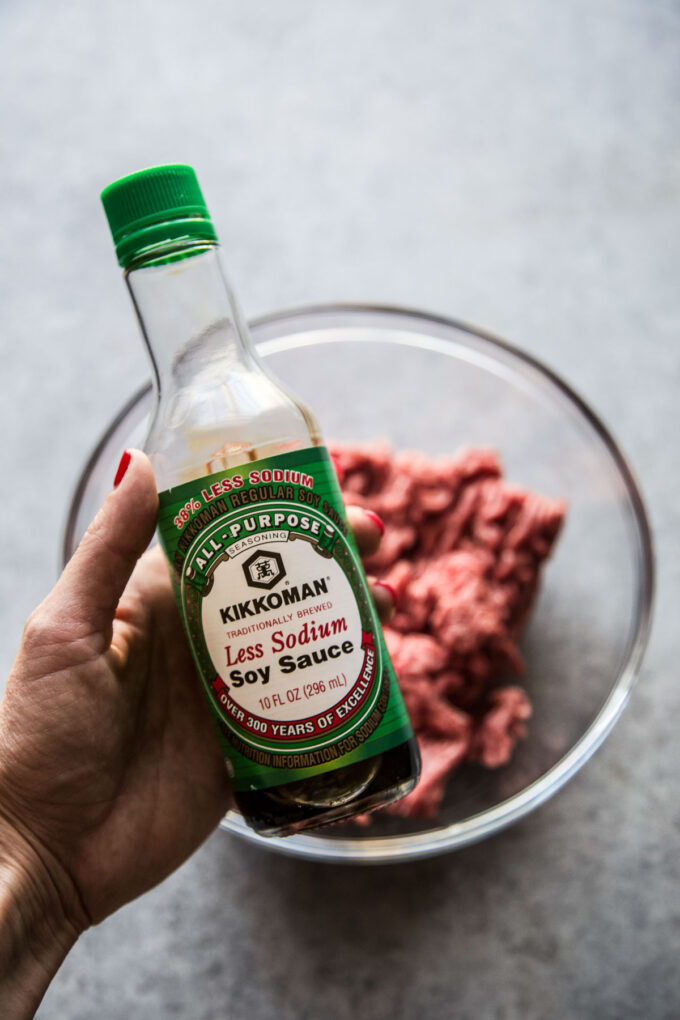 Tips for Making this Unstuffed Egg Roll Skillet:
Soy sauce. Make sure you use low-sodium soy sauce so you can control the amount of sodium in the dish.
Napa Cabbage. Look for bright green Napa cabbage at the grocery store. It's delicious and cooks beautifully in casseroles.
Sesame oil. You only need a few drops, but this oil steals the shows and adds flavor quickly!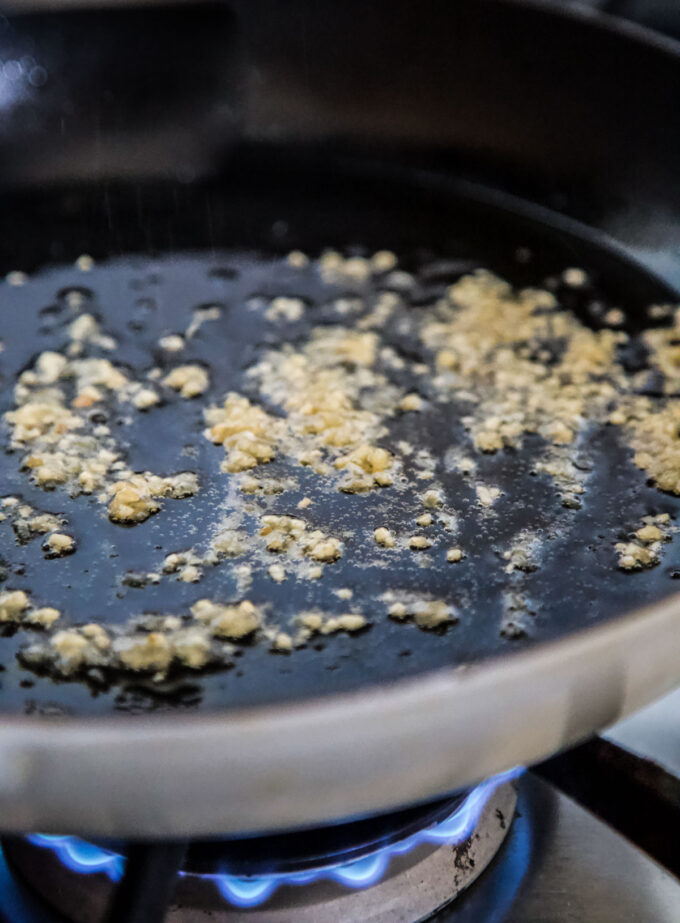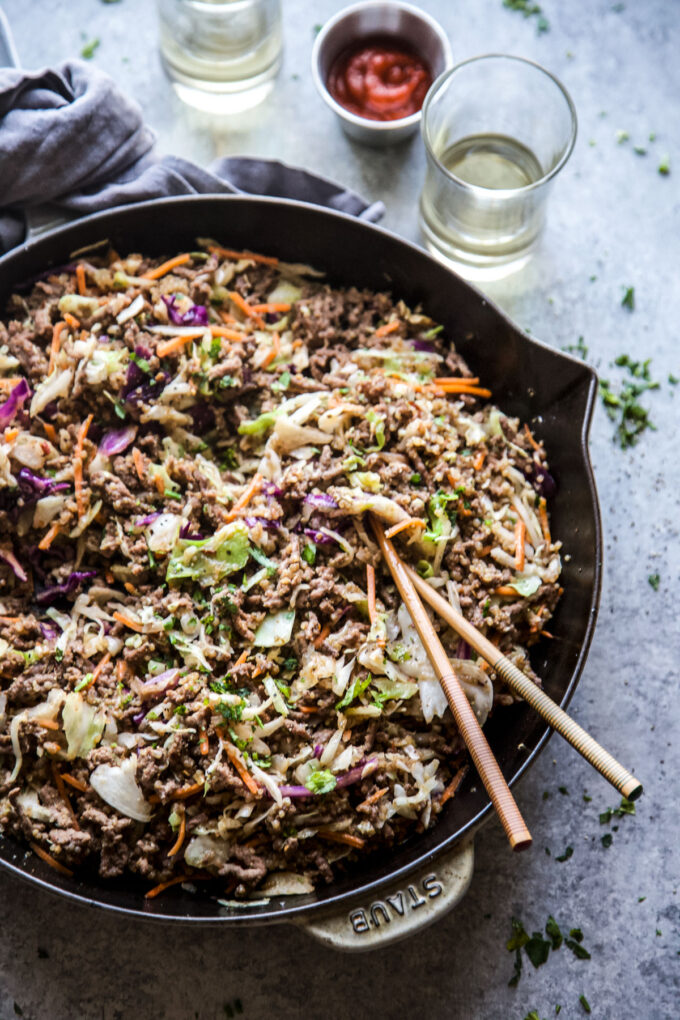 Frequently Asked Questions:
Can You Make Unstuffed Egg Roll Skillet Vegan?
Yes! You will omit the ground beef. A great swap would be tofu!
Can I serve with Noodles Instead of Quinoa?
Absolutely! You could substitute the quinoa with Chow Mein noodles.
I don't have Rice Vinegar in my pantry, what else should I use?
A great option would be to use apple cider vinegar or red wine vinegar. Keep in mind that these vinegars are a bit stronger so you will need to use less than what the recipe calls for.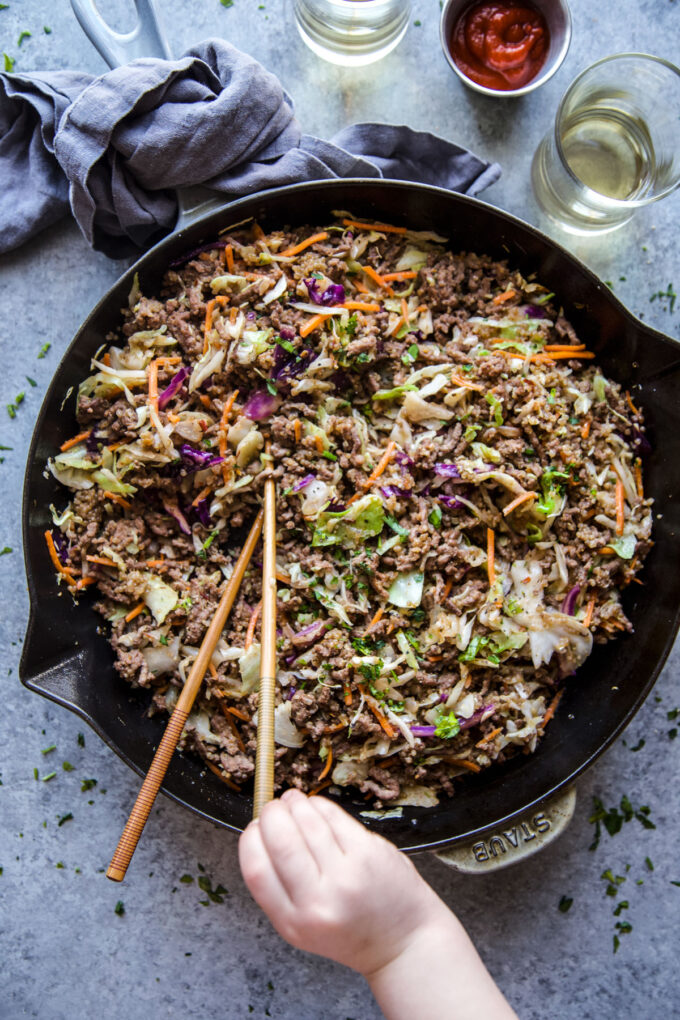 More Delicious Skillet Recipes to Enjoy: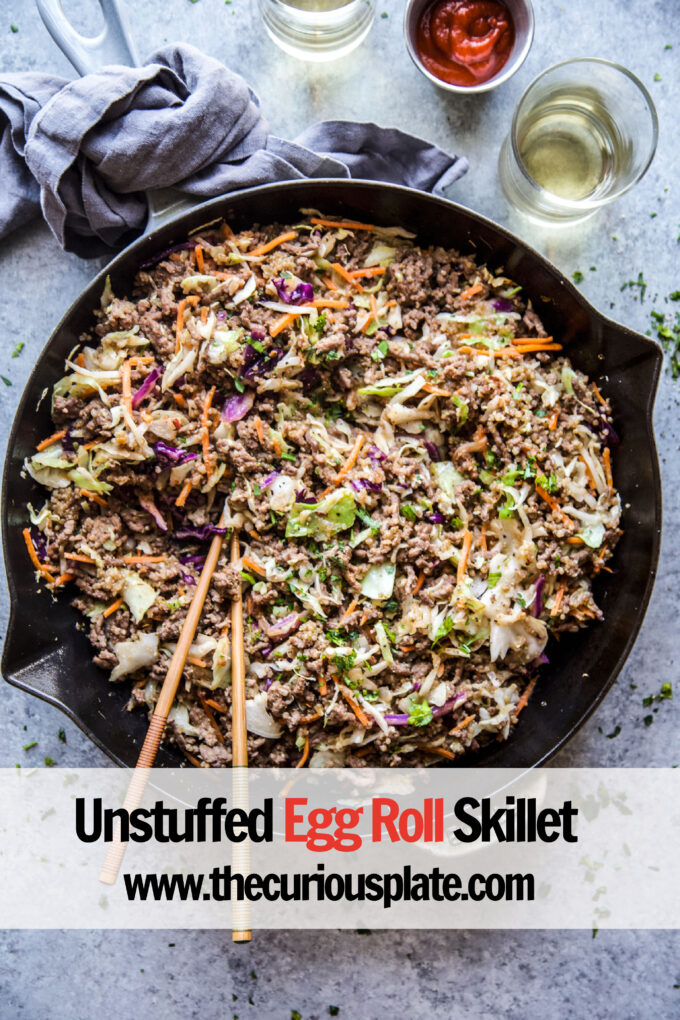 Unstuffed Egg Roll Skillet
Unstuffed Egg Roll Skillet is a healthy dish that's made with cabbage, ground beef, and quinoa! 
Ingredients
3 tbsp Low-sodium soy sauce
1 lb Ground beef
2 tsp sesame oil
3 cloves garlic, minced
1 tbsp freshly grated ginger
Chili paste to taste ( I typically use 1 tbsp because I like heat. Start with 2 tsp and go from there!)
4 to 5 cups shredded broccoli slaw or coleslaw
1 tbsp rice vinegar
1 cup cooked quinoa
green onions sliced, for garnish
salt and pepper to taste
Instructions
In a large mixing bowl, combine 2 tbsp of soy sauce and ground beef. Let the beef marinate at room temperature with the soy sauce for about 15 minutes

Next, preheat a large non-stick skillet to medium-high heat. Add the sesame oil, garlic, and ginger to the skillet. Cook the garlic and ginger for about one to two minutes until fragrant. 

Add in the reserved ground beef and using a wooden spoon break up the meat. Cook the beef until it is no longer pink about 5 minutes. Stir in the chili paste. 

Next, add in the slaw and stir to make sure everything is combined. Add in 1 tbsp soy sauce, rice vinegar, and continue to cook until the slaw has softened. Stir in the quinoa. 

Give everything a big toss. Add more chili paste if desired and salt, and pepper. Continue to cook until everything is warmed through. Garnish with green onions. 
Did you make this recipe?
Please leave a comment below and share a photo on Instagram with the hashtag #thecuriousplate!