barbecue, bacon, and blue cheese potato salad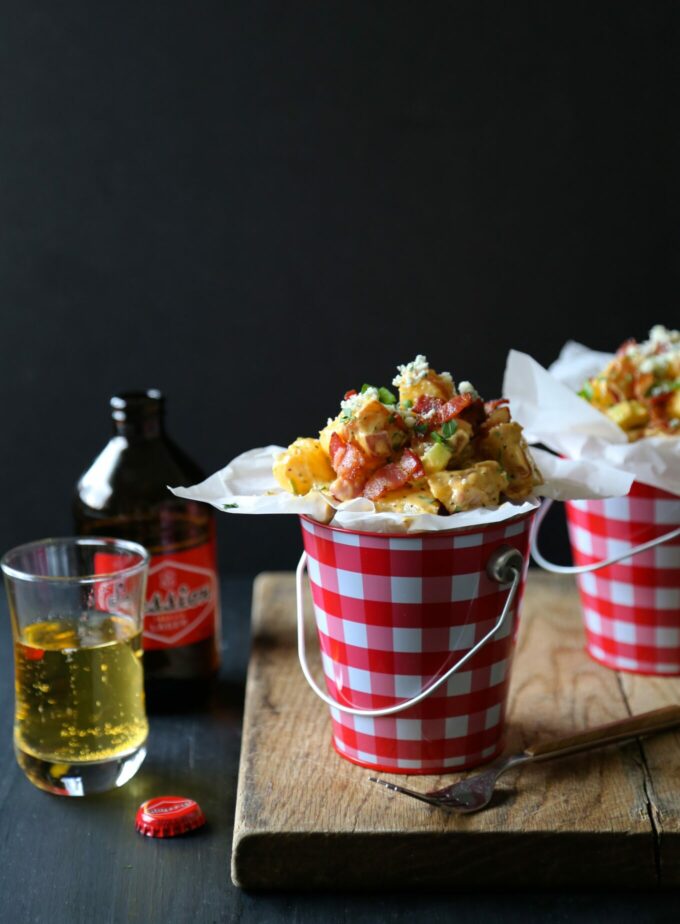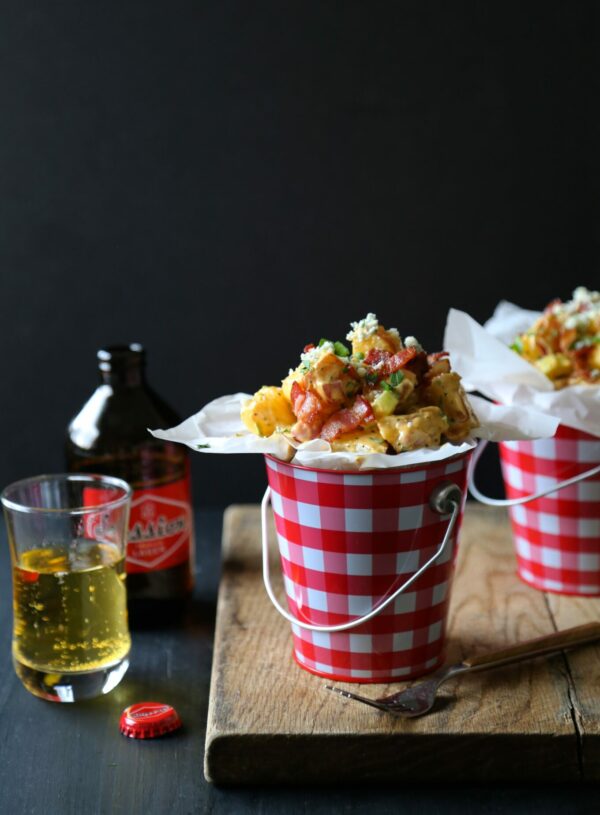 Barbecue, bacon, and blue cheese.
My three favorite 'b' words. Well, besides Mr. B, of course.
There's something about the way barbecue, bacon, and blue cheese rolls off the tip of the tongue that makes you instantly HANGRY. You could add this flavor combo on top of dirt paste and you'd be all, "I've never had such flavorful dirt paste." Am I right?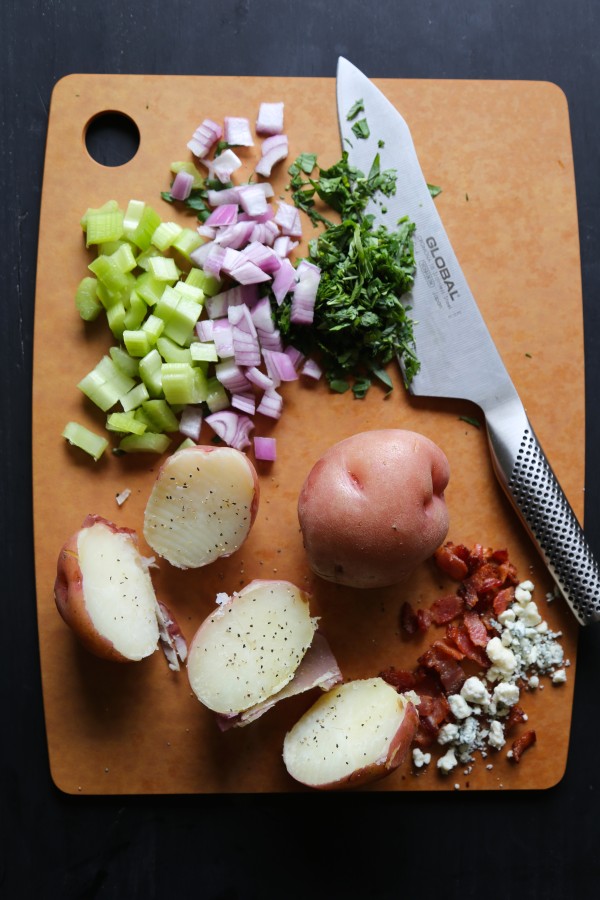 Anyways, I am a huge fan of barbecue, bacon, and blue cheese burgers, hot dogs, nachos, and tacos. And this got me thinking. Since we are knee deep in potato salad season, I thought, why not try this combo out in a tater salad? I high-fived myself and immediately got to work.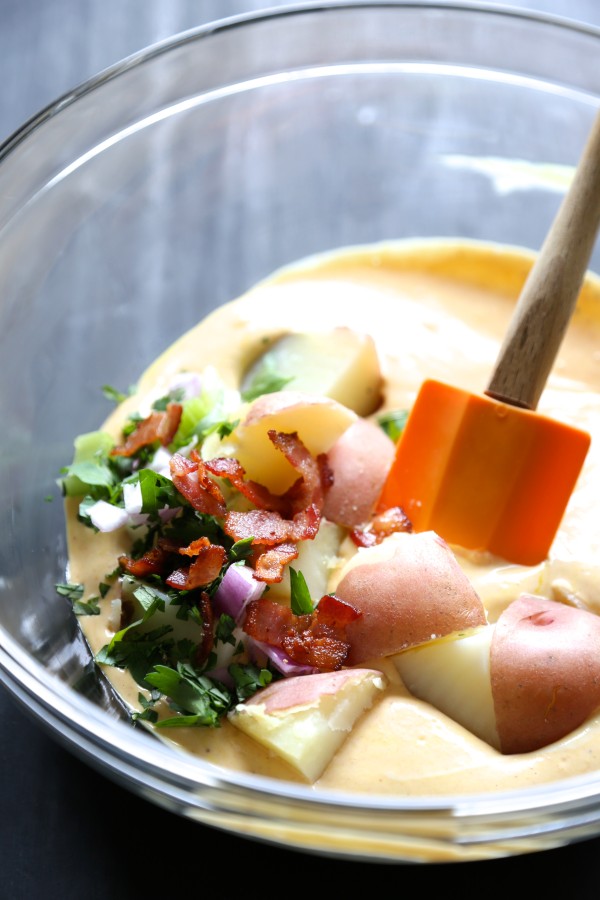 Full disclosure: I am a potato salad SNOB. I know, I know, it's not something I am proud of, but hear me out. The ratio of ingredients in a potato salad are crucial. You have to have the right amount of mayo because you no one wants to dive into a mayo salad. Ewww. The potatoes have to be perfectly cooked through and the crunch from celery is essential to balance texture.
Well, to satisfy my snobbery ways, this barbecue, bacon, and blue cheese potato salad is one for the books, kids. It's the ultimate comfort food combination that will be a hit at your next backyard party or picnic. Just don't forget the dirt paste. I kid. Maybe.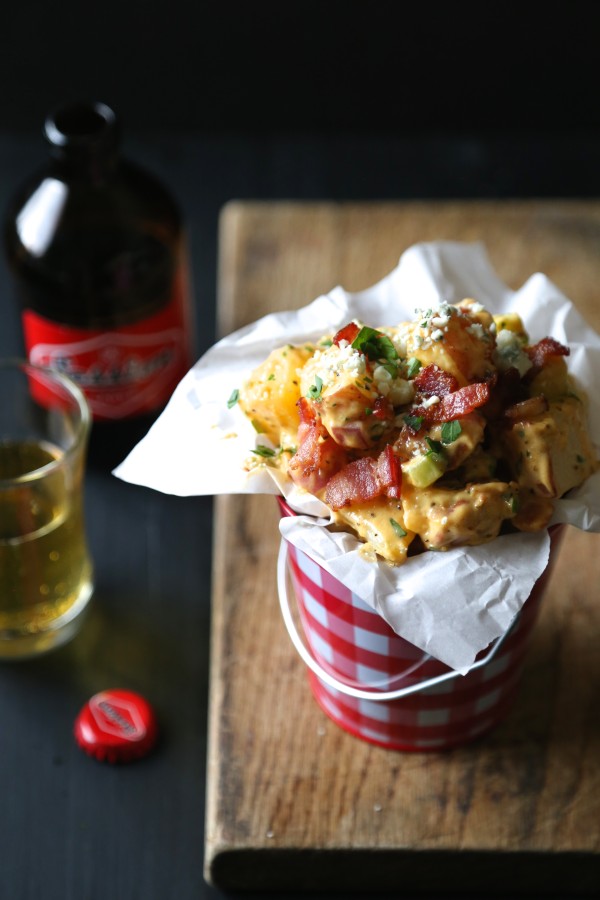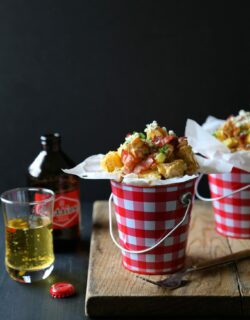 Barbecue, Bacon, and Blue Cheese Potato Salad
Ingredients:
7 large red potatoes, washed
5 slices cooked bacon, diced
1 cup mayonnaise
2 tablespoons barbecue sauce
2 tablespoons yellow mustard
2 celery ribs, diced
1/2 cup red onion, diced
1/4 cup parsley, chopped
1 tablespoon tarragon, chopped
1/4 cup blue cheese crumbles, garnish
salt and pepper to taste
Directions:
Fill a large stock with water. Add the red potatoes and bring to a boil. Boil the potatoes for about 35 minutes or until fork tender. Drain the potatoes and set them aside in a bowl to slightly cool before slicing into quarters.
Meanwhile, in a large bowl, combine mayonnaise, barbecue sauce, yellow mustard, salt and pepper. Add the sliced, cooled potato quarters, celery, red onion, parsley, tarragon, and bacon. Gently fold combine everything. Sprinkle blue cheese on top and serve immediately.
All images and text ©